A few years ago I started collecting vintage Christmas ornaments. It takes me back to visiting my great-great-aunt's home as a little girl during Christmastime. The hand-painted glass ornaments on her meticulously decorated tree were simply stunning. Oh, how I coveted those ornaments!
I'm not sure what became of her ornaments, but I never forgot them. As my vintage collection has grown, I've learned how to properly store and care for Christmas ornaments. My kids know how special the ornaments are to me, and one day my collection will become theirs. Because isn't that one of the best things about ornaments? Year after year we get a chance to celebrate our Christmas memories as we decorate the tree.
8 expert tips on caring for ornaments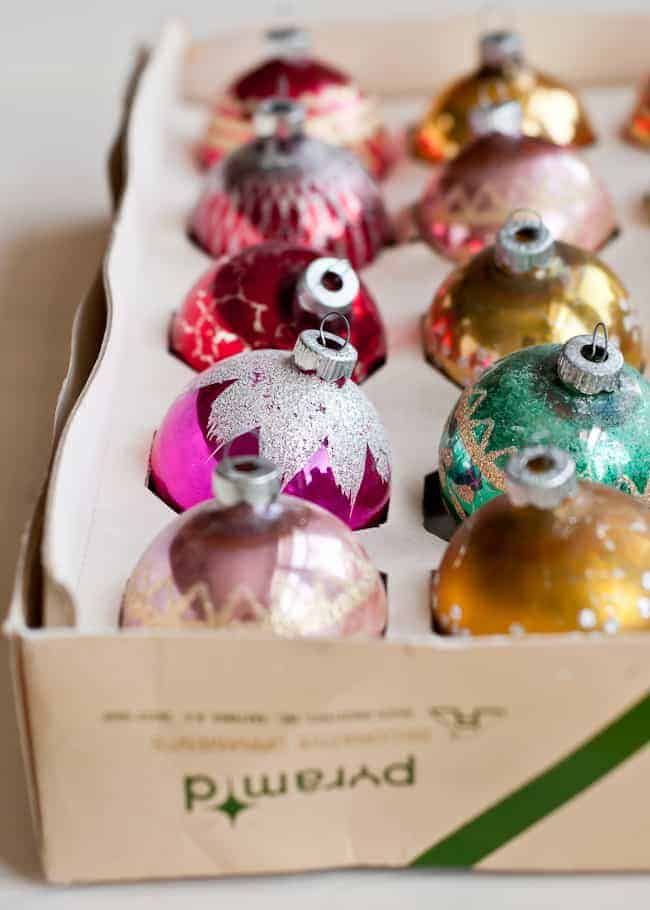 1. The tree might not be the best idea
Heirloom ornaments and young kids don't mix well, so you might want to enjoy them off the tree. Since we have plenty of ornaments for our tree, I secure the really special ones high on a garland or place them carefully in glass bowls away from tiny, curious hands. It's one way we can all still enjoy them until the day I dare to decorate the tree with them.
2. Keep the original packaging
I realize this might not be possible if you acquired the ornaments second hand or as a gift. But whenever you can, try to keep ornaments in their original boxes. Vintage boxes are really neat to look at, but as they age, they start to deteriorate, so it becomes necessary to store ornaments in different ways.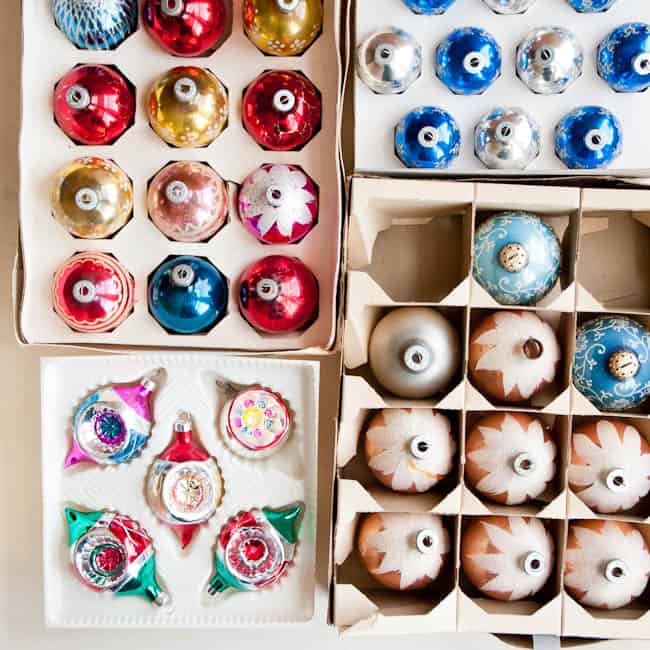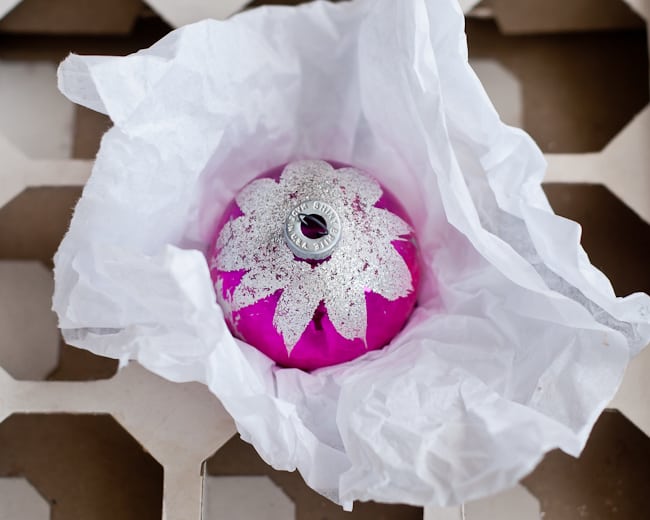 Sometimes when an ornament is old, especially those with glitter and cracking paint, the original box can take some of the decoration off as the ornament is lifted in and out. Wrapping or cushioning ornaments with archival tissue paper that's free of acids and dyes is a gentler way to go while still utilizing the original packaging.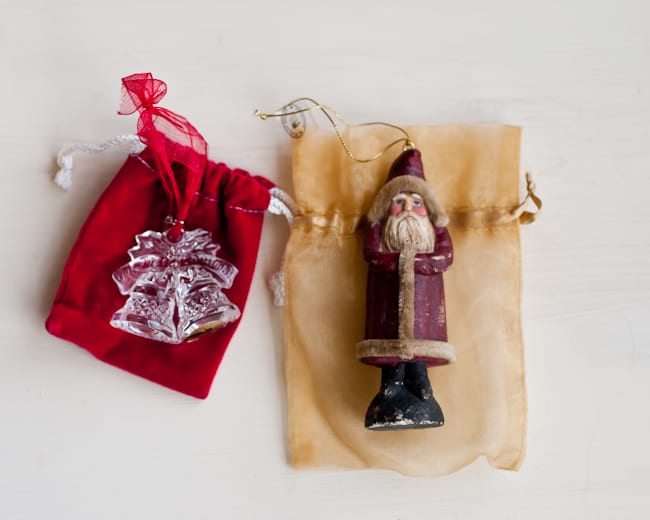 If an ornament comes in a special bag, I always keep those. The little velvet bag is especially nice and soft so the crystal doesn't get scratched or banged up.
3. Get creative with storage options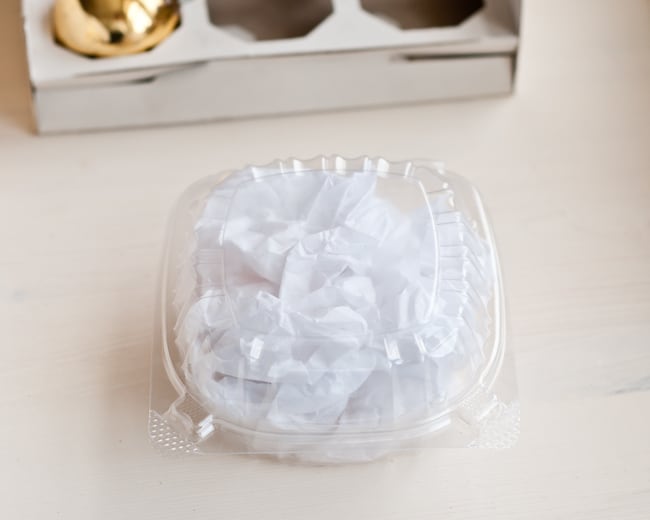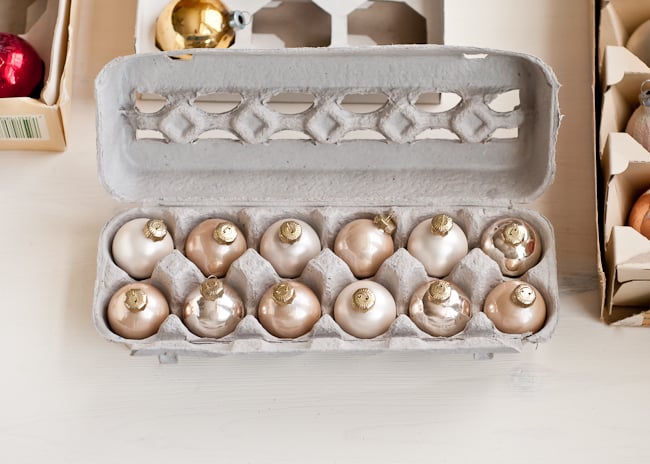 Your recycling bin probably has items right now that can be used to store ornaments. Plastic take out containers lined with archival tissue paper are great for larger ornaments or those with special decorations or breakable parts. Egg cartons are great for smaller glass balls.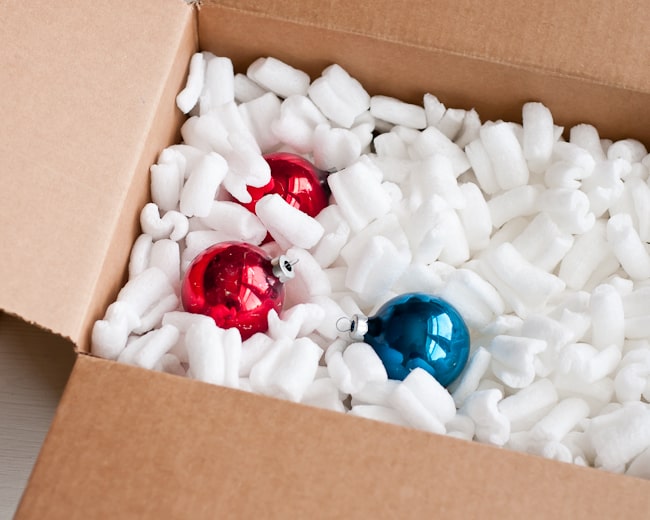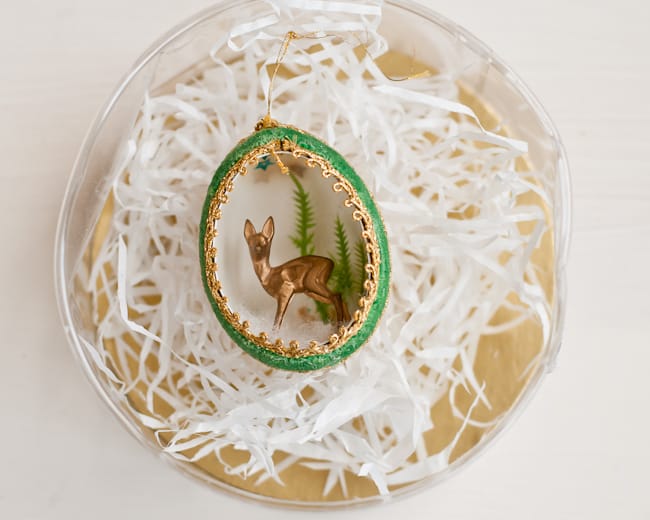 I save packing peanuts and smaller, sturdy boxes to use for breakable ornaments. Shredded paper is great for cushioning delicate ornaments. For really special, delicate ornaments, it's a good idea to switch to using archival methods including using acid- and dye-free tissue papers, dividers and boxes.
4. Store similar ornaments together
I store glass balls separately and in a completely different box away from other decorations. That way you can store them in similar ways with less chance of breakage.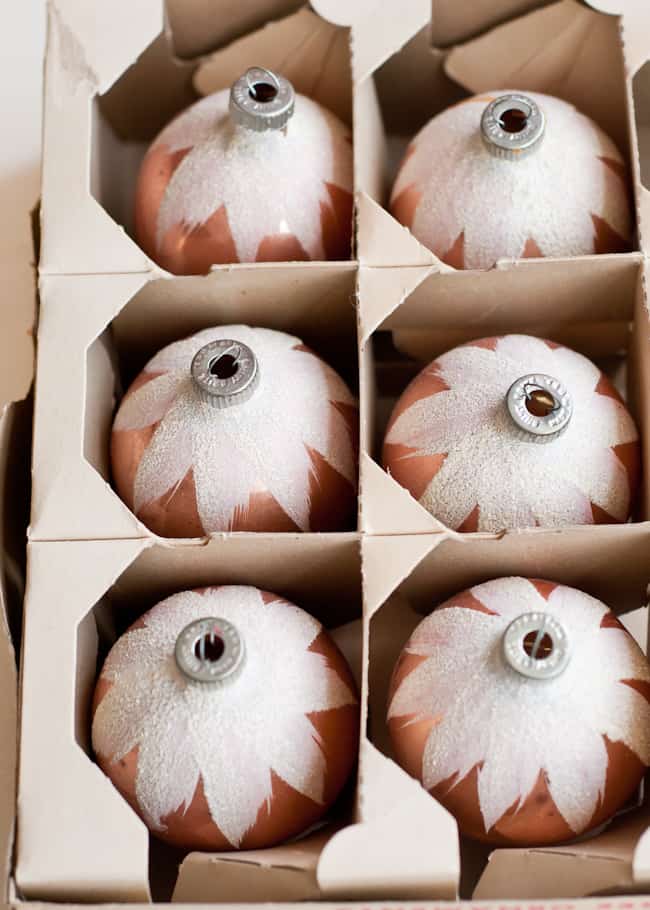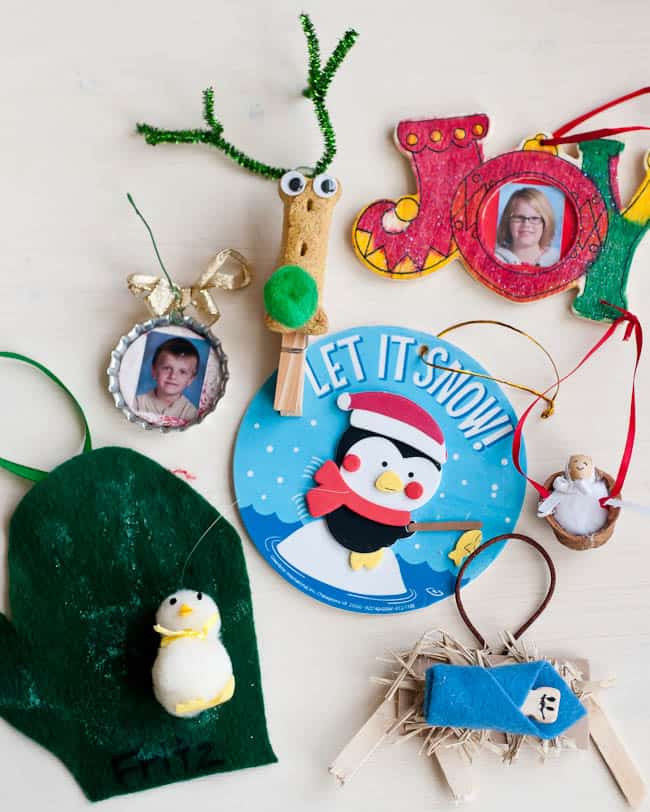 We all have homemade ornaments, and that collection seems to grow exponentially every year. I love it! The best way I've found to keep my kids' handmade ornaments is to pack them in padded mailing envelopes. The bubble wrap inside keeps them from getting squished in the box. More delicate, special ornaments should be put in separate containers.
5. Remove hangers before packing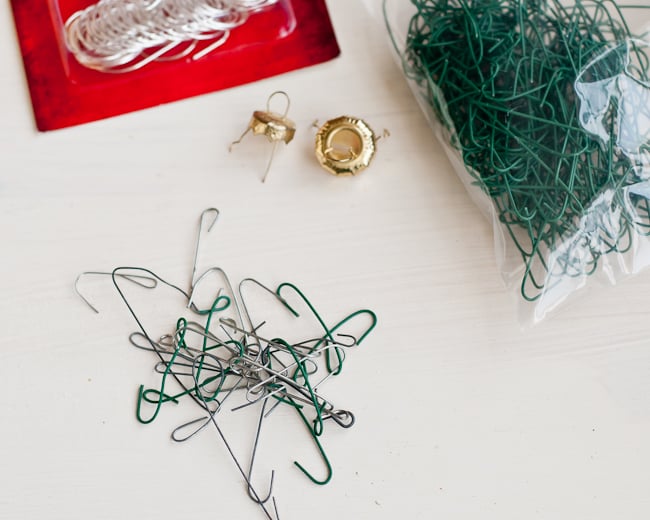 Ornaments can easily be scratched by the hangers, plus I've had some hangers catch on the box and a few times I've even had the tops pop out. Play it safe and store them separately. It's easy enough to tuck the bag into the same box so they don't get lost. Also, if an ornament does break, keep the top to use as a replacement. I keep the extra tops with the hangers.
6. Think about the other 11 months of the year
Basements, garages and attics are often humid or damp with mold. Big plastic bins have the same problem. The airtight seal traps moisture that could damage the surface of delicate ornaments and/or their boxes. The best place to keep ornaments, particularly special ones, is in a sturdy box in a closet or on a shelf where the danger of falling is limited. I pack ornaments in their boxes inside a bigger box for extra protection.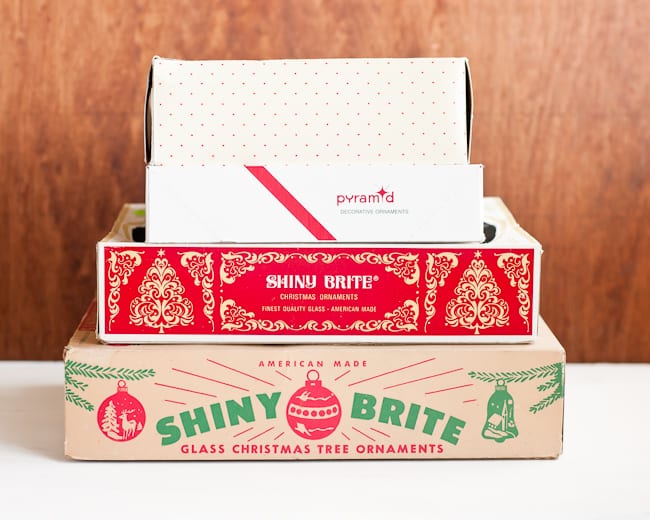 And this might seem obvious, but don't store ornaments at the bottom of the decoration pile. Label boxes clearly so you know what's what then place them above heavier items. Special ornament boxes might be worth the extra initial expense for heirloom ornaments. There are plenty of great smaller wooden or sturdy cardboard boxes made just for this purpose.
7. Beware the repair
When you put the ornaments away for another year, it's a good time to give them a once-over to see if anything needs repairing or cleaning. It's always best to use a soft brush for dusting or a soft dry cloth. With my vintage ornaments, I usually leave them be unless they are extra dirty. It isn't worth the possibility of ruining them or their surface. For ornate items, you can use the gentlest burst of canned air.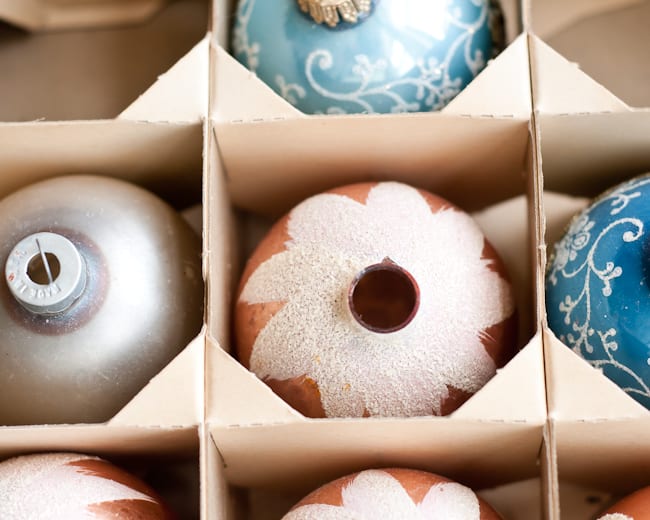 If you absolutely must clean an ornament, test a small area first to be sure the finish remains intact. Never use detergents or hard cleaners on ornaments. Use a soft cloth to gently rub the spot away. If you have cloth, knitted or crocheted ornaments, it's a good idea to take them to a dry cleaner that offers preservation or heirloom cleaning.
Don't try to repair or repaint ornaments unless absolutely necessary – particularly glass ornaments. If it's a figurine type ornament, you might be able to get away with craft or super glue. Sometimes it's better to enjoy a slightly damaged ornament rather than ruining it completely. (Said from experience!)
8. Preserve the tradition
It has become a tradition for everyone to find a new ornament in their stocking on Christmas morning. A favorite character or a special milestone is commemorated with an ornament. (The Griswold family car is a new favorite.) And with a little TLC we'll enjoy that memory for years to come as we unwrap the ornaments and decorate the tree.
29