Why oh why do our eyes have to express quite so much? They might be the windows to the soul, but I'd prefer they expose less of my lack of sleep and allergy issues. Even though I just found the best under eye coverup yet (made with coconut oil!), the dark circle and eye wrinkle struggle is real.
We're all supposed to use eye cream, but applying it is one of my least favorite things. Enter the roll-on applicator. This may seem like a small thing, but it's not! You won't waste precious ingredients by applying too much, you don't have to worry about getting dirty fingers in your eye, and you won't pull and tug on the delicate eye skin.
To make your own nurturing eye serum you want plenty of essential fatty acids to fight dry, dehydrated skin along with ingredients to lighten discoloration and reduce swelling. Here's a look at what we put together for this DIY under eye eraser:
How to make an under eye oil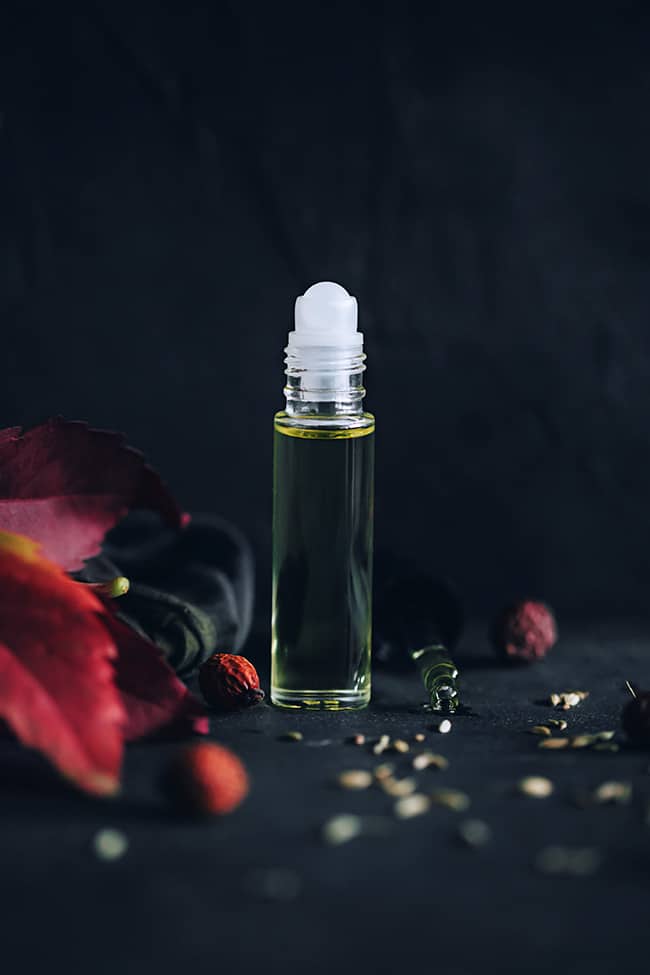 Cypress essential oil
Cypress essential oil is a detoxing oil that's perfect for eye issues. It has astringent, diuretic and vasoconstricting properties. That means it helps to constrict blood vessels and flush out the fluid in swollen eyes as well as tone under eye bags.
Licorice root extract
Yes, you read that right! Extracted from the root of the Glycyrrhiza Glabra plant, licorice extract has potent skin lightening, antioxidant and anti–inflammatory benefits. Licorice extract is often used in skin-lightening products to diminish the appearance of dark under-eye circles, discoloration and age spots.
Carrot seed oil
Carrot seed oil is a cell rejuvenating wonder with high levels of beta–carotene and vitamin A and E. Those high levels of vitamin A make it a natural retinol. Retinol is a common ingredient in wrinkle creams because it slows the breakdown of collagen and lightens skin discoloration.
Evening primrose oil
Evening primrose is one of my new favorite oils. The lightweight, anti-inflammatory oil is rich in essential fatty acids to hydrate and improve skin elasticity.
Rosehip oil
Your skin loves rosehip oil. It's essential fatty acids help moisturize and plump up the thin skin around the eyes. A rich source of vitamin C, rosehip oil is loaded with antioxidants that help fight wrinkle-causing free radicals and even out pigmentation.
Arnica-infused oil
Arnica oil is used to reduce swelling and speed healing with bruises and sprains so it's no surprise that it also works to reduce bags and dark circles under the eyes.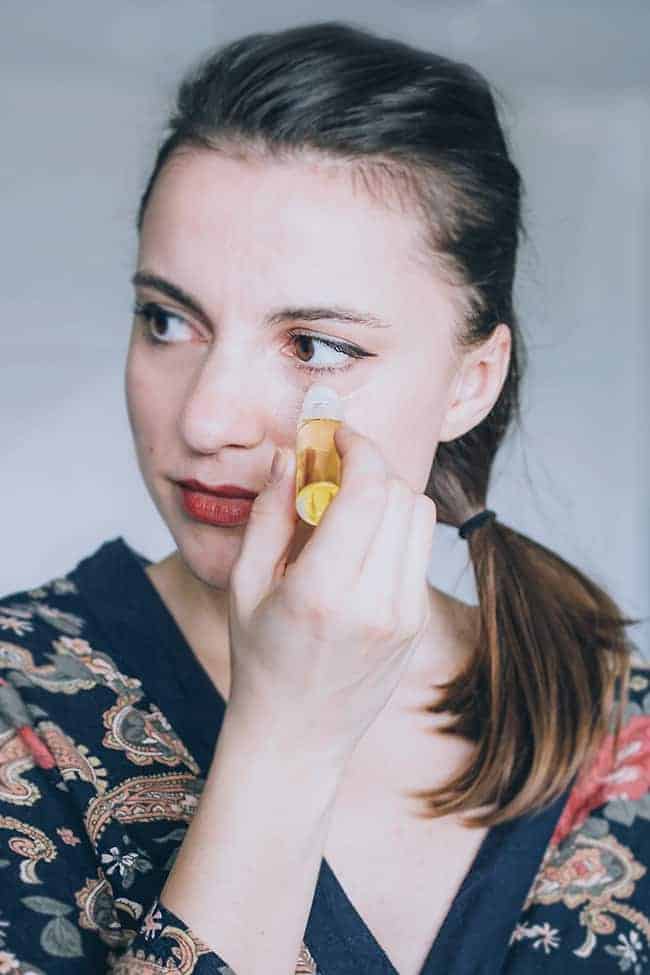 I know, it's a lot of ingredients. But they're all so good! If you don't have everything listed (and don't want to buy it), you can edit things down. A simple combo of carrot seed oil and rosehip oil would be awesome too!
I started using this oil the week of a major sinus headache, and it felt so soothing on my swollen eyes. I swear it helped reduce some of the sinus pressure too.
Word of caution: don't use this on your eyelids – it should be used under and lateral to the eyes only. The oils invariably run, and it is not fun to get essential oils in your eyes. If you do, flush your eye with milk and then rinse with water.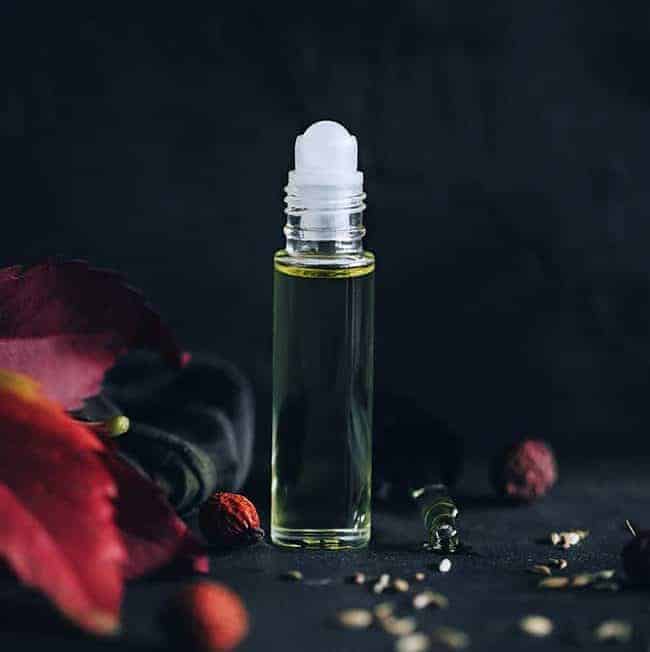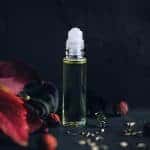 Print
Carrot Seed + Rosehip Eye Serum
This DIY under eye eraser uses licorice extract and natural oils like carrot seed and rosehip to combat dark under eye circles and wrinkles.
Instructions
Add evening primrose oil to the roll on bottle. Add the essential oils, vitamin E and licorice root extract and shake well.

Add rosehip oil and replace lid. Agitate a second time.
Notes
To use, lightly roll beneath the eye in the morning before you apply makeup. Tap lightly with your fingertips to help it absorb. If needed, wipe off any extra oil.
Store in the refrigerator for a cool treat for morning eyes. Use within six months.
This post was medically reviewed by Dr. Jennifer Haley, a board-certified dermatologist with extensive experience in medical, cosmetic and surgical dermatology. Learn more about Hello Glow's medical review board here. As always, this is not personal medical advice and we recommend that you talk with your doctor.
Photos by Ana Stanciu
65