You know you've really gone DIY—and eco-friendly—when you find yourself buying those giant bottles of castile soap. (And you know you're really eco-friendly when you start buying it in bulk!) Castile is a plant-based, biodegradable, natural soap that can be used as a base for DIY beauty and household products, as well as on its own as a powerful cleaner. While Dr. Bronner's is probably the most popular brand, there are others out there. You can buy it plain, or scented with essential oils—I'm a big fan of Rose and Eucalyptus.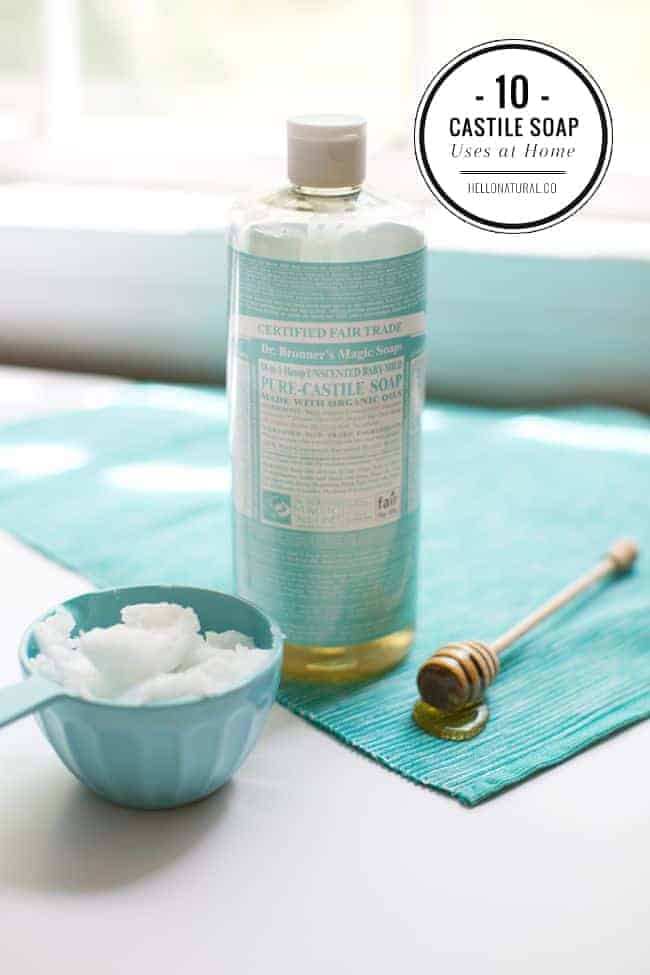 There's a reason those giant bottles of Dr. Bronner's say "magic soap" on them: Castile truly is a godsend. I also love it because it's cheap, especially when you consider it's so concentrated that you hardly need any of it. So go grab a ginormous bottle and start using it everywhere in the house! Here are 10 Castile soap uses to get you started:
1. Household Cleaner
Just add hot water to castile soap and you're good to go to fight grime on tile, counters and other non-porous surfaces.
2. Hand Soap
So easy: Just add a squirt of castile soap to a pump and fill the rest with water. Add a dozen drops of naturally antibacterial essential oils like cinnamon, clove, lavender, lemon, oregano, rosemary, sweet orange, tea tree or thyme if you like.
3. Dish Soap
Mix castile soap with water 1:1. If you find you need more grease-fighting power, try making this lavender dish soap that includes castile and super washing soda.
4. Body Wash
You can wash with diluted castile soap (3 parts water to 1 part soap), or whip up a luxurious body wash with castile, coconut oil, raw honey and essential oils.
5. Shampoo
Mix castile soap to water in a 1:3 ratio for an easy DIY shampoo.
6. Toilet Cleaner
Add a squirt of castile soap and 1/2 cup distilled white vinegar to your toilet bowl and let sit for 10 or so minutes. Then pour in about 1/2 cup baking soda and scrub.
7. Floor Cleaner
Add 2-3 tablespoons castile soap to your mop bucket for sparkling floors. Just a few drops of orange essential oil will provide a lovely citrus smell.
8. Oven Cleaner
Mix with baking soda and salt for a tried-and-true non-toxic oven cleaner.
9. Facial Cleanser
Combine your favorite castile soap with distilled water in a 1:4 ratio in a foaming soap bottle to make this gentle cleanser.
10. Veggie Wash
Obviously you don't want to be drinking the stuff, but castile soap is gentle enough that you can use it to clean your produce. Mix 1 tablespoon unscented castile soap with 2 cups of water in a spray bottle.
How do you use castile soap at home?
10