I'm a reformed subscription box addict. I used to subscribe to—well, more boxes than I'd like to admit—because it's totally fun to get surprises in the mail each month. But then I took a good, hard look at what I was getting and realized that a lot of the stuff in these boxes is junk. For every high-end lotion, there'd be several cheap pairs of earrings and bags of weird vegetable chips and glittery tribal armband temporary tattoos (true story).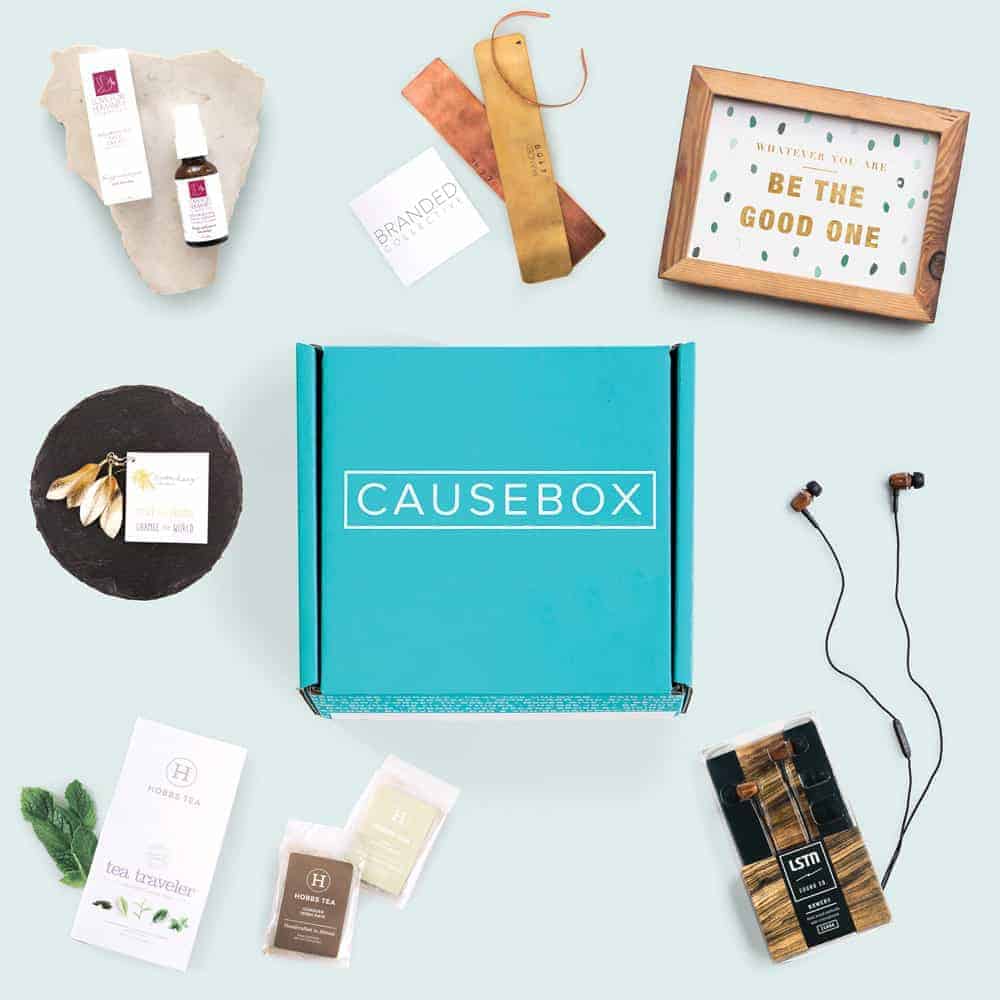 CAUSEBOX isn't a box full of disappointment. It's quarterly, not monthly, and it's carefully curated to include the best socially conscious products. I love that it's not a box of cheap, random junk, but things that I'd actually buy from businesses that I'd want to support. Here's what you get in their current Welcome Box:
BRANDED Collective Mini Cuff – Each one of these cuffs is hand hammered and numbered by a woman rescued from Human Trafficking in Tennessee.
Noonday Collection Gold Leaf Earrings – These beautiful earrings are handmade with love in India out of gold-foiled leather. Noonday Collection collaborates on designs with talented artisans in vulnerable communities around the world.
LSTN Sound Co. Zebrawood Ear Buds – Each pair of LSTN headphones is handcrafted from real wood, and with their rich and unique wood grains, no two pairs of headphones are the same. And to top it off, for every pair of headphones that LSTN sells, they help to restore hearing for a person in need.
Love for Humanity Face Cream – This stuff is amazing. It is organic, vegan, cruelty-free, made in the USA, and for every product that LFH sells they provide a meal for the malnourished.
Hobbs Tea Traveler Pack – Assorted single-origin premium, organic tea pack handpacked in Haleiwa, Hawaii.
CAUSEBOX Foiled Print + Reclaimed Wood Frame – A gold foiled print exclusively for CAUSEBOX members and frames handmade out of reclaimed wood in Venice Beach, California.
This is all stuff I adore and will totally get use out of, unlike those temporary armband tattoos that are sitting in a closet somewhere.
Subscribe to CAUSEBOX now and you'll get all of these products in the Welcome Box—and with the coupon code HELLOGLOW, you'll also get $10 off your subscription. Nice!
1