Unless you have been living under a rock, chances are, you've at least heard of CBD. It has become the new "it" ingredient and is showing up in pretty much everything—from makeup, hair, and skincare products, to ice cream, anxiety meds, cooking oils, and dog treats (yes, really). So you might be wondering, "What on earth is CBD, and why is it becoming so popular?"
What is CBD?
Well, the first thing you should know about CBD is that it is natural and has been around for centuries, if not longer. It hails from the cannabis plant (yep, marijuana and its plant sister, hemp).
The cannabis plant contains more than 500 compounds, but you will mostly hear about two main chemicals, CBD (cannabidiol) and THC (tetrahydrocannabinol) [source]. These two ingredients, however, are very different.
THC is the ingredient in marijuana that gives you that feeling of being "high"—CBD does not. But CBD does offer some potentially amazing benefits that work to promote and maintain health [source], especially for your skin. That is why the CBD skincare market is estimated to be worth $1.7 billion by 2025, according to a new report by Grand View Research, Inc.
There are a few different types of CBD, 1) "whole-plant" or "full-spectrum" CBD, which is the most popular, and then 2) "broad-spectrum" CBD, and 3) CBD isolate.
Full-spectrum CBD
"Full-spectrum CBD contains all of the naturally available compounds of the cannabis plant, including THC. However, in hemp-derived full-spectrum CBD, the THC will be no more than 0.3 percent," explains Hadley King, M.D., a board-certified dermatologist and clinical instructor of dermatology at the Weill Medical College of Cornell University. "Broad-spectrum CBD has all of the naturally occurring compounds, except for THC."
CBD isolate
If you are looking for the absolute purest form of CBD, you would want to go with CBD isolate and hemp seed oils, which should not have a single trace of THC [source]. If you want the whole package, including all of the benefits the cannabis plant has to offer, you would want to choose the full-spectrum formulation (above).
Broad-spectrum CBD
"Some people prefer broad-spectrum CBD and hemp oil products because they want all the terpenoids (which provide muscle relaxation and promote sleep) [source], polyphenols, and flavonoids, but no THC," says Dr. King.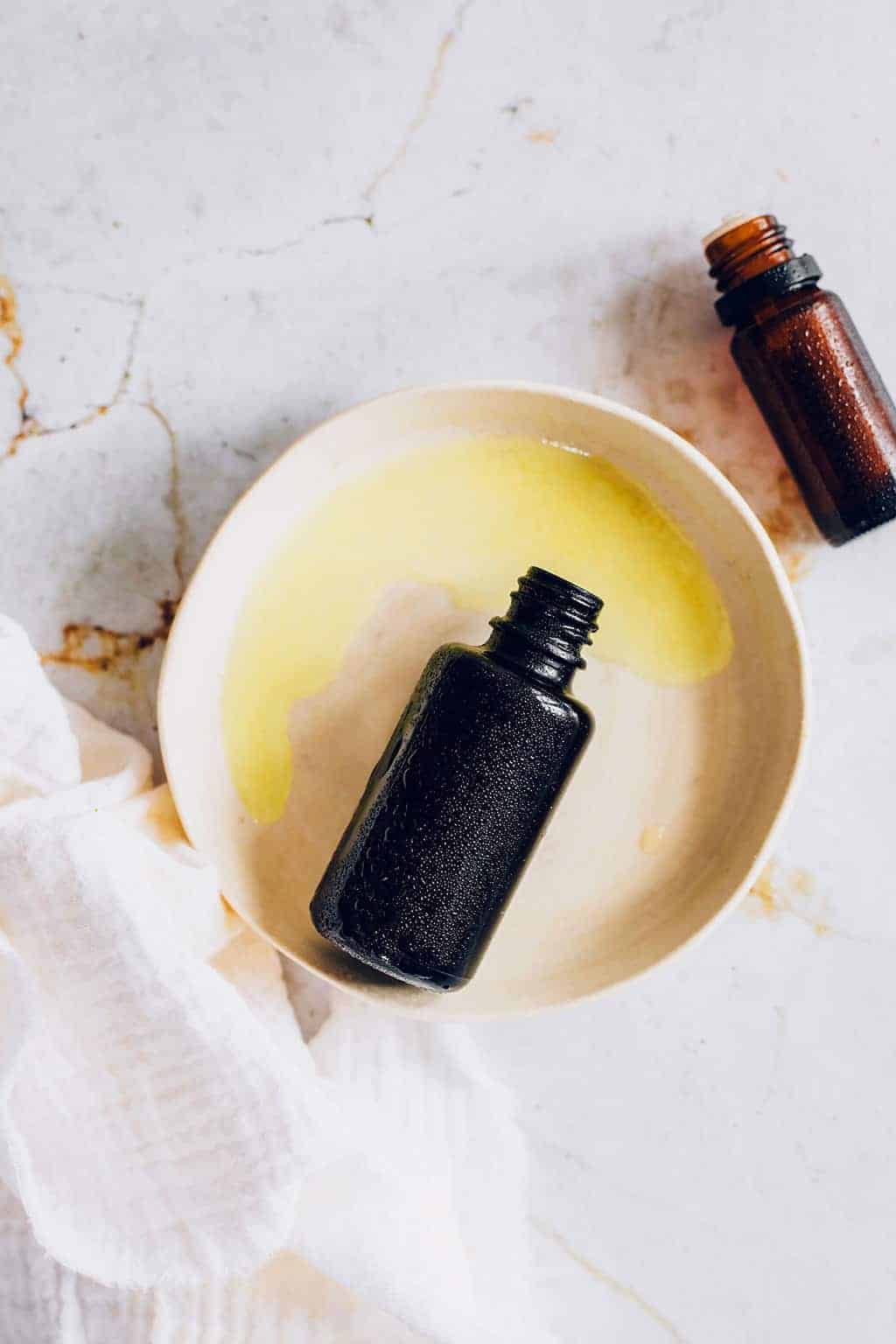 Is CBD legal?
Because CBD comes from marijuana or hemp plants, many people wonder whether or not it is technically legal. All hemp-derived products are legal in the United States on a federal and state level, as laid out by the 2018 United States farm bill, however, it is a different story with marijuana-derived CBD.
"States can introduce their own marijuana laws," explains Sejal Shah, M.D., a cosmetic dermatologist in New York City and founder of SmarterSkin Dermatology. "While the majority of states have some type of medical marijuana program and 10 states plus Washington, D.C. have legalized recreational marijuana use, marijuana remains an illegal substance on a federal level, and this includes marijuana-derived CBD oil."
What are the skin benefits of CBD?
First, it is important to note that the data on CBD benefits as far as skin care is concerned is limited.
"What the research does show is that CBD has anti-inflammatory and pain-relieving properties and can reduce stinging, burning, and redness as well as dryness, which makes it great for sensitive, itchy skin [source]," says Peterson Pierre, M.D., dermatologist and founder of the Pierre Skin Care Institute in Thousand Oaks, California. "It is especially beneficial for treating eczema symptoms by alleviating the irritation, replenishing moisture, and preventing water loss—thanks to its high essential fatty acid content."
Dr. Pierre notes that CBD has some acne-fighting benefits as well, including reducing sebum, that waxy, oily substance that comes out of your pores when you squeeze them [source]. In fact, cannabinoids are known to be used in the treatment of many skin diseases, from itching to skin cancer, due to their anti-inflammatory and anti-cancer effects [source].
CBD also has antioxidant properties, including vitamins A, C, and E [source]. This gives it the ability to ward off free radicals lurking in the environment that are linked directly to premature aging and sun damage. These are just some of the reasons that CBD is quickly becoming one of the top natural choices for skincare products.
How to choose the right CBD skincare brand
Just one Google search that includes the words "CBD" and "skin care," and you could spend days scrolling through the product options. As if choosing a skincare product isn't overwhelming enough, it seems that there are more options in the CBD category than any other category for skin care out there.
That is not to say you should knock CBD skin care altogether. However, if you are looking to give CBD skin care products a try, there are certain precautions you should take to ensure you are making the right selections for your skin and your health.
1. Read through the ingredients list
This should be a must for every skincare purchase you make. Knowing what's contained in the products you put on your face and body is incredibly important. Even though the market is growing exponentially, at this time, regulations are lacking for the manufacturing of CBD oils and products [source]. There is also some variability in labeling accuracy for products sold online that contain CBD [source].
If a product claims to be a CBD product but only lists "hemp extract" on its ingredient label, it does not technically contain CBD. "Some products will list CBD as hemp extract, but don't be fooled by products that list only hemp seeds, hemp seed oil, or cannabis sativa seed oil, as these are not the same as CBD," warns Dr. King.
Make sure the product is certified organic or ecofarmed so that it contains no pesticides or herbicides [source].
2. Find out how many milligrams it contains
While you are checking out the product's ingredient list, Dr. Pierre recommends looking for the number of milligrams of CBD in the product and dosing instructions. "If it is not on the label, that should raise a red flag," he says. "CBD will usually be listed as cannabidiol, full-spectrum hemp, or PCR (phytocannabinoid-rich) hemp extract." If it is listed as one of these three things, it is very likely legit.
3. Look for a quality assurance stamp
Whenever you select a skincare product, it is important to make sure it is third-party tested. What does this mean? Third-party certification means that an independent organization at the local, state, or international level has reviewed a product, through the developmental phases of research, manufacturing, and delivery, to ensure that it meets safety, quality, and performance standards.
"The certificate of authenticity will tell you the product has been tested in a lab and will give a per-batch breakdown of how much CBD the product contains, as well as other ingredients," explains Dr. King. "The label should also include information about whether the CBD contained in the product is an isolate or full-spectrum."
In short, if it has been third-party tested, you can rest assured that there are quality control measures in place. If you can't tell whether or not a product has received an assurance stamp or a certificate of analysis from a third party, he recommends checking the product's website for more information.
"Also, look for a batch number, which is evidence that the company is following good manufacturing practices and is also useful if there is ever a recall."
4. Choose a carrier oil that provides benefits
If you're buying a CBD oil, "the product will likely include a carrier oil like grapeseed, MCT, olive, or hemp seed oil to stabilize and preserve the CBD and help your body absorb it," explains Dr. King. These oils can provide additional benefits for your skin, so choose wisely.
For example, grapeseed oil can help moisturize skin, tighten pores, reduce the appearance of scars, and even treat acne [source], and olive oil provides moisturizing, antioxidant, and antibacterial effects [source].
10 CBD skincare products to try
As we mentioned a few times, there is no shortage of CBD skincare options available on the market, so shopping for the right products for your skin type and needs is hardly easy. Luckily, dermatologists have their own favorites and are willing to let us in on their best-kept CBD skincare secrets.

In addition to skin-soothing aloe vera, this CBD-infused skin mask also packs a serious moisturizing punch, thanks to coconut water and hyaluronic acid. "It also contains jackfruit extract, which is rich in antioxidants and vitamin C, to brighten the skin," explains Dr. King, as well as niacinamide, licorice root extract, manuka honey extract, royal jelly extract, and probiotics for the ultimate skin boost.
For optimal results, apply to clean, dry skin, and let it sit for at least 15–20 minutes before removing and following up with your go-to moisturizing product.
There is no better way to unwind and de-stress after a long day than a calming and relaxing spa at home, and this kit is all about that home spa experience. Including a body lotion, bath bomb, bath salts and soap, it's got everything you need to relax from head to toe. We're partial to their coconut lime scent, which adds that tropical vacation vibe.
While this is technically a body cream, it is face-grade, which means you should be able to apply it directly to your face as a facial moisturizer without risking breakouts or clogging your pores. In addition to CBD, it contains manuka honey, which helps balance the pH level of your skin, exfoliates and sloughs away dead skin cells sitting on the top layer, and it is also antibacterial, which means it can help ward off acne [source].
This is certainly on the pricey side, but derms say it's well worth the splurge. "It not only contains 250 mg of organic CBD oil, but also other powerful ingredients that can benefit the skin, such as vitamin C, hyaluronic acid, vitamin B3, and aloe," explains Dr. Shah. So, while you're getting the skin-boosting benefits of CBD, you're also getting a whole lot more skin nutrition from the other ingredients, too.
If you are looking for a skincare product that contains some CBD, but not too much, here is a great one to start with. It contains just 100 mg of CBD-rich cannabis sativa hemp extract and is ideal for all skin types. It also contains 100 percent pure argan oil, which boosts the health of your skin, thanks to antioxidants, including vitamin E [source].
This night cream has slightly less CBD—150 mg of broad-spectrum CBD hemp oil—but it also contains some other important ingredients as well, such as bakuchiol, which is thought to mimic the anti-aging effects of retinol [source]. "Bakuchiol is impressive—it has a number of natural antioxidants and hydrating ingredients," says Dr. Shah.
Although this product claims to have "extra-strength" CBD, it only contains about 100 mg, which is standard for the industry. It also contains shea butter as the main hydrating and nourishing agent, so you can expect moisturized skin that stays nourished long after you apply this lotion, along with less redness and irritation.
Skin salve is the new "it" product. It is meant to work as a moisturizer, but provides a little more nourishment, thanks to a combination of vitamins and oils or butters. This one contains shea butter as well as 11 therapeutic-grade essential oils. Because it is full-spectrum, it includes all of the compounds naturally found in the cannabis plant, which can include traces of THC.
Even the look of this potion-like product is tempting, but what's actually inside is the most exciting part. It contains organic, full-spectrum CBD (with less than 0.3 percent THC) grown in Colorado along with other skin-nourishing ingredients, including ashwagandha and turmeric root, which help ward off environmental aggressors like free radicals, helichrysum flower extract, which helps reduce irritation, as well as squalane, meadowfoam seed oil, and borage seed oil, which further hydrate.
From one of the most trusted skincare brands since the 1850s, comes a calming, non-comedogenic (which means it won't cause breakouts or clog pores) facial oil featuring hemp-derived cannabis sativa seed oil and green oregano oil (with antioxidant and antibacterial properties) as the main ingredients. Together, these ingredients work to reduce visible redness by calming and soothing the skin.
If you are a fan of using soap in the bar form, as opposed to liquid, give this CBD-infused bar a try. In addition to CBD (20 mg in each bar), it contains cucumber melon extract, coconut milk, coconut oil, and olive oil to help relieve cracked hands.
This post was medically reviewed by Dr. Jennifer Haley, a board-certified dermatologist with extensive experience in medical, cosmetic, and surgical dermatology. Learn more about Hello Glow's medical review board here. As always, this is not personal medical advice, and we recommend that you talk with your doctor.
18