Anxiety has been part of my life for so long that I don't really know who I am without it. I have obsessive-compulsive disorder and also just a high-strung, anxious nature. When things are going well, I tend to take a glass-half-full perspective and link my drive and work ethic to the ever-present anxiety that pushes me to always do more. But when things are going badly, sometimes it's hard to function like a normal person because I'm so paralyzed with fear.
For those times, I've been prescribed Xanax. And it helps, for sure. But the thing is, I get nervous about taking it. (Yes, that's right—I get anxious about taking the medication that's supposed to make me less anxious. I am a disaster, y'all.)
Even at the smallest doses, it makes me sleepy, so I don't like to take it during the day. And although nighttime is usually when my anxiety peaks, even then, I don't want to take it often because I'm afraid of becoming dependent.
CBD oil is often used as a natural remedy for generalized anxiety and social anxiety disorders, with many people reporting positive effects. Research has shown that CBD oil may help alleviate symptoms of generalized social anxiety disorder, making it a promising treatment option for those who struggle with social situations.
If you struggle with generalized anxiety, CBD oil might be worth a try.
What Is CBD Oil?
CBD, or cannabidiol, is a compound derived from the cannabis plant. It has gained popularity in recent years as a potential treatment for anxiety and related disorders. Anxiety disorders, such as generalized anxiety disorder, social anxiety disorder, and post-traumatic stress disorder, affect millions of people worldwide. Symptoms can include excessive worry, fear, and nervousness, and can interfere with daily life.
Research suggests that CBD oil may be an effective way to manage generalized anxiety disorder symptoms. In a simulated public speaking test, individuals who took CBD showed lower levels of anxiety compared to those who took a placebo. Clinical data also suggests that CBD may have anxiolytic effects, meaning it can help relieve anxiety. Additionally, relevant animal studies have shown promise in the use of CBD for treating anxiety-related disorders.
CBD products come in various forms, including oils, tinctures, capsules, and gummies. When it comes to anxiety, many people prefer broad-spectrum CBD oil, which contains a range of cannabinoids and terpenes, but no THC, the psychoactive compound in cannabis. Full-spectrum CBD oil, on the other hand, contains small amounts of THC, which some people may prefer to avoid.
Dosage of CBD can vary depending on the product and the individual. It is important to start with a low dose and gradually increase it until you find the right amount for you. It is also important to note that not all CBD products are created equal. Always look for a reputable company that uses high-quality hemp-derived CBD.
While research into the potential health benefits of CBD is ongoing, many people have reported success in using CBD to manage anxiety symptoms. It is important to speak with a healthcare provider before starting any new treatment for anxiety or other mental health conditions.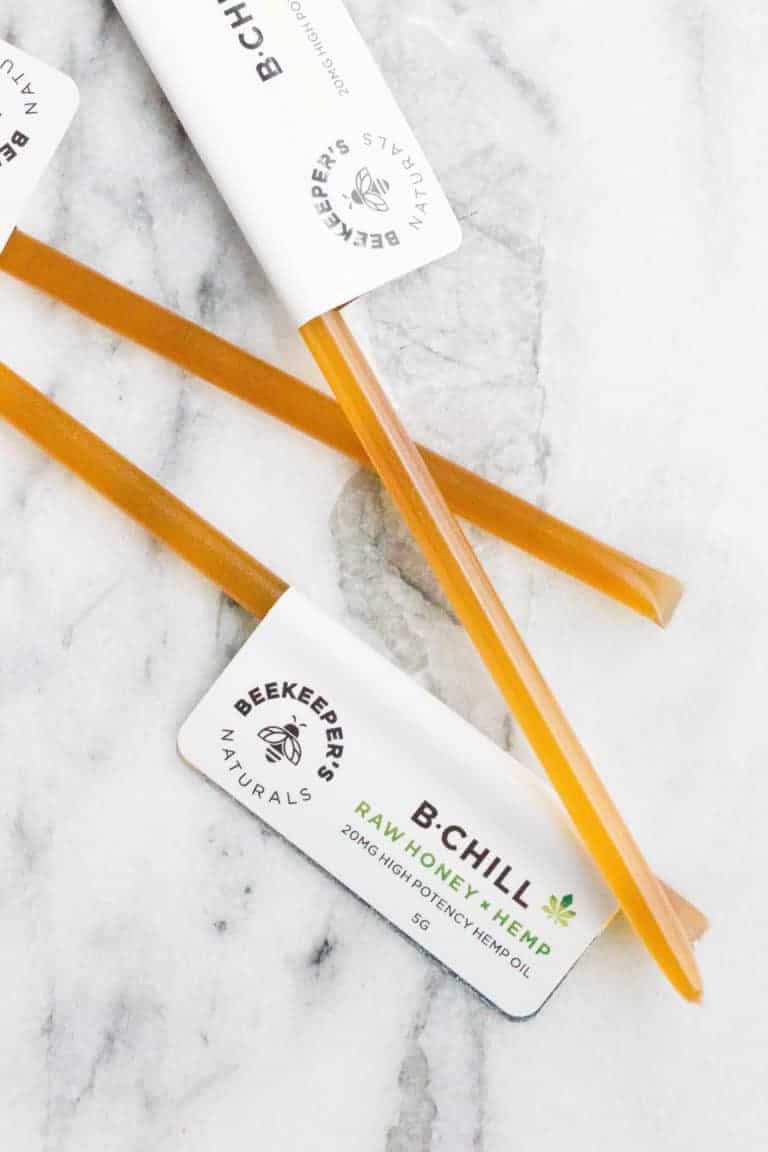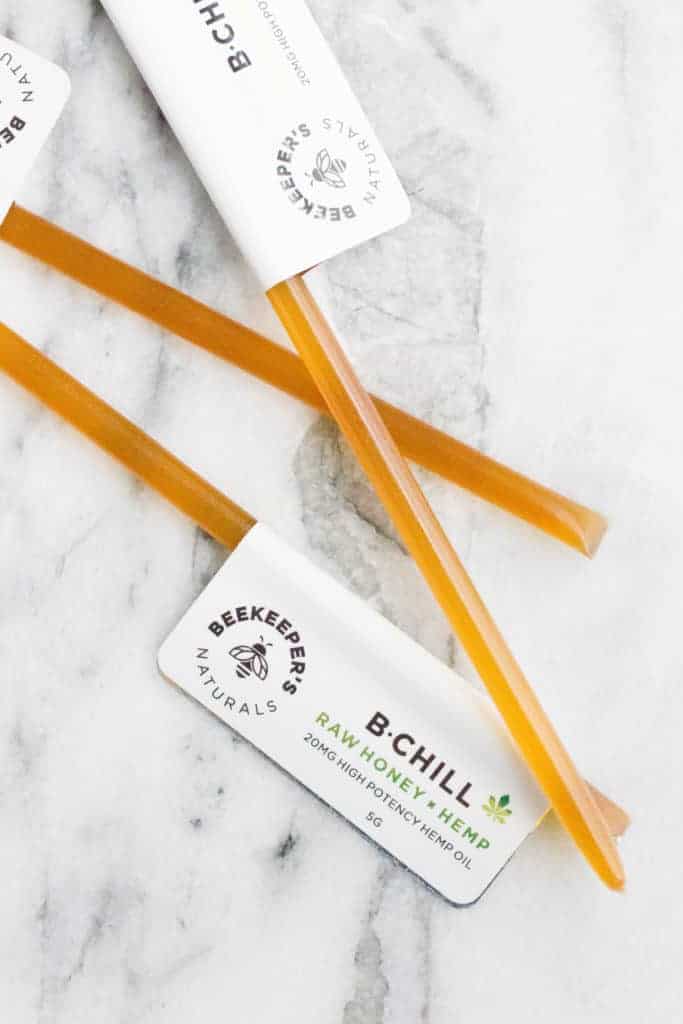 Pictured: Beekeeper's Naturals B. Chill Sticks
CBD for anxiety—does it work?
A mom friend who, like me, suffers from OCD, mentioned she was taking CBD for anxiety. My interest was piqued based on her experience—when her anxiety felt particularly out-of-control, the CBD would put a stop to the spiraling.
I asked my doctor about it, and she was dubious. While she gave the approval for me to give it a try, she cautioned that because marijuana is illegal, CBD hasn't been researched enough to determine its impact on anxiety.
While this is true, the research that has been done on CBD (short for cannabidiol) looks promising [source]. There's a growing body of evidence demonstrating CBD's usefulness for treating anxiety-related disorders [source]. It seems to have a calming effect on the central nervous system [source], which gives it the potential to treat a multitude of disorders.
In 2018, the FDA unanimously recommended approval for an epilepsy drug made from CBD called Epidiolex [source], and it is now the first CBD medicine available in the U.S. [source]. Because of its FDA approval, it is now regulated and does not have any of the safety concerns that other forms of CBD carry. A few studies have been carried out that show inaccuracies in the labeling of CBD products sold online [source] and from retail outlets [source], revealing large ranges of variability in the product contained.
It took me a while to actually take the plunge and try CBD for anxiety because I had trouble finding sources that felt trustworthy. (As someone who quite literally obsesses over product purity—it's one of my OCD fixations—this is the best argument I can think of to legalize marijuana. Legalization means regulation and research [source]!)
What helped me was:
Actually reaching out to the manufacturers to ask questions

. This was huge for me. If you have a good BS meter, I'd recommend taking this step. The folks at

Grön

were especially candid and helpful. I learned so much from them!

Getting recommendations

. I asked friends, the staff at my local grocery co-op, and checked Reddit and internet message boards. Plus, I Google everything!

Treating CBD like other health supplements

. I always buy supplements that share third-party testing results on their websites, are transparent about their sourcing, and manufacture their products in the United States or Canada. The CBD industry is not regulated, and thus the safety and efficacy of products on the market are not guaranteed, so you need to do your homework [

source

].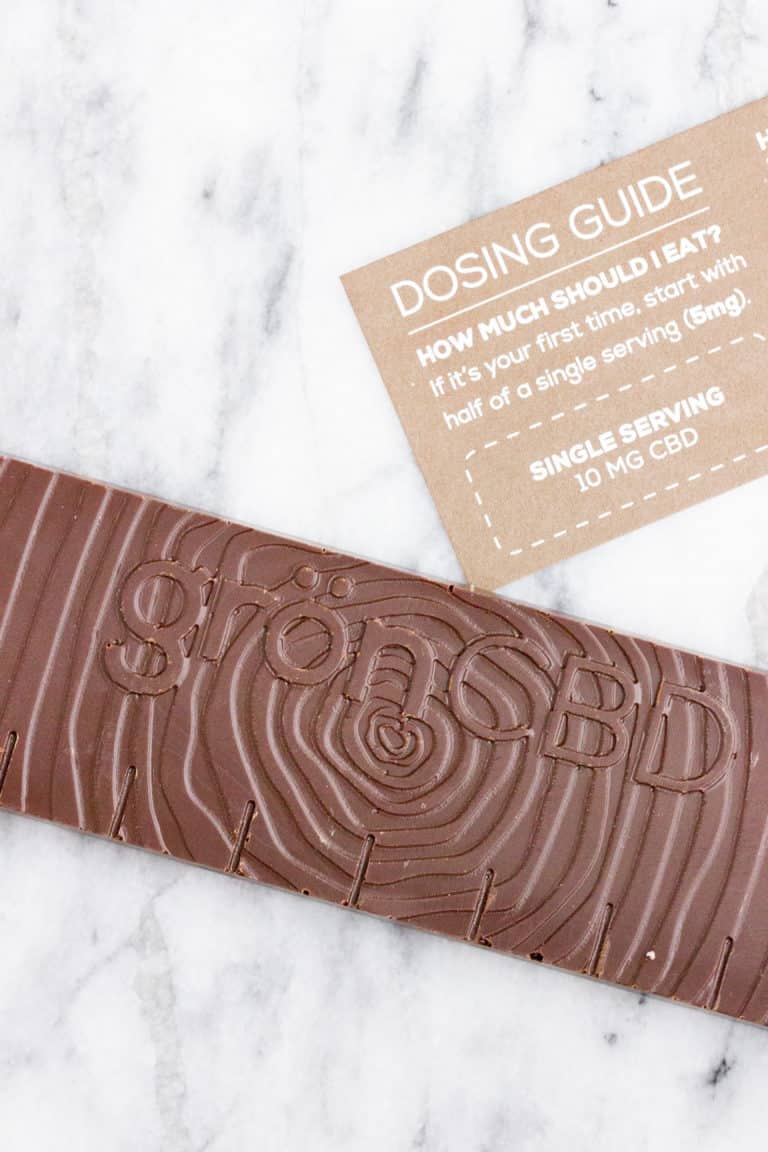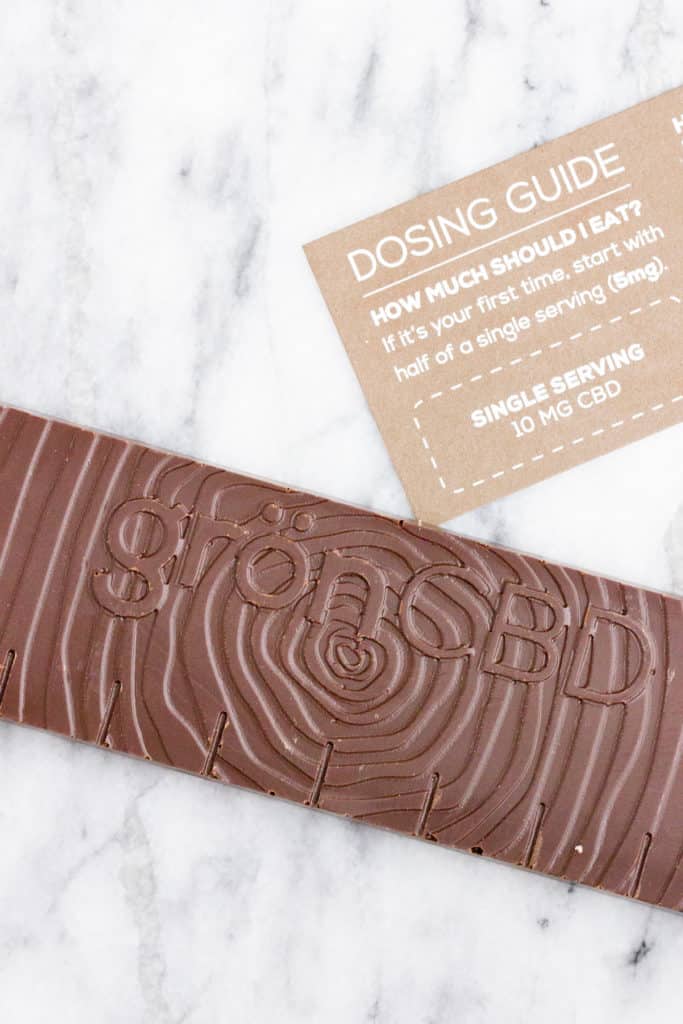 Pictured: Grön CBD Chocolate
Just to be clear, CBD doesn't get you high. The compound that gives you that feeling when you use marijuana is called THC. And if you feel high after taking CBD, you're probably taking a product that's impure or mixed with other elements for that purpose [source].
My Experience Taking CBD for Anxiety
Before I talk about my experience using CBD for anxiety, you may be wondering, "Is CBD even legal?!" Well, yes, it is—kind of. What's not legal in some places is CBD derived from marijuana, unless you're in a state where marijuana is legal [source].
But, if you want to get off that bandwagon altogether, you can look into CBD derived from hemp and other sources. Grön, a CBD chocolate maker out of Portland, produces its CBD from an invasive pine tree and lemon peel. This kind of CBD is not illegal.
The first CBD product I tried was Beekeeper's Naturals B. Chill honey. This felt like a natural place to start since it was a brand I already knew and trusted. The effect was hard to describe; it wasn't so much any particular feeling, but the absence of the ever-present anxiety that's just always there for me.
I tend to carry tension in my body, and I'm never still. I drive everyone around me crazy by constantly fidgeting and bouncing my legs. The CBD made my body feel calm and quiet.
That quiet feeling was mental too. My need to multitask and inability to concentrate on anything for longer than 5 minutes gave way to intense focus. I worried that CBD, like Xanax, would render me useless, but I've actually found that taking CBD helps me with work. Unlike the Xanax, which I'd always have to time around bedtime, I feel comfortable taking CBD any time of the day.
Could it be a placebo effect? It very well could be. I don't know! All I know is that CBD seems as effective for me as my prescription. And I haven't had to take any Xanax since I started using CBD. I have two unfilled prescriptions sitting in my purse right now and a half-used bottle in the medicine cabinet.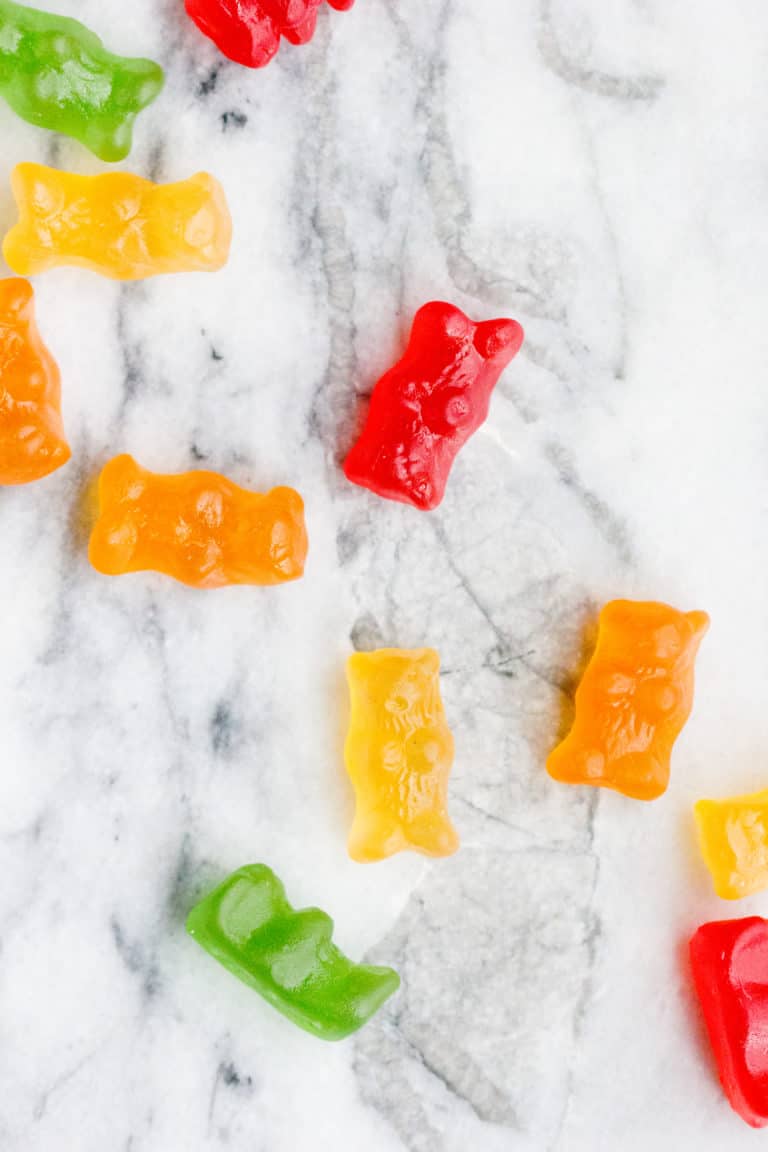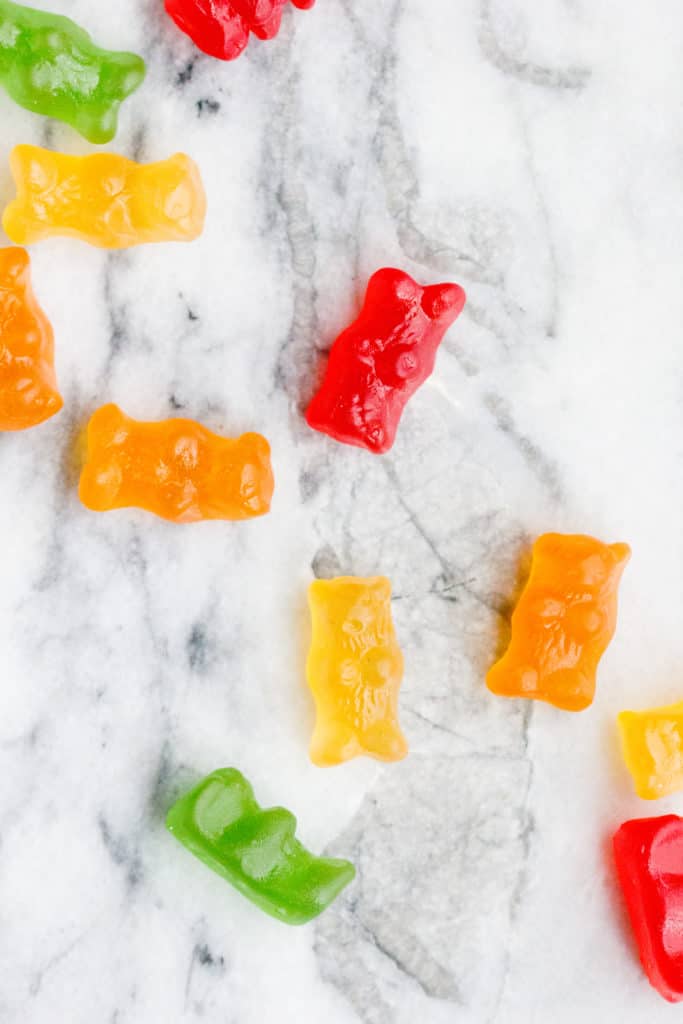 Pictured: Sunday Scaries CBD Gummies
I soon picked up a few bars of Grön CBD chocolate (found after some intense Googling) and Sunday Scaries gummies after the owner reached out to Hello Glow via Instagram. Now I have a stockpile ready for any time of day: honey for stirring into morning tea, a bottle of gummies to go with me in my purse, and chocolate to have after dinner to help me sleep better.
That said, I'm not taking CBD all day long, or even every day. Unfortunately, CBD is pricey, so I use it in the same way I used my Xanax—only when I really need it. When I'm having a particularly bad day with anxiety, it's usually the result of my mind latching onto some random thought and not letting go. The CBD helps me let those thoughts pass through rather than allowing them to snowball into something paralyzing.
It feels a little strange—even kind of scary—to be talking about this because CBD isn't yet mainstream. And while slathering it on your skin is one thing, actually ingesting it is another.
But we're currently undergoing a sea change in how we talk about mental illness in this country; if we can be open about that, we should also be open about treatment options. CBD has a stigma attached to it because of its origins, but the fact that it's a non-addictive alternative to benzodiazepines and opiates makes it worth researching and taking seriously. It's not just for potheads.
Of course, all the usual disclaimers apply here. I'm not a doctor! If CBD is something you're considering, talk to your doctor! And, obviously, my experience is my own. What worked for me might not be right for you. Just make sure and do the research, so you will feel comfortable with whatever you decide to do.
FAQs about CBD and Anxiety Disorders
What is CBD oil?
CBD oil is a type of oil that is derived from the hemp plant and contains cannabidiol (CBD) as its primary active ingredient. CBD is a non-psychoactive compound that is believed to have a wide range of potential health benefits, including reducing inflammation, relieving pain, and reducing anxiety and depression symptoms. CBD oil can be consumed in a variety of ways, including ingesting it directly, adding it to food or drinks, or applying it topically to the skin. It is important to note that CBD oil is legal in many countries, but regulations vary depending on the specific laws of each location.
What is CBD and how does it relate to anxiety disorders?
CBD (cannabidiol) is a natural compound found in the cannabis plant. It has been studied for its potential therapeutic benefits, including for anxiety disorders. CBD works by interacting with the body's endocannabinoid system, which regulates various physiological processes such as mood, appetite, and sleep. Research suggests that CBD may help reduce anxiety symptoms and improve overall mood.
What are some suggested CBD products for managing anxiety symptoms?
There are many CBD products available for managing anxiety symptoms, including CBD oils, broad-spectrum CBD products, and full-spectrum CBD products. It's important to speak with a healthcare professional to determine which CBD product may be best suited for your specific needs.
Are there any potential side effects of using CBD for anxiety disorders?
While CBD is generally considered safe, some people may experience side effects such as fatigue, dizziness, and dry mouth. Additionally, CBD can interact with certain medications, so it's important to speak with a healthcare professional before starting any new supplement regimen.
Is CBD legal for use in treating anxiety disorders?
In the United States, CBD derived from hemp plants containing less than 0.3% THC (tetrahydrocannabinol) is legal at the federal level. However, regulations regarding the use of CBD products may vary by state, so it's important to research the laws in your specific location.
This post was medically reviewed by Dr. Susanna Quasem, M.D., a child, adolescent, and adult psychiatrist in Nashville, Tennessee. Learn more about Hello Glow's medical reviewers here. As always, this is not personal medical advice, and we recommend that you talk with your doctor.
555