It's probably safe to say we all hate cellulite. It appears regardless of body type, but usually because of poor diet, slow metabolisms, lack of physical activity or hydration, hormones, or simply because of genetics. But, honestly, it's so frustrating that I just want to know how to get rid of it. No matter how many squats we do, sometimes it just sticks. What the heck, right?! Not fair!
Let's face it. Cellulite doesn't look great and it can make us super self-conscious. With swimsuit season upon us, it's time we toned it down a little (pun intended) – especially since it seems like the sun just further exaggerates the dimples. Come on, sun, we're supposed to have fun with you!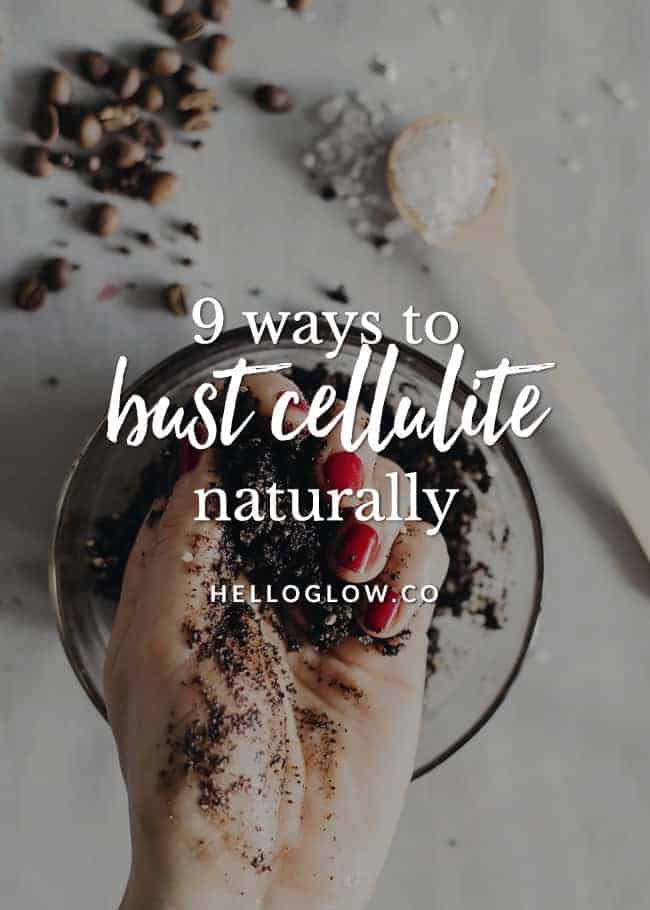 We've researched some natural remedies that can help you get rid of cellulite rather than spending hundreds or thousands at the plastic surgeon's office. There's plenty of tried and true remedies and recipes out there to give a try before splurging on expensive treatments.
1. Coffee scrubs
Coffee is a real go-to ingredient in products that combat cellulite. Why? Well, according to Dr. Oz, caffeine enhances fat metabolism. So when it's applied to the skin, coffee absorbs and removes liquid and fat from your skin, which can decrease the appearance of cellulite. To see if it works for you, try our cellulite-fighting coffee scrub that combines just 3 ingredients that moisturize and exfoliates.
2. Omega-3s
Some theories believe that consuming the wrong kinds of fats can increase your chance of developing cellulite by creating an imbalance of fatty acids that the body needs. Either way, omega-3s are an essential part of a healthy diet, and can be consumed through supplements or food.
3. Dry brushing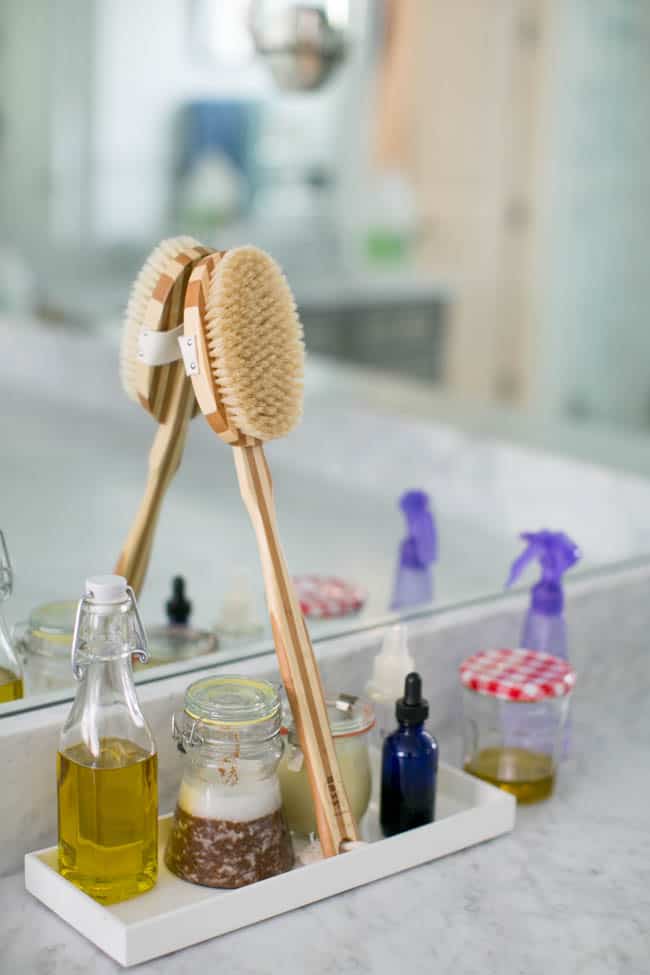 Many folks truly believe dry brushing is the best way to combat cellulite. And, all you need is a good stiff, natural fiber brush! This will help increase circulation, boost lymphatic drainage, plump the skin, and ultimately decrease the look of cellulite. It's important to use long strokes towards the heart on your lower half and counterclockwise on your stomach. It's best to do right before showering and follow with a nice massage with coconut oil (which has it's own benefits a cellulite-buster). Plus, it's a great way to exfoliate!
4. Honey
Applying honey to the skin will absorb internal toxins while also increasing circulation and leaving antioxidants to repair skin. Massaging honey on the skin will bring nutrients and oxygen to the affected area and take away toxins from the tissues and muscles. Our honey cellulite massage recipe combines honey with a follow-up anti-cellulite oil made up of jojoba, orange, rosemary, and juniper essential oils.
5. Essential oils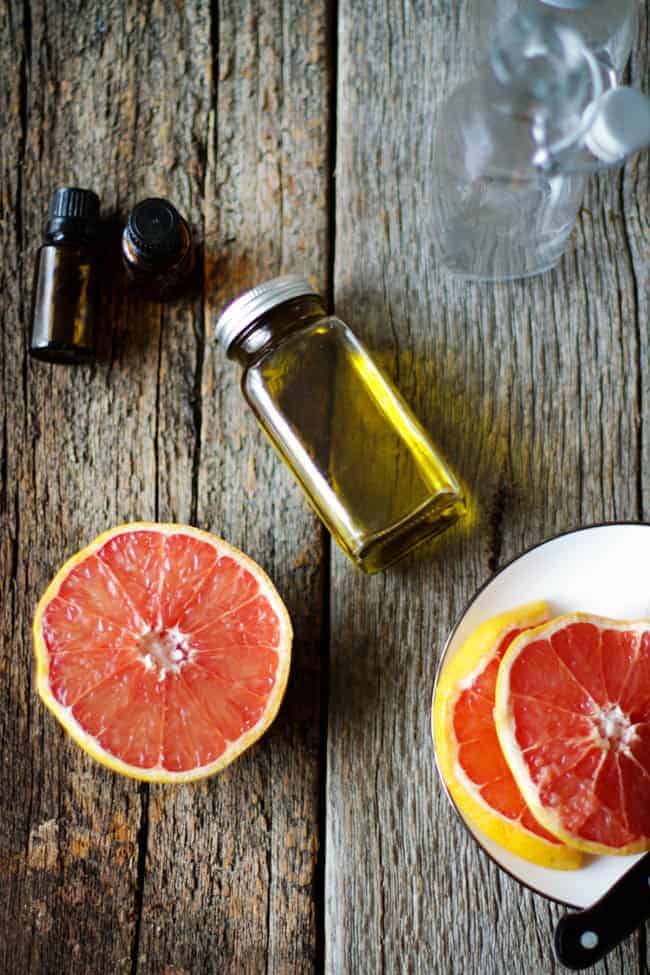 Essential oils penetrate deeper into the skin's layers so they can often have a greater impact than lotions when applied topically. Grapefruit essential oil contains large amounts of the anti-inflammatory enzyme bromelain, which helps break down cellulite. Juniper essential oil is known for its detoxifying and purifying effect. Rosemary leaf oil stimulates circulation and vital metabolic processes.
Essential oils need to be diluted so make sure you combine them with a carrier oil, like in this grapefruit cellulite oil.
6. Apple cider vinegar
Apple cider vinegar seems like one of those ingredients that can really solve any problem. No joke – even with reducing cellulite. It helps to detox the body and remove excess fluid (retention) thanks to its high content of potassium, magnesium and calcium.
Most recommend mixing 2 tablespoons of ACV in a glass of warm, filtered water and drink 5 minutes before a meal, 3 times a day. Externally, you can mix the vinegar and water in equal parts, and then rub on the affected area. Wrap the area in plastic wrap and a warm towel for 1 hour before showering.
7. Seaweed wraps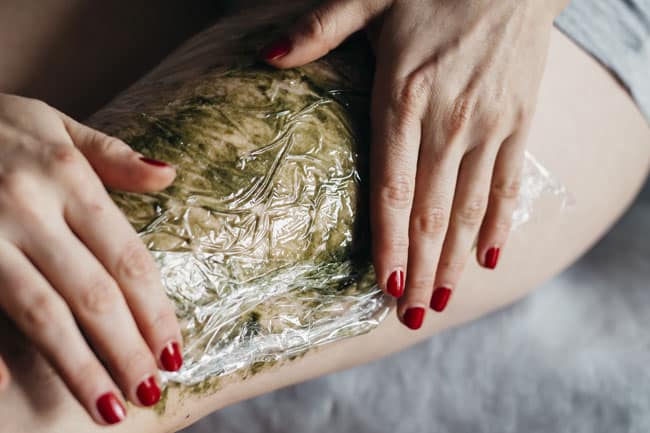 Seaweed wraps, in particular, are great at flushing toxins and increases blood flow and circulation. This is just what the cellulite-affected areas need, and even Dr. Oz recommends these wraps. We have a great seaweed wrap for you to try that helps to improve skin texture with the aid of vital minerals and vitamins.
8. Hydration
We all know hydration is a key part of staying healthy, but it's also a great way to fight cellulite. Drinking 8-10 glasses of water a day helps to plump the skin, making cellulite less visible. Can't seem to get that daily water intake in? Try some of our infused water recipes to boost your water intake. Eating fruits and veggies like melons and cucumbers with high water contents can also help plump your skin up.
9. Gelatin 
The weakening of collagen can certainly be a major cause of cellulite. Gelatin is full of dietary collagen, and can help you build back lost collagen and reduce cellulite. And, as a bonus, taking gelatin, like in this easy fruit gummies recipe, can also benefit your hair and nails! Next time you make a smoothie, think about adding a little gelatin in to help fight those unwanted dimples.
25