Things that are a must for your medicine cabinet: vitamin C, Band-Aids, aspirin, and … chamomile?
I've been slowly building up my natural medicine cabinet for a few years now. It's stocked with all the basics most of us grew up with, like Neosporin and aspirin, as well as a variety of herbs, teas, and tinctures that I've tested throughout the years.
While I have some favorites, the one medicinal herb I can't live without is chamomile. Not only is it one of the most popular home remedies out there, but it also tops the list of the most effective herbs for all sorts of ailments.
Everything from insomnia to stomach aches can benefit from a cup of freshly steeped chamomile tea. And since it's easy to come by (you can often find the tea at your local grocery store), you never really have to worry about running out.
Here are all the reasons you should never be without chamomile in your medical kit.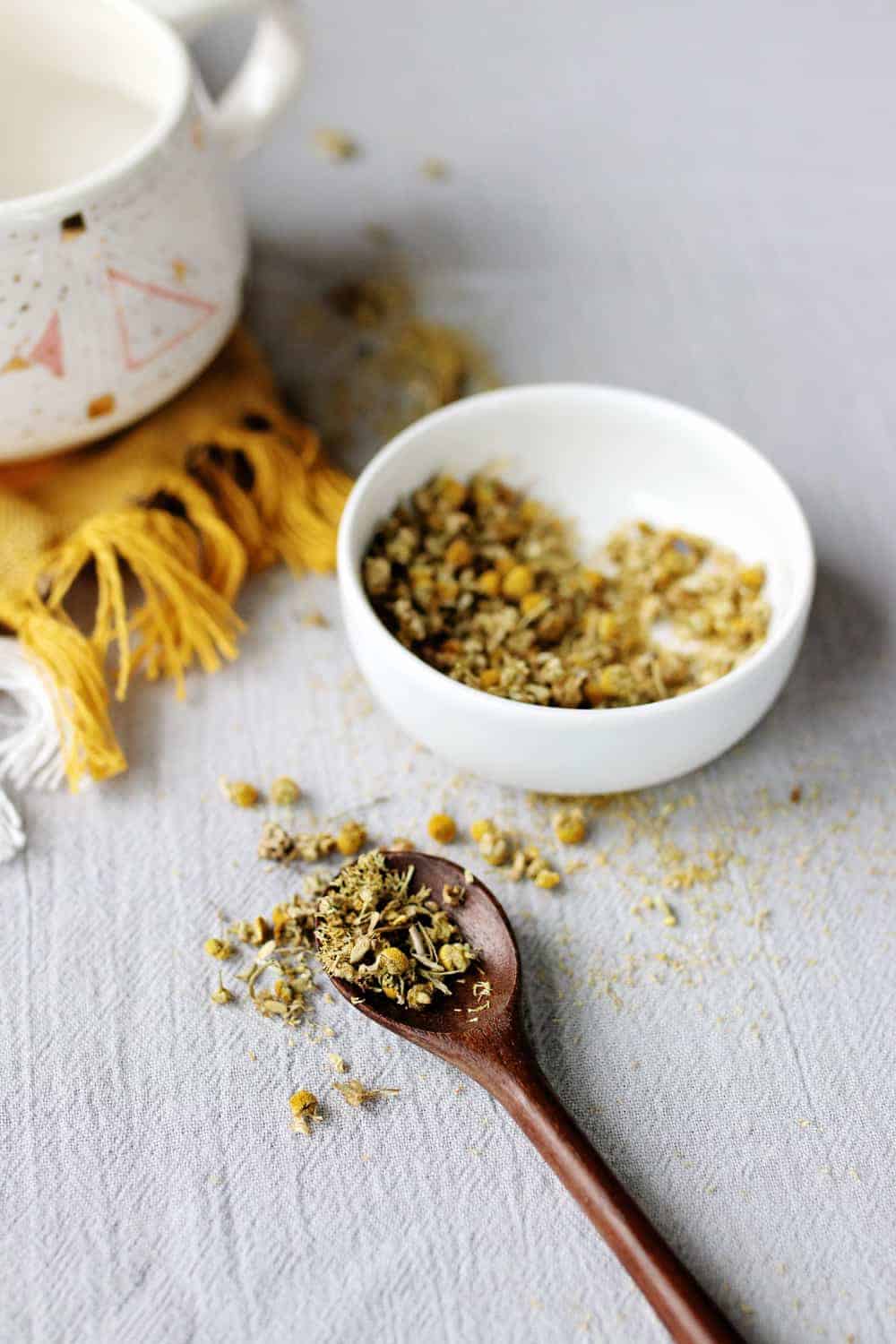 What Is Chamomile Good For?
Most of us think only of chamomile as a tea used at bedtime to promote sleep. But it turns out that chamomile flowers are actually one of the most popular and versatile herbs on the planet. For centuries, people have used chamomile for its anti-inflammatory, antioxidant, and antibacterial properties [source].
These days, it's also used in everything from teas, body products, and cosmetics to promote tranquility, skin health, and overall wellness. The list goes on and on, but here are some of the most common uses for chamomile: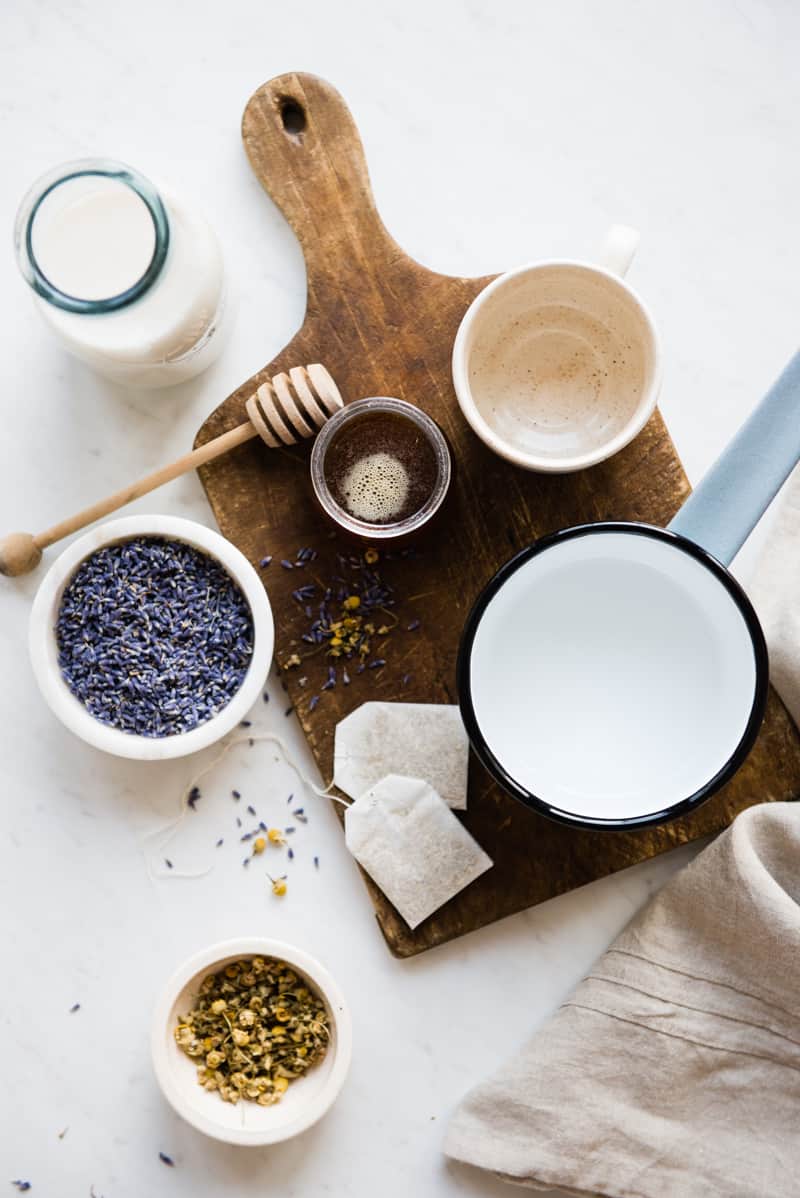 1
.
Sleep
Chamomile is a mild sedative, making it great for improving sleep quality and relaxation [source]. Its calming effect is thought to be attributed to apigenin, a flavonoid said to decrease anxiety [source] and muscle tension.

2
.
Pain relief
Glycine, a chemical found in high quantities in chamomile, helps relieve muscle spasms and relax nerves, making it great at easing all sorts of aches and pains. Studies show that chamomile is an anti-inflammatory [source], which makes it effective in relieving arthritis, back pain, bedsores, and stomach cramps.
High glycine levels may also help relax the uterus, explaining why the tea appears to relieve menstrual cramps [source]. Studies have shown that chamomile even reduces heavy menstrual bleeding [source].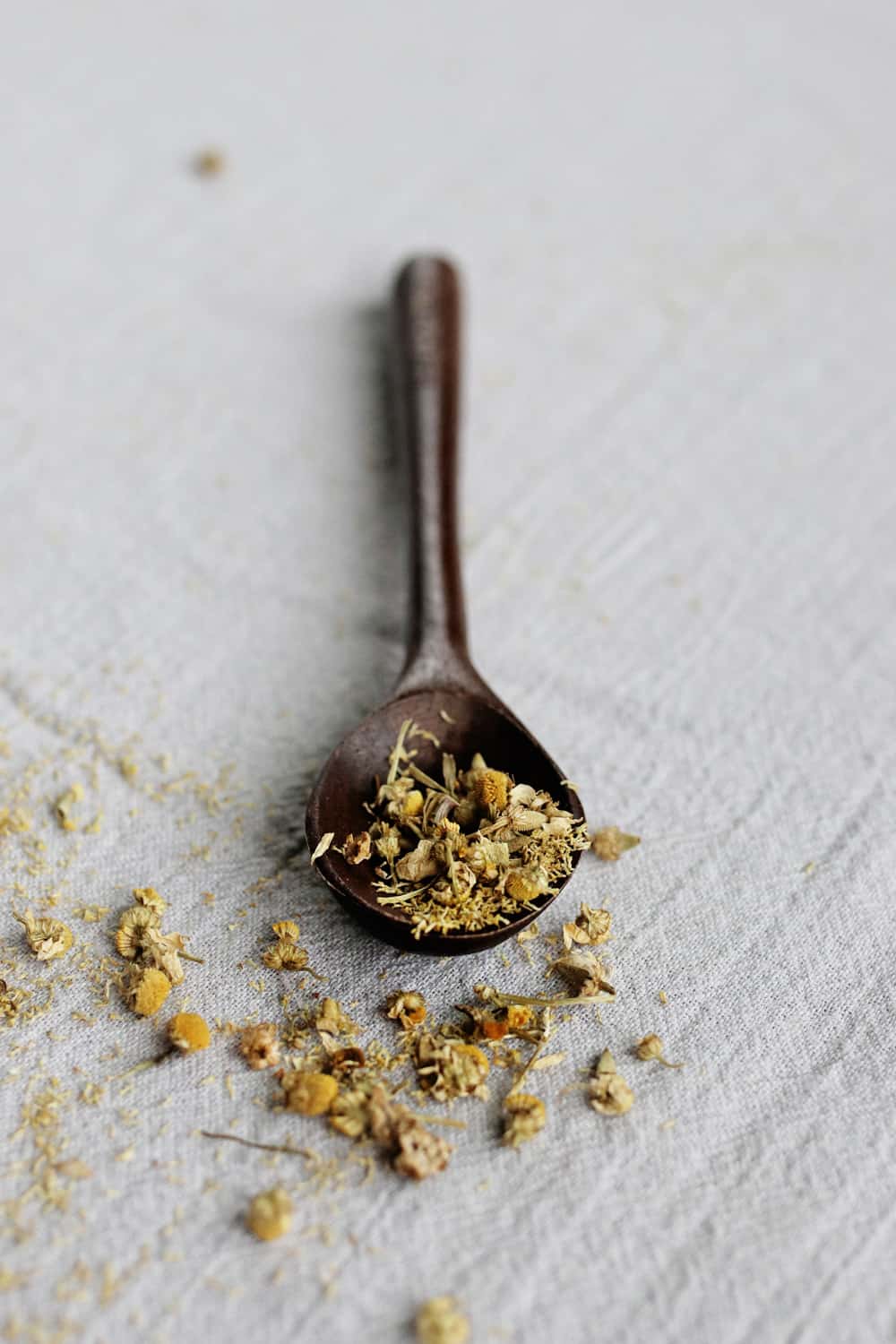 3
.
Stomach ailments
Thanks to its antispasmodic properties, chamomile can help relieve upset stomach, stomach cramps, irritable bowel syndrome with diarrhea, and indigestion [source].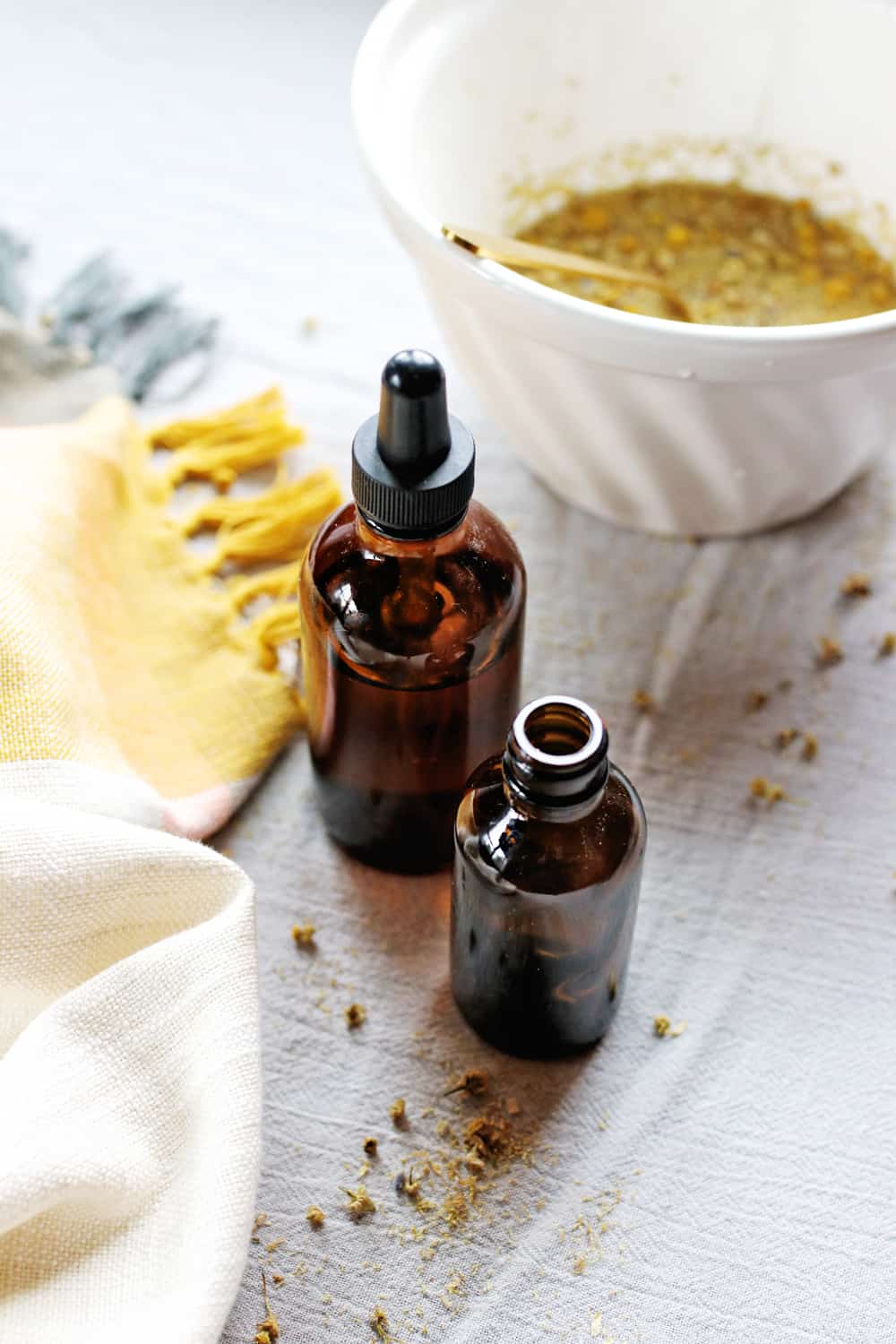 4
.
Cold and flu
Chamomile has potent antibacterial and antifungal properties. Drinking chamomile tea has been shown to raise the body's natural defenses [source], helping people with infections recover more quickly.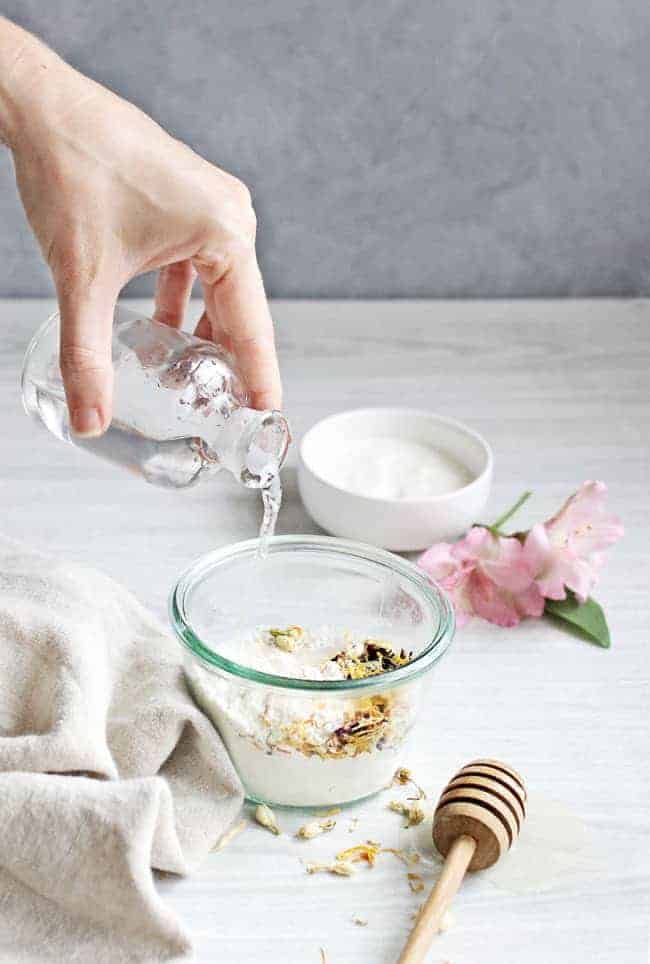 5
.
Acne
In addition to taking it internally, chamomile can be used as a topical skin treatment. Applying the cooled tea directly to skin can help lower inflammation [source], promote healing, and improve the appearance of acne scars.

6
.
Anxiety
The herb isn't just good for physical relaxation, it's also said to help with emotional relaxation and anxiety [source]. It can elevate mood and has been shown to help with depression [source].
Take it in tea or tincture form to calm the nerves and lower stress. It can also be given to hyperactive children to help them relax or diffused for a calming mood around the house.
7
.
Skin infections
Because it's naturally antibacterial, you can use chamomile to fight infections. Make a strong cup of chamomile tea, and use a soaked cotton ball to wipe the infected area every 1–2 hours throughout the day.
It can be used along with prescribed antibiotics [source]. Make sure to let your doctor know if the infection doesn't show signs of improvement within 24 hours.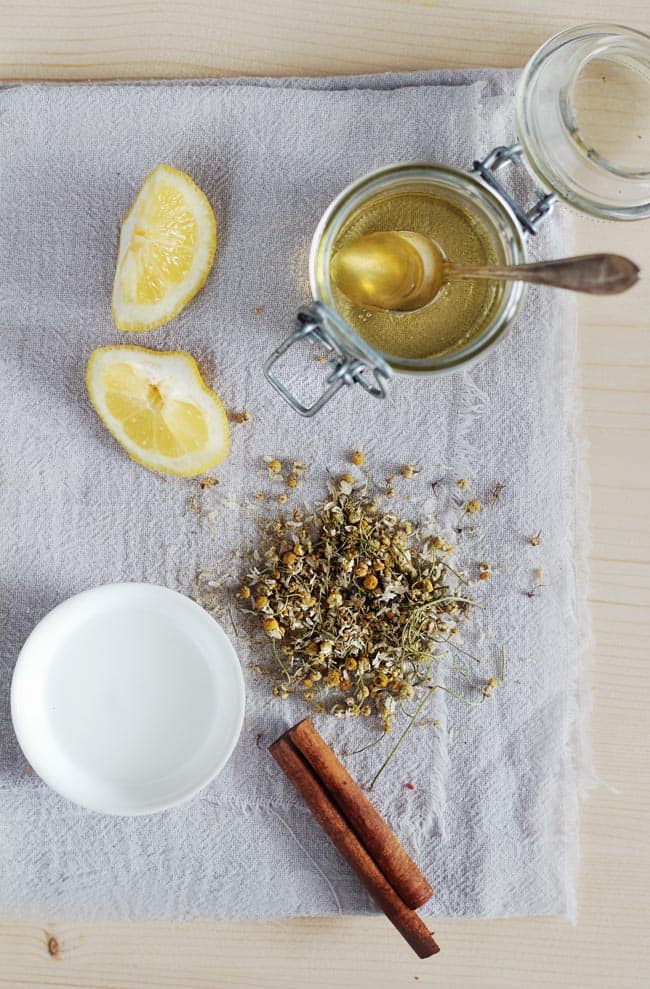 8
.
Lighten hair
If you want to skip harmful chemicals found in commercial hair color and bleach, try chamomile tea. The effects will be subtle and safe, not to mention more than affordable.

9
.
Sensitive skin
Chamomile works on improving the skin barrier function, and it has the ability to stop the release of chemicals that cause inflammation in the skin. Introduce it into your daily routine if you have sensitive skin.
Where To Get Chamomile
I've seen chamomile tea at many chain grocery stores and local supermarkets. You also may be able to find the dried flowers in the bulk bins at health food stores. If you can't find it locally, you can buy it in bulk online from a place like Mountain Rose Herbs or Amazon.

How To Take Chamomile
The list of ways that chamomile can be used is surprisingly long, but some popular methods include:
– diffusing the essential oil
– taking it in tincture, tea, or capsule form
– applying the cooled tea directly to skin
– adding it to homemade beauty products
Although it is commonly used medicinally, there is no standard dose for chamomile. Most studies use somewhere between 400 to 1,600 milligrams daily in capsule form.
When taken as a tea, it's said that you can safely drink up to 4 cups a day. As with most herbs, it's best to ask your doctor or naturopath about how and when to use it and for any questions about the dosage.
This article was medically reviewed by Dr. Gina Jansheski, a licensed, board-certified physician who has been practicing for more than 20 years. Learn more about Hello Glow's medical reviewers here. As always, this is not personal medical advice and we recommend that you talk with your doctor.
47