I love to ring in the new year with a glass of champagne. The classic bubbly drink is festive, fun and just a little bit girly. After you've welcomed the new year, save the champagne leftovers for your skin and hair. These at-home beauty treatments use the antioxidants and toning properties found in the grapes that make up champagne.
So the next time you're sipping the bubbly, consider saving a glass for a treatment the next day – it just might be the best hangover cure yet!
Detox Face Mask
If you need a little detoxifying, then use champagne as a facial mask to help you do just that. This anti-inflammatory treatment will pull toxins from the skin while the antioxidants from the champagne will soothe your skin and give it a lovely glow.
How does champagne work? The polyphenols reduce inflammation in the skin, and champagne is also antibacterial making it a great choice for those battling acne.
Champagne also can even out skin tone due to the presence of tartaric acid, and can reduce redness. Let's pop that champagne and get masking!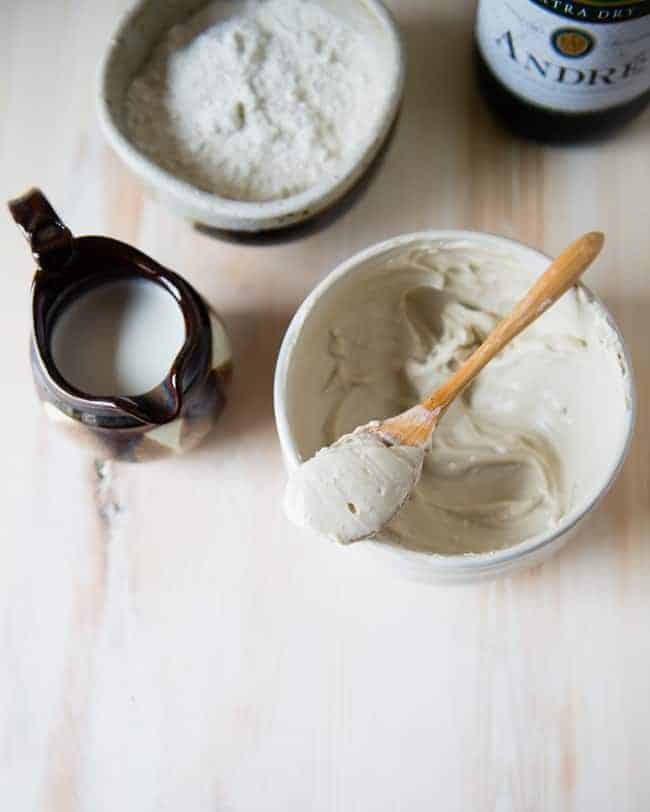 1/4 cup champagne
4 ounces powdered clay (Bentonite is a great choice for all skin types)
2 tablespoons heavy cream, half and half or plain yogurt
Start with the powdered clay in a mixing bowl and slowly pour in the cream, if you are using heavy cream or yogurt with a high fat content you might want to reduce the amount, gently mix in the cream and clay as you pour. Then add in the champagne, mixing the mask the entire time.
Apply to face and neck before it starts to dry. The mask should take about 20 minutes to dry. Then rinse with warm water and a washcloth. Follow with your daily or nightly skincare routine.
This mask can be done once every week or two as overall skin health maintenance.
Bath Soak with bubbly
The polyphenols in champagne we've learned can reduce redness in the face, but it can also do reduce redness for the entire body if you suffer from itchy or redness prone skin. The carbon dioxide in champagne is known to tighten skin as well. This bath soak is a relaxing choice and when you're finished you'll feel the benefits all over.
Combine in a microwave safe bowl for about 30 seconds or until warmed. Then pour into the running bath water, soak and enjoy.
Sparkling Clean Hair Rinse
Champagne is very versatile and can even be used to treat hair. For added shine and to boost highlights this rinse is simple and easy. It's a great clarifier as well, so next time your hair is feeling a little heavy or coated, pop another bottle of champagne.
Simply pour a glass of champagne all over damp hair. From roots to ends, comb thoroughly and let soak for several minutes, then rinse with warm water. Follow with your normal hair routine.
Have you ever experimented with champagne in your beauty treatments?
50