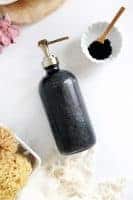 Charcoal Hand Soap
Yield 12 ounces
Instructions
Grate melt-and-pour soap and place in a medium sized bowl.
Bring 2 cups of filtered water to boil. Pour boiling water into bowl with soap and stir until soap dissolves.
Place the bowl somewhere it won't get jostled and let cool for 8 hours or overnight. Once it's gelled completely, add essential oils, almond oil and activated charcoal. Use a whisk to combine.
Transfer soap to dispenser using a funnel.
Recipe by Hello Glow at https://helloglow.co/charcoal-hand-soap/