One of my family's favorite meals in the cold winter months is chili. I make a whole bunch of different variations to swap up the flavors and keep the kids from growing tired of the same old chili every week. With homemade veggie stock, chickpeas and two types of white beans this vegetarian chili is loaded with protein.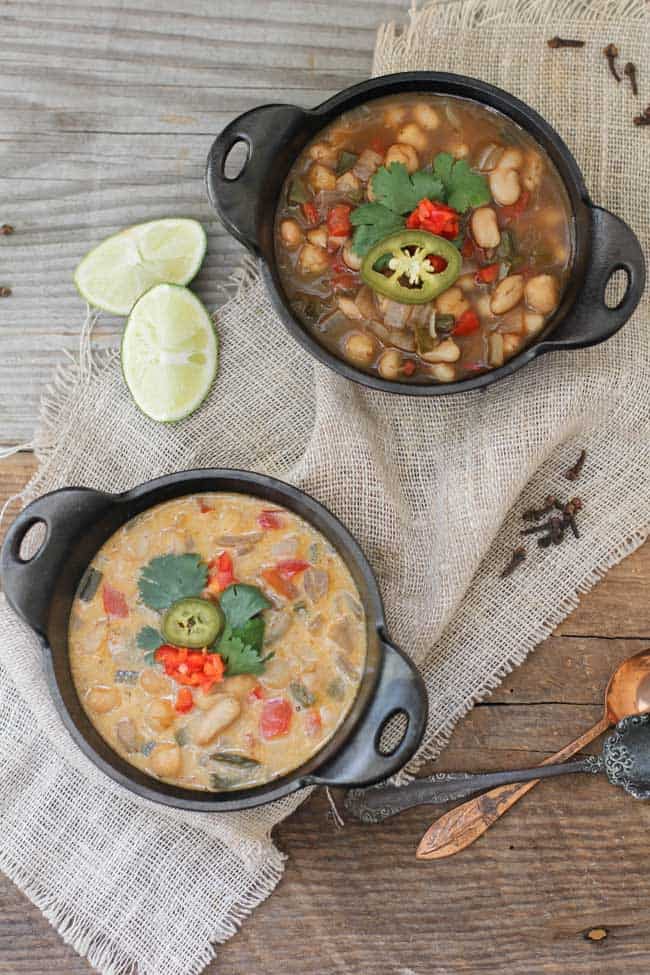 This version is packed with peppers and onions and layered with tons of spices like cumin and oregano. It's the kind of chili that sticks to your bones and makes you want to curl up in a blanket and take a nap afterward.
There is a secret ingredient in this chili. One I don't normally use in chili recipes, but it's perfection in this one. Cloves!
Yes, you read that right, I spiced up my chili with a baking spice. But it's not one of those, "Oh man, this tastes like cloves!" kind of thing. It's more of a "Whoa, what's in this chili?" kind of thing.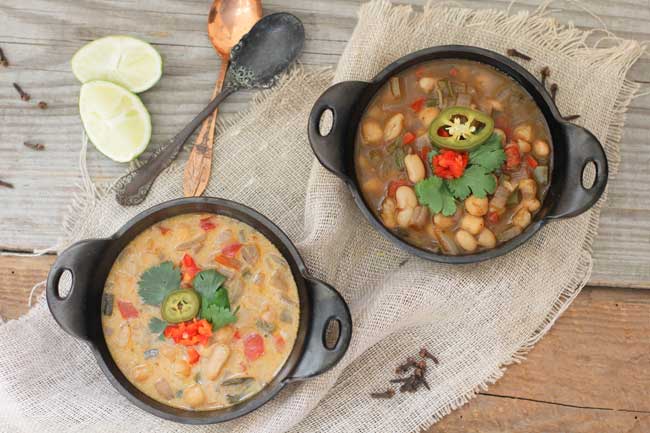 The flavor of the cloves is very subtle. It just kind of hangs out in the background and doesn't overwhelm. This chili is great with cheese and heavy cream added in at the end, but it's also a pretty stellar vegan chili without them.
Do you have a secret ingredient that you use in your favorite chili recipe?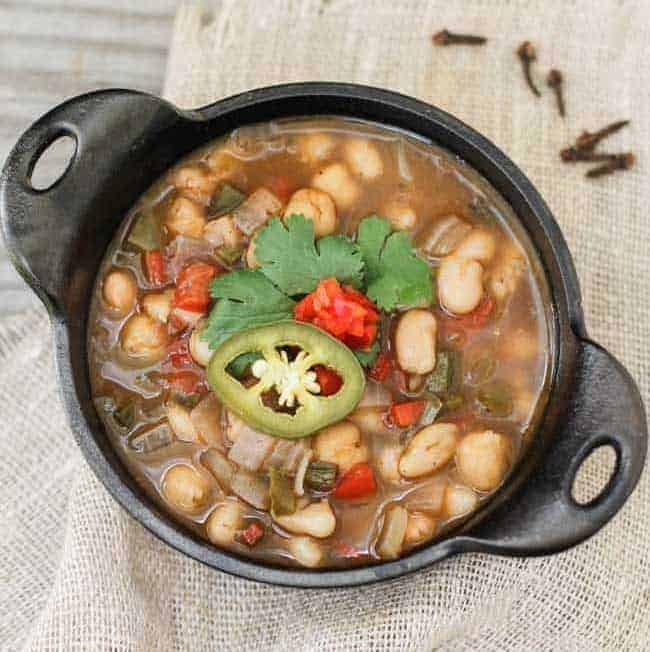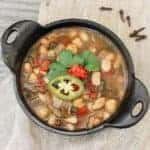 Print Recipe
Chickpea and White Bean Chili
Ingredients
3

tablespoons

olive oil

1

cup

chopped red bell pepper or 1 medium sized pepper

1/2

cup

chopped poblano pepper or 1 small pepper

1

jalapeno

seeds removed and chopped

1

large red onion

chopped, or 2 - 2 1/2 cups

3

cloves

garlic

minced

1/2

tablespoon

cumin

1

teaspoon

dried oregano

crushed

1/4

teaspoon

red pepper flakes

1/4

teaspoon

ground cloves

1

tablespoon

hot sauce

3 1/2

cups

homemade vegetable broth

1 1/2

tablespoons

tapioca flour or cornstarch

1 15-

ounce

can chickpeas

drained and rinsed

1 15-

ounce

can cannelini beans

drained and rinsed

1 15-

ounce

can great northern beans

rinsed and drained

1

cup

shredded Monterey jack cheese

omit if vegan

1/4

cup

heavy cream

omit of vegan

kosher salt to taste
Instructions
In a large soup pot heat the olive oil over medium-high heat. Add the red bell pepper, poblano, jalapeno, and onion; cook until the onions are translucent stirring frequently. Add the garlic and cook until fragrant, about 1 minute. Add the cumin, oregano, red pepper flakes, cloves, and hot sauce stirring to incorporate. Cook for 4-5 minutes until the onions and peppers are beginning to brown.

In a mixing bowl combine the broth with the tapioca flour or cornstarch and mix with a whisk until completely combined; set aside.

Add all of the beans to the veggies and pour the broth into the pan as well, stir to combine. Raise the heat to high and bring to a boil, cover partially with a lid and reduce the heat to low. Simmer the chili for 45 minutes.

If using the cheese and cream add them now and stir until the cheese is completely melted.
7