Clean eating has been trending hard for some time now, with social media accounts, hashtags, blogs, and magazines dedicated to the subject. When asked what clean eating actually is, the definition may change depending on who is delivering the answer.
Clean eating is a way of life that involves consuming whole, healthy foods and avoiding processed foods, added sugars, and unhealthy fats. The idea is to eat food in its most natural state and to minimize exposure to additives, preservatives, and other unwanted chemicals. Some suggested examples of clean foods include whole grains, vegetables, fruits, lean protein, and healthy fats like nuts and avocados. Eating a clean diet can have numerous health benefits, such as increased energy, weight loss, and improved digestion.
To start eating clean, consider creating a clean eating grocery list that includes nutrient-dense foods like chicken breast, sweet potatoes, green beans, and wild rice. When grocery shopping, stick to the perimeter of the store where the fresh produce, meats, and dairy are located, and avoid packaged foods as much as possible. To add flavor to meals, try using natural sugars like honey or coconut palm sugar instead of refined sugar, and swap out dairy for dairy-free milk or Greek yogurt. Meal prep can be a helpful action to ensure you have healthy options available throughout the week, and looking up healthy recipes can be a great way to stay motivated and inspired to continue eating clean.
At its most basic, though, clean eating involves eating a lot of whole, real, minimally processed foods. Lots of fresh fruits and vegetables (some folks are opting to eat these locally and in-season as well), whole grains, healthy fats, nuts, seeds, and both animal and plant-based protein. Most people can agree that clean eating means eating food as close to nature as possible. Many avoid genetically modified ingredients, and also stay away from refined sugar, preservatives, and additives.
Clean eating seems fairly straightforward until you find yourself standing in the supermarket holding a can of marinara sauce and realizing that it's loaded with sugar and a laundry list of ingredients you don't understand and can't pronounce. It doesn't have to be difficult, though, so we've put together a list of staple ingredients for your clean eating pantry.
Clean Eating Pantry Staples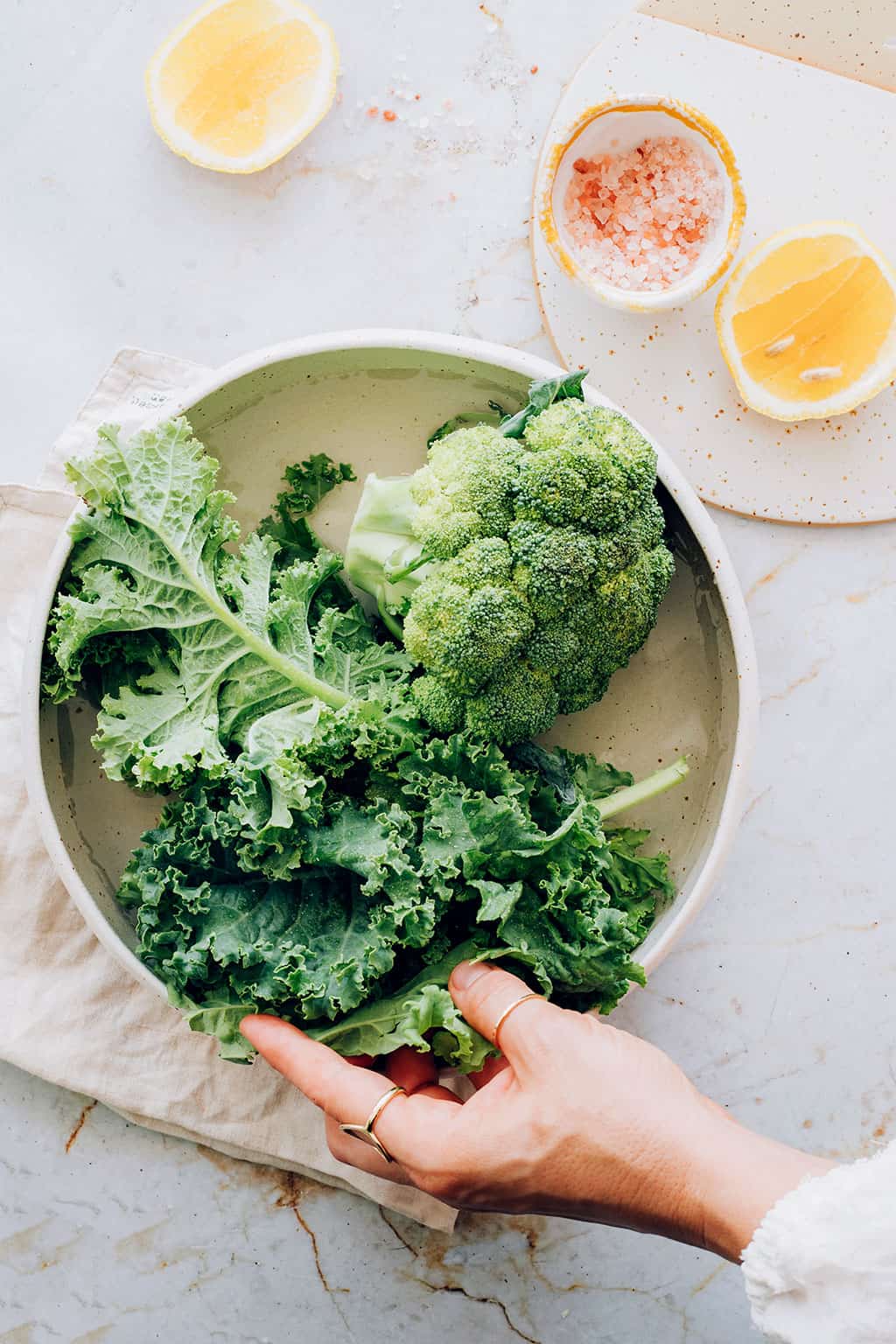 1. Fruits and Vegetables
Eating lots of fresh fruits and vegetables is one of the easiest and most straightforward ways to eat clean. You need to decide what parameters you want to work within when you're buying produce. Is it only organic? Or is conventional produce ok as well?
Personally, I buy both. I'd much rather my family was benefitting from the slew of vitamins, minerals, and antioxidants in a conventionally grown tomato than missing out on them because I couldn't afford organic. There are some foods that I opt to buy organic--such as soy beans, since soy is a heavily GMO crop--but many others I don't.
Also consider that many farmers who grow food without pesticides or synthetic fertilizers don't have organic certifications, so if you have a chance to chat with the person who grew your food, like at your local farmer's market, then do so.
Frozen fruits and vegetables are great as well, and often retain better nutrients than those that are shipped half way around the world, since they're picked at their peak ripeness and frozen almost immediately. I use frozen spinach in my smoothies because I can buy bags of organic locally grown spinach in February when there is nary a leaf of local spinach to be found in my part of the world. Who says a clean eating meal plan can't be convenient?
Local, organic, fresh, frozen, even canned; pump up the volume of fruits and veggies in your clean eating pantry.
Try these recipes:
Cauliflower Rice Tabbouleh Salad Recipe
Gorgeous Skin Grape Beauty Smoothie
How to Pack a Week's Worth of Make-Ahead Salads
Pineapple Mango Smoothie Bowl Recipe
2. Canned Foods
Do canned foods have a place in a clean eating pantry? Yes, they totally do.
If you're filled with despair standing with that jar of sugary marinara sauce in your hand, fear not. Canned tomatoes—crushed, whole, diced—are the starting point for a DIY sauce where you control the ingredients.
Canned beans are another clean eating pantry staple that can help you get a healthy meal on the table on the fly, as are canned salmon and tuna. Look for brands that offer BPA-free packaging, and check the labels for sodium levels. Ideally you're looking for something that contains a single ingredient, perhaps with a tiny pinch of salt. That's it.
Try these recipes:
Moroccan-Inspired Sweet Potato and Chickpea Stew with Spinach
Roasted Garlic & Herb White Bean Dip
3. Whole Grains and Seeds
Healthy whole grains are an important part of eating clean. And when I say whole grains what I actually mean is intact grains.
There's a huge difference between eating grains in their whole, intact form, and eating food products that have whole grain on the label. I mean, c'mon, some of the junkiest sugariest cereals out there have the words "whole grain" splashed on the front of the package, which is just nonsense.
Whole grains such as brown rice, wheat berries, farro, kamut, spelt, and oats are healthy and delicious clean eating ingredients. Also consider pseudo-cereals such as quinoa, millet, and buckwheat, all of which are actually seeds. As a culture we tend to eat a lot of wheat and rice, so try mixing things up and trying new grains regularly.
Try these recipes:
Creamy Pumpkin Quinoa Risotto
Overnight Oats with Chia Seeds
2 Energizing Buckwheat Breakfasts to Start Your Day Right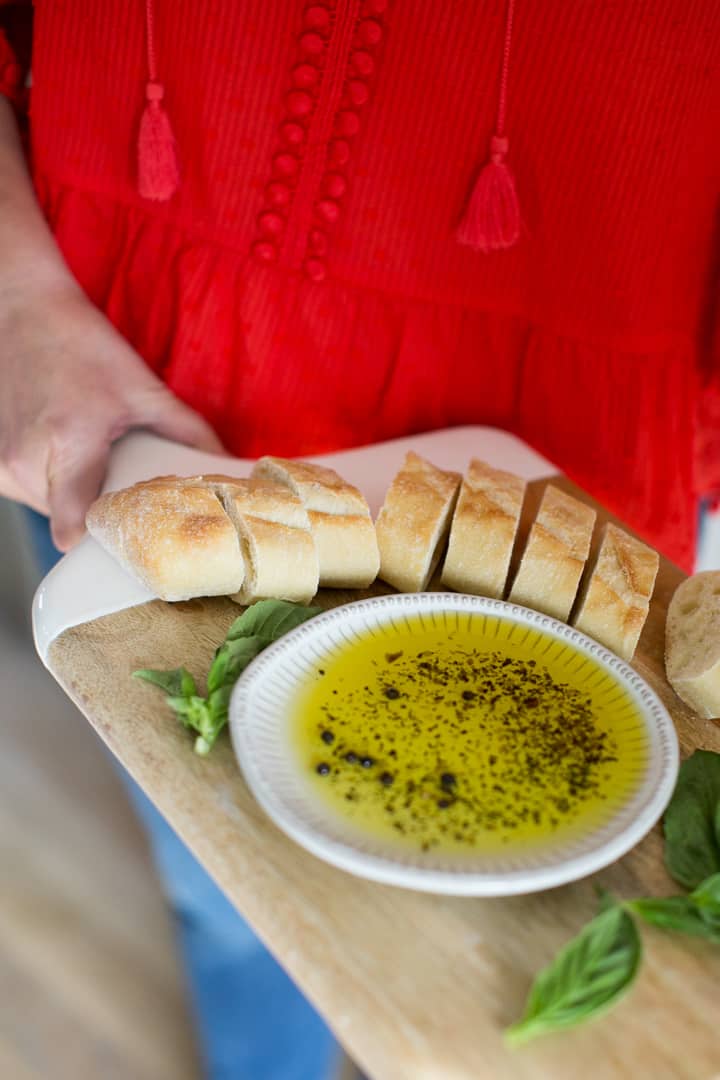 4. Oils and Fats
Healthy fats are an important part of any diet. It can be confusing to know which fats are best to cook with, which are better used as a condiment, and which are best avoided altogether--and the recommendations on this change all the time.
For cooking look for an oil or fat with a high smoke point such as ghee (clarified butter) or avocado oil. "Pure" or "light" olive oil has a higher smoke point than extra virgin olive oil, so it can be a good choice for higher temperature cooking—but not up to the temperatures of deep fat frying. Save your good extra virgin olive oil for dressings and drizzling.
Also look for healthy fats in whole food form, such as avocados, nuts, and seeds.
Try these recipes:
3 Ways to Make Flavor-Infused Ghee
Avocado Soup Recipe
Protein-Packed Kale, Avocado Hummus Wrap
Glowing Skin Salad + Detox Dressing Recipe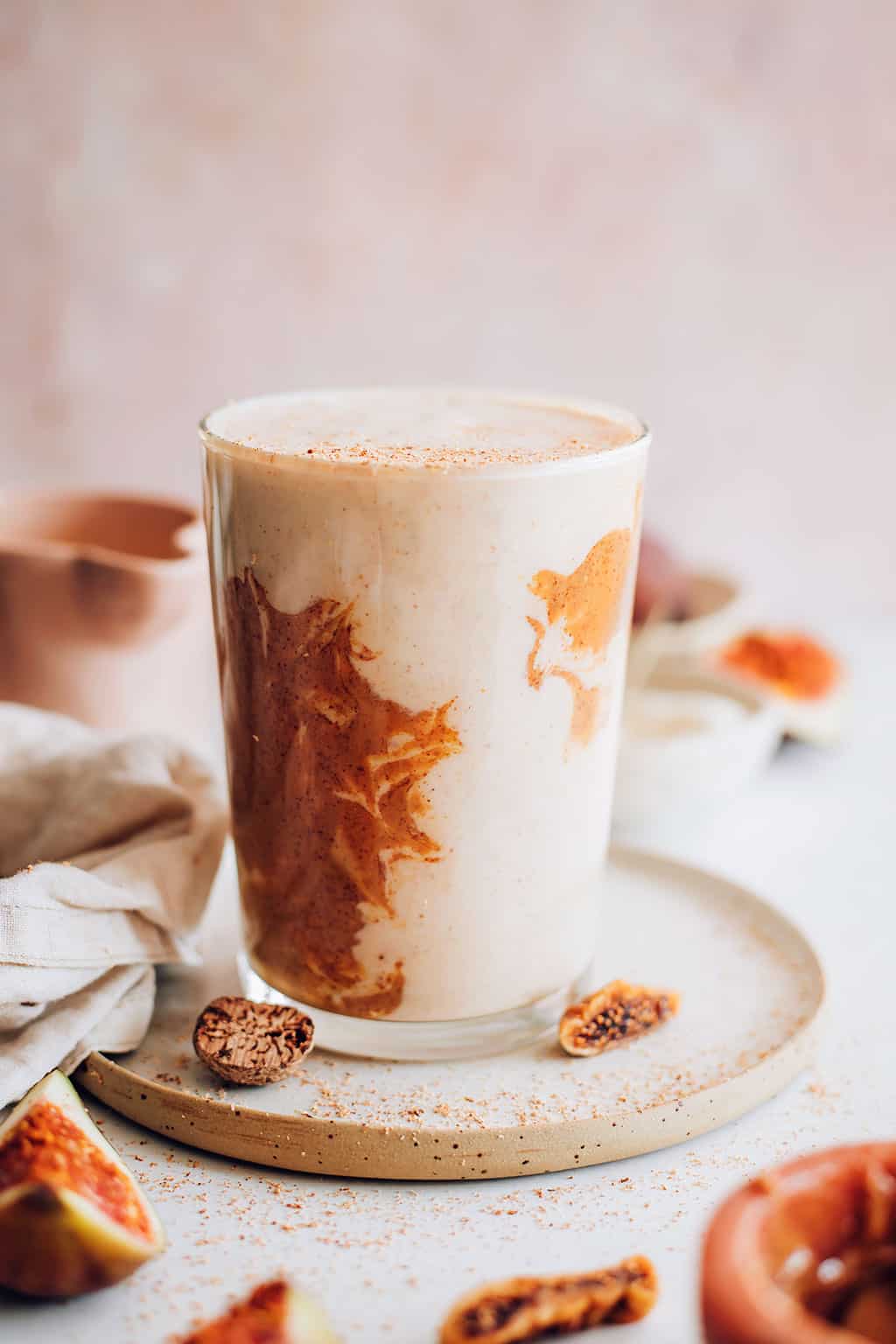 5. Nuts and Nut Butters
Nuts and nut butters are a great choice when you're eating clean as they're loaded with protein, healthy fats, and antioxidants. You need to know your brands, though.
Many commercial nut butters, especially peanut butters, are loaded with junk. Some of them even strip away the naturally occurring peanut oil and replace it with cheaper and less healthy oils, not to mention all the sugar, salt, and preservatives that can be packed in there. Your nut butters should really only have two ingredients: nuts, and a tiny bit of salt.
Whole nuts are wonderful healthy foods. If you prefer them roasted I recommend buying them raw and roasting them in your oven so you're avoiding extra ingredients, too much salt, and other additives.
Try these recipes:
Fresh Spring Rolls with Coconut Peanut Butter Sauce
Keto Salted Chocolate Macadamia Nut Fat Bombs
No-Bake Almond Blueberry Granola Bars + How to Make Almond Butter
Fig + Almond Butter Smoothie for Healthy Hair
6. Legumes and Pulses
Load up your clean eating pantry with legumes! Dried beans are inexpensive healthy foods and you get a lot of bang for your nutritional buck. They're easy to soak and cook in big batches, and you can freeze them once cooked so they're practically as convenient as canned.
Try meeting different members of the bean family, from black beans, kidney beans, and garbanzo beans, to mung, adzuki, and turtle beans. So many options.
Lentils are another clean eating superfood, and unlike most beans, they don't require any pre-soaking. Try red, brown, green, and black lentils to mix things up.
Try these recipes:
Red Lentil Dhal with Turmeric
How to Make Freezer-Friendly Breakfast Burritos
Inner Glow Carrot, Sweet Potato & Red Lentil Soup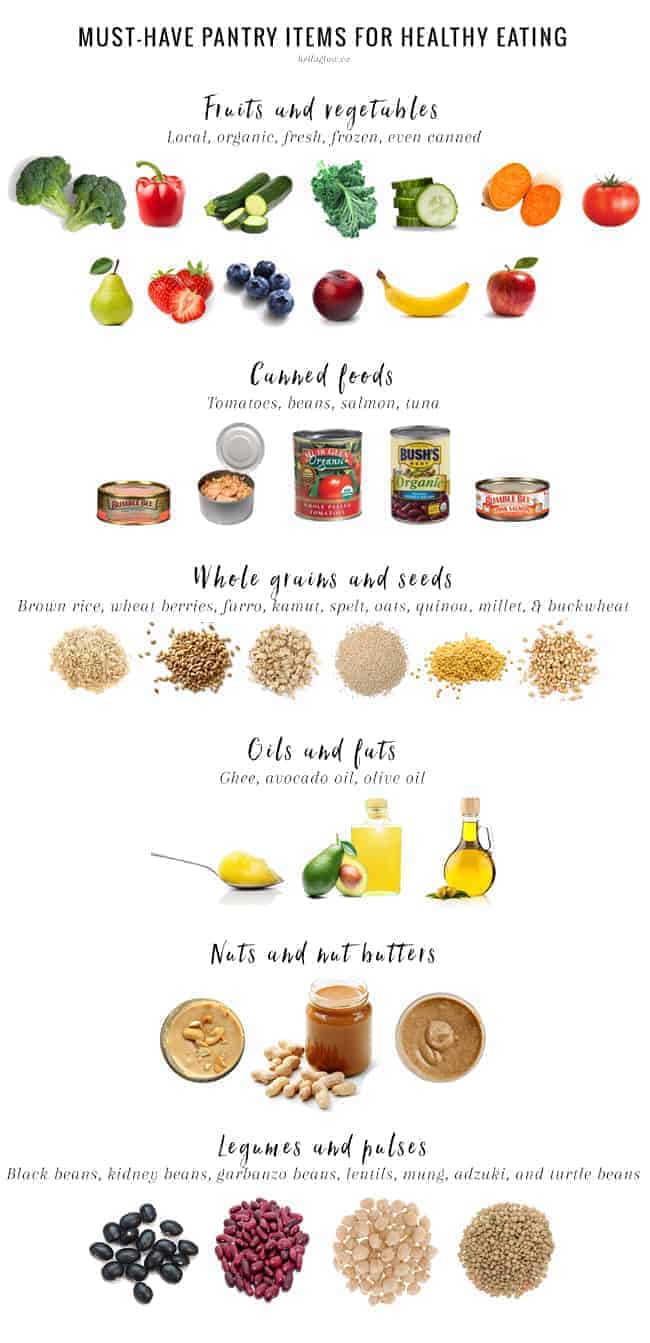 24