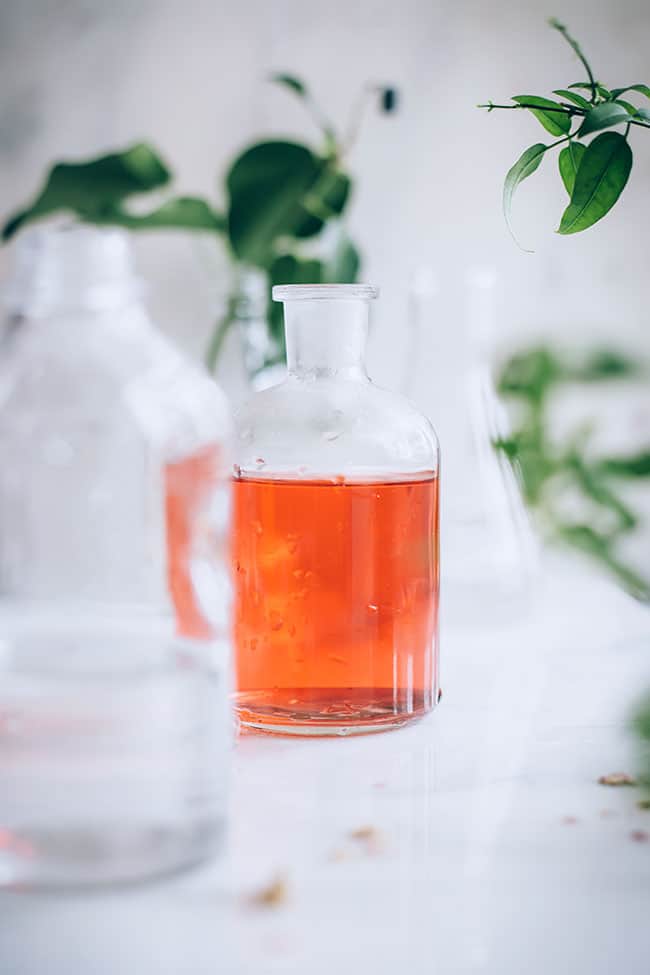 We spend winter longing for springtime and it's finally here! Soon the cold weather will be gone for good (we hope!) and flowers will be in bloom again. I thought of celebrating the season's white and pink blossoms with a healthy dessert to match–an exotic pudding with rose water, cardamom and fruit, one that can be packed to enjoy outside in the park.
Rose water is our latest obsession here at Hello Glow, and we can't get enough of its delicate flavor and health benefits, especially the antioxidant and anti-inflammatory effects. Making your own rose water is very simple and as soon as roses are in bloom you can experiment with creating this elixir to take your DIY beauty projects and homemade desserts to the next level.
Rose water is thought to calm the central nervous system, making it a soothing choice for those of us who get anxious easily. Its A, C, E and B vitamins help balance hormone production, with beauty effects for your skin. Rose water also acts as a digestive tonic and a mild laxative, treating upset stomachs and constipation.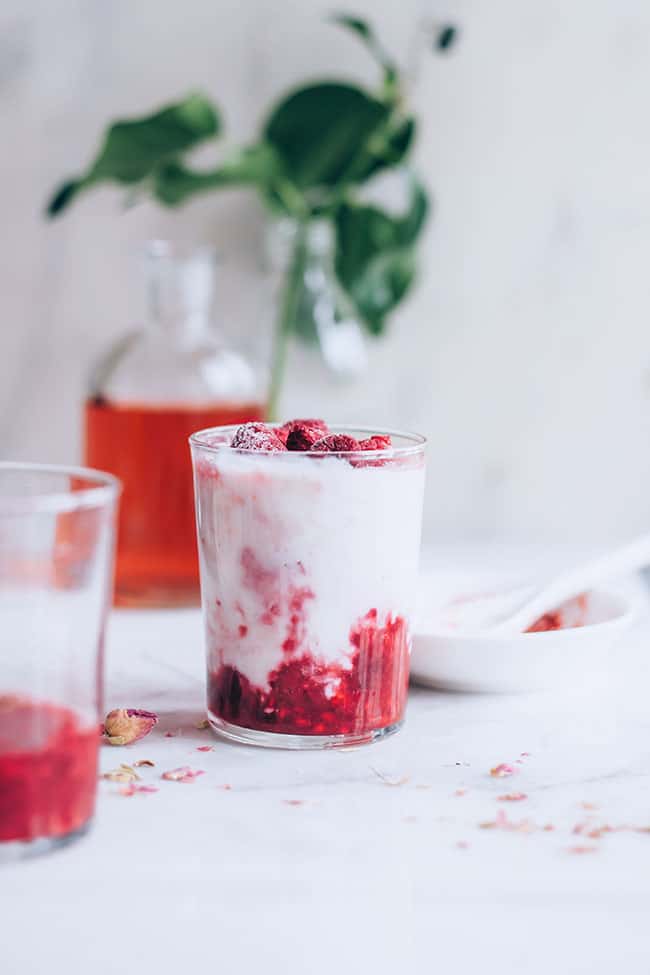 So, about this beautiful pink-hued pudding. I wanted to create a light dessert, so it's both vegan and gluten-free – and it also has digestive healing properties. I used arrowroot powder for thickening the coconut milk, but if you prefer you can use cornstarch. Adding berry puree makes it more appealing visually, while adding a fruitiness that complements the flavor of rose water.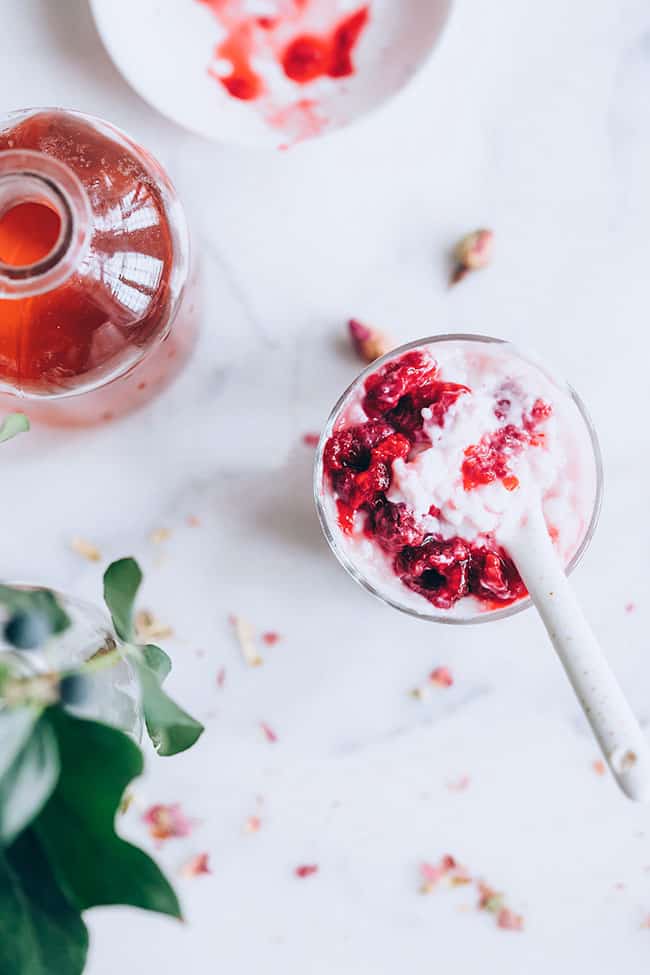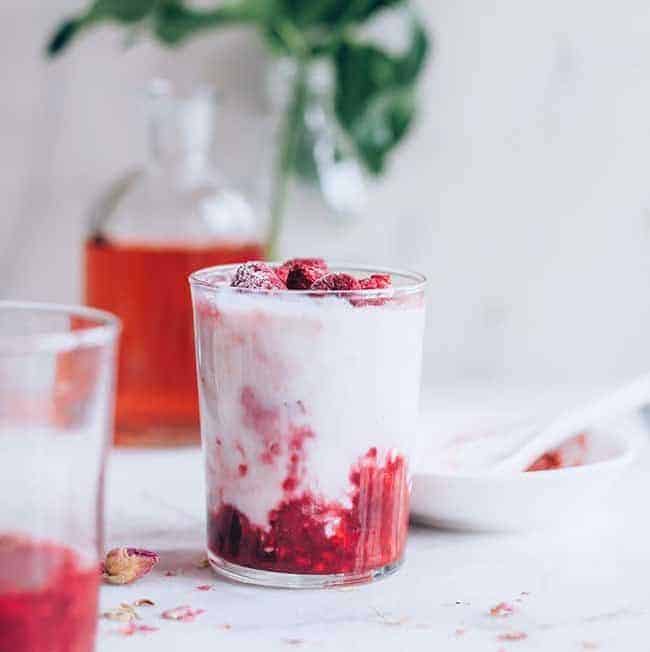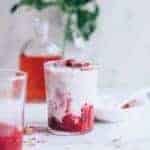 Print Recipe
Rose Water Pudding with Raspberry Puree
Rose water has digestive healing effects, while fresh fruit puree enriches this pudding with minerals and vitamins.
Equipment
Sauce pan

Cheesecloth

whisk
Ingredients
For the rose water 
Handful rose petals

dried or fresh, from a pesticide-free source

2

cups

purified water

1/2

teaspoon

hibiscus powder

you can skip this one, I add it to enhance the pinkish color
Instructions
Rose Water
Add the rose petals to a saucepan and cover with water.

Bring to boil over medium heat, then cover with a lid and simmer over low heat for 15 minutes, until the rose petals' color fades completely.

Add the hibiscus powder, stir to combine, cover the pan, turn off the heat and set aside until completely cooled.

Use a cheesecloth to strain the liquid, and transfer into a clean bottle with a lid.
Pudding
Mix the arrowroot and cardamom in a saucepan, add the coconut milk and almond milk, and whisk to incorporate.

Bring to boil over low heat and whisk for 2 or 3 minutes, until it thickens.

Remove from heat, add the rose water and maple syrup, and whisk to incorporate.

Add the fresh berries into the blender and puree until smooth.

Divide the puree into the serving jars or bowls, and top with pudding.

Refrigerate until completely cooled, then serve garnished with fresh fruits.
Notes
Store the rose water in the refrigerator for up to 1 month.
Eat leftover pudding within 2-3 days.
12