There's something so comforting about the classic BLT. With crispy bacon, juicy tomatoes, fresh lettuce, and the perfect smear of mayo, it's the best diner staple. But it's hard to stomach this quintessential greasy spoon dish when you think of all the grease. Enter coconut bacon, which is the star of this healthier version of the BLT.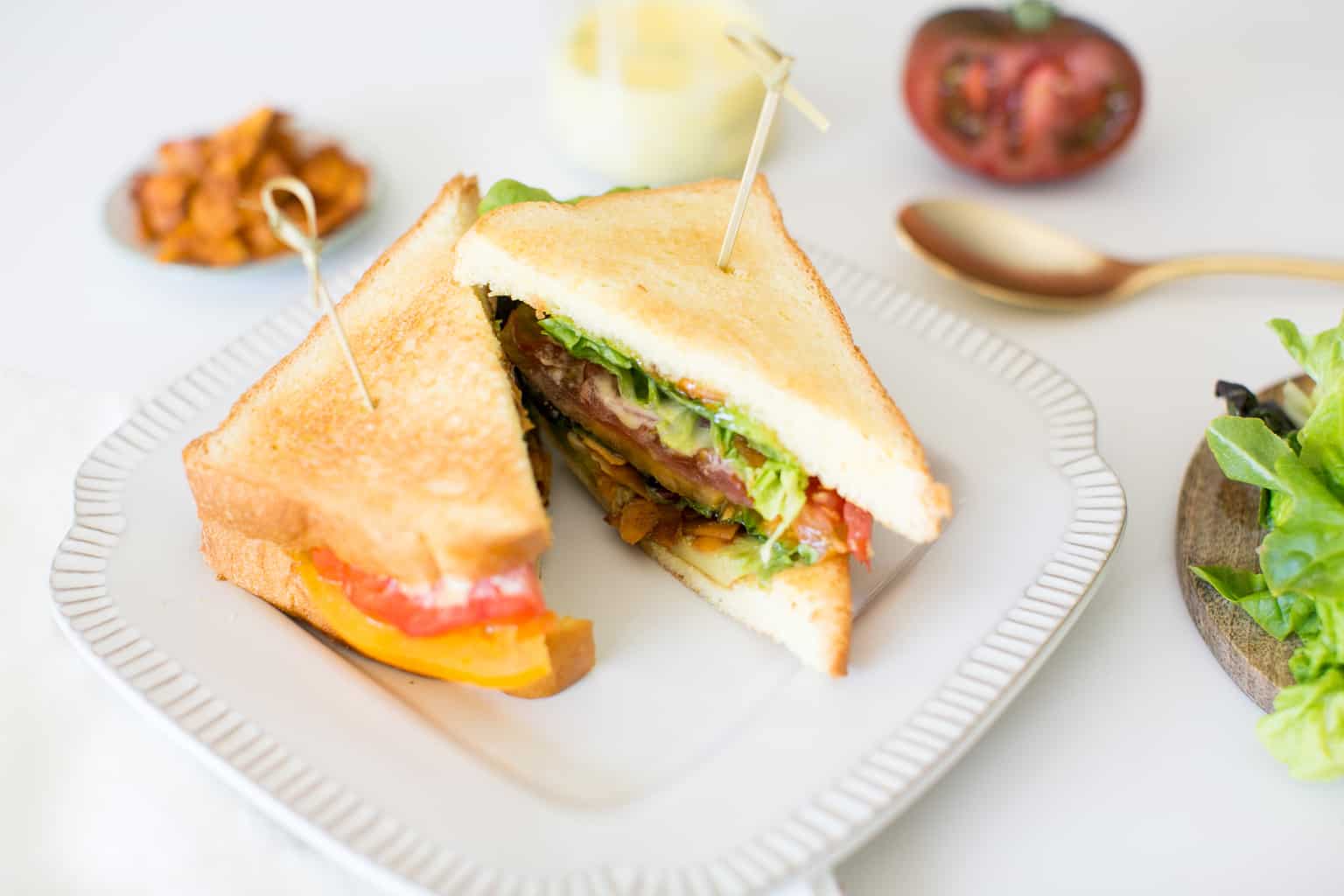 At first I had my doubts. We all know the real draw of any BLT is the crispy bacon paired with fresh tomatoes, and I wasn't sure coconut bacon would hold up. But the paprika, maple syrup, and liquid smoke in this recipe create a smoky flavor that strikes the perfect balance between sweet and salty. Initially I expected the coconut flavor to be overpowering. Instead, you get a subtle hint of coconut with every crispy bite.
We plated these coconut bacon BLT sandwiches on a wooden serving board and served them at our make-and-take workshop for essential oil diffuser jewelry. While there were some skeptics in the group, the consensus was that the coconut pairs surprisingly well with the soy sauce and other seasonings. The empty serving platter was the true litmus test.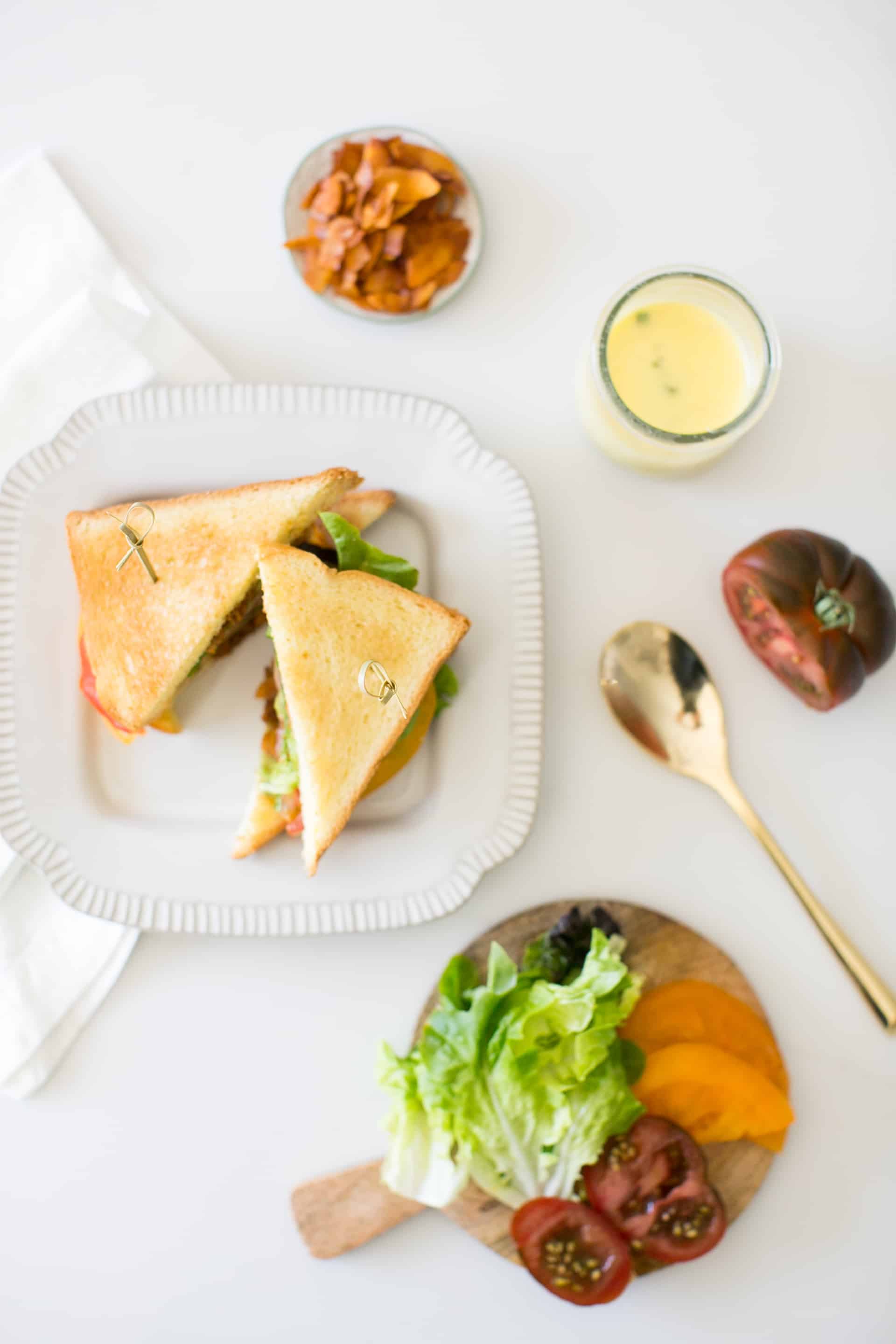 Once the coconut bacon is layered on top of three varieties of heirloom tomatoes, lettuce, avocado, and basil aioli, this BLT holds up well against the original. Since trying coconut bacon, I'm dreaming of ways to incorporate it into other dishes. It would be a delicious addition on avocado toast, a great topping for roasted Brussels sprouts, and a genius bacon bit substitute on your favorite salads — the possibilities are endless!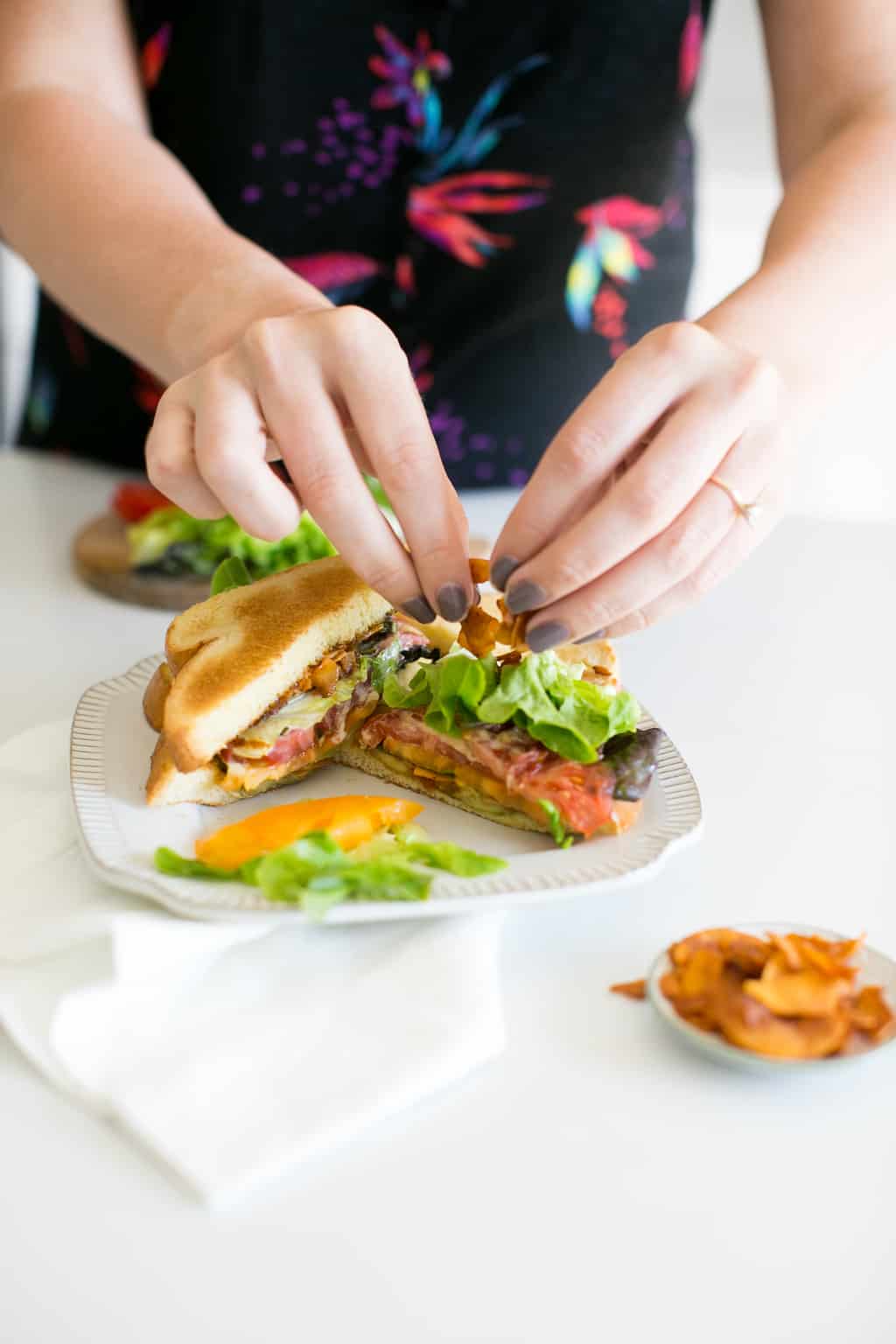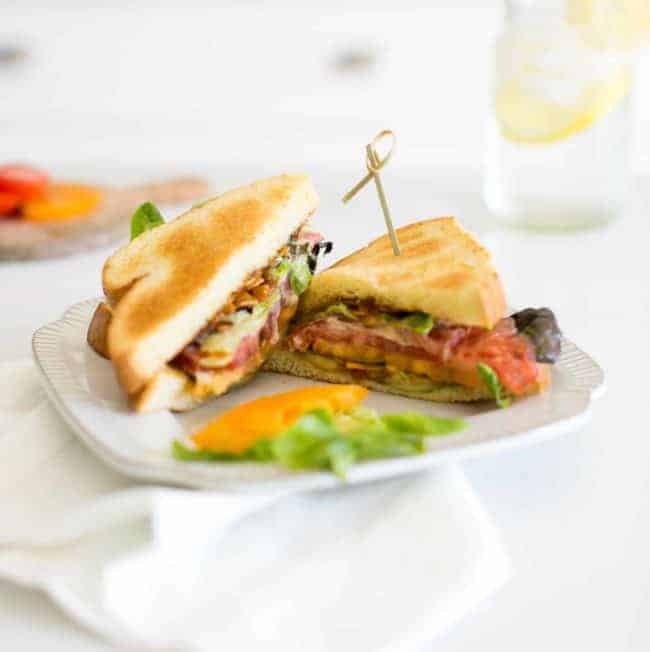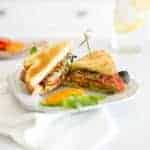 Print Recipe
Heirloom Tomato & Coconut Bacon BLT with Basil Aioli
These Heirloom Tomato & Coconut Bacon BLT sandwiches are a healthier vegetarian spin on the classic greasy spoon staple.
Ingredients
2

cups

coconut chips

1

tablespoon

olive oil

2

tablespoons

soy sauce

1

teaspoon

smoked paprika

1

tablespoon

maple syrup

1/2

teaspoon

liquid smoke

3

eggs yolks

1 1/2

cups

canola oil

1

tablespoon

chopped garlic

1

tablespoon

chopped basil

1

tablespoon

lemon juice

Salt and pepper to taste

3

different varieties of heirloom tomatoes

sliced

1

loaf thick sliced bread

toasted (we used brioche)

2

ripe avocados

1

bunch of leaf lettuce
Instructions
Preheat oven to 325ºF.

To make coconut bacon: Mix coconut, olive oil, soy sauce, paprika, maple syrup, liquid smoke, salt, and pepper. Spread on a sheet pan and bake for 6 minutes. Stir and bake for another 5 minutes. Stir and bake for another 3 minutes. Let cool.

To make aioli: Place egg yolks in a small bowl. Gently whisk the oil into the yolks. Add garlic, lemon, and salt and pepper. 

Assemble the BLT by spreading half of an avocado on one piece of bread and aioli on the other. Layer with tomatoes, lettuce, coconut bacon, and a drizzle of aioli.
Notes
While we think coconut bacon is a dead ringer for bacon bacon, feel free to use the real thing in this recipe if you'd like. We won't judge!
18