A healthy breakfast sounds like such a novel idea at 9 p.m. But at 6:30 a.m.? I'm lucky if I can drag myself out of bed (and the cat from his favorite snoozing position, my feet, so I can physically do so) and put on mascara before heading out the door.
That's where make-ahead breakfasts come to the rescue. Even if you sleepwalk through most mornings, you can still pull this together because there's little to no work required to make this recipe. This chia pudding is a similar concept to overnight oats, in that the fridge does everything for you while you sleep.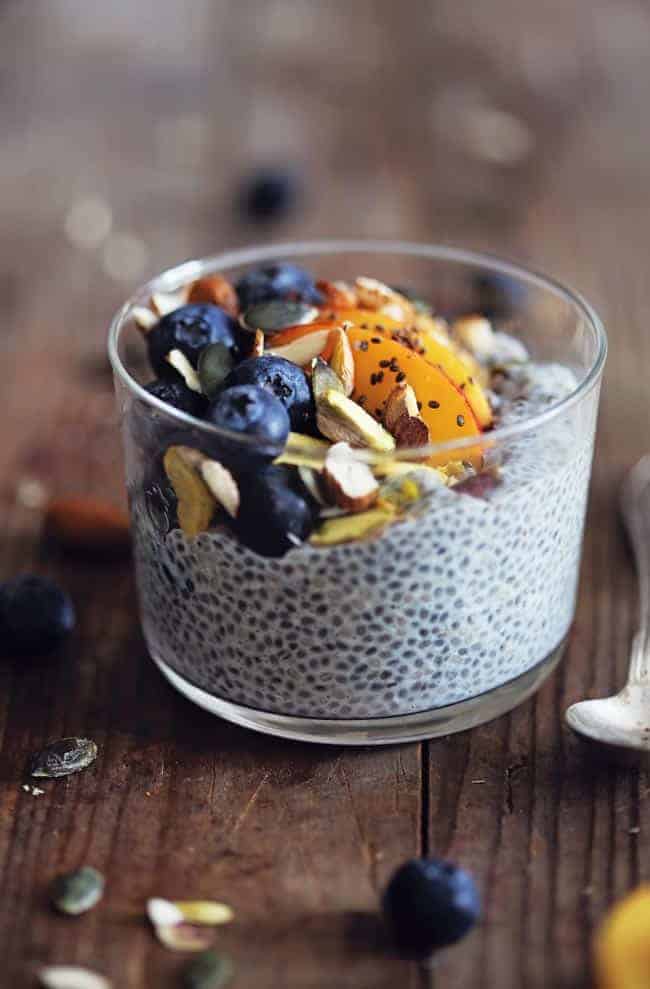 Personally, I'm not a fan of the texture of overnight oats, so I tend to opt for this make-ahead option. It's creamy, good for your gut, full of healthy fats and protein, and so easy to customize with whatever is in your pantry or fruit basket. Depending on what you add, you can make sure it's filled with even more nutrients.
To make things even easier on yourself, get your toppings together the night before. All you'll need to do is scoop the pudding, garnish and go!
Here are a few of my favorite flavor profiles to top this super-simple breakfast pudding:
-Blackberries and raspberries
-Pumpkin seeds and chopped mango
-Blueberries, sliced peaches and almonds (pictured)
-Raisins, walnuts and cinnamon
-Pistachios, shredded coconut and honey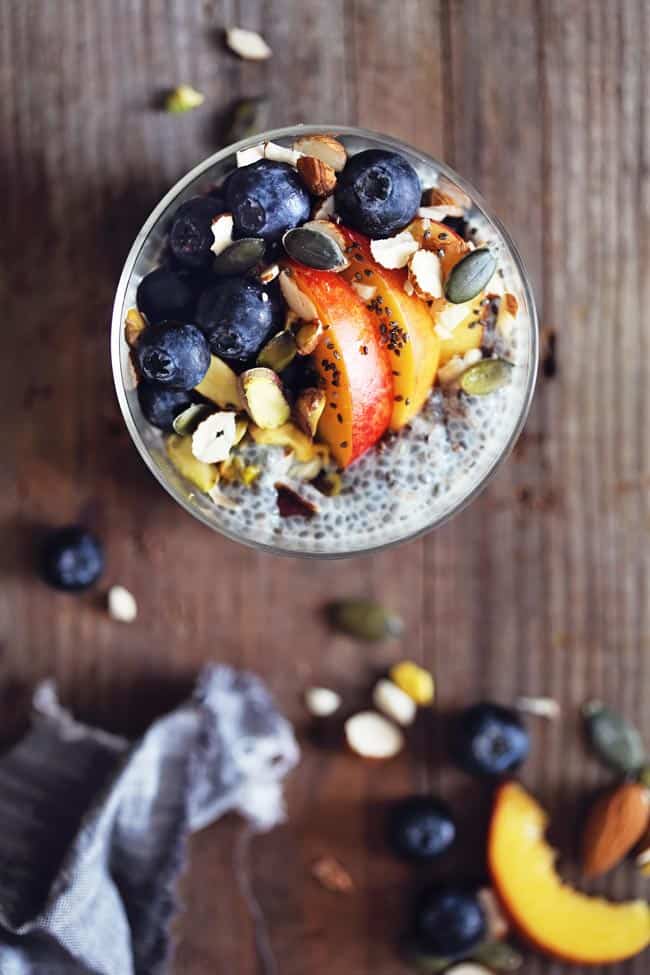 More chia pudding flavor ideas:
Healthy Apple Cinnamon Chia Seed Pudding
Layered Coconut Spirulina Chia Pudding
Simple Chocolate Chai Chia Seed Pudding Recipe
Coconut Chia Pudding
This insanely easy breakfast pudding is made the night before, so all you have to do in the morning is scoop it into a bowl and garnish.
Ingredients
Instructions
Mix together all ingredient using a fork or whisk. Cover and refrigerate overnight, or until pudding is set.

Serve topped with fruit, nuts and garnishes of your choice.
Photos by Ana Stanciu
62