A healthy breakfast sounds like such a novel idea at 9 p.m. But at 6:30 a.m.? I'm lucky if I can drag myself out of bed (and the cat from his favorite snoozing position, my feet, so I can physically do so) and put on mascara before heading out the door.
That's where make-ahead breakfasts come to the rescue. Even if you sleepwalk through most mornings, you can still pull this together because there's little to no work required to make this recipe. This chia pudding is a similar concept to overnight oats, in that the fridge does everything for you while you sleep.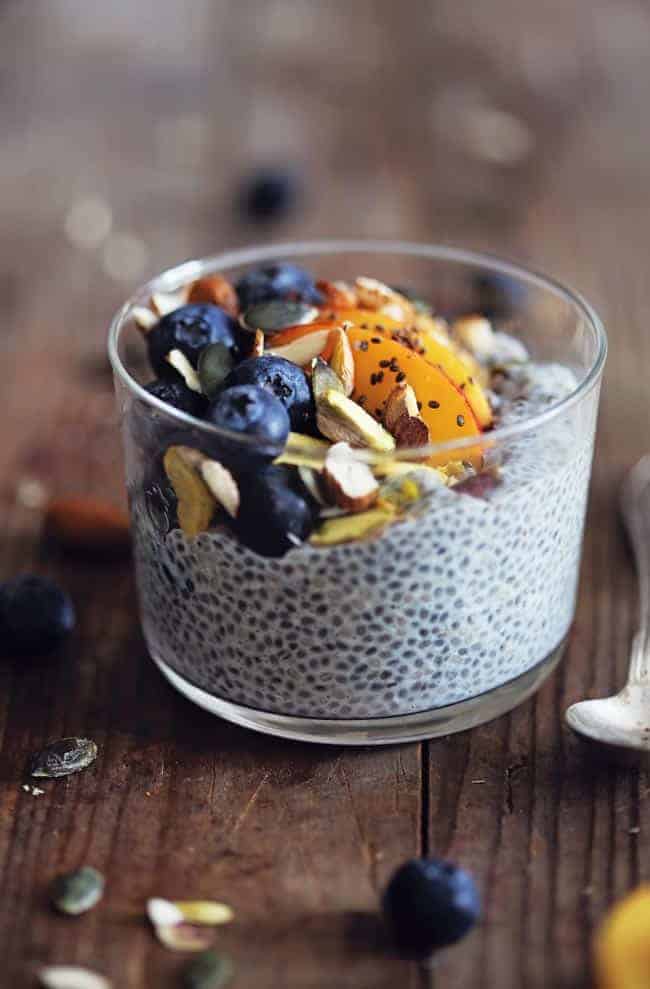 Personally, I'm not a fan of the texture of overnight oats, so I tend to opt for this make-ahead option. It's creamy, good for your gut, full of healthy fats and protein, and so easy to customize with whatever is in your pantry or fruit basket. Depending on what you add, you can make sure it's filled with even more nutrients.
To make things even easier on yourself, get your toppings together the night before. All you'll need to do is scoop the pudding, garnish and go!
Here are a few of my favorite flavor profiles to top this super-simple breakfast pudding:
-Blackberries and raspberries
-Pumpkin seeds and chopped mango
-Blueberries, sliced peaches and almonds (pictured)
-Raisins, walnuts and cinnamon
-Pistachios, shredded coconut and honey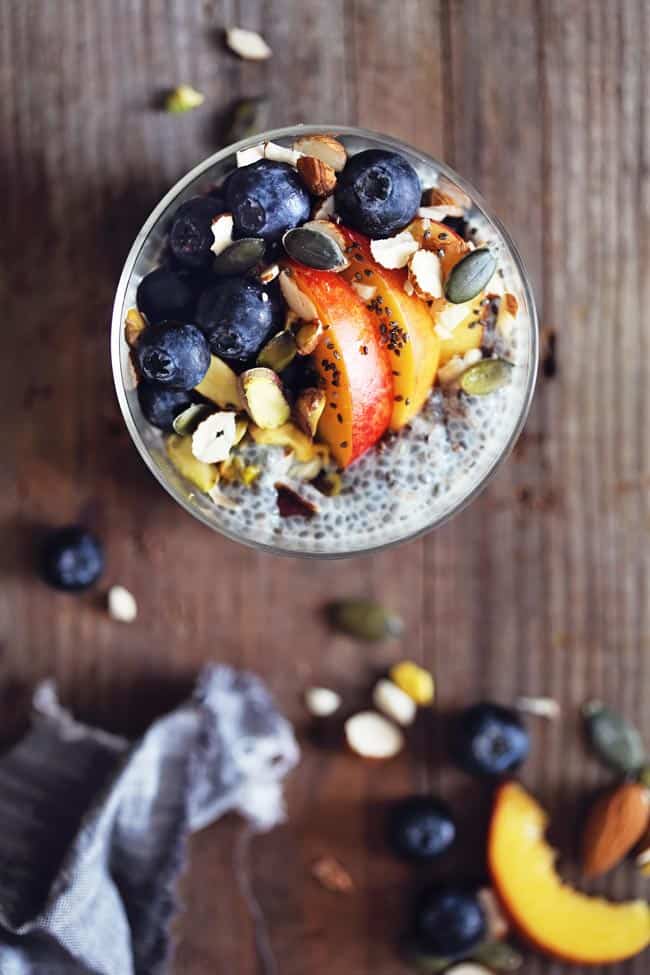 More chia pudding flavor ideas:
Healthy Apple Cinnamon Chia Seed Pudding
Layered Coconut Spirulina Chia Pudding
Simple Chocolate Chai Chia Seed Pudding Recipe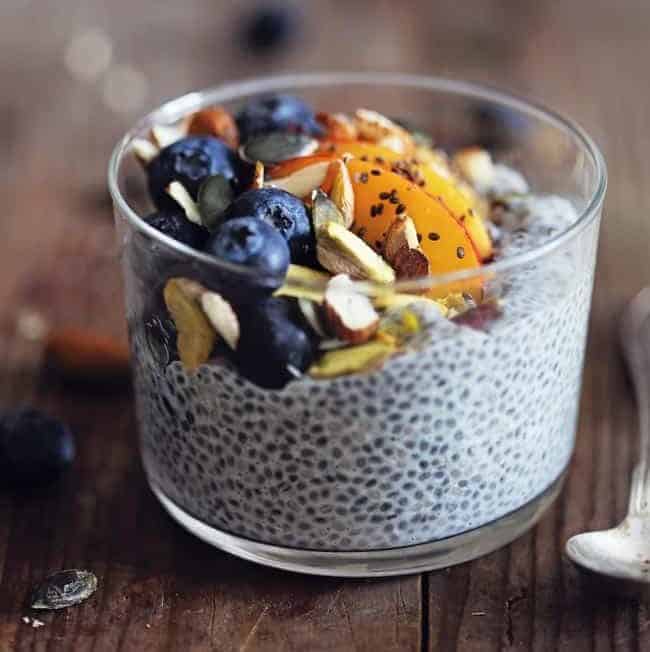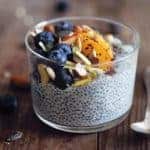 Print Recipe
Coconut Chia Pudding
This insanely easy breakfast pudding is made the night before, so all you have to do in the morning is scoop it into a bowl and garnish.
Ingredients
Basic Coconut Chia Pudding
1

cup

coconut milk

use the full-fat kind from a can

¼

cup

chia seeds

I like Kunachia brand because it includes extra probiotics

1

tablespoon

protein powder of your choice

optional

2

tablespoons

maple syrup

1

teaspoon

cinnamon
Pumpkin Pie Chia Pudding
1

cup

coconut milk

¼

cup

chia seeds

1

tablespoon

pumpkin puree

1

tablespoon

maple syrup

½

teaspoon

pumpkin pie spice

pinch of salt
Cashew Butter & Jelly Chia Pudding
1

cup

coconut milk

¼

cup

chia seeds

1

tablespoon

cashew butter

or your favorite nut butter

1

tablespoon

strawberry jelly

1

teaspoon

honey
Pumpkin Caramel Chia Pudding
4

tablespoon

chia seeds

1

cup

unsweetened almond milk warm

2

red apples peeled

core removed, cut into slices

1

teaspoon

coconut sugar

3

tablespoon

water

2

tablespoon

coconut oil melted

4

dates

pitted soaked

2

tablespoon

pumpkin puree canned

½

cup

full fat coconut milk warm

1

teaspoon

pumpkin spice

½

cup

chopped pecans lightly toasted

¼

teaspoon

salt

2

tablespoon

almond butter
Coconut Spirulina Chia Pudding
5

tablespoon

chia seeds

1

cup

almond milk

½

cup

coconut milk

2

teaspoon

organic raw honey

if vegan, replace with agave or maple syrup

1

avocado

peeled and cut into chunks

1

teaspoon

organic spirulina powder

1

ripe banana

peeled

To garnish: fresh blueberries

coconut flakes
Apple Cinnamon Chia Pudding
2

cups

unsweetened non-dairy milk

½

teaspoon

vanilla extract

⅔

cup

chia seeds

2

tablespoons

unsweetened coconut flakes

2

apples cored and chopped

2

teaspoons

cinnamon
Instructions
Mix together all ingredients using a fork or whisk. Cover and refrigerate overnight, or until pudding is set.

Serve topped with fruit, nuts and garnishes of your choice.
For the pumpkin caramel
Heat 1 tablespoon coconut milk into a non-stick skillet, add the apples, coconut sugar and water, mix and bring to boil over medium heat. Simmer for 5 minutes, until the water is absorbed, and the apples are slightly cooked but still a crunchy.

Drain the dates and add them into the blender with the coconut milk, pumpkin puree, 1 tablespoon coconut oil, pumpkin spice and salt, and process to obtain a smooth liquid.

Divide the chia pudding into the serving jars, top with the stewed apples and almond butter, drizzle with pumpkin caramel and garnish with chopped pecans.
For spirulina pudding
In a medium bowl, mix the chia seeds with plant milks and honey (or its replacement), then set aside for 30 minutes until the seeds absorb all the liquid.

Meanwhile, add the avocado, banana, and spirulina into the food processor and pulse to obtain a fine puree.

Distribute the soaked chia seeds evenly into the serving bowls/jars, top with a green layer of spirulina puree, garnish with coconut flakes and chia seeds, and serve.
For apple cinnamon pudding
Place milk and vanilla extract into a saucepan, and warm over low heat for 2 to 3 minutes. The milk does not have to be boiling hot, just warm enough for your taste. Add chia seeds to a cereal bowl.

When the milk is warm, add the milk to bowl of chia seeds. Stir continuously for about 2 minutes while the chia seeds absorb the milk. Allow the mixture to sit for 2 to 3 minutes before adding toppings.
Photos by Ana Stanciu
62