If you're like us, pancakes are your dream breakfast! Fluffy, bathed in honey or maple syrup, with fresh fruits on the side—there is no better start to the day. While classic pancakes can leave you feeling a bit stuffed, these banana coconut flour pancakes are light, easy, and packed with protein and healthy fats, making a low-carb breakfast that keeps you full and energized until lunch and without overwhelming your digestion.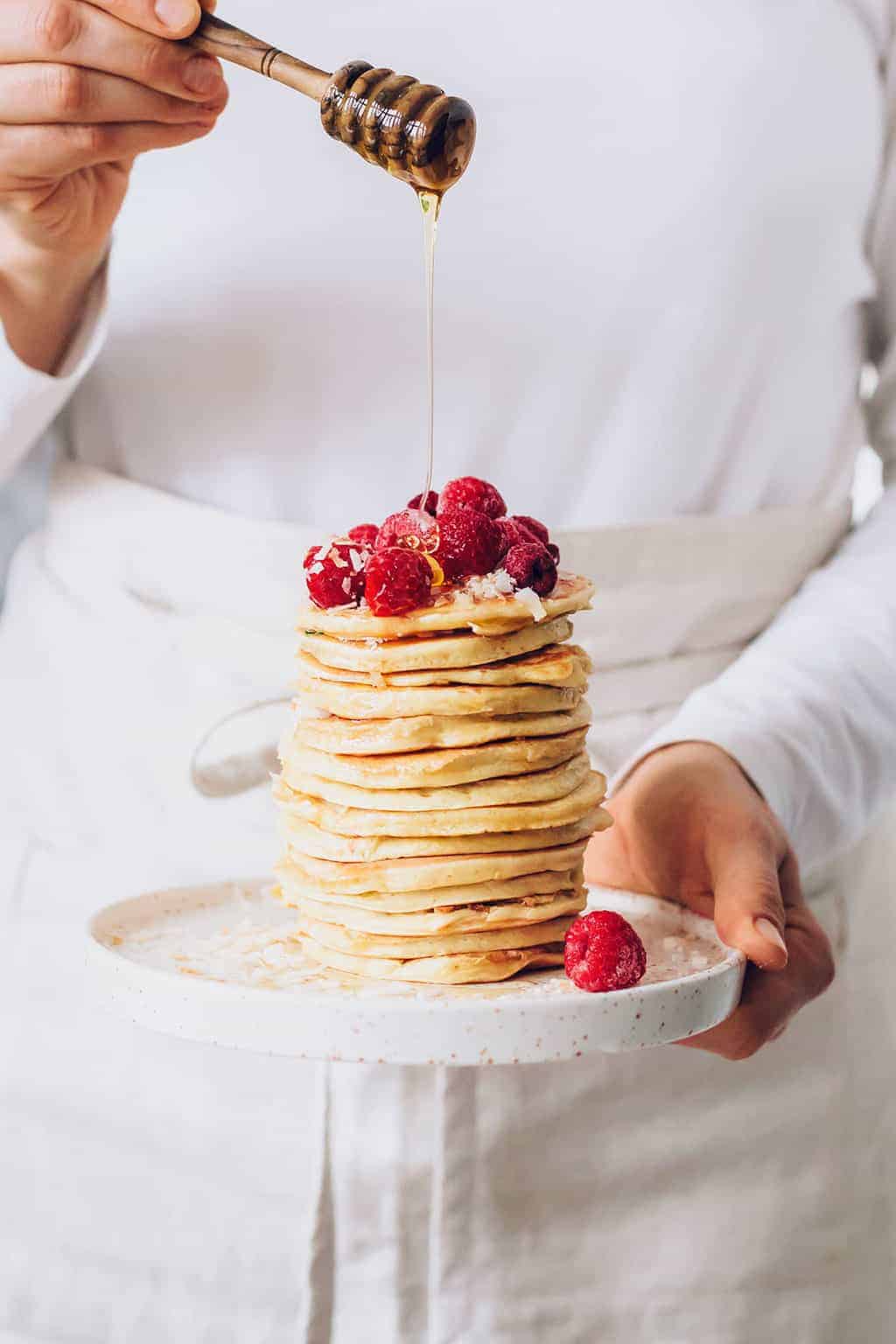 How to make coconut flour pancakes
While eating gluten isn't a problem in our house, we like to keep it for occasions, and experiment with alternative flours instead, just to give the digestive system space to do its job without being overwhelmed. Buckwheat and almond flour are the most used gluten-free alternatives, but coconut flour works especially well for sweet bakes.
I love the delicate coconut flavor and the light texture that it adds to pancakes. However, keep in mind that you're not using the usual grain flour, which holds everything together like magic. Coconut flour tends to burn very quickly, and the pancakes are not easily flipped over if they're too big. Cook your coconut pancakes quickly, and make them smaller in size (I made mine just by scooping a large tablespoon of batter, which yielded 4-inch pancakes).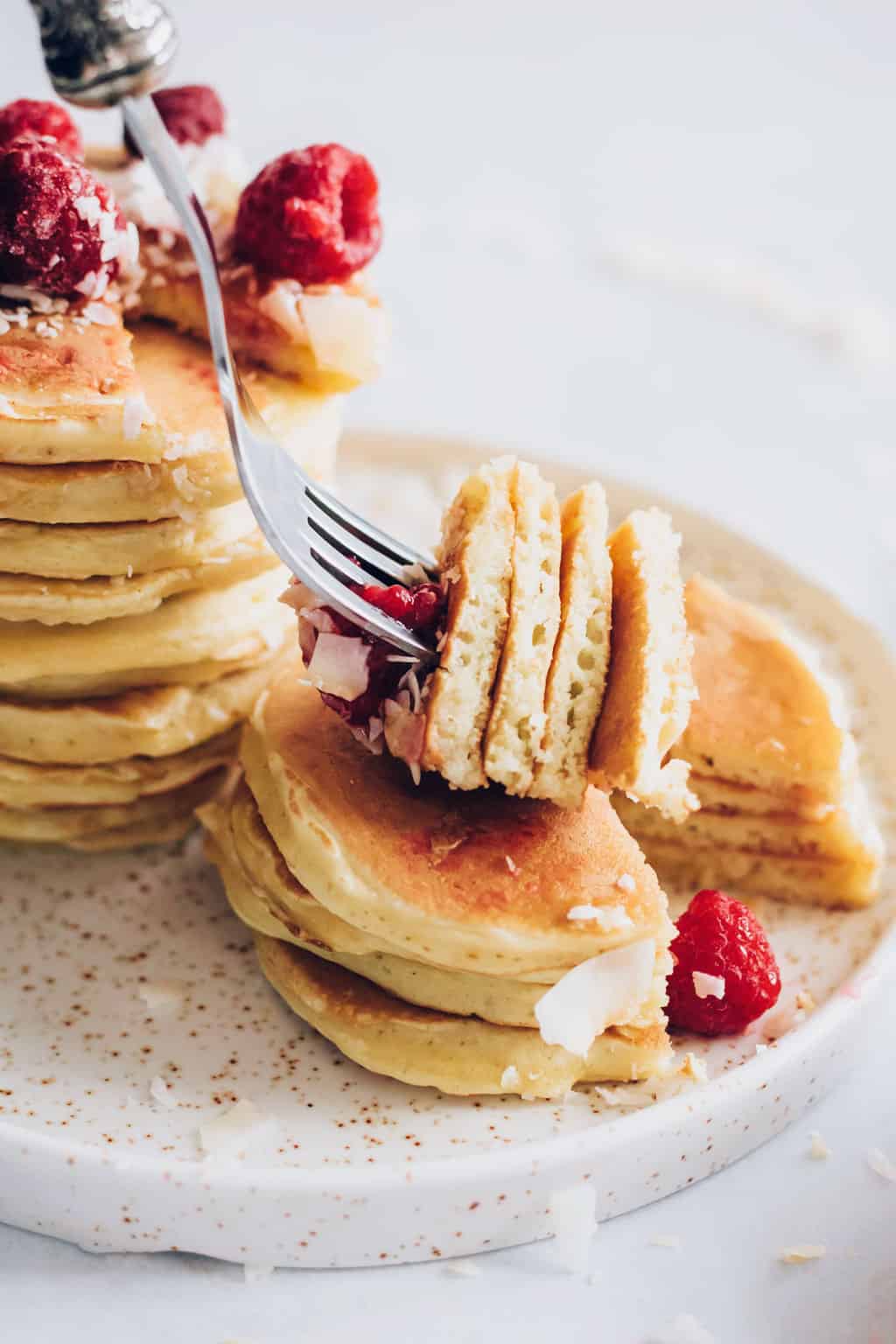 How do I substitute coconut flour for regular flour?
Remember that coconut isn't a grain and doesn't have gluten, so its flour is just a fine grind of its flesh that doesn't really act like regular flour. This is why you can't substitute coconut flour for regular flour in a 1:1 ratio.
Coconut flour is low in carbohydrates and high in fiber and protein. It's denser and very absorbent, giving a gritty texture to your pancakes if added in a 1:1 ratio. If a recipe calls for 1 cup of regular flour, use 1/4 cup when replacing it with coconut flour. Adding eggs to your coconut flour pancake will help keep them together and give them structure. For each 1/4 cup of coconut flour, we recommend adding 1 egg.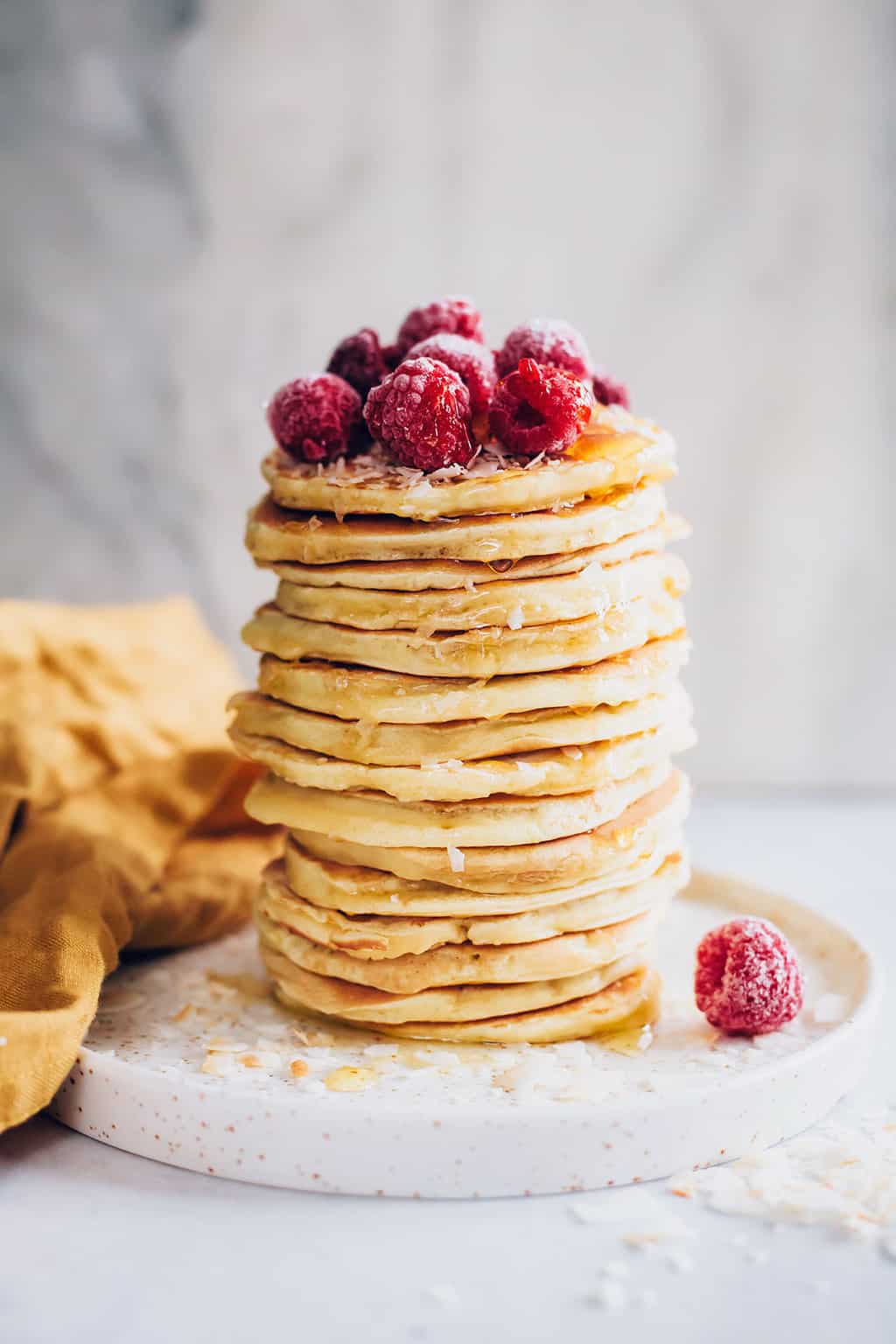 Looking for more inspiring pancake recipes? Try our Vegan Banana Eggnog Pancakes or our Savory Turmeric Pancakes.
Did you try this recipe? Post your photo and tag us #helloglowblog on Instagram, so we can share it with our community.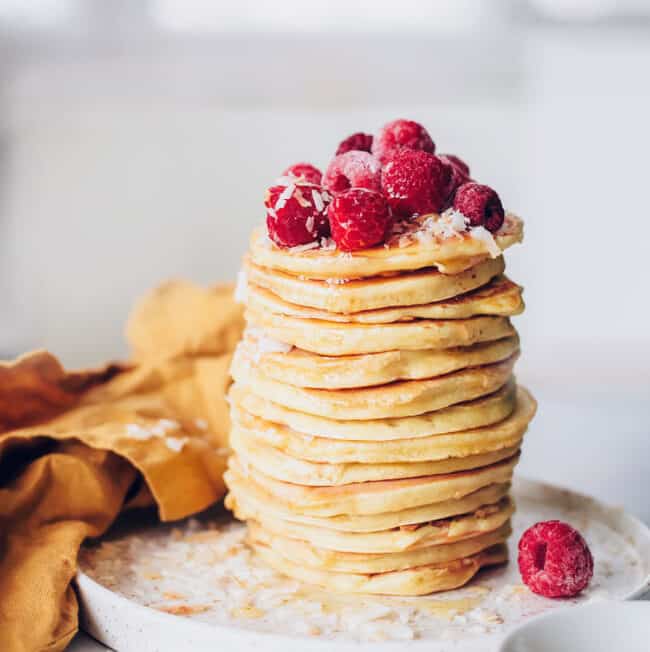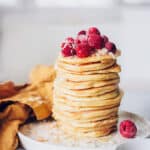 Print Recipe
Coconut Flour Pancakes - Gluten-Free and Dairy-Free
A gluten-free coconut pancake recipe to help you enjoy your dream breakfast without getting bloated or loosing energy.
Ingredients
2/3

cup

coconut flour

4

eggs

1/2

cup

unsweetend almond milk

1/2

ripe banana,

frozen

2

tbsp

coconut oil,

melted, plus extra for frying

1

tsp

baking powder

1

tsp

apple cider vinegar

1/4

tsp

salt

Raw honey, coconut flakes, and fresh fruits to serve
Instructions
Beat the eggs in a large bowl.

Add the banana, coconut oil, and almond milk into a blender and process to obtain a smooth liquid. Pour it over the beaten eggs.

Add the rest of the ingredients and mix to obtain a creamy batter.

Grease a skillet with coconut oil, and scoop the batter to form 4-inch diameter pancakes.

Cook over medium heat for 2 minutes, until small bubbles appear on top, and then flip over and cook for 2 more minutes.

Continue the same process with the rest of the batter.

Serve warm, drizzled with honey, with sprinkled coconut flakes, next to fresh fruits.
Nutrition
5