My love for coconut oil runs deep. You can use it for almost everything, I swear. It kicks butt for everything from soothing sunburns and strengthening teeth to relieving eczema—seriously, is there anything the stuff can't do? But hair is one of the places where coconut oil both literally and figuratively shines.
Using coconut oil for hair softens strands, adds a silky luster, and helps repair dry locks without leaving them limp and greasy. Heck, it even gets rid of embarrassing dandruff and encourages hair to grow faster. That's a lot of bang for your hair care buck!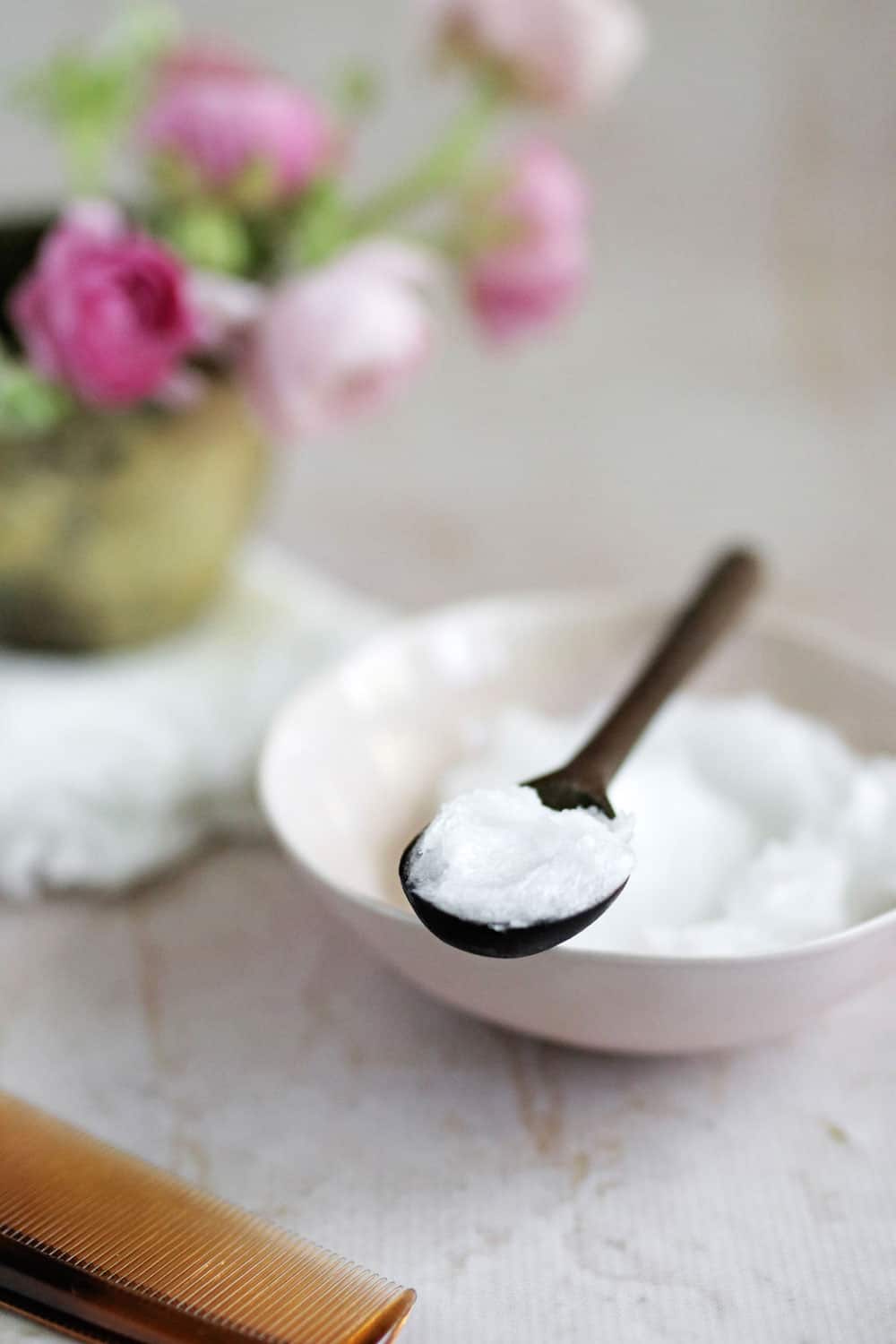 6 Ways to Use Coconut Oil for Hair
Here are my 5 favorite ways to use coconut oil for hair. The best thing about them is how easy it is to add them to your daily routine!
1
.
Deep Conditioner
I swear by coconut oil for adding much-needed moisture and revitalizing dry strands. Any time my hair is feeling dry and needs a pick-me-up, coconut oil is what I turn to.
Since it's a rich source of fatty acids and proteins [source] and has an affinity for hair proteins [source], it zones right in to help strengthen hair and prevent further damage. Research has shown that regular use of coconut oil on hair reduces breakage [source].
To use as a deep conditioner, simply take a pea-size amount and rub it between the palms of your hands until it's nice and liquid-y. Then rub your hands through your hair, starting at the roots and moving toward the ends. You don't need much, just enough to lightly coat your hair.
For extra conditioning action, pop on a shower cap and use a warm blow-dryer to gently heat up your hair. Using heat allows the coconut oil to better penetrate the hair, leaving it silky, smooth, and hydrated.
Leave the oil on for an hour (or overnight if you have time), then shampoo and condition like usual. If you only used a small amount of oil, you shouldn't run into problems washing it out completely. But if you do, add a teaspoon of baking soda to your shampoo and wash a second time.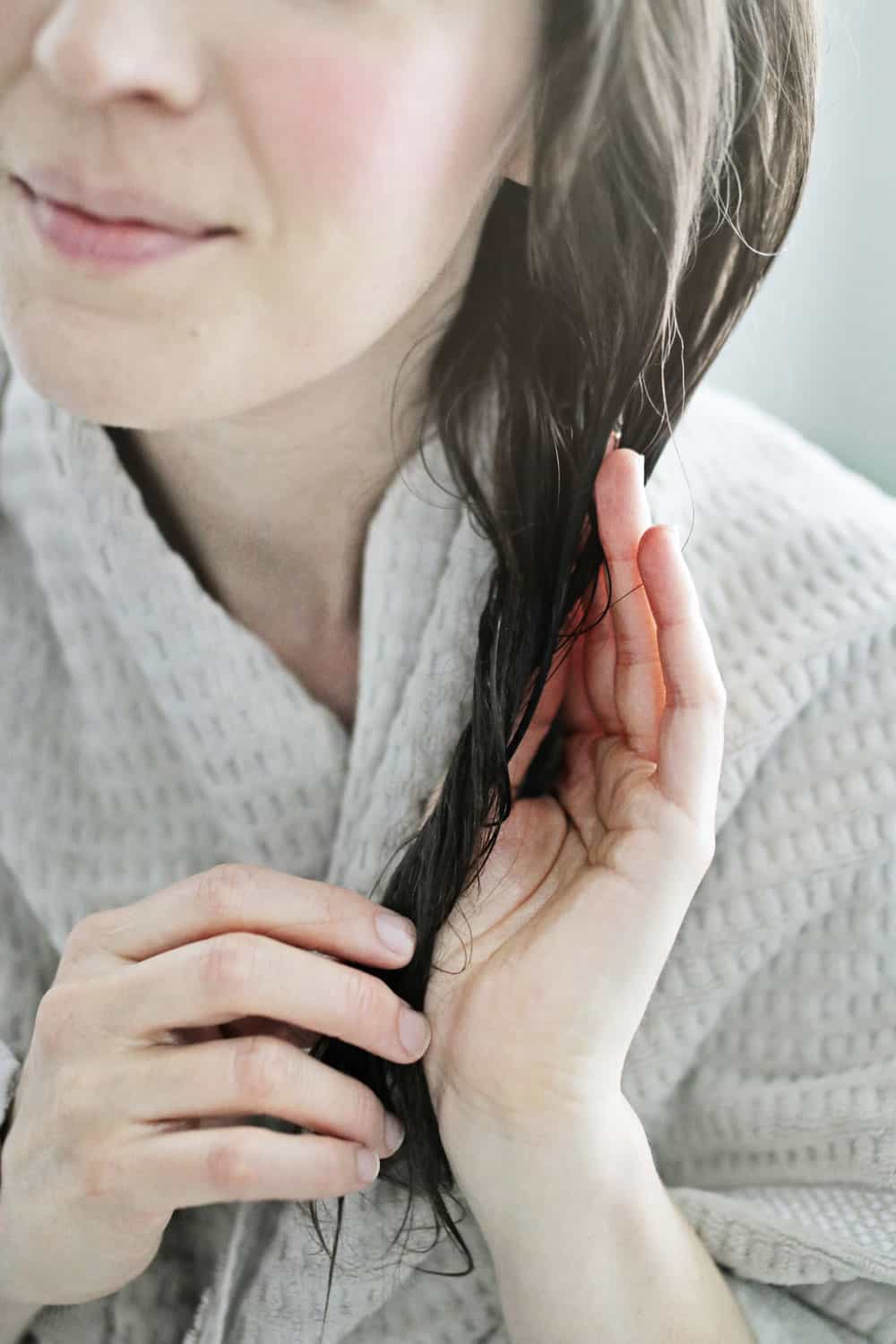 2
.
Smoothing Serum
On humid days, hair can puff up in no time, but coconut oil is a great way to tame the flyaways naturally. Studies have shown that it is excellent at penetrating the hair shaft to deliver its moisturizing effects [source].
Simply rub a dollop of oil between your palms, then gently swipe 'em over your hair and rub any leftover oil into split ends. The best time to apply this is when hair is still a tiny bit damp but not too wet. This helps distribute the oil better and makes your hair easier to style.
Coconut oil is literally the best thing I've ever used for calming down those frizzy flyaways! It's best to start with a little bit of oil at a time to avoid weighing down hair until you get the look you want. You can slowly build up product until it's perfect, but it's much harder to take product away when you have too much.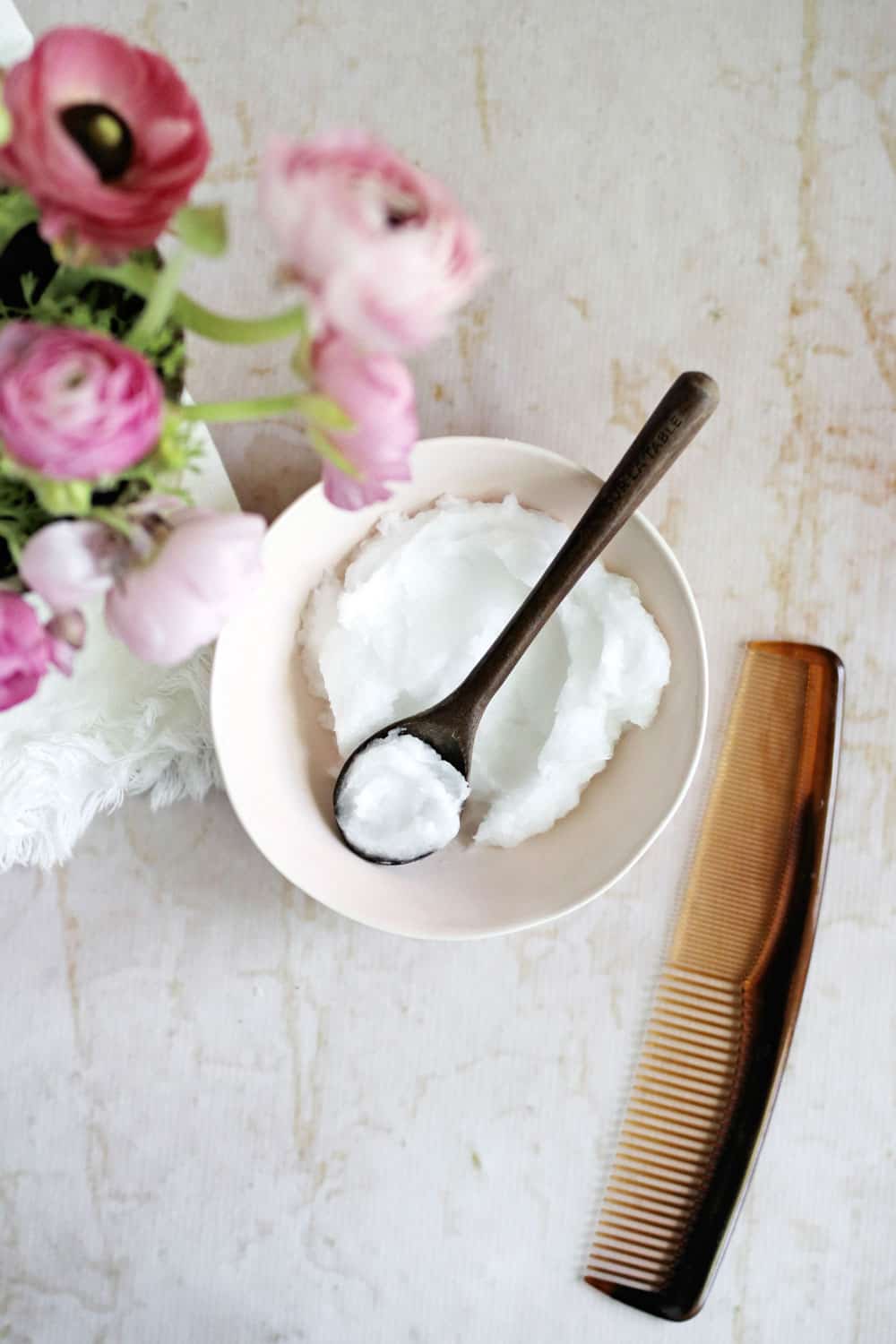 3
.
Hairspray
Homemade hairspray is one of the more unique ways to use coconut oil for hair. As opposed to most commercial hair sprays, this one helps hydrate strands and naturally strengthens damaged locks.
While you shouldn't expect to get the hold of alcohol-laden hair sprays, you will end up with fewer flyaways and natural shine. It also won't leave your hair crunchy like traditional hairsprays tend to do! Instead, it leaves your hair looking gorgeous and healthy.
4
.
Dandruff Remedy
There are several factors that can lead to dandruff (bacteria, eczema, dryness, and even an oily scalp, to name a few), so before applying coconut oil willy-nilly, it's best to get to know your scalp. If you think eczema, dryness, or bacteria are at play, coconut oil can be a great remedy for flakes.
It's naturally antibacterial and antifungal [source], making it perfect for clearing away any skin-irritating microbes. Plus, when applied to the scalp, it penetrates deep into the epidermis, adding moisture and soothing inflammation in an itchy, irritated scalp.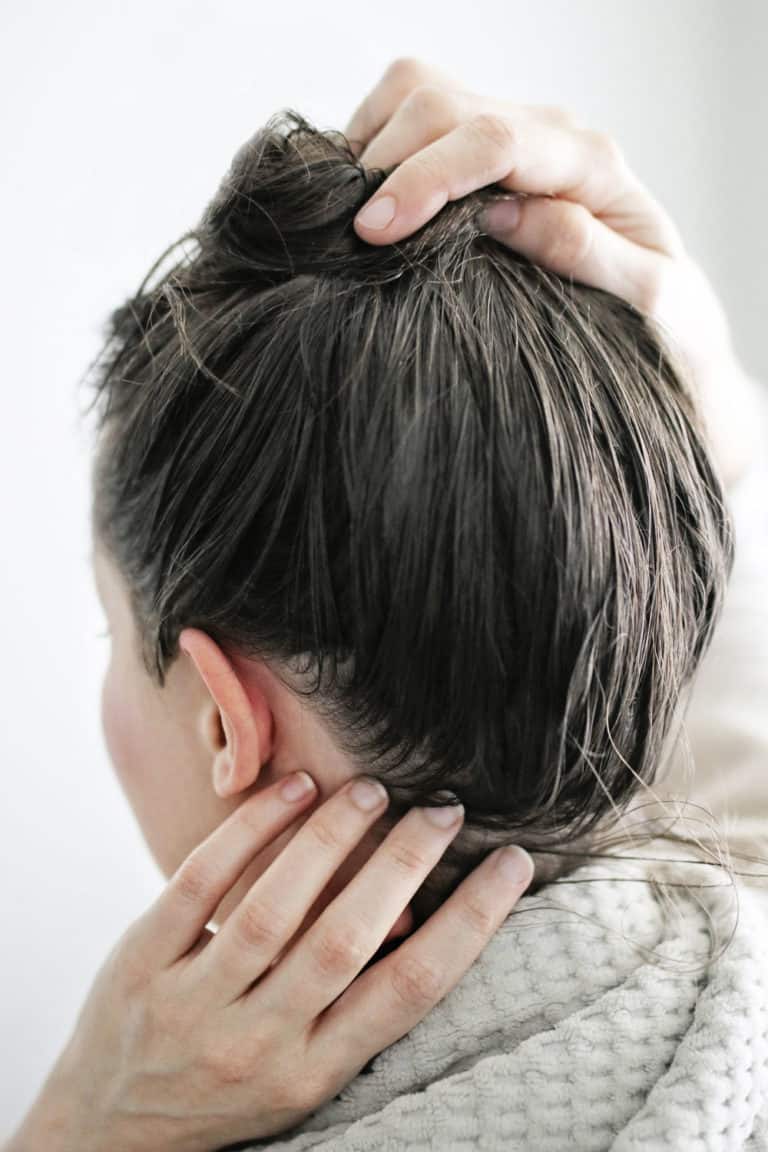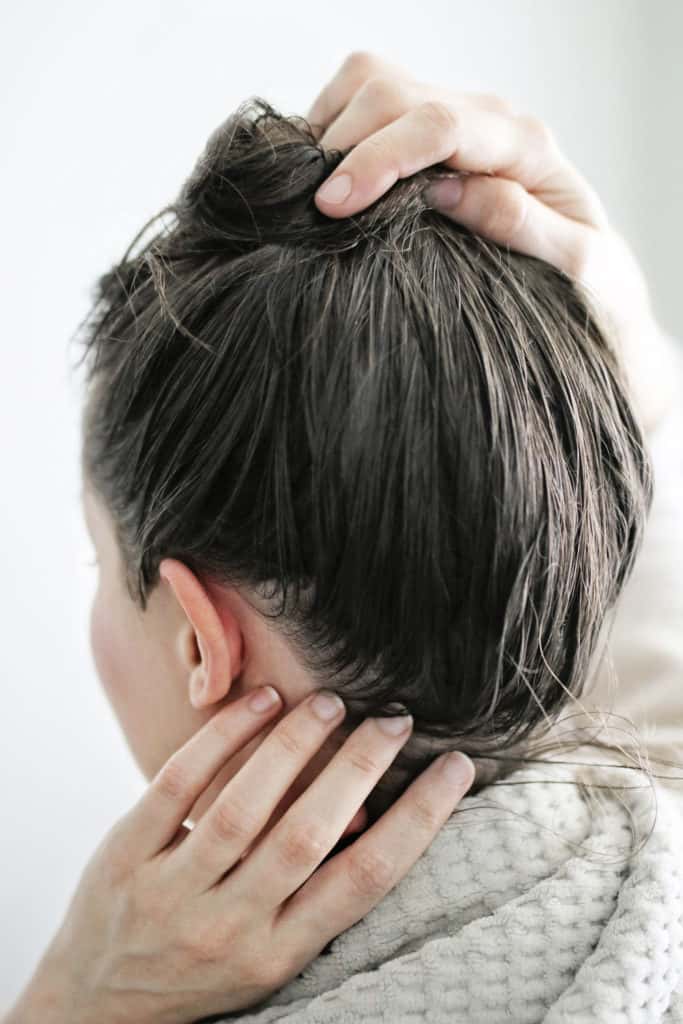 Use your fingertips to apply a tiny bit of oil to your scalp and massage it in. A head massage also boosts circulation in the scalp, which supports healthy hair growth—a win-win!
Let it sink in for 15 minutes, then rinse it off thoroughly. You can follow up with shampoo or simply let your hair dry naturally and apply dry shampoo to soak up the excess oil. Coconut oil can clog pores and cause sebum buildup, so always do a test run on a small section of hair first. If you notice dandruff getting worse, give the oil a rest.
5
.
Pre-Shampoo Treatment
How different is this from a deep conditioning treatment? Well, the concept is similar, but it takes place in a very different part of your routine. While a deep conditioning treatment is best applied and left on clean hair, a pre-shampoo treatment can be used on dry, unwashed hair before your regular shampooing routine.
Using coconut oil as a pre-shampoo treatment is a great way to get the benefits of this nourishing oil for your hair without having to leave it in your hair for hours (although, I will say that the longer you leave it in, the better!). As a pre-poo, applying coconut oil to your hair 15 minutes before showering should be enough.
Applying the oil to dry hair is key to getting the most out of a pre-poo treatment. Did you know that hair is most prone to damage when it's wet? It becomes very stretchy and can snap super easily, which is why you're not supposed to tie or brush hair when it's wet. Coconut oil as a pre-poo treatment helps to detangle hair and prevent oversaturation of the hair with water, reducing frizziness and future hair damage.
6
.
Hair-Strengthening Superfood
Coconut oil may offer the most benefit for hair when eaten, as opposed to being applied topically. It contains a myriad of fatty acids, proteins, and antioxidants that provide a host of health benefits.
When eaten regularly, it's said to support everything from healthy hormone production to metabolism. And since hair is a reflection of our internal health, incorporating more coconut oil into your diet, along with other foods that boost hair health, can improve hair strength and appearance from the inside out.
This post was medically reviewed by Dr. Rina Mary Allawh, M.D., a dermatologist who practices adult and pediatric medical dermatology, skin cancer treatment, and cosmetic dermatology. Learn more about Hello Glow's medical reviewers here. As always, this is not personal medical advice, and we recommend that you talk with your doctor.
135