We've often mentioned coconut oil as one of our kitchen/beauty essentials. But let's not forget coconut water: low in calories and cholesterol-free, yet tasty and exotic! It's even been called "mother nature's sports drink," and an aid against hangovers, acne and high blood pressure. It facilitates digestion and weight loss, plus it's super nutritious and hydrating. With all that in mind, we've surfed for some new ways to use coconut water in our daily diet, and we've found that it can even be used in cakes and curries…and who isn't always down for cake and curry?
25 Coconut Water Recipes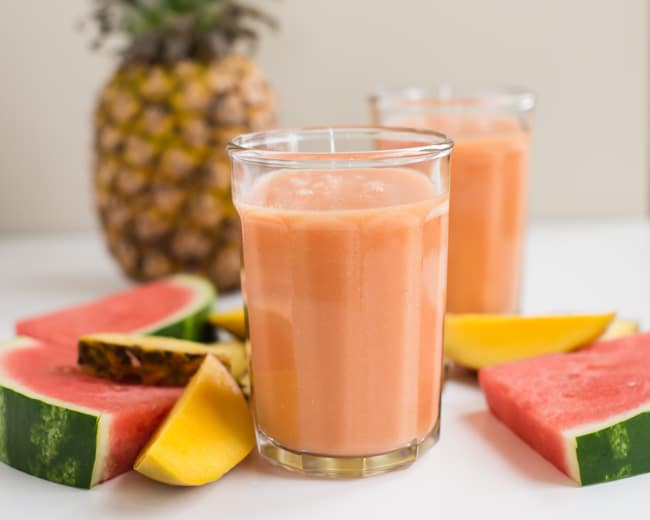 1. Healthy tropical smoothie – The perfect way to cool off and send your mind to the beach, a tropical smoothie made with coconut water, pineapple, mango and watermelon.
2. Coconut water & pineapple popsicles – Frozen snacks are the tastiest in summer, and this one is made with only two ingredients!
3. Superfruit refresher cocktail – Even cocktails can benefit from coconut water, and this one is classy looking and so tasty.
4. Pancake sauce – Top your pancakes with this easy to make sauce, featuring coconut water, peanut butter and sugar.
5. Watermelon slushie with boba – When coconut water and watermelon are mixed, you get the most refreshing of all refreshments!
6. Watermelon coconut agua fresca – An easy, healthy way to stay hydrated on hot days.
7. Strawberry popsicles – The natural sweetness of coconut water blends perfectly with the taste of strawberries in these refreshing pops.
8. Tender coconut pudding – An easy to make, egg-less pudding that's comforting and simply beautiful.
9. Tropical coconut sangria – Coconut water, vodka, pineapple, mango, orange and white wine all meet in this perfectly exotic cocktail.
10. Malaysian chicken curry – An easy to make Malaysian curry with chicken, garlic, red chilies and different sauces.
11. Pineapple mint coconut water frappe – Made with mint simple syrup and sweet pineapple, this drink is bound to become a summer staple.
12. Margarita-marinated fish tacos – Marinate tilapia filets in a tasty margarita mix made with coconut water for a new spin on tacos.
13. Kuruma shrimp with fennel pistachio couscous – An exotic dish served with peach puree and rose-scented coconut water foam.
14. Coconut water coffee – Super easy to make and an interesting change in your everyday coffee ritual.
15. Roast okra and fish curry with garlic kale – A hearty recipe made with the tastiest coconut water curry.
16. Glowing skin beauty smoothie – Made with just five ingredients, this smoothie has vitamins, antioxidants, beta carotene and it helps you glow from within.
17. Black currant coconut cocktail – Make your own black currant ginger syrup, then mix it with vodka and coconut water for this tasty drink.
18. Coco pendan syrup – Use this syrup to sweeten your tea or make es campur – it will be the key ingredient either way!
19. Coconut water & fresh blackberry gelatin – A dessert that's bound to make an impression at your next gathering.
20. Chia fresca drink – If you need a refreshing boost, this tropical beverage is for you: chia seeds, coconut water and pineapple are the only ingredients you need!
21. Wrinkle fighting beauty smoothie – Not only does this smoothie kill cravings, but it also fights wrinkles!
22. Coconut cake – A light but delicious dessert made with cream of tartar frosting over a moist base.
23. Coconut sweet potato tequila shrimp ceviche – Aren't these ingredients intriguing? We think so…
24. Triple coconut sorbet – A mouthwatering dessert made with coconut water and milk, sea salt and cherries.
25. Kiwi and coconut water granita – Fruit, coconut water and sweetener – that's all you need to get this granita going!
217