We've often mentioned coconut oil as one of our kitchen and beauty essentials. But let's not forget coconut water. It's low in calories and cholesterol-free, yet tasty and exotic! Sometimes referred to as "mother nature's sports drink," [source] coconut water can be used as an aid for hangovers, acne, and high blood pressure. It facilitates digestion and weight loss. Plus, it's super nutritious and hydrating.
Coconut water has been studied extensively by the Western scientific community since the 1940s. In its natural form, it is a thirst-quenching and nutrient-dense beverage.
That's because it is naturally highly concentrated with five electrolytes that are known to support rapid hydration: sodium, magnesium, calcium, potassium, and phosphorus [source].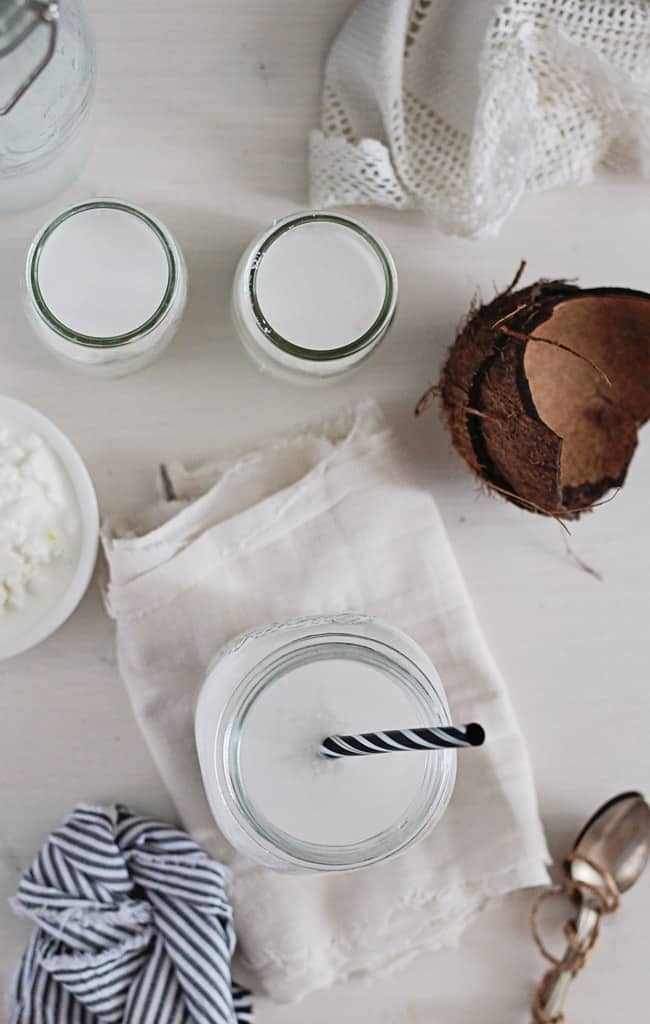 Each serving contains more potassium than a banana, plus many other essential minerals and vitamins such as iron and manganese. Its unique chemical composition of sugars, vitamins, minerals, amino acids, and cytokinins, give it the anti-aging and anti-cancer effects seen in research studies.
Cytokinins, in particular, play an important role in defending the cells against the damage caused by oxidative stress [source]. So, ditch the soda and sports drinks, and get ready to experience coconut water's life-changing benefits the way nature intended!
5 Beauty Benefits of Coconut Water
1. Coconut water contains a variety of trace elements, such as zinc, selenium, iodine, sulfur, manganese, boron, and molybdenum, that act as antioxidants in the body. Antioxidants protect the body from damage by neutralizing toxins, healing your cells, and keeping you young and vibrant [source].
2. Coconut water contains vitamin C [source], which helps to boost the immune system, heal wounds, and protect the skin from damage [source].
3. Cytokinins are another component of coconut water. They make up a class of phytohormones that show significant anti-aging, anti-carcinogenic, and anti-thrombotic effects [source].
4. One of these cytokinins, kinetin, has been shown in studies to have strong anti-aging effects on human skin cells. It can delay the onset of various cellular and biochemical characteristics associated with cellular aging [source], in particular, those that contribute to photo-damaged skin.
5. Coconut water can replenish the electrolytes excreted through sweat, such as sodium, potassium, magnesium, and calcium. This makes it an essential part of post-workout recovery [source].
With all that in mind, we've surfed for some new ways to use coconut water in our daily food choices and found that it can even be used in cakes and curries… and who isn't always down for cake and curry?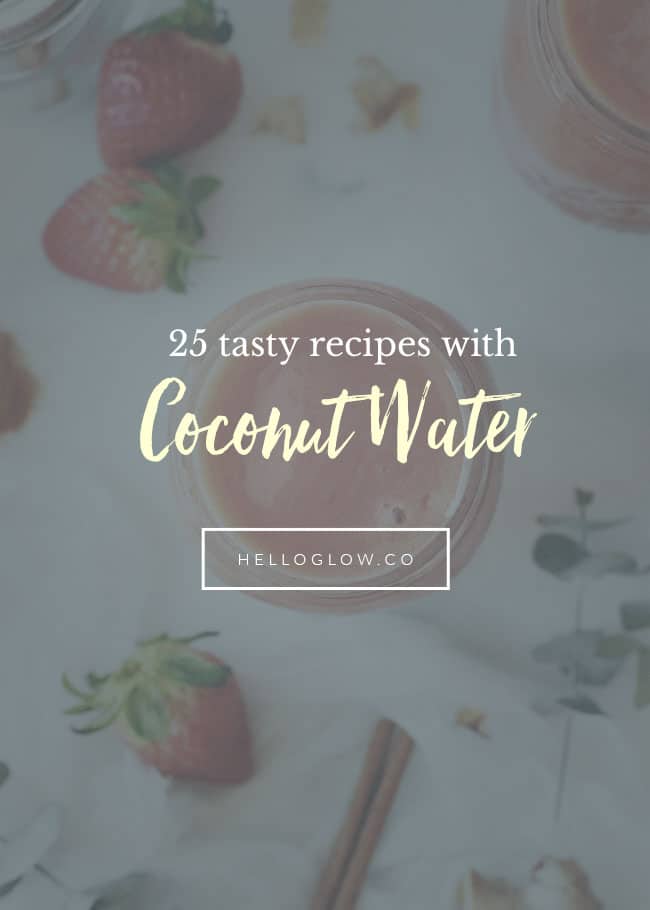 25 Coconut Water Recipes
1. Watermelon coconut agua fresca - An easy, healthy way to stay hydrated on hot days.
2. Make your own aloe water - Hydrate and heal from the inside out with this easy homemade aloe water recipe that uses coconut water as its base.
3. Coconut water lemonade - Bring your lemonade to the next level my making it with coconut water! You'll never want to to back to just water.
4. Skinny Piña Colada - Pina Colada fans will enjoy this lightened-up but tasty version made with coconut water, pineapple juice, and white rum.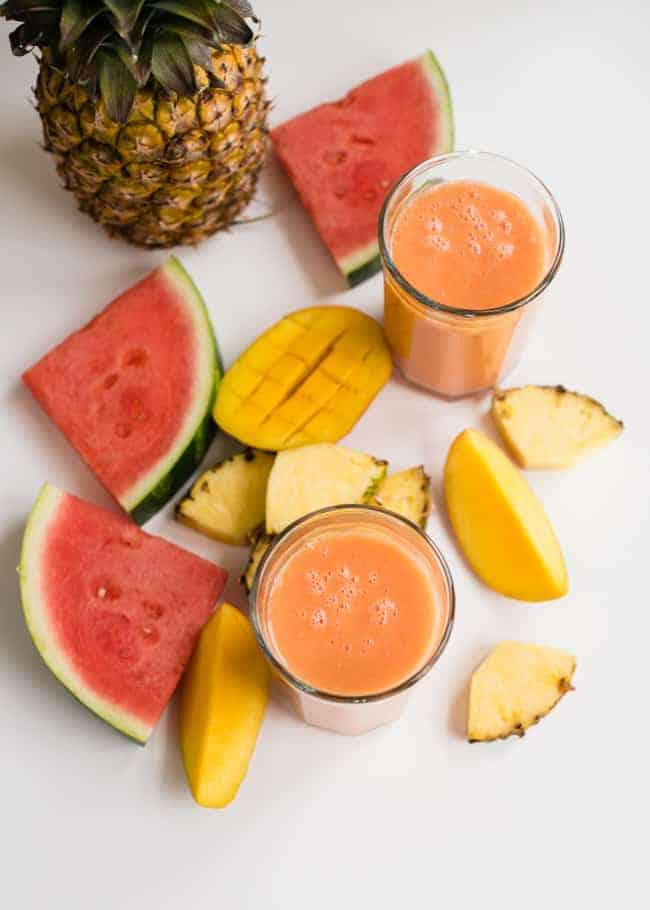 5. Healthy tropical smoothie - The perfect way to cool off and send your mind to the beach, try this tropical smoothie made with coconut water, pineapple, mango, and watermelon.
6. Tender coconut pudding - An easy to make, eggless pudding that's comforting and simply beautiful.
7. Tropical coconut sangria - Coconut water, vodka, pineapple, mango, orange, and white wine all meet in this perfectly exotic cocktail.
8. Basil lychee ice pops - Cool off all summer long with these 4-ingredient ice pops. Sugar- and dairy-free, they are still totally delicious!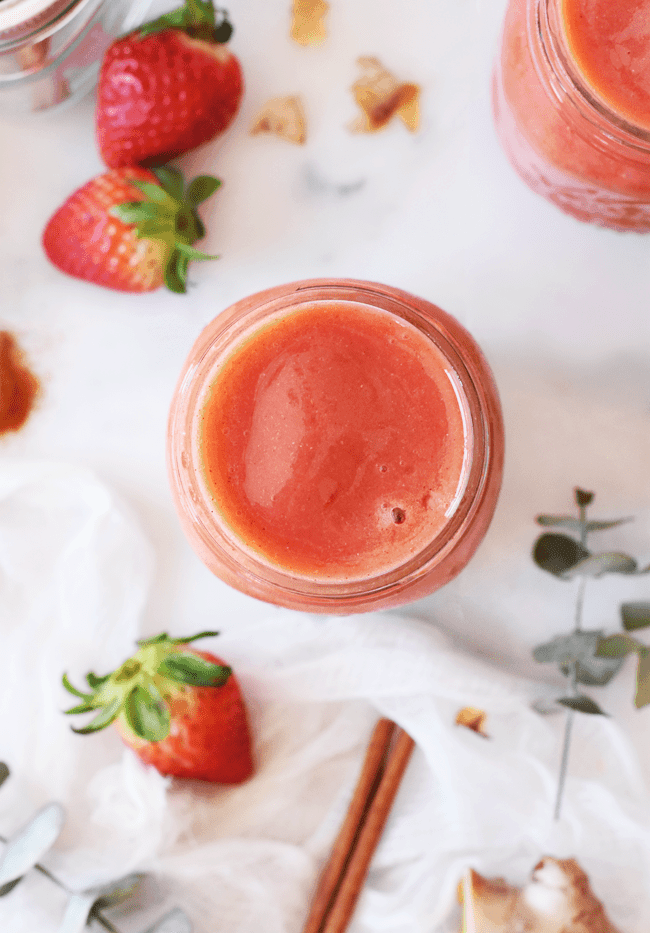 9. Strawberry mango metabolism smoothie - This light and refreshing smoothie made with coconut water contains two special metabolism-boosting ingredients. I think we are all fans of sweet and fruity beverages that can help us lose weight, right?
10. Pineapple mint coconut water frappe - Made with a mint-flavored simple syrup and sweet pineapple, this drink is bound to become a summer staple.
11. Kuruma shrimp with fennel pistachio couscous - An exotic dish served with peach puree and rose-scented coconut water foam.
12. Ginger-turmeric water kefir - A miracle worker for gut health, this probiotic coconut water kefir highlighted with the snappy flavor of ginger and colored with the healing power or turmeric is also delicious!
13. Roast okra and fish curry with garlic kale - A hearty recipe made with the tastiest coconut water curry.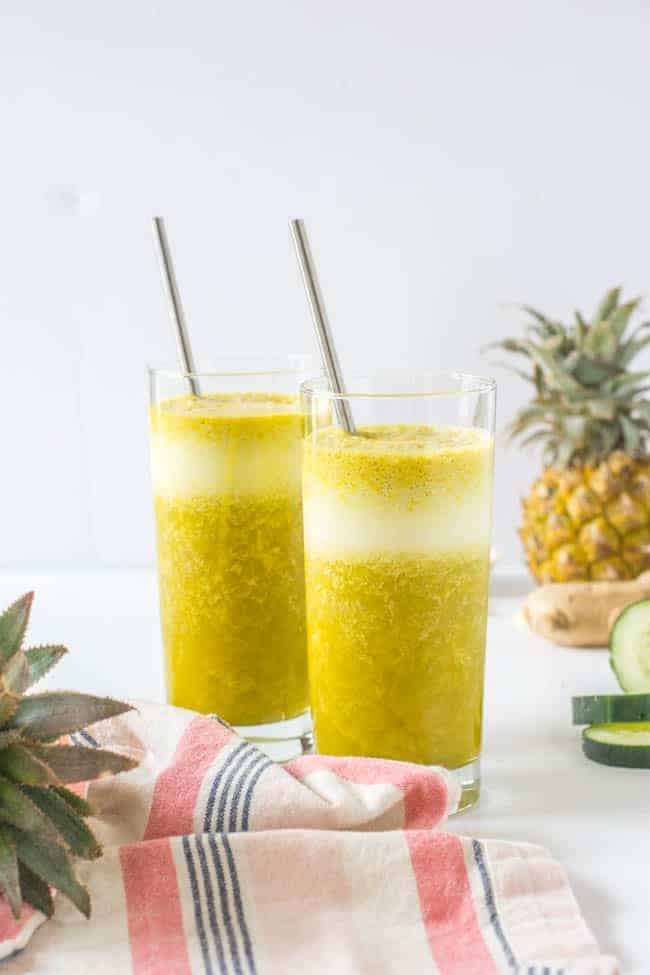 14. 6-Ingredient bloat-busting pineapple smoothie - Pineapple is a great natural source of fiber and contains an ample amount of an enzyme called bromelain, which breaks down protein and aids in digestion.
15. Electrolyte lemonade - Instead of buying sports drinks with strangely named ingredients and chemicals, make your own electrolyte lemonade with citrus, coconut water, and mineral-rich Himalayan salt.
16. Digestive Aid Beauty Water - A combination of coconut water kefir and apple cider vinegar, this beauty water is packed with the probiotics that make your digestive system thrive.
17. Coconut water & fresh blackberry gelatin - A dessert that's bound to make an impression at your next gathering.
18. Coconut water mojito - Super refreshing and tasty, this mojito features coconut water and frozen raspberries.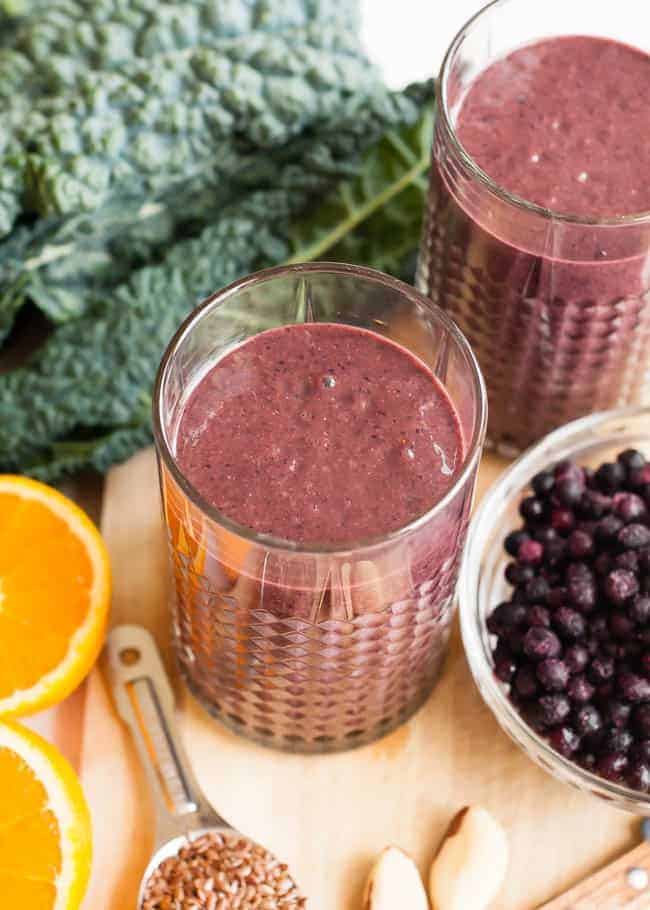 19. Wrinkle-fighting beauty smoothie - Not only does this smoothie kill cravings, but it also fights wrinkles!
20. Pineapple coconut açaí chia ice pops - This frozen açaí-lover's treat is also healthy, which makes it a great afternoon snack!
21. Coconut sweet potato tequila shrimp ceviche - Aren't these ingredients intriguing? We think so, too...
22. Triple coconut sorbet - A mouthwatering dessert made with coconut water and milk, sea salt, and cherries.
23. Lemon rice - Even rice tastes better with coconut water! This recipe is a dream for when you want something filling but healthy.
This article was medically reviewed by Dr. Gina Jansheski, a licensed, board-certified pediatrician who has been practicing for more than 20 years. Learn more about Hello Glow's medical reviewers here. As always, this is not personal medical advice, and we recommend that you talk with your doctor.
331