Calling all coffee lovers! Did you know that coffee essential oil exists? It does, and it smells heavenly!
I am a coffee lover myself, though I stick to the decaf variety because caffeine does weird things to me. But I really, really love a good cup of coffee—hot or cold, it doesn't matter!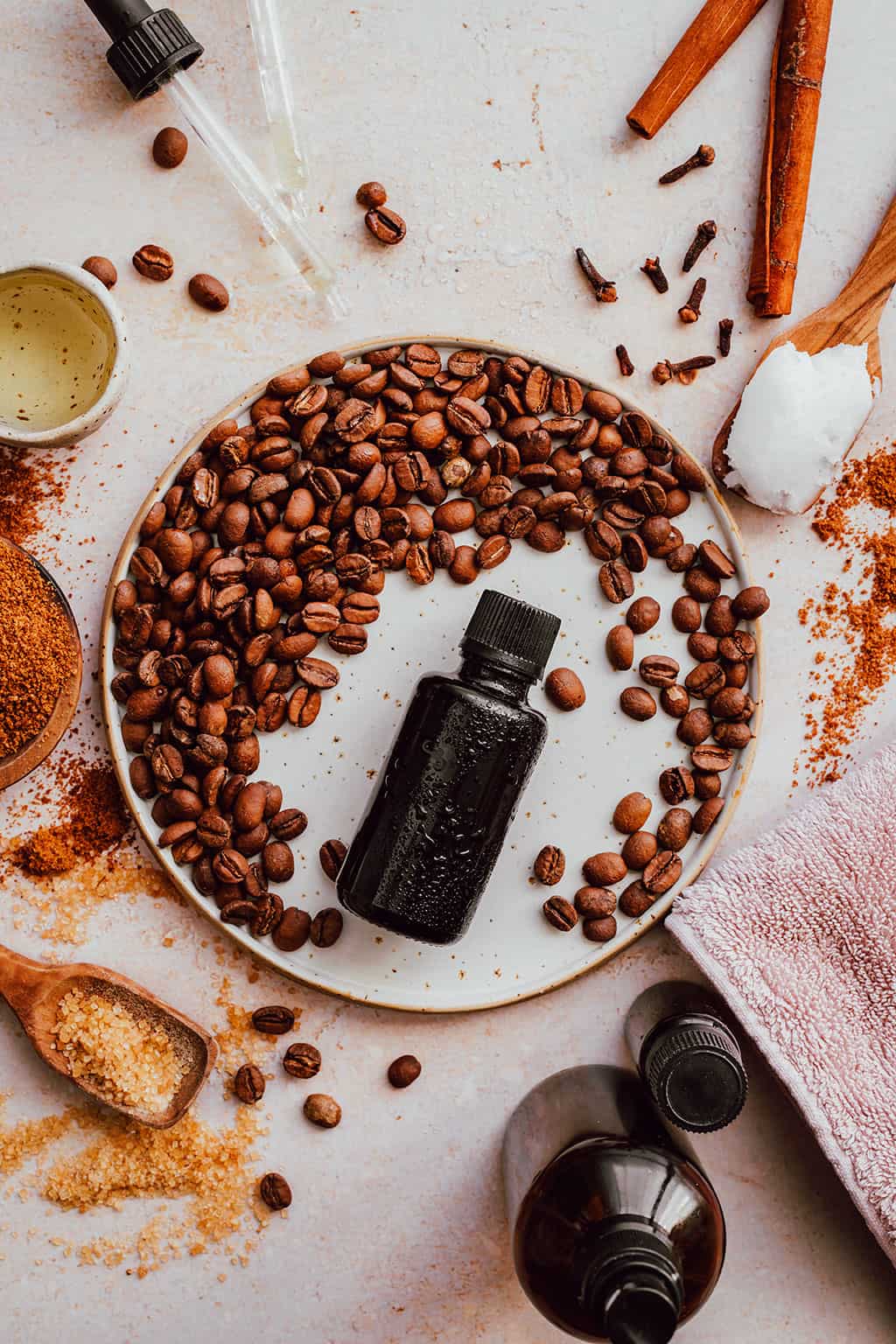 4 Benefits of Coffee Essential Oil
There's just something so comforting and welcoming about the aroma of coffee, and when I smell it, I'm immediately more calm and happy. I'd be willing to bet that I'm not the only one who reacts like this to this delightful beverage. In fact, I'm pretty sure that there are few things in life better than sharing a pot of coffee with family, friends, and loved ones.
Currently, there's only a little bit of scientific research on coffee essential oil. However, that doesn't mean that there aren't several benefits!
Many people love to use coffee essential oil in a number of ways. Below, I'll share some of the good effects of coffee essential oil and a few ways to use it. And just in case you're wondering, coffee essential oil does contain a very small amount of caffeine.
1. Calming Aroma
Apparently, I'm not the only one that finds the aroma of coffee to be calming. There's actually some scientific basis to support this claim also.
In fact, a recent study found that the aroma of roasted coffee had a calming effect on patients undergoing dental procedures [source]. So next time life is getting hectic and you need to relax, grab the coffee essential oil and sniff away!
2. Deodorizing
The scent of coffee is fantastic for deodorizing your home, and luckily the smell lasts quite a while! If you've got some unpleasant odors lingering in your home or you simply want to freshen up the air, coffee essential oil is a great choice!
It can be used as a single aroma, or you can get creative and combine it with other essential oils to create a unique blend.
3. Supports Collagen and Elastin
Coffee essential oil may have benefits for the skin. In a study published in 2009, researchers found that coffee oil stimulated the synthesis of collagen and elastin when tested on skin cell cultures [source].
This suggests that coffee oil may have skin-rejuvenating properties, which is great news for those of us who are looking to support the long-term health of our skin and for natural ways to get that youthful glow! It's why so many people like to use it in formulations for the face.
4. Antioxidant
Antioxidants are essential for skin and whole body health because they help to fight free radicals that can cause cellular damage. The great news is that research has found that a pressed coffee extract contains antioxidant properties.
An animal study published in 2016 found that the antioxidant activity helped improve wound healing on mice that were treated with topical applications of the extract [source]. Just another great reason to add coffee essential oil to your skincare routine!
6 Recipes for Using Coffee Essential Oil
Below, I've listed just a few of the many ways you can use coffee essential oil. Consider these a starting point, though, and feel free to really get creative!
1
.
Firming Facial Serum
I'm a big fan of creating my own facial serums. Since each person's skin is unique, there is no one-size-fits-all recipe. By formulating your own serum, you can tailor it to suit your skin's unique needs.
Coffee essential oil has many skin-supporting qualities, so it's a great ingredient to add to your facial serum recipe. And remember, your facial serum doesn't need to have tons of ingredients. In fact, I like to have the least amount of ingredients possible.
Consider trying a simple recipe like this:
-1 tablespoon jojoba oil
-1 tablespoon argan oil
-9 drops coffee essential oil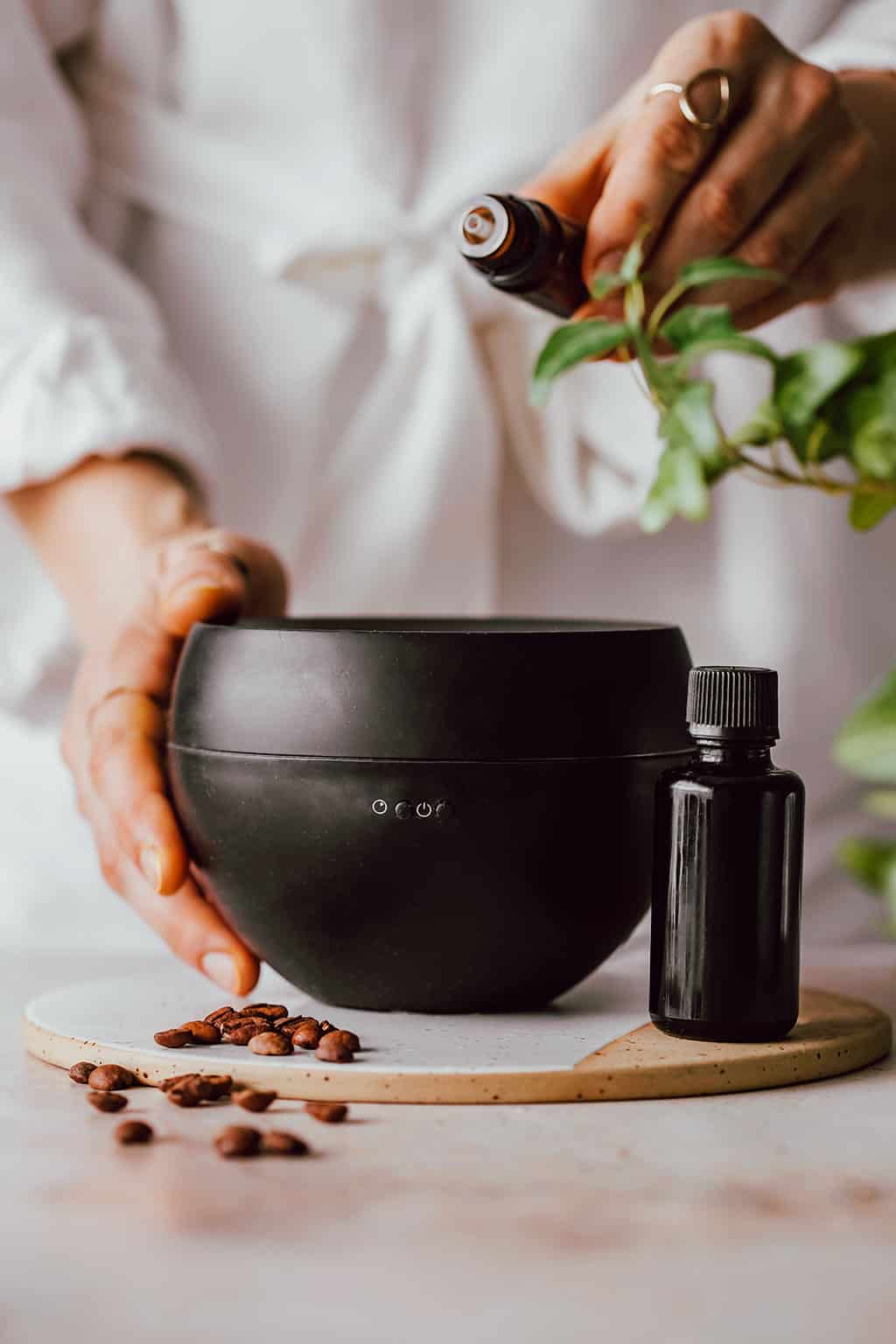 2. Deodorizing Diffuser Blend
Let's face it, sometimes the air in our homes needs a bit of freshening up. Maybe the trash got stinky, you cooked fish or broccoli the night before, or the house has been closed up for too long. Regardless, there are just times when we need to deodorize the house.
This is where coffee comes in. It does a great job of helping to deodorize the air and gives it a nice homey aroma at the same time. Add some cinnamon to the mix, and you've got a powerhouse recipe to get rid of unwanted odors fast!
So next time you need to freshen up the air in your home, try this recipe in your diffuser:
-3 drops cinnamon essential oil
-6–7 drops coffee essential oil
3
.
Calming Diffuser Blend
There's just something relaxing about that familiar coffee aroma that brings feelings of calm and comfort. Paired with other essential oils, you can create a truly beautiful mixture that is unique to your preferences and tastes.
Here's a recipe to get you started:
-1 drop cinnamon essential oil
-4 drops vanilla essential oil
-5 drops coffee essential oil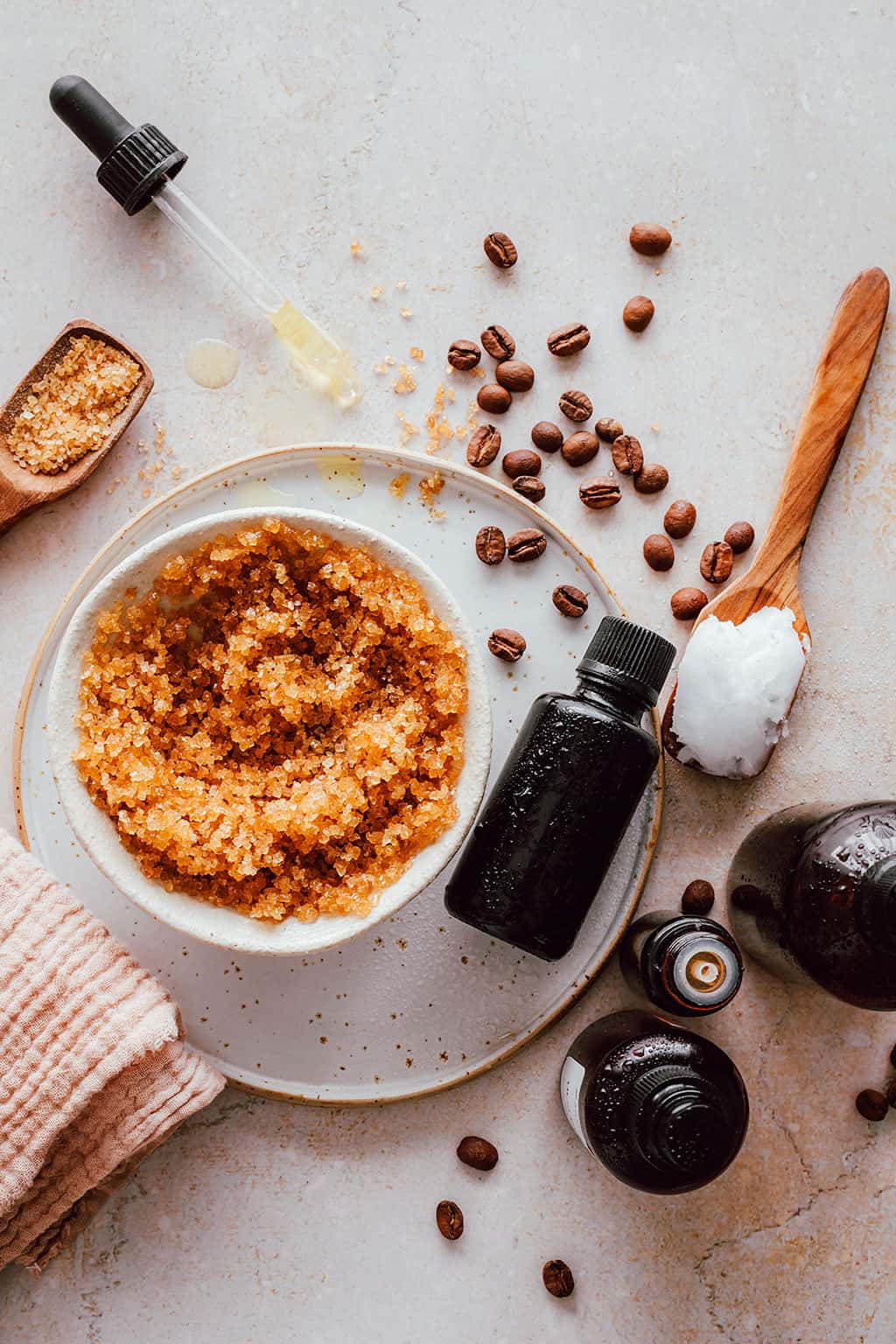 4. Caffeinated Body Scrub
Remember, coffee essential oil does have a tiny amount of caffeine, which makes it a perfect option for a scrub! During the winter months, I always have a body scrub in the shower to help keep my skin moisturized naturally. And adding coffee essential oil to the mix can help invigorate me on those dreary winter days.
I keep my scrubs pretty simple, but feel free to use whichever carrier oil is your favorite and go from there.
-1 cup organic sugar
-1/2 cup olive oil or coconut oil
-2 drops patchouli essential oil
-3 drops orange essential oil
-5 drops coffee essential oil
5
.
Calming Bubble Bath
If you need a little extra help unwinding after a hectic day, why not soak in the tub? Not only can it help ease tense muscles, but it'll get you nice and warm while you spend some time intentionally slowing down. Add to that some calming aromas, and you're all set for an hour or so of relaxation!
Simply mix some essential oils with the soap and pour under the running water. Here's a great recipe for the next time you want a nice soak in the tub :
-1–2 tablespoons gentle soap (not Castile)
-1 drop Peru balsam essential oil
-2 drops lavender essential oil
-3 drops coffee essential oil
6
.
Overnight Coffee Lip Mask
Sometimes my lips need some extra TLC, especially when the weather is really cold and dry. I love to use lip balms, but I have a tendency to rub or lick my lips fairly frequently, which means that I have to reapply several times.
This is where using an overnight lip mask is a brilliant idea! Just apply the mask on your lips as you're climbing into bed, and sleep away while the magic happens!
-1 tablespoon coconut oil
-1/2 teaspoon organic honey
-1 drop coffee essential oil
Can't get enough coffee? Add a couple of drops of coffee essential oil to the caffeinated eye cream to fight puffiness and fine lines.
This article was written by a licensed aromatherapist and medically reviewed by Dr. Gina Jansheski, a licensed, board-certified physician who has been practicing for more than 20 years. Learn more about Hello Glow's medical reviewers here. As always, this is not personal medical advice and we recommend that you talk with your doctor.
7