My love affair with coffee started early. I was that kid at college who always kept a pitcher of iced coffee in her mini fridge and who practically lived at the local coffee shop before most people had even heard of Starbucks. And as much as I have tried to break the habit over the years (for the sake of my health, or so I tell myself), my obsession has only grown.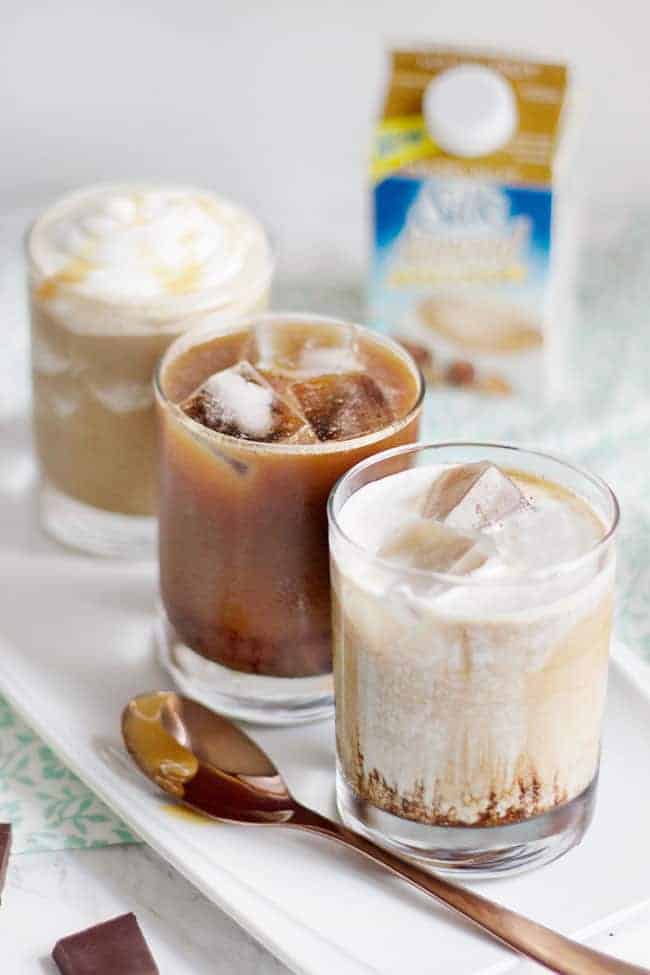 I usually stick with just a single cup of black coffee in the morning, but as we head into the heart of summer I've traded in my usual hot cup of joe in favor of a tall glass of cold brew to get me through the hot days ahead.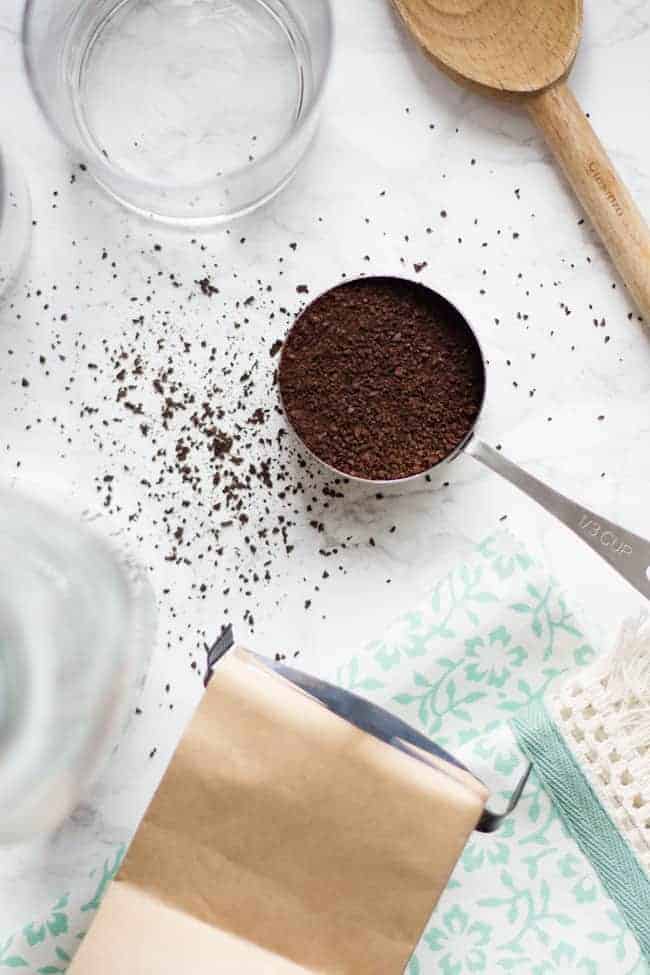 Unlike traditional iced coffee, cold brew coffee doesn't require heat when steeping the beans, which means you end up with a smoother, less bitter brew. And with a long, slow steeping process comes a much more concentrated coffee, perfect for pouring over ice or creating lattes.
Another benefit, cold brew doesn't break down as quickly as traditionally brewed coffee so you can store it in the refrigerator for up to a week and pour a glass whenever the craving strikes.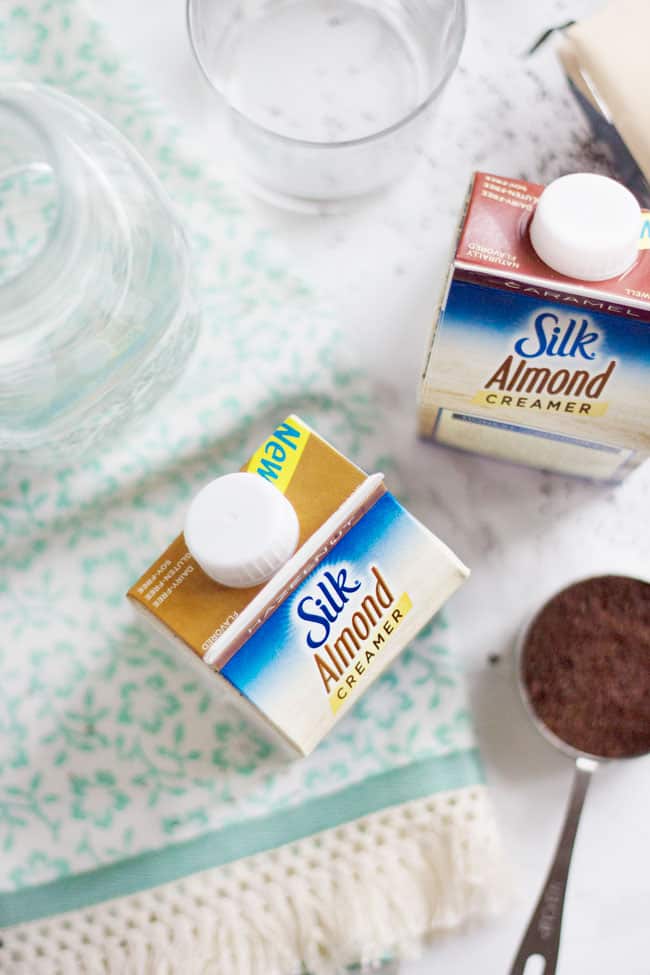 Silk's new line of dairy-free creamers makes my iced latte obsession even easier. With natural flavors like caramel, hazelnut, and vanilla, I can get a great tasting iced coffee without having to worry about the artificial colors, flavors, or chemicals in other creamers. And I like that I can simply add a dash to my morning coffee or dress it up with dark chocolate, coconut cream or vanilla beans to make the ultimate iced latte.
How to make cold brew coffee
The perfect cold brew simply comes down to the right ratio of coffee to water coupled with a long, slow steep time. Although cold brew requires more coffee grounds than traditional coffee, it extracts more caffeine and flavor from the beans, leaving you with a highly concentrated coffee that you can dilute with ice or simply drink straight for a little extra kick.
Working with a ratio of one cup coarsely ground coffee to three cups filtered water (or any 1:3 ratio of beans to water), place your grounds in the bottom of a glass jar. Cover them with cold water and stir with a spoon to thoroughly incorporate the grounds.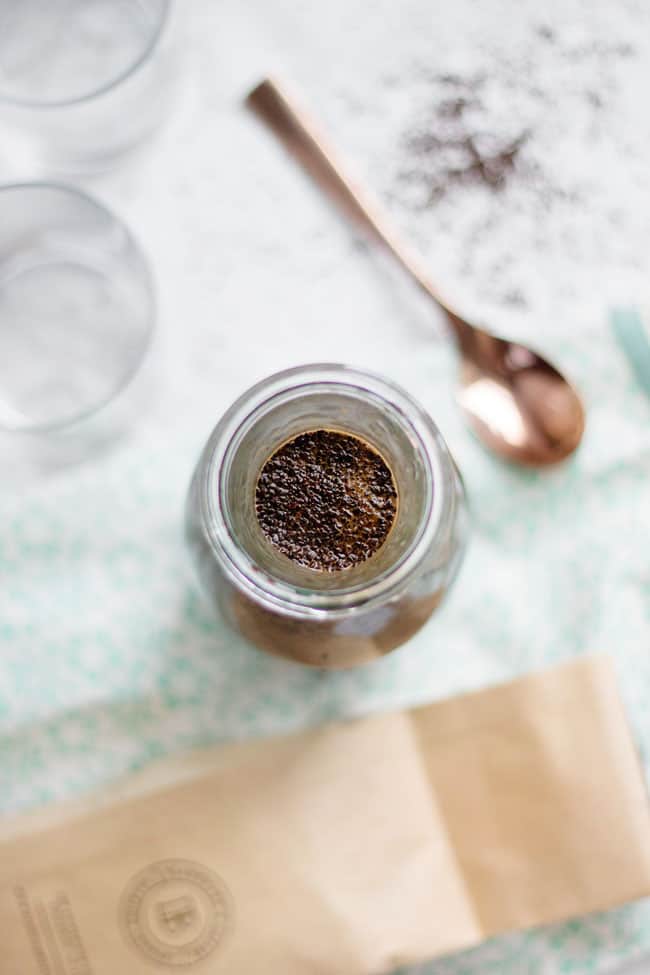 Cover your jar and let the grounds steep at room temperature for 24 hours. After the 24-hour period is up, you can either drink the coffee as is or move it to the refrigerator and let it steep for another 24 to 48 hours for an even stronger coffee. Once it has reached the desired strength, use a mesh strainer to separate the grounds from the coffee concentrate. Store your coffee in the refrigerator for up to one week.
Iced Coffee 3 Ways
Now that you have your cold brew ready, here are three tasty ways to dress it up!
Dark Chocolate Hazelnut Iced Coffee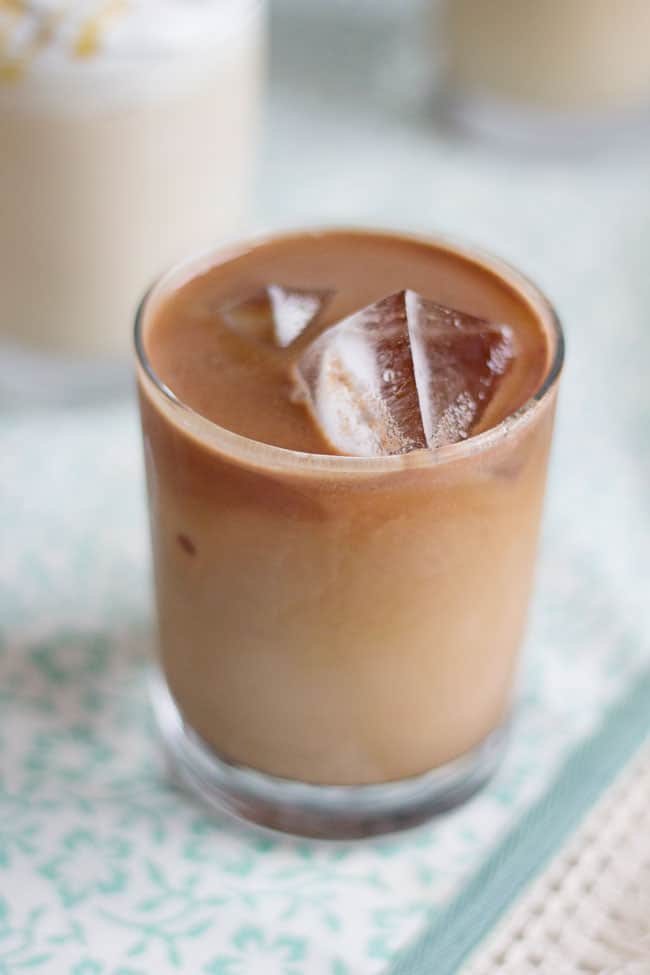 Dark Chocolate Hazelnut Iced Coffee
Ingredients
1 ½

ounces

dark chocolate

½

tablespoon

agave or raw honey

1

cup

cold brew coffee

Ice cubes
Instructions
Combine creamer, agave and dark chocolate in small sauce pan. Set the heat to low and whisk continuously until the chocolate has melted completely (about 5 minutes).

Remove creamer from heat and let cool for about 10-15 minutes in the refrigerator.

Place ice cubes in a glass. Pour coffee over ice cubes and top with chocolate hazelnut creamer.
Salted Caramel Frappuccino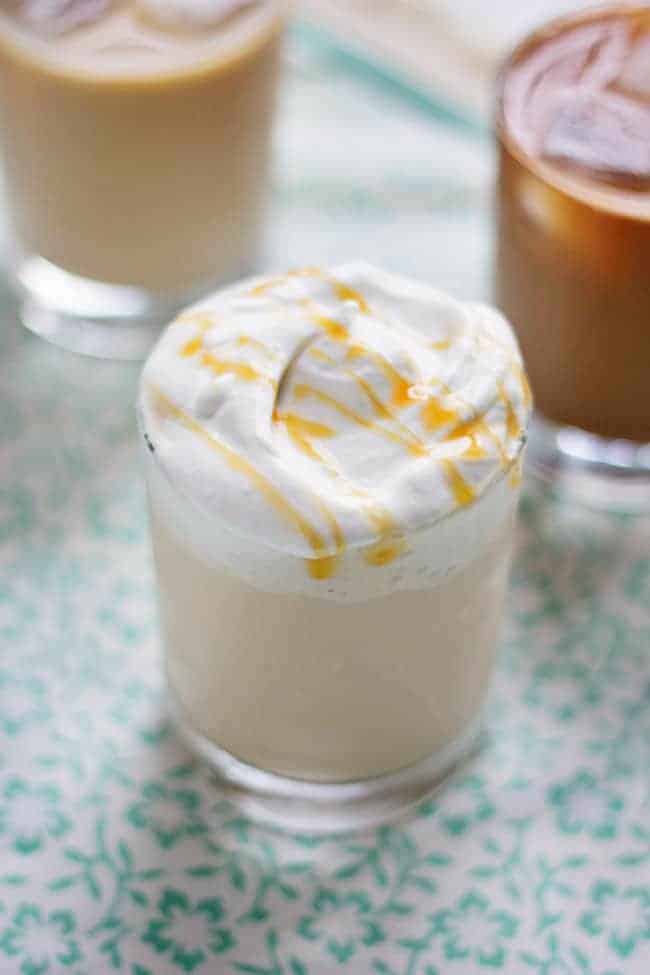 Salted Caramel Frappuccino
Ingredients
1

cup

cold brew coffee

Pinch

of sea salt

Whipped coconut cream

Caramel sauce

optional
Instructions
Pour the coffee into ice trays and freeze overnight.

In the morning, put the coffee cubes in a blender and add the creamer and sea salt. Blend until smooth.

Pour into a glass and garnish with whipped coconut cream and caramel sauce if desired.
Iced Honey Vanilla Latte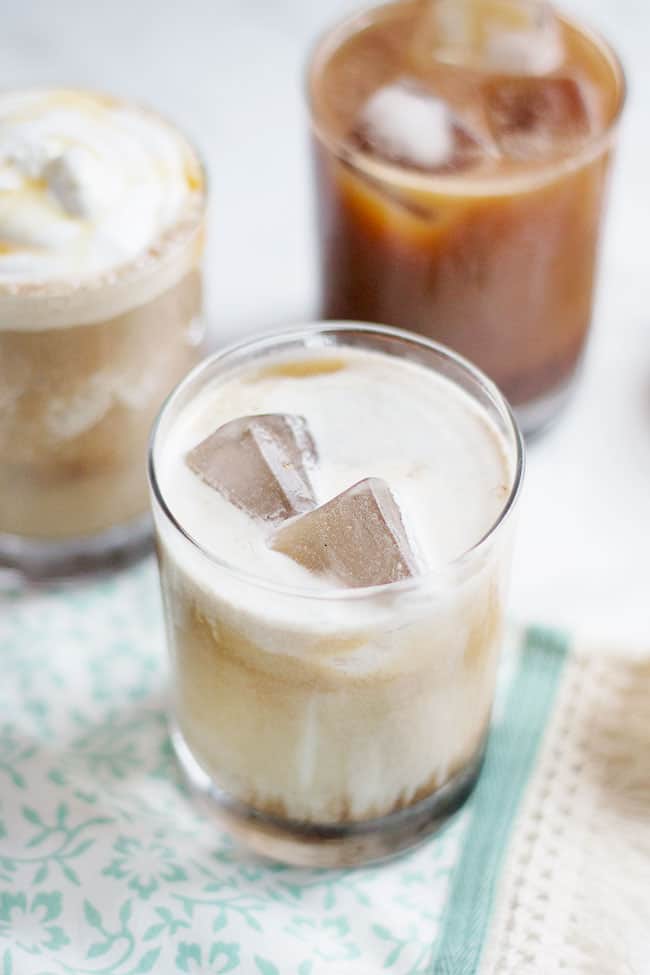 Iced Honey Vanilla Latte
Instructions
In a small bowl, combine the vanilla creamer and honey.

Remove the seeds from the vanilla bean by running a knife down the length of the bean and using a spoon to scoop out the seeds. Add the seeds to the vanilla creamer and whisk to combine.

Fill a glass to the top with ice cubes. Pour in cold brew coffee until the glass is about 2/3 full and top off with vanilla cream.
4