Sometimes we love a product so much, we can't keep it to ourselves. You know that feeling, right? Here are a few things that are so essential, we just need to share: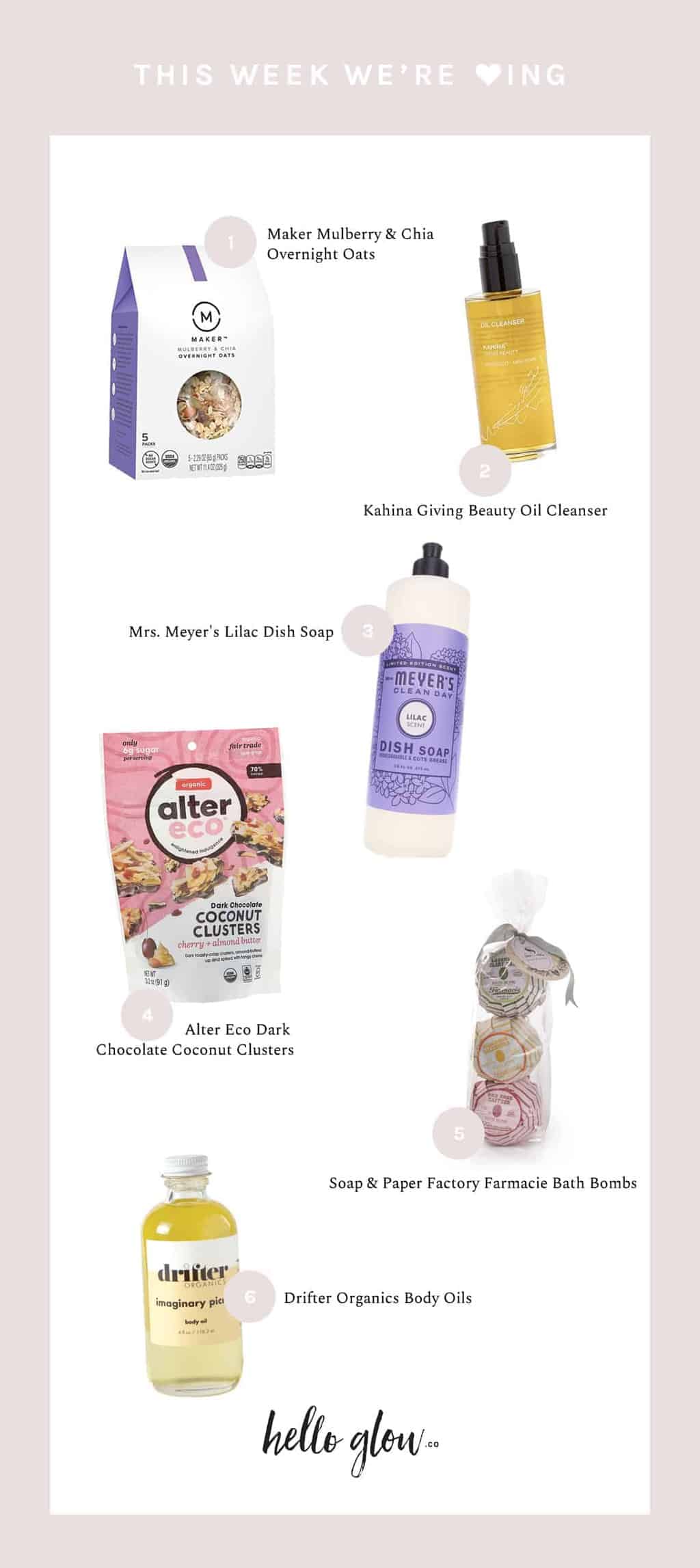 Maker Mulberry & Chia Overnight Oats // There needs to be more products made with mulberries. Can we make this happen? I love 'em. But in the meantime, I'll be over here enjoying these Mulberry & Chia Overnight Oats from Maker. We spend weekends away visiting family a lot and these little super convenient packets make it easy for me to avoid the hotel continental breakfast and its tempting-but-ultimately-dry-and-disappointing pastries.
Kahina Giving Beauty Oil Cleanser // My skin has improved dramatically since I started using an oil cleanser. Adding that extra step to your nighttime skincare routine is so worth it. I love this new oil cleanser from Kahina because it has turmeric, calendula, and blue tansy to calm skin–and my skin can always benefit from some calming.
Mrs. Meyer's Lilac Dish Soap // Normally I'm grossed out by flower scented dish soaps. It's just a thing for me! I can't explain it! But I couldn't resist the siren song of lilac, my most favorite springtime flower, so I picked up a bottle of this when I was at Target last week. It smells so lovely, y'all. It's limited edition, so I'm going to have to hoard a bunch of bottles under the sink.
Alter Eco Dark Chocolate Coconut Clusters with Cherry and Almond Butter // I can't stop eating these things! Oh em gee are they good. Alter Eco is always a fave of mine because their products are organic, non-GMO, and they're a certified B corporation, but these might just be my favorite thing they've ever made.
Soap & Paper Factory Farmacie Bath Bombs // Anyone else like to go to the Soap & Paper website and just swoon over every single thing they sell? These bath bombs come in 3 fragrances–Lavender Clary Sage, Marigold Calendula, and Red Rose Saffron. They're so beautiful (and smell so amazing!) that I might just leave a basket of them on the counter in the bathroom at all times.
Drifter Organics Body Oils // We're big fans of Drifter Organics' body butters, but now that it's warmer out, it's time to switch things up with their new body oils. Imaginary Picnic is my fave–it's actually made with MCT oil! Who knew you could use it on your body and not just put it in your coffee?! And it also includes a blend of happy summery essential oils: Sweet Marjoram, Bergamot, and Lemon. (Bonus: Sweet Marjoram reduces inflammation-based pain, making this oil great for applying after a workout too.)
Disclosure: Some of these products were sent to Hello Glow to review, others are things we've bought ourselves, but everything here is something we totally love.
6