This post has been sponsored by Del Monte®. All thoughts and opinions are my own.
We all hate mornings, right? The rush to get everyone out the door that stresses you out and leaves you exhausted. Why is it so hard???
I am in no way a morning person. At all. So going a whole year without one tardy for three kids—even during a home renovation—felt like a pretty big accomplishment.
The school year is starting again, and a few simple changes can make mornings less chaotic. Here are a few tips to kick-start your morning and make you more productive, effective, and—dare I say it—happier!
5 Ways to Make Mornings Go Smoothly
1. Start the Night Before
It's true, the key to a successful, non-stressful morning is planning and prepping the night before. For a smooth morning, there's no getting out of being organized.
Go to bed on time. That goes for kiddos and mom. If you're waking up sluggish and tired, think about what you can change in your

nighttime routine

. I've said 'just one more episode' way too many times, only to wake up bleary eyed in the morning.

Make a plan for breakfast, lunch

and

dinner. Snacks, too! I know making lunches in the morning is insane, but a really good morning happens if the coffee is prepped, fruit is already cut up, and easy breakfast options like cereal and Del Monte® Fruit & Oats™ are accessible in the pantry. Bonus points if dinner is planned with a

crockpot recipe

or chicken defrosting in the fridge.

Make a to-do list. Go ahead and list everything. Write everything down that you're worrying about getting done.

Check the weather. Then set out clothes (if needed for little ones) and get backpacks ready.
2. Be a Breakfast Role Model
Eating a healthy breakfast is one of the hardest things to get kids to do in the morning. So if we're talking nonstop about how 'it's the most important meal of the day', then mom shouldn't skip breakfast either! It feels a bit revolutionary to spend 5 minutes eating breakfast (sitting down!) and connecting with the kiddos.
Go with fiber and protein-rich options, like oatmeal, chia seeds, eggs and peanut butter. Ready-to-go options like Del Monte® Fruit & Oats™ are a lifesaver and can be found in fruit snack aisle at your local retailer. The ready-to-eat oatmeal cups taste just like the oatmeal packets I grew up loving and have one full serving of fruit* and 20g of whole grains per serving. Even though this product already has a full serving of delicious fruit, adding a little more on top makes it all the more special! Add some toppings like fresh fruit, chia seeds and a few sliced almonds, and breakfast is done! Starting my day with a wholesome and good-for-me breakfast like Del Monte Fruit & Oats just makes my whole morning feel happier.
And if the kids aren't done eating when it's time to go, it's easily portable (though that totally never happens to us, ha).
Use this coupon in-store to buy the NEW Del Monte® Fruit & Oats™ cups.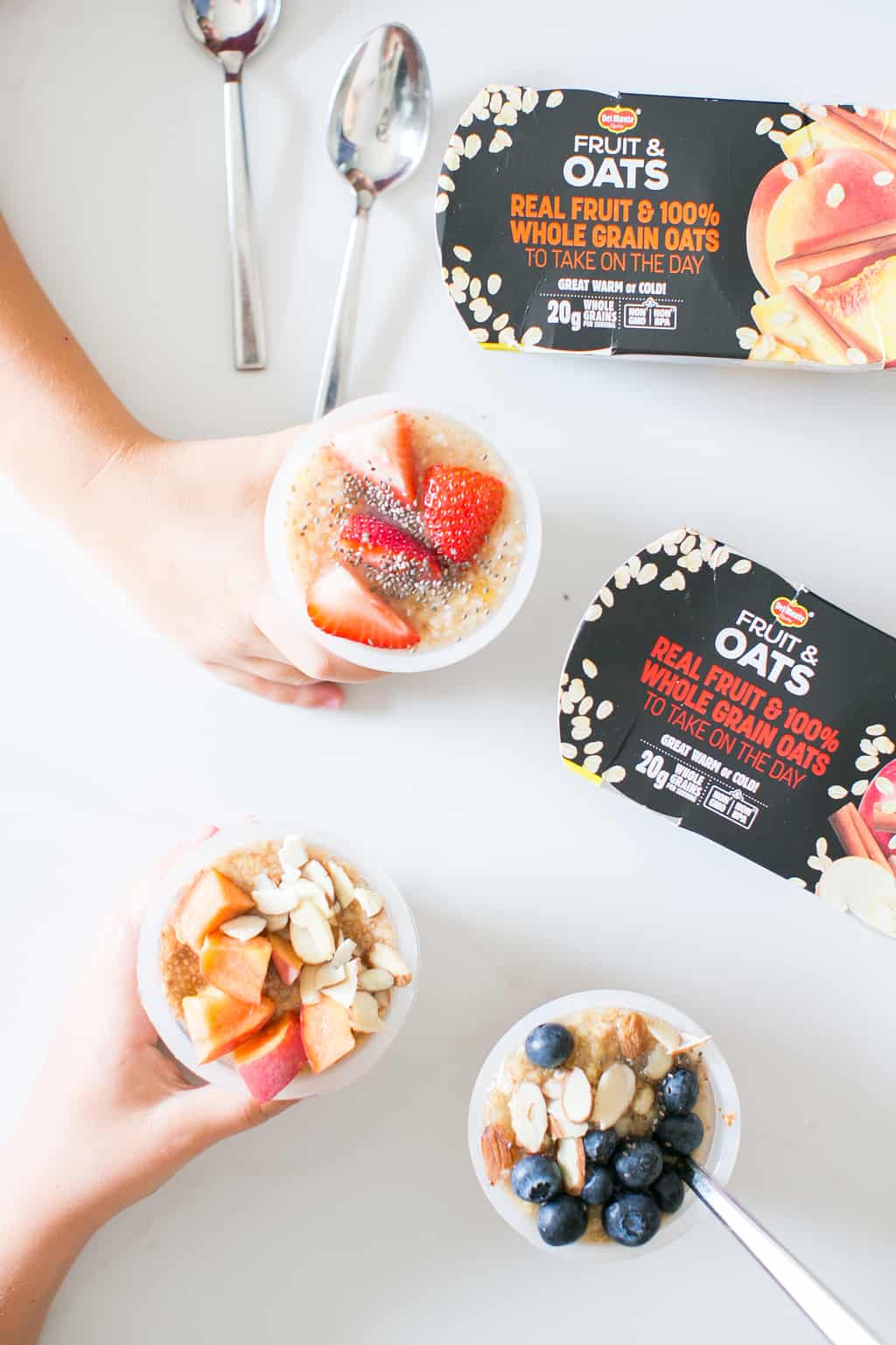 3. Automate Healthy Routines
Healthy morning habits are hard to make and even harder to maintain. Somehow it feels like a heavier lift, and they're the first things to go when time gets crunched. When that happens, look at your points of resistance. Where is my motivation breaking down? Which parts do I not like doing that I can eliminate? Stop fighting with yourself and figure out how to make healthy habits as easy as possible.
When I don't feel like a have to 'make myself' do something, my whole attitude changes. I love drinking lemon water first thing in the morning. I don't love cutting and squeezing lemons over and over again. My solution: squeeze a bunch of lemons at once and make lemon juice ice cubes.

Now I even set the glass of water on the bedside table with an ice cube to melt overnight so there is no excuse not to drink it!
Do oil pulling in the shower, put your diffuser on a timer, make freezer smoothie packs. A staple grocery list keeps the pantry stocked with fruit snacks like Del Monte® Fruit & Chia™ and Del Monte® Fruit Refreshers® so I don't have to remember what to buy every week (these are awesome for lunches!). Another easy way to make every day happier!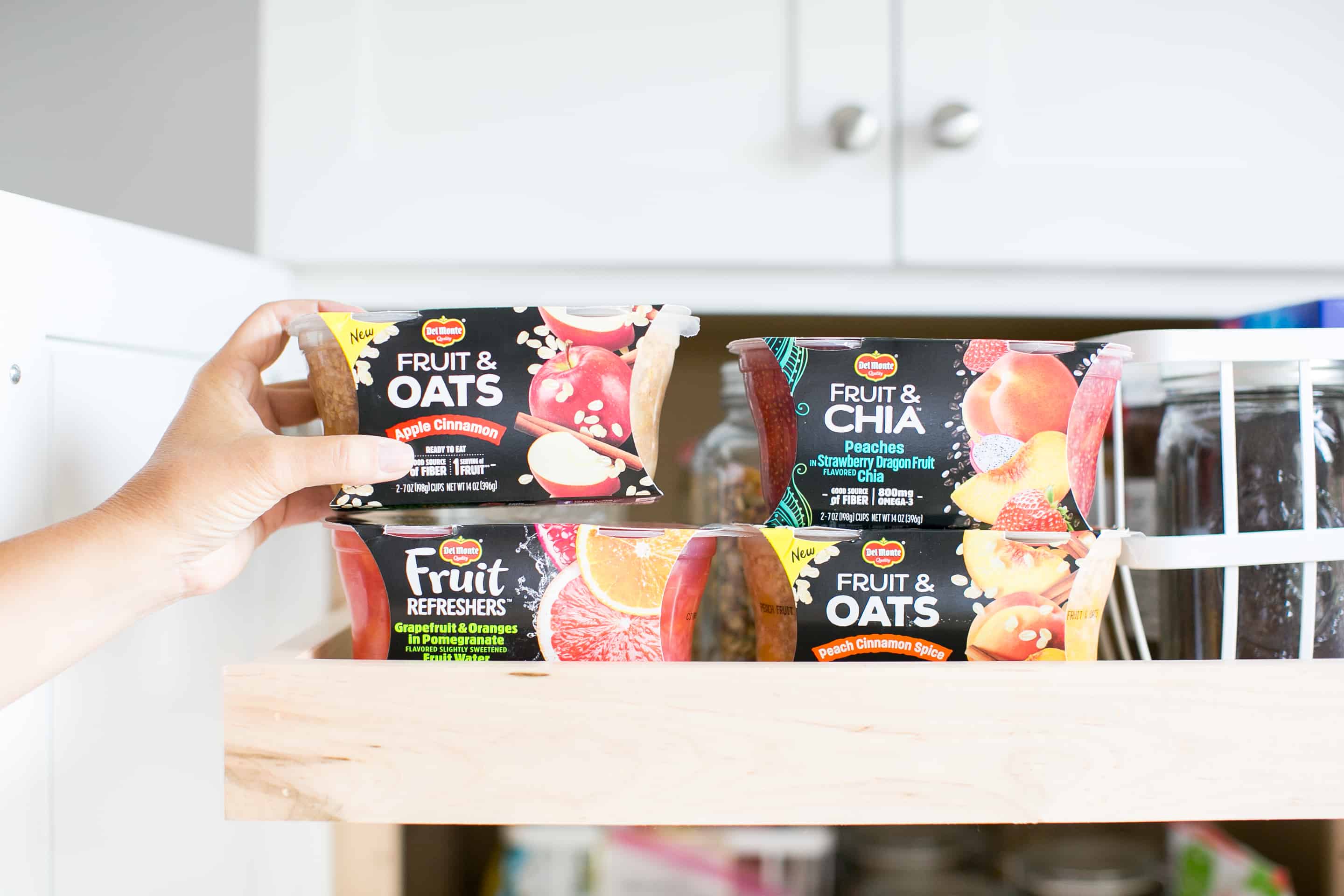 4. Be Intentional About Self Care
Every article about healthy morning routines mentions meditation, yoga, exercise or journaling. Usually all four. But trying to add all of that to an already stressful morning routine feels like climbing Mount Everest. I'm exhausted just thinking about it.
Instead of quitting because you can't do it all, limit yourself to one. Pick one act of self care – do a few yoga stretches in bed, spend 5 minutes journaling, take the dog for a walk. If you're a stay-at-home mom, the act of getting properly dressed and applying a bit of makeup feels like self care.
Start with the idea that feels the best. I'm the worst about getting out of bed in the morning so I give myself five extra minutes under the cozy covers while making a daily gratitude list. Then be intentional about doing it every morning. Make the time to take care of yourself.
5. Lower Expectations
Getting everyone out the door is hard. You can't prep for everything. Kids will wake up early, get sick or throw the occasional tantrum. Why can't everyone just follow! the! plan!
So, just accept that mornings will never be rainbows and sunshine. Each day presents new and different challenges to roll with and solve. That mindshift was like a weight lifted off my shoulders (are you sensing the type A, overachiever theme here?).
I've lowered my smooth morning expectations because there is no such thing as the 'perfect routine,' and now I'm less grumpy when a lost shoe throws off the whole schedule.
Lowering expectations goes for the to-do list, too. Revisit the brain dump you did the night before and circle the three most important things to get done that day. Focus on those accomplishments.
*Each container has 1 serving (1/2 cup) of fruit per USDA Nutrient Data
55