Is there any food more polarizing than tofu? Meat-eaters use it as a cudgel to prove that vegetarian food is gross. Even within the vegetarian community, there are people who think tofu should be avoided at all costs because of GMOs (spoiler: it's super easy to find GMO-free tofu at almost any grocery store). Another reason is that they believe soy is an endocrine disruptor [source], although a recent comprehensive review has disputed this theory [source].
This article isn't about the health aspects of soy. I'm assuming you're reading this because you're new to cooking with tofu, and you're wondering: how do I make this bland, white rectangle of mush actually taste good?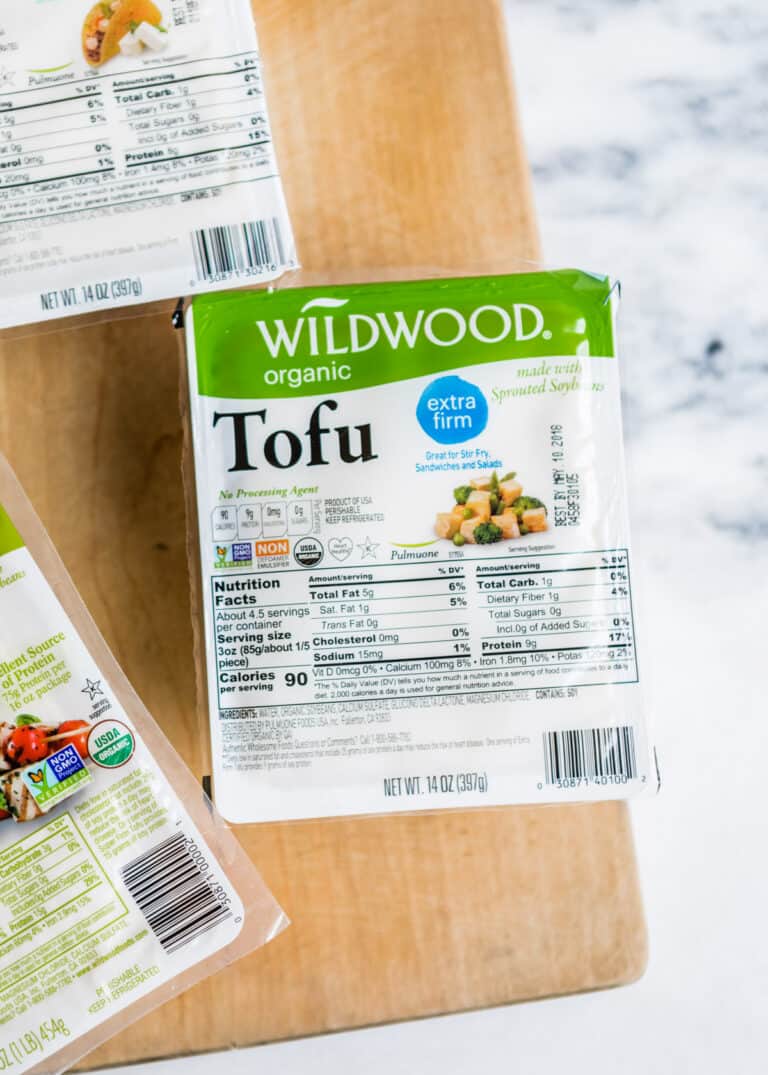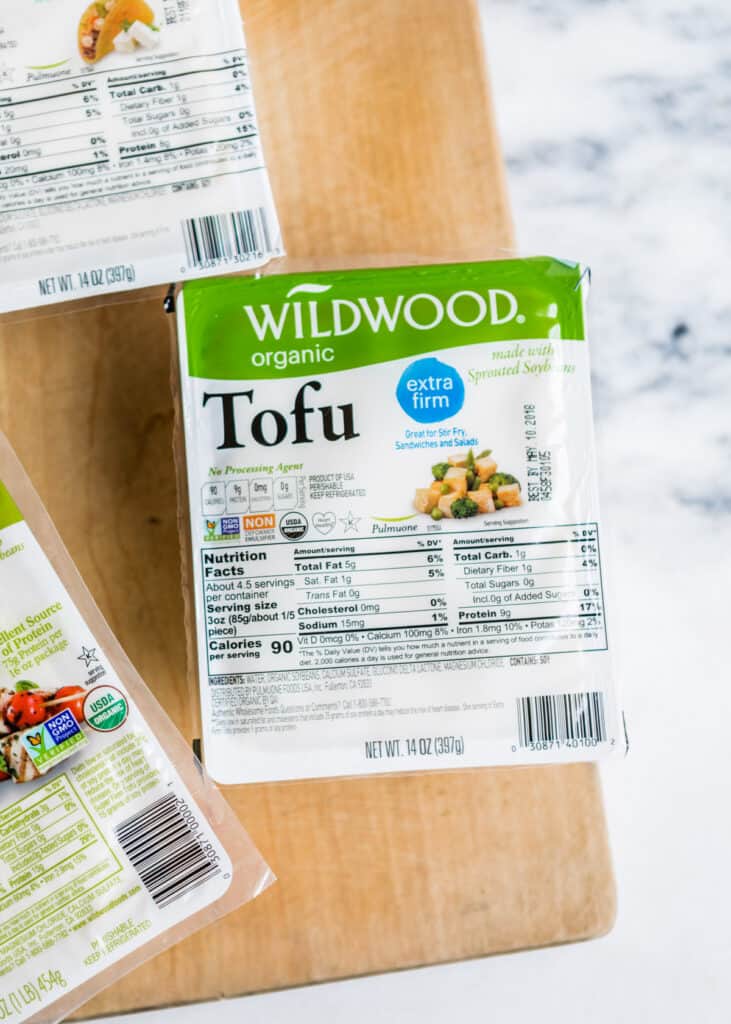 How to make tofu actually taste good
While some people like tofu as-is, I'm not one of them. I think uncooked tofu—or even tofu that's not cooked to the point of being chewy—is unappetizing. I was about a decade into my vegetarianism before I started eating it. My husband (then boyfriend) would buy it and add it to stir-fries, and it would disintegrate into mushy, flavorless blobs that ruined an otherwise delicious bowl of vegetables. Ugh.
Then I tried it in pad Thai at a restaurant, and it was different. It was chewy! And full of flavor! Why was this tofu so good? I started eating it more often, researching recipes and experimenting in the kitchen, and finally figured out the secret to cooking with tofu.
(Which, okay, really wasn't much of a secret at all. But it's important to know if you're new to tofu!)
A few words about tofu types
Of course, you can't really write about cooking with tofu without reviewing its different types. You can divide them into two main categories: water-packed refrigerated tofu and shelf-stable silken tofu.
If your beef (har har) with tofu is its mushy texture, you're probably thinking of silken tofu. It's quite soft and doesn't stand up to cooking very well. Firm or extra-firm silken tofu is nice in miso soup, and soft silken tofu is also useful for making sauces, smoothies, and even desserts. Most recipes that call for tofu assume you are buying water-packed tofu, not silken!
Like silken tofu, refrigerated tofu also comes in varieties that range from soft to extra firm. (There are also baked and marinated tofus, which are good for adding to salads or using anytime you need a ready-made vegetarian protein.) I pretty much always cook with the extra firm. Occasionally a recipe will call for firm tofu, but I usually still buy extra firm because I find it has the best texture when cooked.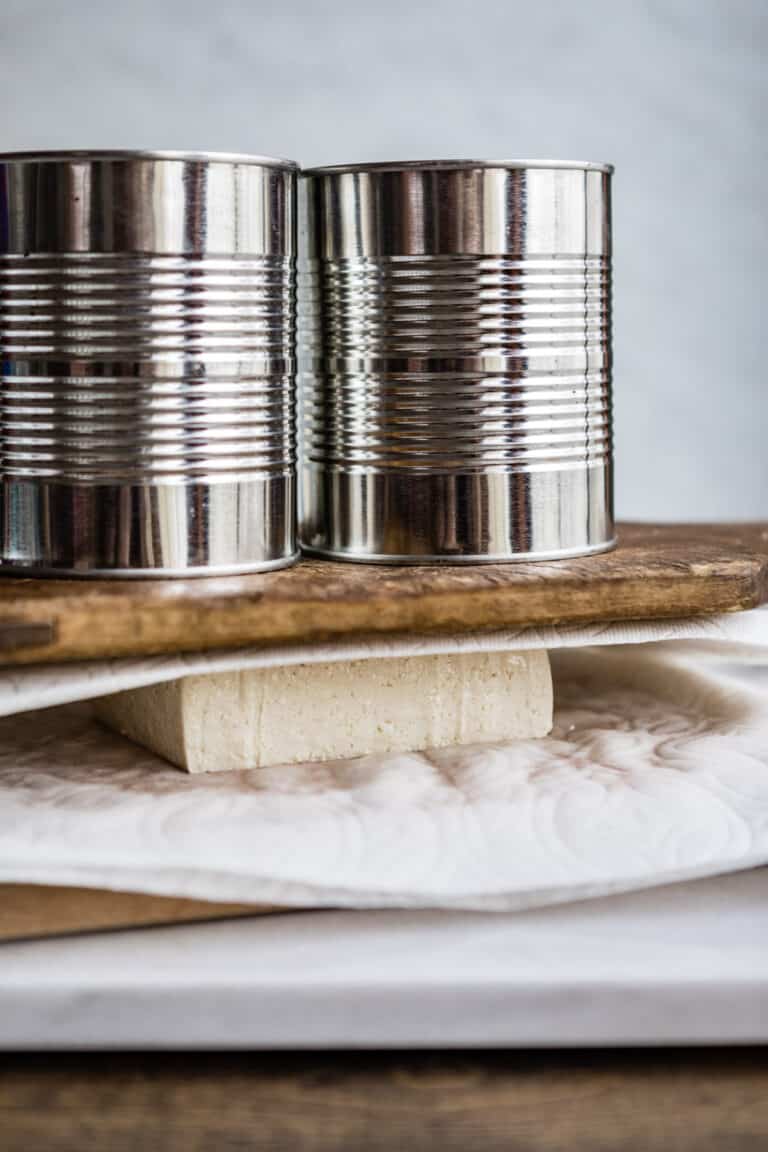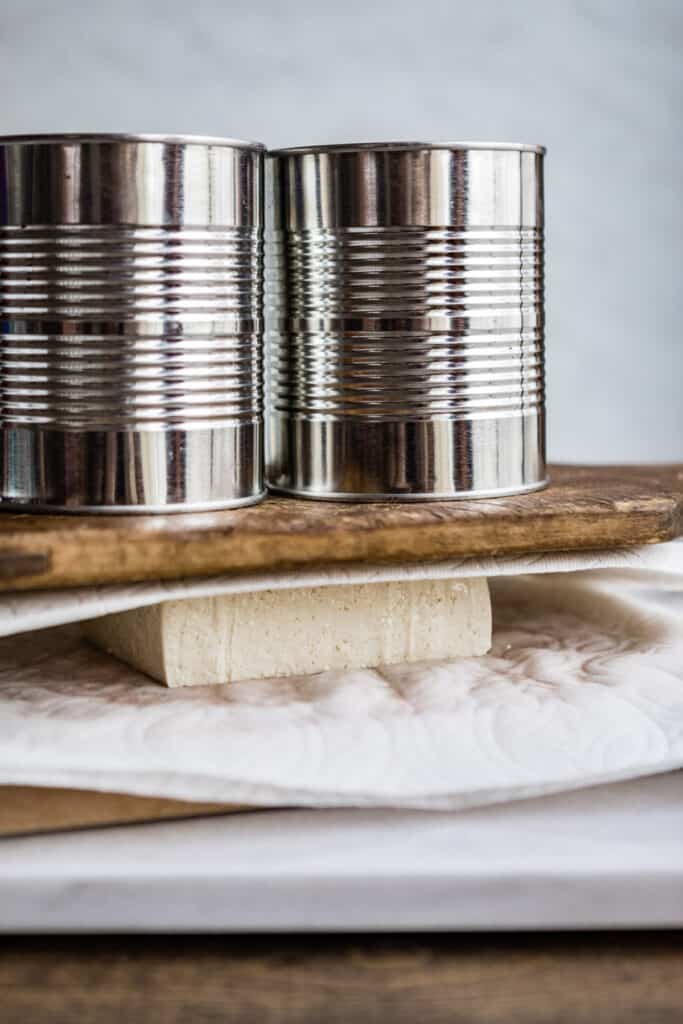 Tofu is best when it's pressed
When you press tofu, you're getting all the liquid out so it can soak up any sauces you add to it, giving it great flavor. Releasing that excess liquid also helps tofu take on a chewier texture when cooked.
So how do you press tofu? If you find yourself cooking with tofu often, I highly recommend investing in a tofu press. It's the easiest and most effective way to get all the water out. Otherwise, layer some paper or cloth towels on a cutting board, place your tofu on them, then top that with a plate and something to weigh it down, like a few cans of beans. Make sure the weight is evenly distributed, or your tofu might end up being smashed on one side!
Let your tofu sit for 30 minutes, draining or switching out towels when needed. After 30 minutes, you can slice it and start cooking. Sometimes after slicing, I'll blot the slices with paper towels just to get any extra liquid off, particularly when I'm going to be frying the tofu.
Many people are partial to freezing tofu, letting it thaw, then cooking with it. I like doing this when I'm making a soup with tofu because I find the tofu does a better job soaking up the broth that way. Otherwise, I don't do this unless a recipe specifically calls for that step.
Adding flavor to your tofu
Now that you've pressed all the liquid out, you can replace it with a delicious marinade or sauce. If I'm baking or grilling tofu, I always use a marinade. When frying it, I skip the marinade and add my sauce later. This helps keep the tofu from getting mushy or falling apart while cooking.
Oil-based marinades won't soak into tofu, so I use a simple mixture of tamari, minced garlic, and maple syrup—one of my favorites. For a bacon-y flavor, try adding liquid smoke or smoked paprika.
Baking tofu basted in barbecue sauce is one of my go-to easy proteins for weeknight dinners. I also love using jarred Indian simmer sauces with tofu served with cauliflower rice.
How to cook your tofu
My favorite way to cook tofu is in a sizzling hot frying pan with plenty of oil. Make sure your tofu is super dry, then cook it over medium-high on all sides until they're lightly browned and crisp.
The resulting crispy tofu is amazing for dipping into homemade peanut sauce with a side of steamed broccoli. You can also stir fry some veggies separately and toss your fried tofu back into the frying pan with the sauce once the veggies are done. (Incidentally, skipping this step is why my husband's early attempts at tofu stir-fries were so bad.)
Baking tofu works best at a temperature of 400°F. The longer you leave the tofu in the oven, the chewier it will be, so I usually prefer baking for at least 40 minutes, taking the tofu out every 15–20 minutes or so to flip and baste with leftover marinade or sauce.
Tofu can also be air-fried, and many find that is easier and quicker—especially when cooking dinner on the stovetop, and you don't want to preheat the oven just to crisp up a small batch. Tofu can be tossed with seasoning mixed with flour or cornstarch and a little oil. This will give it flavor along with a crunchy outer coating. Place the pieces in the air fryer as a single layer without touching. Cook at 400°F for 10 minutes, tossing them occasionally for exposure on all sides.

Tofu Recipes You Should Try
If you're still getting the hang of cooking with tofu, it's good to start with a recipe. Here are some of my favorites:
Miso-Almond Power Salad with Baked Tofu
Crispy Buffalo Tofu Wrap with Spinach and Roasted Red Pepper
Veggie-Packed Tofu Coconut Red Curry Soup
Korean Barbecue Tofu Meal Prep Bowls
Sheet Pan Hoisin Tofu & Veggies
Summer Vegetable Sandwich with Chimichurri Aioli
Make-and-Freeze Tofu Scramble Wraps
7