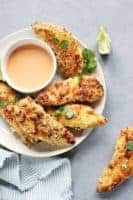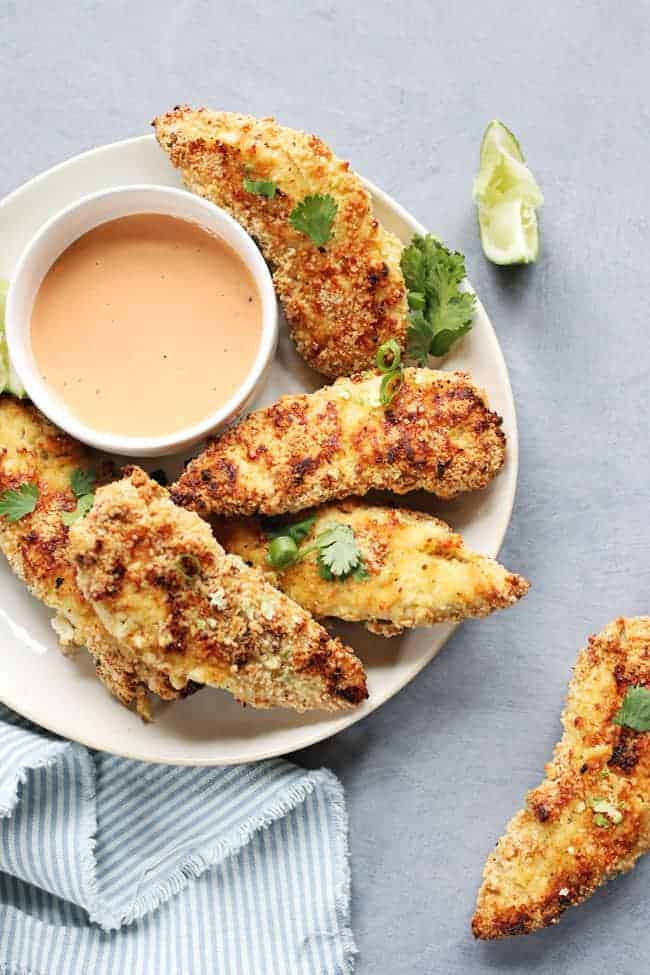 Crispy Almond-Breaded Chicken Tenders
Ingredients
2 cups almonds, coarsely ground
1/2 teaspoon salt
1/2 teaspoon ancho chili powder
Zest from 1/2 lime
1 1/2 teaspoons garlic powder, divided
2 eggs
1 1/2 pounds chicken cutlets
1/4 cup Greek yogurt
2 tablespoons sriracha
Juice from 1/4 lime
Instructions
Preheat the oven to 450ºF. Line a baking sheet with parchment paper and spray with oil or nonstick cooking spray.
Place the ground almonds in a medium bowl. Add the salt, chili powder, lime zest and 1 teaspoon garlic powder. Use a fork to mix everything together.
Place the eggs in a separate bowl and whisk.
Rinse and dry your chicken cutlets. Then take one strip at a time and dip it in the eggs. To keep your tenders from getting soggy, be sure to wipe off any excess egg. Next, dip it in the almond flour mixture. Use your fingers to press the breading into the chicken so it's fully coated, without any bare spots.
Place the tenders on the parchment-lined baking sheet with about an inch of space between each one. Bake for 20 minutes, flip, and continue baking an additional 15 minutes. If your tenders aren't browning as quickly as you would like, turn on the broiler for the last 3-5 minutes of bake time. Watch closely to make sure they don't burn!
For the dipping sauce, whisk together the Greek yogurt, sriracha, lime juice and 1/2 teaspoon garlic powder in a small bowl.
Serve the tenders straight out of the oven with a squeeze of lime and a little chopped cilantro.
Recipe by Hello Glow at https://helloglow.co/crispy-almond-breaded-chicken-tenders/