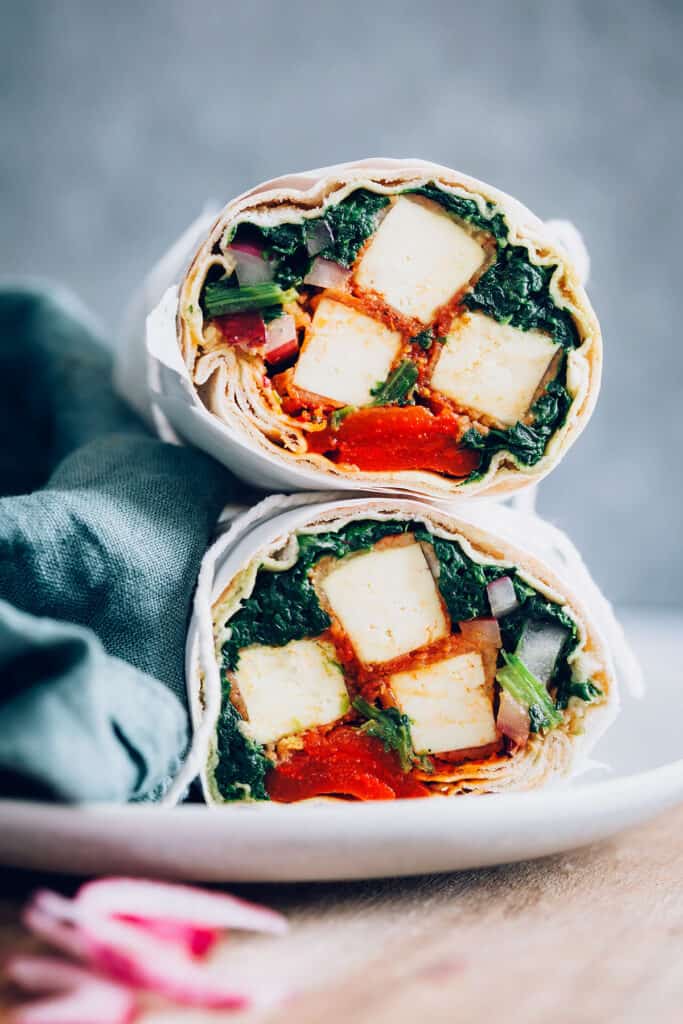 We've been experimenting with some vegan versions of buffalo wings and we can't get enough with the result! Wrapping up some crispy tofu bathed in buffalo sauce, together with some healthy ingredients is yet another way of turning a boring office lunch into a healthy, vegan extravaganza.
We love to bake the buffalo tofu ahead an make it part of the weekly meal prep, so we can later on add it to wraps, salads, as a side or even arrange a buffalo tofu bowl.
Why Use Tofu?

Two ingredients are perfect for a vegan buffalo wing alternative: cauliflower and tofu. They both have a neutral flavor and taste, and can turn crispy on the outside and creamy on the inside when cooked properly.
This time, we've chosen the buffalo tofu nuggets, because we were looking to add them into a wrap. We like to cook with tofu because of its neutral flavor and its exceptional versatility. And of course, if you want to up your protein and calcium intake, tofu is a great vegan choice, with 8 grams of protein and 35% of the daily value of calcium per cup.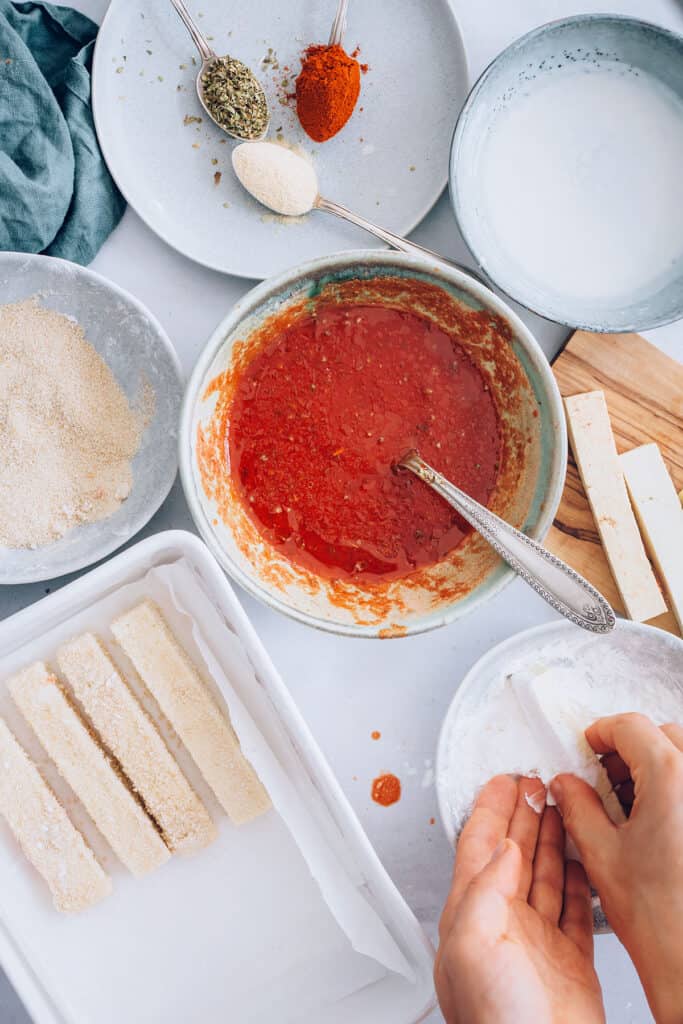 What is buffalo sauce?

Traditionally, buffalo sauce is made up of hot sauce, butter, vinegar, Worcestershire sauce and different spices. We turned our version into an all vegan one, used coconut oil instead of butter, and added tomato sauce for a more delicious taste.
How to make buffalo tofu

Cooking a healthier, vegan alternative to the classic recipe is really easy, and you definitely do not need special kitchen skills. You need to bake a crispy tofu first, then bath it into a buffalo sauce and roast it until a delicious crust forms. Here are the simple steps that will get you cooking these delicious nuggets: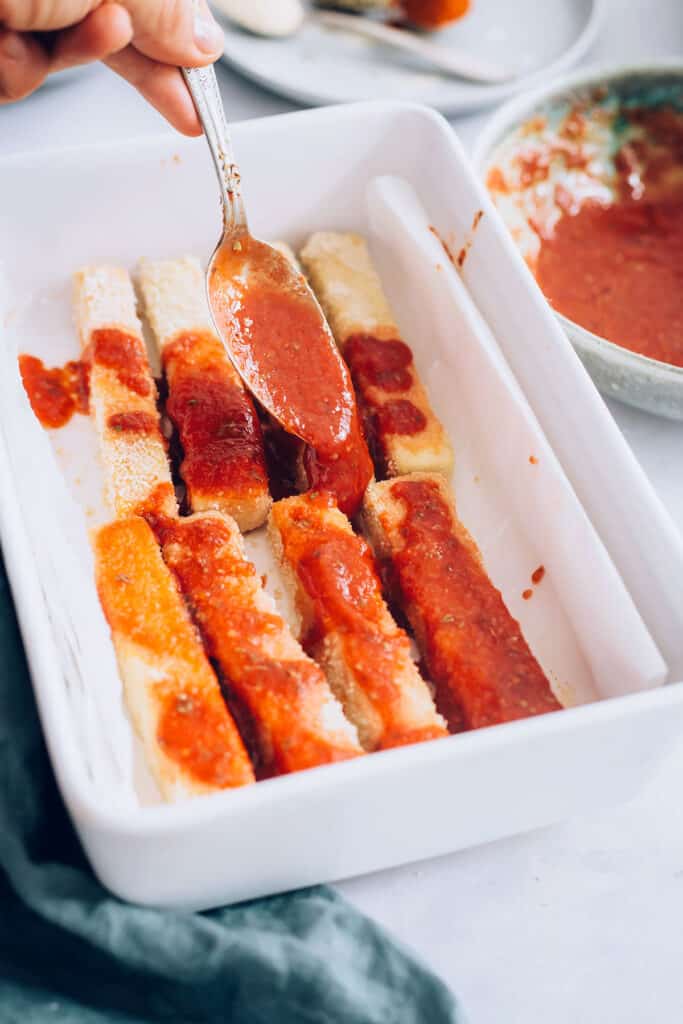 Pick an extra firm tofu and cut it into equal sticks.
Add cornstarch, water and whole wheat breadcrumbs into separate bowls. Dip the tofu sticks into cornstarch, then into water and finally coat them with breadcrumbs.
Arrange the tofu sticks in a single layer on a lined baking sheet/pan and roast in the oven until crispy.
Prepare the buffalo sauce and drizzle it all over the tofu. Roast some more then assemble in a wrap or save for later use.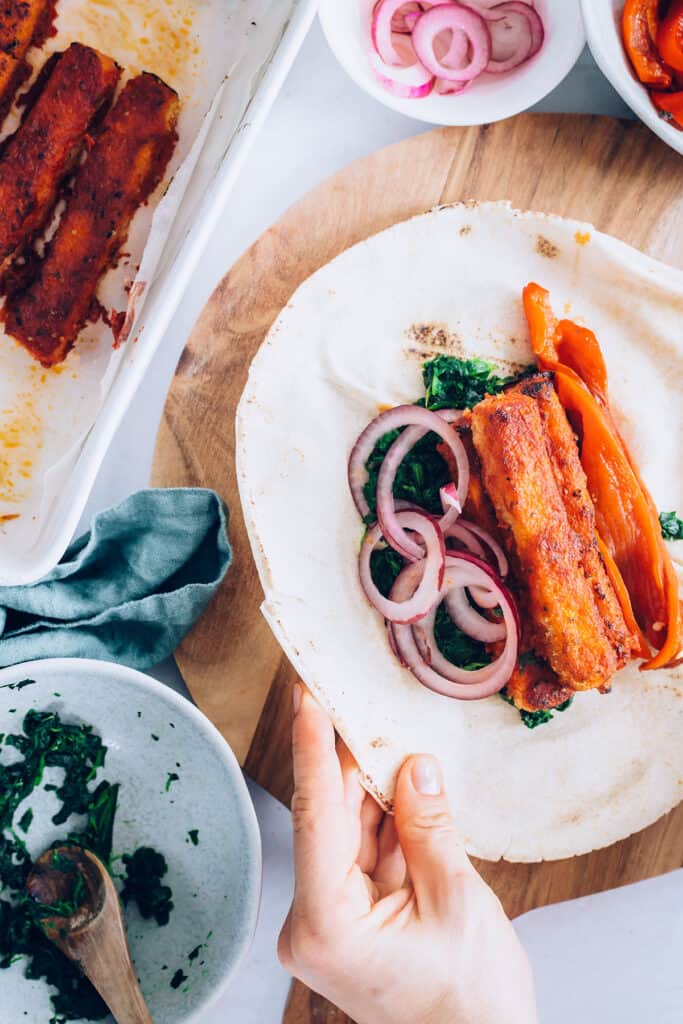 How to serve buffalo tofu

You can enjoy these delicious tofu nuggets hot, right after taking them out of the oven, as an appetizer, or next to a salad bowl. We found it really satiating to wrap it into a whole wheat tortilla, together with cooked spinach, roasted bell pepper and pickled red onion.
It was delicious and nourishing. If you're cooking it as part of your meal prep and want to save it for later, you can keep it in the refrigerator and roast if for a few minutes before serving, to recreate the crisp.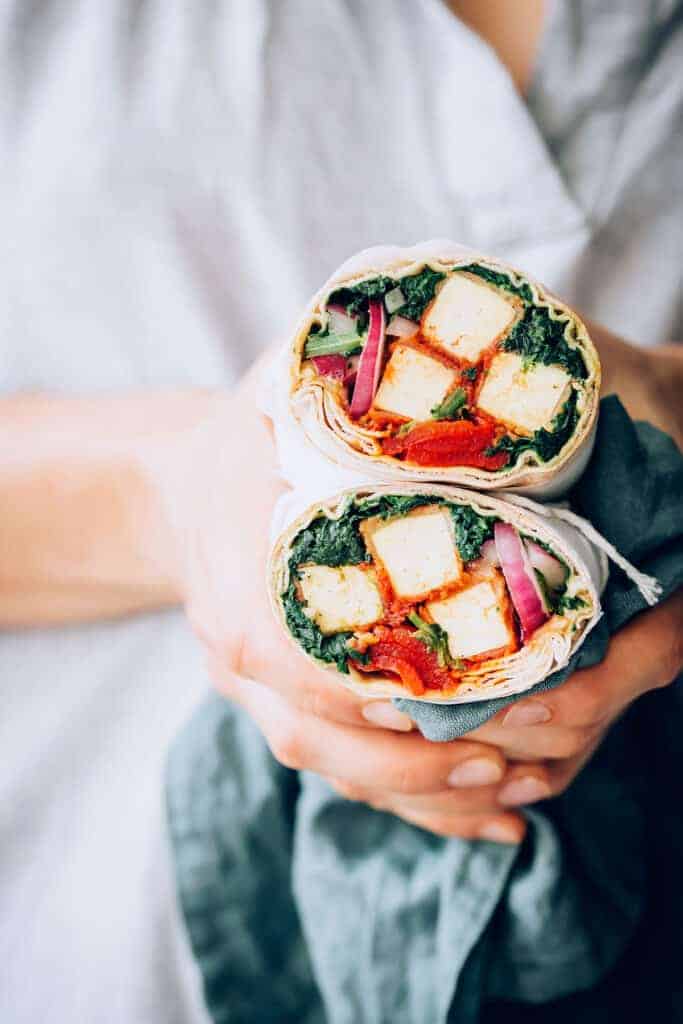 Want more wrap recipe ideas?
Protein + Veggie Packed Ginger Peanut Tofu Wraps
Protein-Packed Kale, Avocado Hummus Wrap
Kimchi Lunch Wrap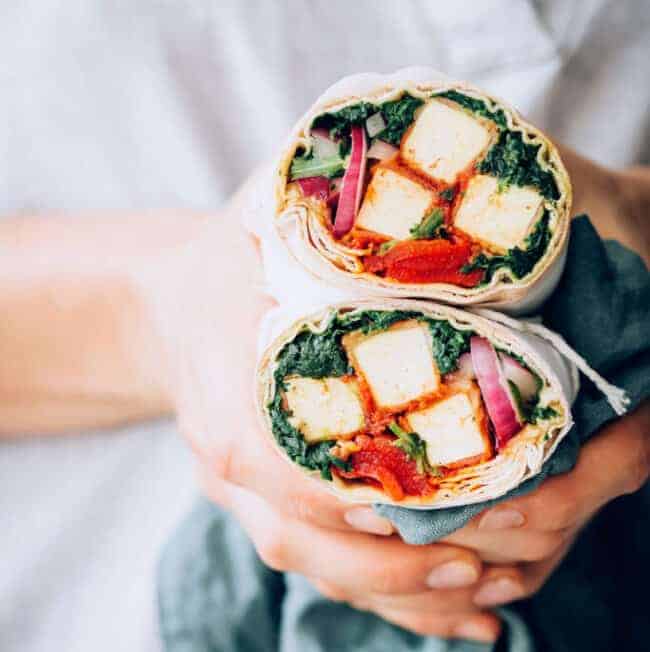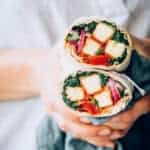 Print Recipe
Crispy Buffalo Tofu Wrap
Made with vegan ingredients, these buffalo tofu nuggets make a delicious and nourishing office lunch when wrapped in a wholewheat tortilla, with spinach, roasted bell pepper and pickled onion.
Ingredients
1

cup

Tofu Extra Firm

2

tablespoon

WholeWheat Breadcrumbs

2

tablespoon

Cornstarch

1

cup

Water

2

tablespoon

Hot Sauce

2

tablespoon

Tomato Paste

1

teaspoon

Smoked Paprika

1

teaspoon

Garlic Powder

1

teaspoon

Oregano Dry

2

tablespoon

Coconut Oil Melted

1

cup

Spinach Cooked

1

Red onion Pickled

2

Red Bell Peppers Roasted

Cut Into Stripes

2

WholeWheat Tortillas
Instructions
Add the breadcrumbs, starch and water into separate bowls.

Preheat the oven to 175C/350F and line a baking pan with parchment paper.

Cut the tofu into equal sticks, then dip each stick into starch, water and coat with breadcrumbs, in this order.

Arrange the sticks onto the baking pan in a single layer.

Roast for 10 minutes, then flip and roast for 10 minutes more, until crispy.

Meanwhile, prepare the buffalo sauce, by mixing the hot sauce, tomato sauce, coconut oil and spices into a bowl or jar.

Remove the tofu from the oven, dip each stick into the buffalo sauce, then line again the sticks into a single layer and cook for 5-7 more minutes.

Remove the buffalo tofu from the oven, and wrap into tortillas with the spinach, red onion and roasted red pepper.
17