When I'm prepping for a party and I don't have time to mix up a signature cocktail that will wow my guests, I fall back on one simple party trick: fancy ice cubes. As it turns out, even a standard gin and tonic can feel special with the addition of some watermelon ice cubes. And while these ice cubes are certainly a food stylist's dream, they take no special skills to create except the ability to place an ice cube tray in your freezer. It's really that easy!
Plus, the flavor profile of this Cucumber Gin and Tonic couldn't be more summery. With its hydrating juices and subtle sweet flavor, I dare say that watermelon is the most refreshing fruit snack on a hot summer day. Because I tend to have a weakness for all things cute, I topped these ice cubes with chia seeds to mimic the actual seeds of the watermelon. It's not a necessary garnish by any means, but that's the fun of garnishes — they're non-essential but entirely worth the extra effort.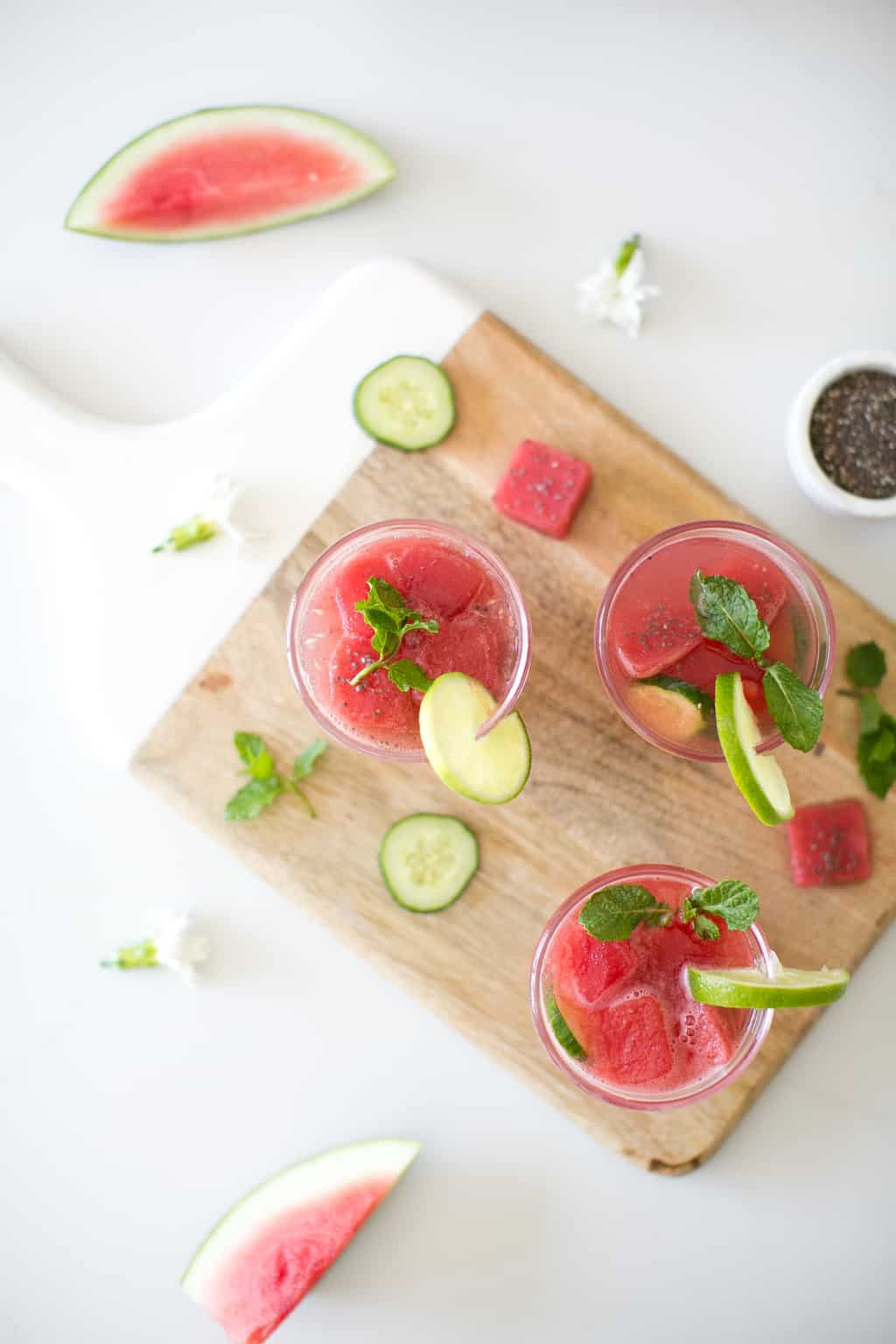 As for the flavor profile, it just so happens that cucumber and watermelon make a charming couple when combined in a cocktail. I must admit the mere mention of both in the same sentence takes me back to my middle school days when I was obsessed with the cloyingly sweet scent of a certain cucumber melon lotion from that big bath shop chain in the mall, but I digress.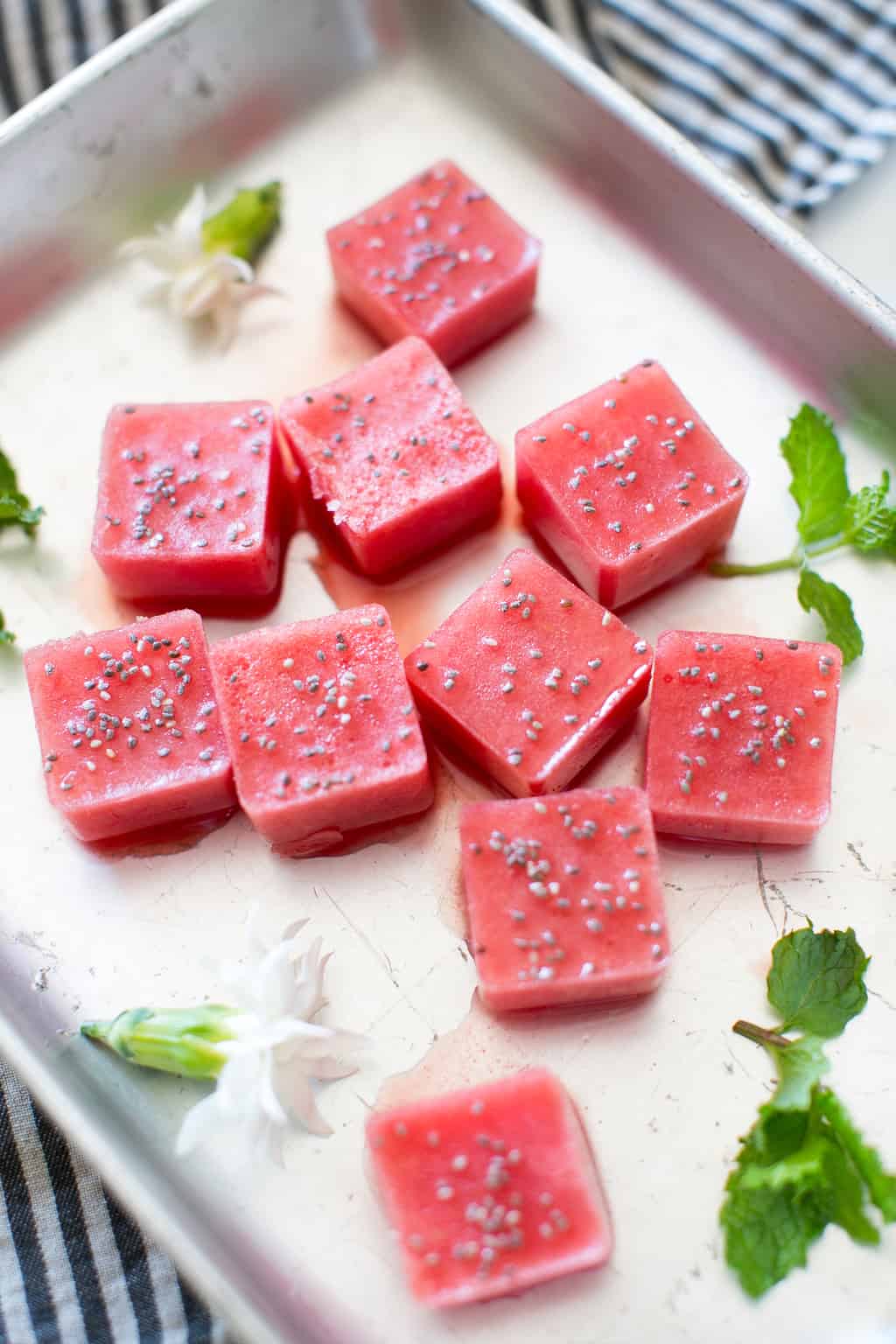 This cocktail is much more refined and subtle. The floral notes of the gin pair superbly with the muddled cucumber, twist of lime and the watermelon, which infuses the drink with its flavor and signature hue as it melts.
This take on the gin and tonic also requires no mixology skills. The most labor intensive task is scooping out the watermelon, but I'd suggest focusing on the divine smell of summer and sneaking a bite here and there as you work. Thanks to its high water content, the watermelon is a cinch to puree and doesn't require any straining or fuss. You'll simply pour the pureed watermelon directly into your ice cube trays. I decided to upgrade from my standard plastic trays to this set of three silicone trays. I couldn't resist the pastel hues and the fact that they had lids to prevent spills in the freezer.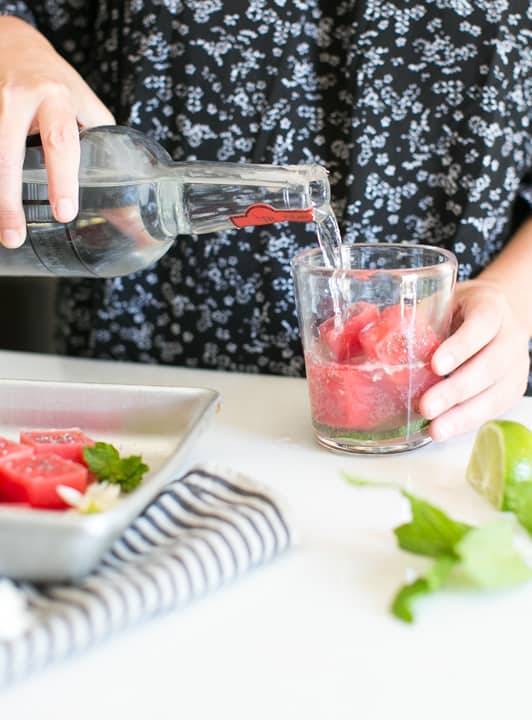 While this recipe calls for a medium watermelon, I would certainly suggest splurging on a larger melon and making extras. I found that these ice cubes are spectacular when added to sparkling or flat water alike, making hydration all the more festive.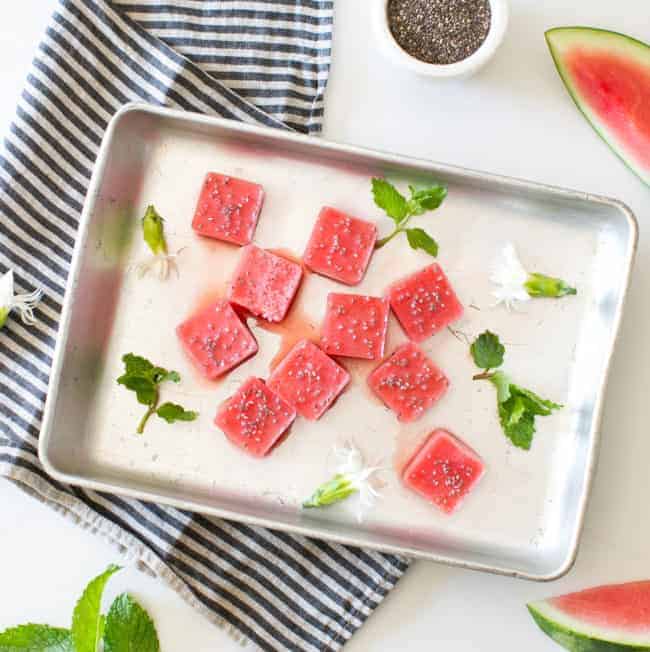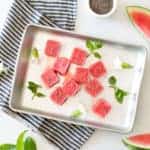 Print Recipe
Watermelon Ice Cubes with Chia Seeds
Servings:
2
dozen ice cubes
Ingredients
1

medium seedless watermelon 

Chia seeds
Instructions
Slice watermelon in half. Using spoon or melon baller, scoop out flesh of watermelon and set aside in bowl. 

Place watermelon flesh in blender or food processor and puree until watery mixture forms.  

Pour puree into silicone ice cube molds and place in freezer. Our watermelon puree filled 3 trays, each of which makes 21 cubes.

Freeze for 1 hour, remove molds from freezer, and sprinkle chia seeds on top of each cube to simulate watermelon seeds. 

Place molds back in freezer and leave overnight. To enjoy, add to a glass to infuse cocktails —or even a glass of water — with fresh watermelon flavor.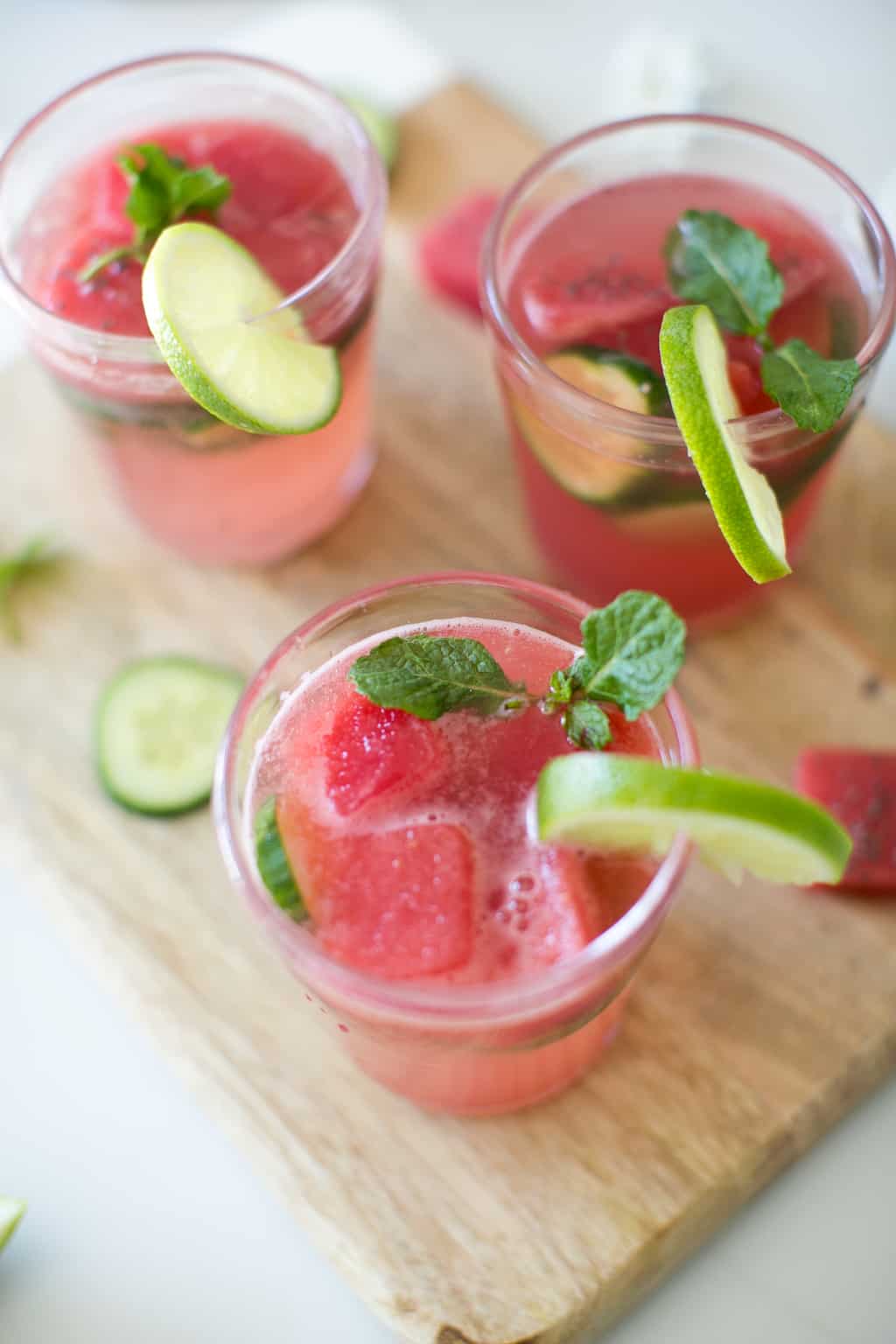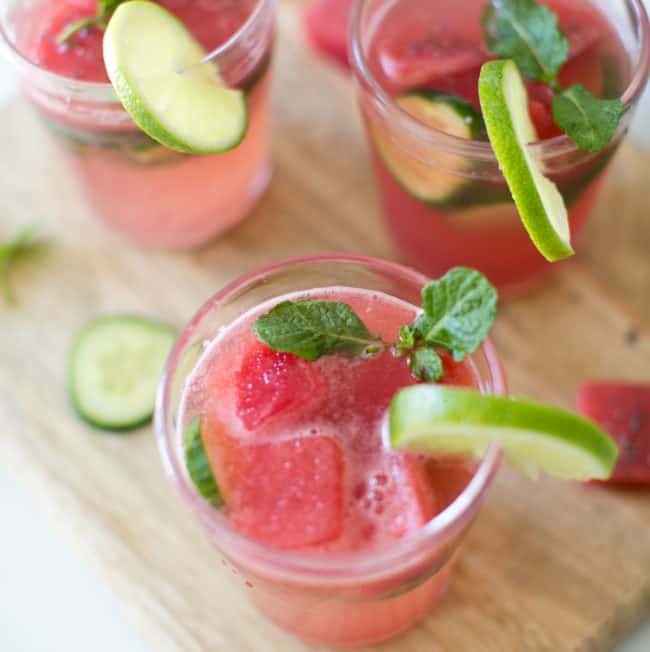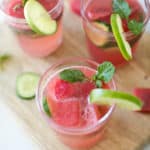 Print Recipe
Cucumber Gin & Tonic with Watermelon Ice Cubes
Ingredients
1

cucumber

sliced

Watermelon ice cubes

Gin 

Tonic

1

lime

sliced

1-2

fresh mint leaves 
Instructions
Add several slices of cucumber to the bottom of glass and lightly muddle with spoon or muddler. 

Add several watermelon ice cubes to glass. 

Add 1.5 ounces of gin, 5 ounces of tonic and a splash of lime juice to glass. Stir. 

Garnish with lime wedge and mint leaves.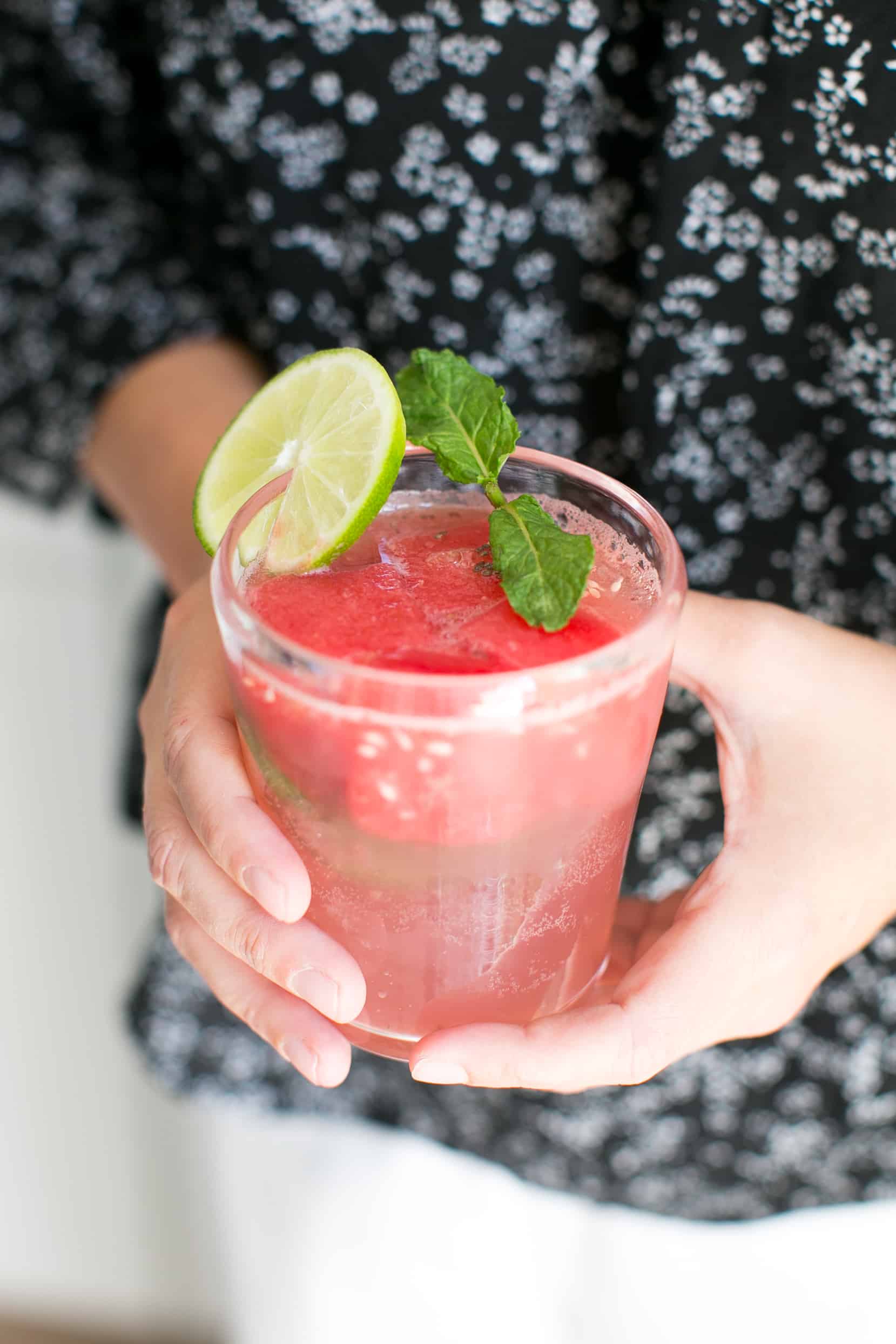 13