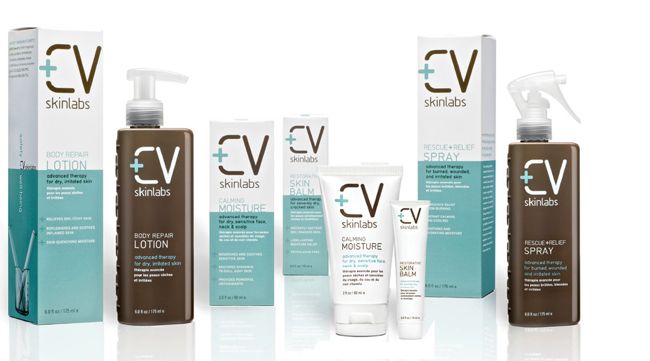 CV Skinlabs is a natural and organic sensitive skincare line that puts safety first to protect, soothe, calm, nourish and protect especially fragile or damaged skin weakened by weather changes, travel, dermatitis, psoriasis, and adverse reactions to medication, illness, chemical peels, and micro-dermabrasion.
Conceived by a cancer warrior, Britta Aragon, in response to the lack of effective, conventional skincare to ease her father's inflamed skin during cancer treatment, CV Skinlabs is 100% free of synthetic fragrances and dyes, as well as parabens, formaldehyde, phthalates, mineral oil/petrolatum, silicone, and many other irritants. In place of these harmful chemicals, CV Skinlabs uses their exclusive Tri-Rescue Complex to provide anti-inflammatory, antioxidant and antihistamine properties. All ingredients are screened for carcinogens and other potentially harmful ingredients.
CV Skinlabs Skincare Package Giveaway ($187 value)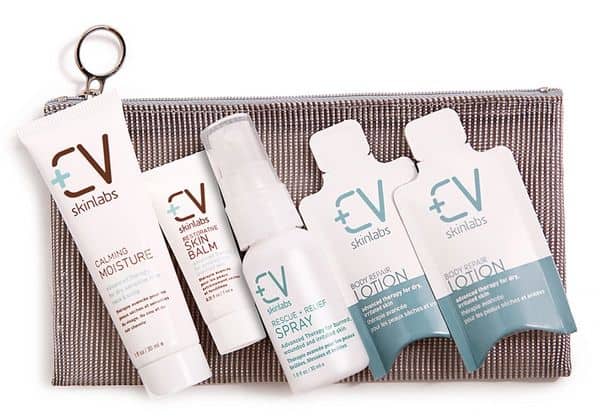 For the jet-setter whose skin reacts to re-circulated air, extreme climate shifts or over-exposure to the elements. These products are also great for parents traveling with babies prone to diaper rash. The Travel Kit is TSA-compliant and contains 2 travel-sized Body Repair Lotions (7 ml), Calming Moisture (1 oz), Rescue + Relief Spray (1 oz), and Restorative Skin Balm (.25 oz). Perfectly sized for your purse, diaper bag or carry-on.
This antioxidant-rich moisturizer calms redness in dry, sensitive faces, necks, and scalps to create a healthy glow.
This all-natural balm instantly softens severely dry and chapped skin – without petroleum. Perfect for eczema, scars, lips and cuticles.

Winter's frigid temps can put sensitive skin in a spin. The Rescue + Relief Spray coats and softens severely dry, rough and chapped skin including lips, cuticles, elbows, heels and other areas needing serious TLC. A great gift for guys, too – perfect for after shaving!
An everyday skin saver, this cooling, fast absorbing, deeply hydrating body lotion replenishes and soothes dry, itchy, inflamed skin immediately restoring comfort and smoothness. Excellent for everything from dermatitis, eczema and radiation burns, to post-laser hair removal, waxing and shaving.
What skin condition are you trying to relieve this winter?
1