Despite the fact that a menstrual cycle is a fact of life for most women between the average ages of 12 and 50, so few of us truly understand the fluctuating nature of our cycles. We take it as a "fact of life" and leave it at that, assuming that all we really need to know is when we are getting our periods. Many of us never learn just how much hormonal shifting happens throughout the month, and we remain in the dark about the processes behind it unless we are experiencing issues related to our reproductive health.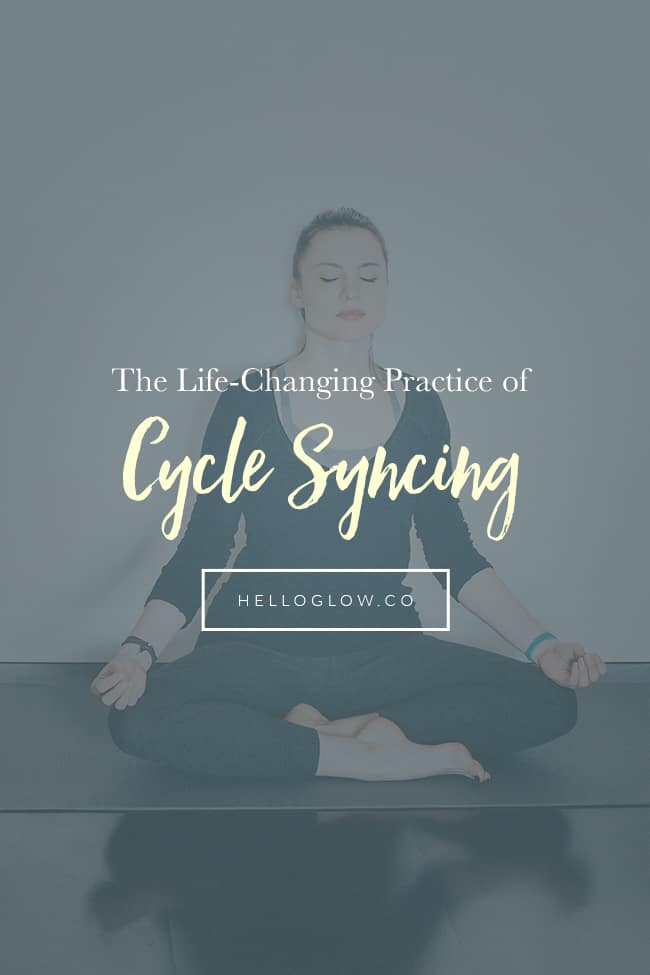 What Is Cycle Syncing?
When we learn about the intricacies of our cycles, however, we realize that there are mappable and predictable phases to our thoughts and moods, energy, appetite, digestion and cravings, sleep quality/needs, and our desire to socialize. Armed with such information, there is less chaos and confusion. We can make choices that align more closely with what we need: scheduling in early bedtimes when we know we'll need more rest, eating sweet but nutritious foods when we know there may be sugar cravings, or
booking more social gatherings at times when we would actually have the desire and energy to keep those commitments.
Taking cycle awareness one step further, holistic health coach Alisa Vitti has written WomanCode, a book which dives into the realm of reproductive endocrinology with the idea of cycle syncing.
Vitti describes cycle syncing as the process of adapting our diets and activities with the particular needs of our menstrual phases in order to help bring about a greater sense of balance and well-being. She claims that issues ranging from Polycystic Ovarian Syndrome (PCOS), endometriosis, heavy/uncomfortable periods, low libido, unexplained infertility, and PMS symptoms such as headache, acne, bloating or moodiness can all be improved when we adapt our behaviors to harmonize with our bodies as hormones shift from phase to phase.
Every woman can benefit from a more comprehensive understanding of the four phases of her menstrual cycle. We can be more compassionate with ourselves when we know why we are experiencing such dramatic swings in energy and mood, and it also gives us the opportunity to cooperate more closely with our bodies rather than fighting against them.
(Note: Women who are on the birth control pill would not experience the same phases, as the artificial hormones in the pill are suppressing them; cycle syncing is still possible, however there would be some modifications. More information on this can be found in Vitti's book and through various sources online.)
1. Follicular Phase (10-14 days long)
During this first phase of the menstrual cycle, the body is preparing to release an egg. Our physical energy is high, and we are in general more outgoing and social, making this is a good time for highly creative endeavors, brainstorming, teamwork, networking and experimenting with new activities.
In terms of supporting our hormones and digestion through our dietary needs, Vitti suggests that since estrogen levels are at their lowest at this time, we can consume more estrogenic foods (though she is in agreement with many other health and wellness practitioners when she encourages an avoidance of most soy and dairy, both of which are highly estrogenic foods). She recommends fermented veggies, lean proteins such as white meat or nuts, and adding in sprouted greens/beans/seeds, and citrus fruits. Stick to light cooking methods to help keep foods fresh and nutritious.
Challenging and stimulating exercises are welcomed during the follicular phase. Think about playing with more complicated brain-based movements such as boxing, dance with interesting choreography, or highly varied circuit training.
2. Ovulatory Phase (3-4 days long)
The ovulatory phase separates the follicular phase from the luteal phase. When we are ovulating (releasing an egg from the ovary), we experience a spike in the hormones FSH and LH, estrogen begins to increase, and testosterone drops. We may feel pelvic pain or twinges, headache, bloating, and/or cravings. Vitti points out that since the communication centers of our brains are particularly sharp during this time, this can be used to our advantage—it's a perfect time for writing clearly or presenting important information to others. As fertility is at its maximum during this brief window, our libido and sense of attractiveness may be riding high, so it's also a great time for dating!
When considering diet, go easy on the carbs (which increase bloating), and focus instead of vegetables to keep our suddenly-sluggish digestive tracts moving. We can also reduce symptoms that accompany the increase in estrogen, such as acne, constipation and bloating, by consuming raw or steamed dark green vegetables. Dark chocolate can help keep pesky sugar cravings at bay.
Exercise during this time can be high-impact and social, taking full advantage of this maximum level of energy. Try spin classes, high-intensity interval training, team sports, sprinting or vigorous yoga.
3. Luteal phase (12-14 days long)
The luteal phase starts right after ovulation and continues until menstruation. During this time, the lining of the uterus is thickening in preparation for egg implantation. Progesterone and estrogen continue to rise until the middle of this phase, whereas testosterone will increase towards the end of it. Estrogen and progesterone drop in the second half of the luteal phase right before menstruation. Women may notice that during these two weeks, energy gradually declines and PMS symptoms may appear. Bloating, irritability, headaches, mood swings or cravings often increase just before menstruation.
Vitti writes that our natural inclinations here are to slow things down and choose more
introspective or solitary activities. We may feel less desire to get out and socialize with others, and find instead that reading, writing, taking a long bath, or even cooking, cleaning, and organizing seem more appealing.
Eating foods that are rich in B vitamins, calcium, magnesium and fiber (via dark, leafy greens) will help to keep fluid retention and irritability under control as they help the body flush some of the build-up of estrogen through the processes of digestion and elimination.
While the first half of this phase is still relatively high in energy and our style of exercise can reflect that, as we near menstruation, choosing less vigorous activities such as yoga, light jogging, swimming or hiking will help us to align with the body's desire for all things slow and chill.
4. Menstrual phase (3-7 days long)
This last phase (and the beginning of the next follicular phase) is marked by the arrival of our periods. Progesterone and estrogen are at their lowest until estrogen starts to increase and peaks in the mid follicular phase. At this time, women experience bleeding, but also possibly backache, fatigue, and cravings.
The right and left hemispheres of our brains are communicating most strongly during the
menstrual phase, helping us to clearly assess and make decisions, tune into gut messages, and problem solve. Journaling is a great idea during this time as our brains will be primed for thinking most clearly.
During menstruation, we need to drink more water and eat foods that are water-rich as we are steadily losing fluid. We also need to up our intake of foods that are high in iron and zinc, as we deplete our bodies of these minerals during our periods. Seafood and sea-based vegetables are perfect choices, as are dark berries and beets.
Our bodies will naturally ask us to relax and choose more inward-focused activities, so light or restorative yoga, long walks, or bike rides are great choices. Once our energy begins to increase again at the end of this phase we will feel at our best, well-rested and restored.
Whether there have been signs that things could be better in the realm of your reproductive health (indicators could range from intense cravings, acne, or digestive disturbances, to hair loss and mood swings, to heavy/painful periods or unexplained infertility), or you may have simply noticed that some times of the month feel like uphill battles of depletion and fatigue, equipping yourself with a clearer picture of your menstrual cycle can be eye-opening. Try incorporating some of the above guidelines with your next cycle and see what happens when you go with the flow!
This post was medically reviewed by Dr. Kimberly Langdon, M.D., a university-trained obstetrician/gynecologist with 19 years of clinical experience. Learn more about Hello Glow's medical review board here. As always, this is not personal medical advice and we recommend that you talk with your doctor.
34