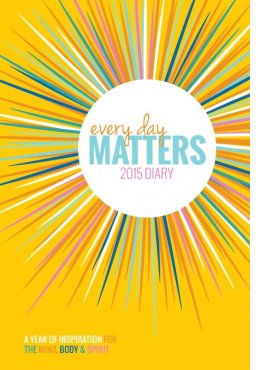 Resolutions. That dreaded word. If you're like me, you've pondered what your 2015 resolutions should be for brief moments throughout the last few months of last year. But 2015 is officially here so now it's time to get serious. And we've found a tool that can be seemlessly incorporated into your life to help you track and achieve these milestones.
Dani DiPirro, famous for her blog Positively Present, has a new calendar, the Every Day Matters 2015 Diary from Watkins Publishing Limited. Features of the calendar include inspirational quotes, simple exercises, and 12 life enhancing themes covering topics such as loving, organizing, changing, inspiring, learning, nurturing, and more.

Dani's 3 tips for staying positive during tough times
1. Stay aware of your thoughts. It sounds obvious, but sometimes we don't pay attention to what we're thinking and we don't even realize how negative our thoughts are. The more we are aware of our thoughts, the more we can push them in a more positive direction, which can only make coping with trying times easier.
2. Allow yourself to feel negative emotions. Being positive doesn't mean being happy all the time. You can feel negative emotions (sadness, anger, etc.) without losing sight of the positive aspects of a situation. In fact, it's very important to experience emotions fully when they happen. The trick is not to get carried away with them.
3. Take a mental step back and search for something good. This might sound impossible when it comes to really hard times, but the hardest part is actually telling our minds to stop focusing on the bad things. Once we climb that hurdle, we usually can find at least one good thing about a bad situation—even if that one thing is "this is a learning experience that will help me become a stronger person."
Every Day Matters 2015 Positivity Calendar Giveaway
3 lucky winners can start their year off on the right foot with a copy of the Every Day Matters 2015 Diary, available in spiral bound desk or pocket versions. Now, instead of dreading resolutions, it's time to get excited about how small, positive changes can impact your life for the better. Using this diary makes committing to making changes in behavior/thoughts less risky, so finally we can have resolutions that last beyond the first few weeks of the new year.
0