Sometimes we love a product so much, we can't keep it to ourselves. You know that feeling, right? Here are a few things that are so essential, we just need to share: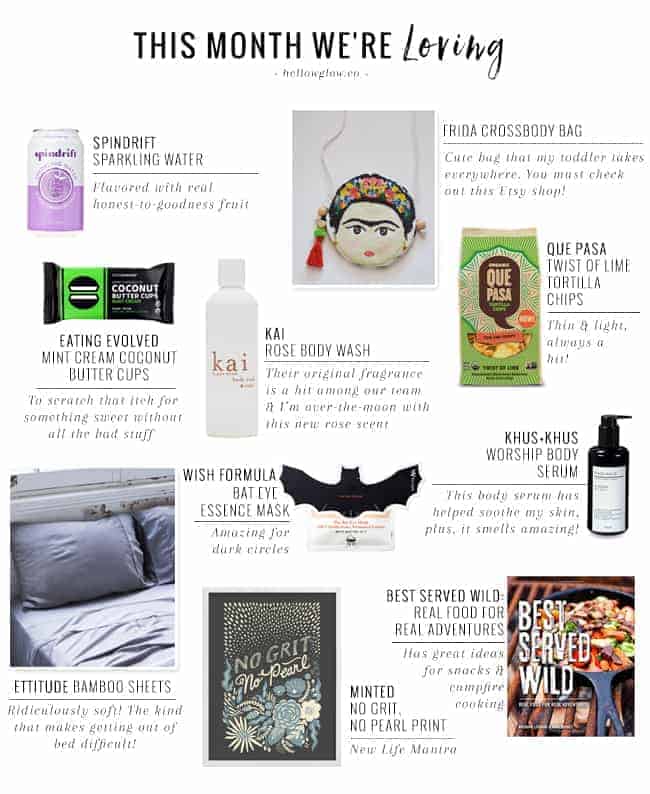 Spindrift Sparkling Water // I, like everyone else, have been sucked into the whole sparkling water trend, but I have that little nagging voice in the back of my head about how "natural" the flavors in them really are. Enter Spindrift, which is flavored with real honest-to-goodness fruit. And they sell it at Trader Joe's, as if you needed another excuse to go there.
Frida Crossbody Bag // My toddler is very into bags and pouches and totes, so I bought her this pint-sized Frida Kahlo-inspired bag and my heart melts into a puddle whenever she wears it. If you have a little girl, you absolutely must check out this Etsy shop.
eatingEVOLVED Mint Cream Coconut Butter Cups // So I stopped eating sugar for the most part, but every once in a while I still want a little treat and these are so good—they scratch that itch for something sweet without all the bad stuff.
kai Rose Body Wash // Our team loves the original kai fragrance and now I'm totally over-the-moon for their new rose scent. There's something about the smell of roses that just makes me feel…fancy? I don't know! But I love it.
Que Pasa Twist of Lime Tortilla Chips // I've been bringing these to every summer gathering I go to and they are always a hit—usually tortilla chips are nothing more than a delivery device for dips, but these are different. They're thin and light! Also: lime! (PS – Que Pasa salsa is pretty amazing too.)
Bamboo Sheets // Bamboo? Bamboo! I'm a little bit fanatical about comfortable bedding and these sheets from Ettitude are my new fave. They are ridiculously soft. Like, so soft it's hard to get out of bed in the morning because you want to luxuriate just a liiiiittle bit longer.
Wish Formula Bat Eye Essence Mask // When you use this sheet mask, it looks like a bat flew onto your face. Which is fun! But also: this sheet mask is amazing for dark circles. At $4 a pop, they're to pricy to use on the regular, but I have a stockpile of them to break out for special occasions and DMV photos.
KHUS+KHUS Worship Body Serum // I used to only have eczema breakouts in the winter, but now they seem to come at random year-round. Joy! This body serum has helped soothe my skin—and it smells incredible too.
No Grit, No Pearl Print // I saw this while browsing for art on Minted and I think I've found my new life mantra.
Best Served Wild: Real Food for Real Adventures // We're going on a camping-ish adventure next month and I'm so psyched about this cookbook, which has both make-ahead ideas for snacks you can bring with you and recipes for cooking over the campfire.
Disclosure: Some of these products were sent to Hello Glow to review, others are things we've bought ourselves, but everything here is something we totally love.
1