Heredity and sleepless nights along with plenty of laughs and smiles all contribute to the eye problem trifecta: dark circles, puffy eyes and crow's-feet. The skin around your eyes is the thinnest of anywhere on your body so your eyes are the first area to reflect aging, stress, poor diet, and lack of sleep. The good news is that there are two DIY eye mask recipes for a quick boost, along with longer term solutions to keep the skin around your eyes refreshed and vibrant.
1. Dark circles
Dark eye circles are my nemesis! It can be hard to pinpoint the exact cause (hereditary? thinning skin? too much sun?). Fortunately, one of the best ways to battle dark circles is with eye cream.
You want a cream that helps support healthy collagen, along with vitamin C to lighten discoloration from sun exposure and caffeine to constrict blood vessels. Don't forget to apply eye cream morning and night before any other skincare products so it can fully absorb and work its magic.
Fast fix – the right concealer
Cover dark circles with the right concealer and a gentle touch. First Aid Beauty's Eye Duty Triple Remedy does double duty as an eye cream and a light concealer. After putting on foundation (if you wear it) gently dab concealer (pick peach undertones for bluish circles and pink for brown circles) on dark areas with your ring finger. I usually use BeautyCounter's Touchup Skin Concealer Pen.
2. Puffy eyes
Whether allergies or that second margarita are to blame, swollen eyes are usually caused by a buildup of excess fluid under the eyes. To prevent puffiness, sleep propped up with a couple of pillows, preferably on your back, to prevent fluid buildup.
If you have allergies, consider an air purifier for your bedroom to eliminate dust mites and other allergens. Avoid alcohol and salt, which can both contribute to puffy eyes in the am. Also try a jade roller – the depuffing powerhouses increase blood circulation, improve elasticity of the skin, and reduce dark under eye circles.
Fast fix – coffee DIY eye mask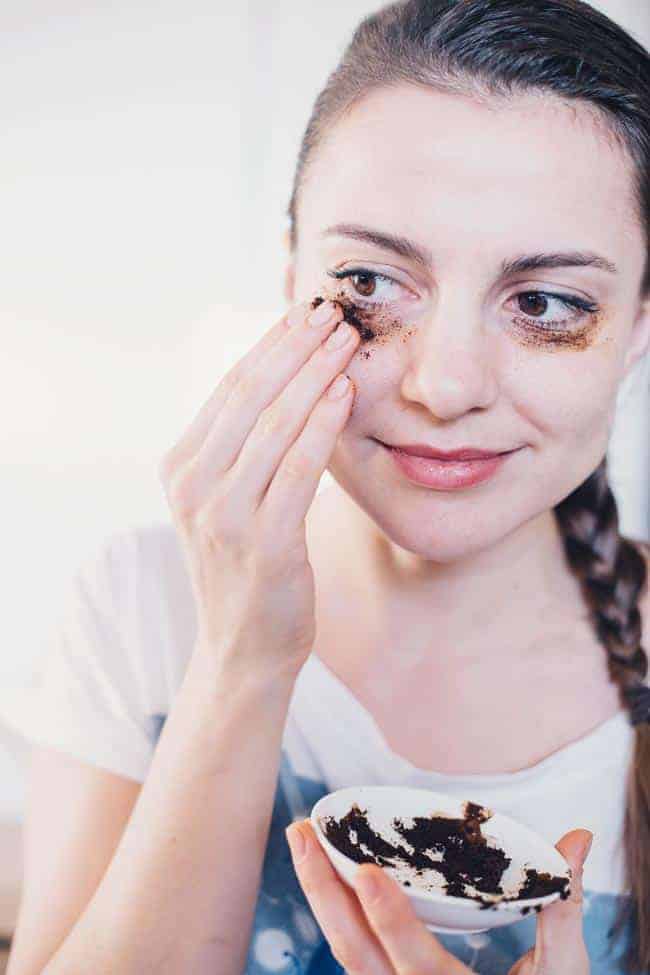 Steep a couple of black tea bags in cold water and place them under the eyes for a few minutes. The caffeine and cold cause blood vessels to constrict. Another DIY remedy is a simple egg white and coffee mask – trust me, it will wake up your whole face!
1 egg white
2 teaspoons coffee grounds
Combine the egg white and coffee in a small bowl. Beat mixture together with a fork until frothy, about 1 minute. With clean hands or a brush, apply the mask around and under the eyes. Avoid the eyelids because you don't want to get it in your eyes. You can apply the mask to your entire face, if desired. Rinse mask and follow with a coffee eye cream (keep in the fridge for extra cold power).
If your eyes get red and itchy after you get ready in the morning, you could be allergic to your makeup. After a long bout with eye irritation, I finally realized it was stemming from my mascara. Detox these ingredients from your makeup bag and look for products without fragrance. Keep your fingers away from eyes to avoid transferring other makeup and nail polish to your eyes.
3. Crow's-Feet
Yes, you can blame a lifetime of smiling! But don't forget the squinting and the sun exposure, too. All are to blame for fine lines. So your best bet is avoiding sun exposure during the day (think SPF, sunglasses and a chic hat) and building up collagen with peptides or retinol at night to reverse the wrinkles. Smiling is good, squinting is bad.
Fast fix – mega moisturizing DIY eye mask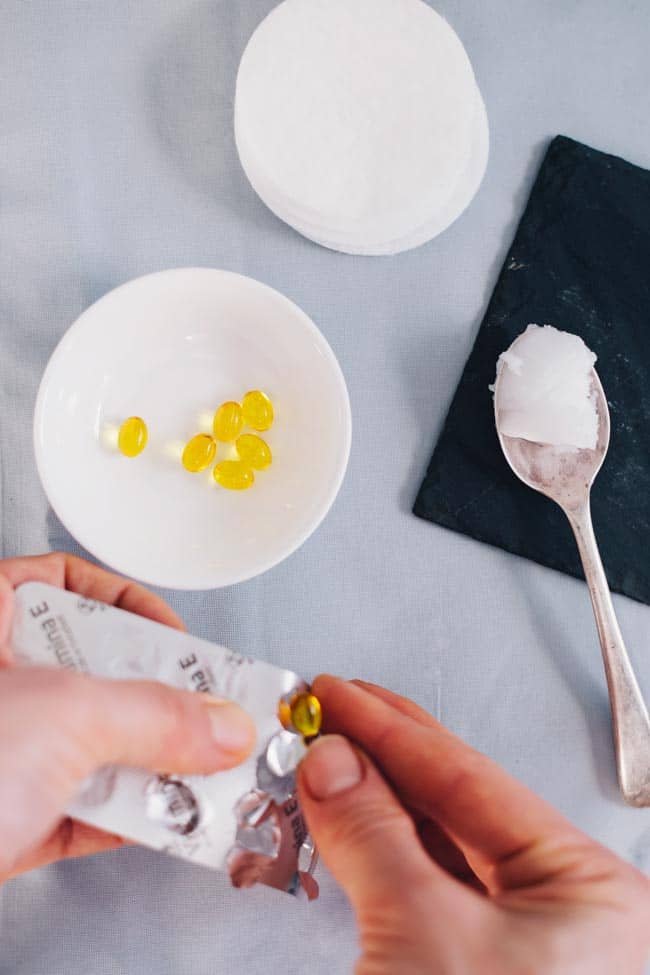 For temporary smoothing, try this mega moisturizing eye mask to smooth fine lines.
Mix 2 tablespoons of coconut oil and a capsule of vitamin E oil in a bowl. Cut cotton pads to fit the under-eye area. Soak cotton pads in solution and freeze for a few minutes until icy cold. Apply to eye area and place eye cotton pad on top. Let sit for 15 minutes and remove.
Follow with eye cream like First Aid Beauty (the sheen softens lines) and get strategic with eye makeup. Opt for lighter shades of eye shadow on the lids and inner corners, then curl lashes and apply mascara.
This post was medically reviewed by Dr. Jennifer Haley, a board-certified dermatologist with extensive experience in medical, cosmetic and surgical dermatology. Learn more about Hello Glow's medical reviewers here. As always, this is not personal medical advice and we recommend that you talk with your doctor.
Photos by Ana Stanciu
175