Ever thought about making your own shampoo? Well, let me tell you, it's an amazing solution to tackle all those hair challenges that come your way, no matter the season. From dealing with sun exposure to the damage caused by blow drying and heat styling, our hair needs some extra love. So, why not learn how to whip up a personalized homemade shampoo recipe that not only gives your hair a much-needed break but also tackles annoying flakes and stubborn product buildup? Read on for our favorite homemade shampoo recipes!
Reasons To Make Your Own Shampoo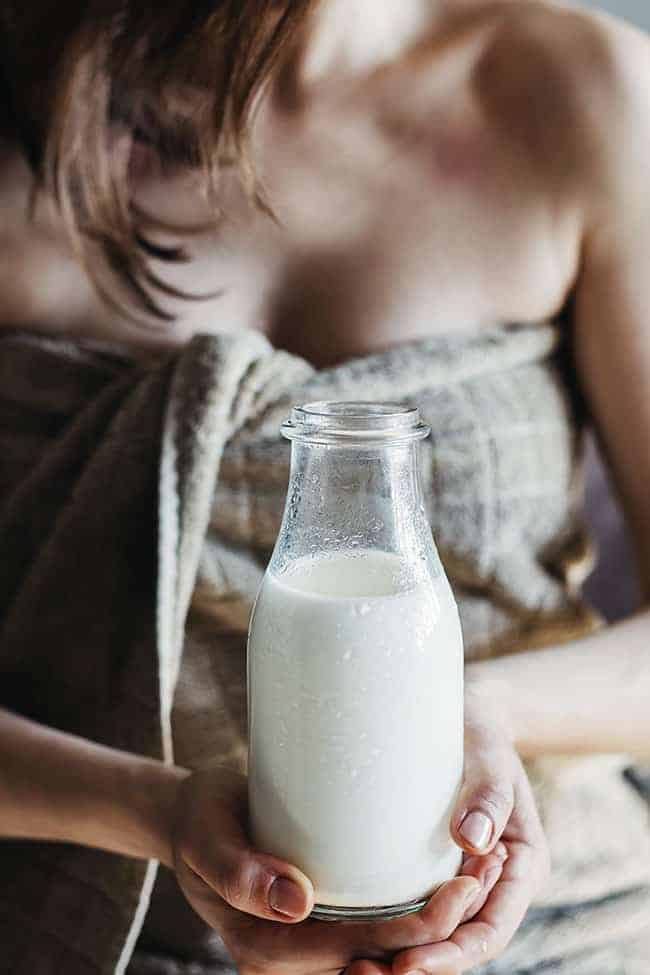 Gentle formulas
Homemade shampoo often contains natural ingredients that can nourish and moisturize your hair without stripping away its natural oils. It can be gentler on your scalp, reduce the risk of allergic reactions, and promote healthier hair over time.
Customizable for all hair types
One of the advantages of homemade shampoo is that you can tailor it to address specific hair concerns. You can adjust the ingredients and ratios to cater to specific needs, such as oily hair, dry scalp, or damaged strands.
Cost effective
Homemade shampoo can save you money, especially if you use inexpensive pantry ingredients. Plus, making your own shampoo allows you to control the quantity and quality of ingredients, reducing waste and saving money in the long run.
Homemade Shampoo For Every Hair Type

Researching and understanding the properties of different ingredients is essential, and you may need to experiment to find the right combination for your hair. Here are our favorite shampoo recipes to give your hair a break along with tips and tricks for making your own recipe at home.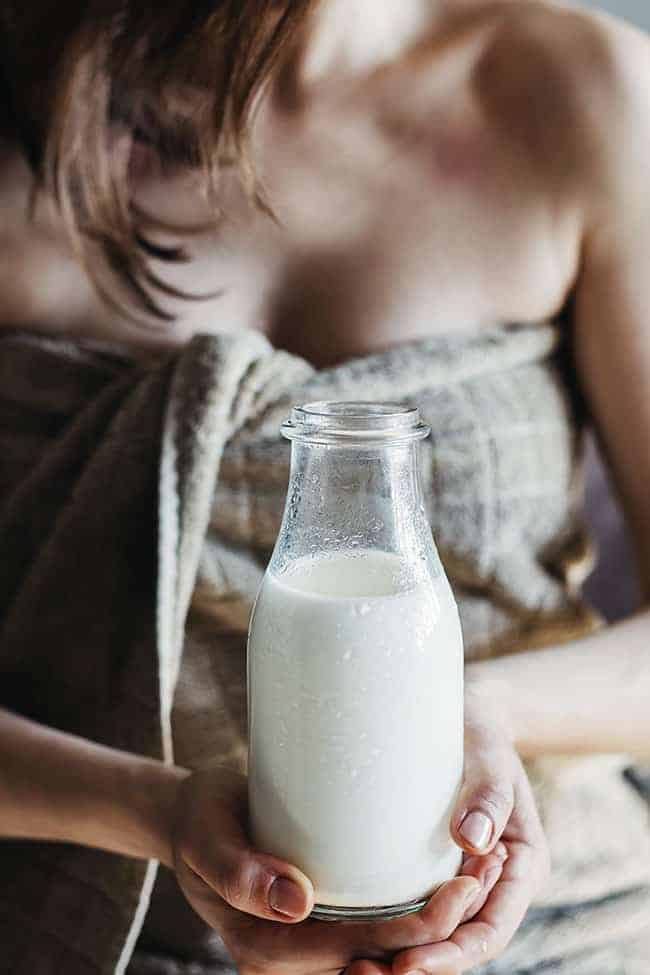 Ingredients for Making Shampoo
The basic ingredients for homemade shampoo typically include a liquid base (such as water or a herbal infusion), a cleansing agent (such as castile soap or liquid soap), and optional additives like carrier oils, essential oils, and herbs.
Liquid base
This could be water, an herbal infusion like rosemary hair tea, a hydrosol like rose water, or even coconut milk for dry hair.
Cleansing agents
There are natural alternatives to traditional surfactants, such as soap nuts, soapwort, or yucca root. These ingredients can provide mild cleansing properties and are often used as natural substitutes in homemade shampoo recipes.
You can also use Castile soap or a melt and pour soap base. Or simply dilute your current shampoo.
Essential oils
You can essential oils to homemade shampoo for hair and scalp benefits as well as their fragrance. Stick to skin-safe essential oils and adhere to recommended dilution rates to avoid skin irritation.
Homemade Shampoo for Dry Hair

Dry hair may benefit from ingredients like honey or avocado oil. Try sandalwood essential oil and an herbal infusion of calendula or chamomile if your hair is blonde.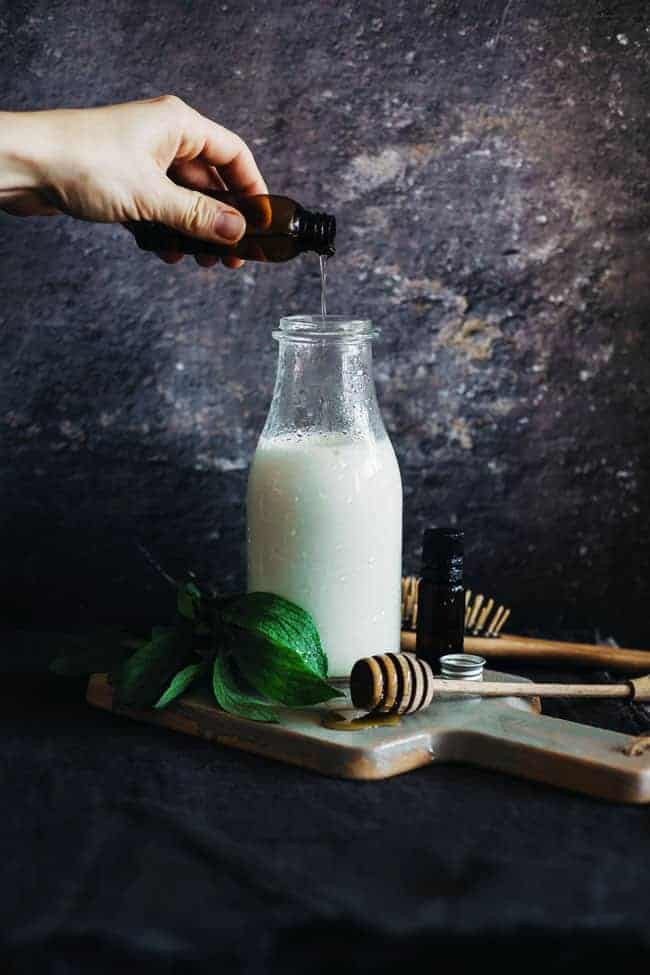 1. Nourishing Honey Shampoo
Honey is an all-round amazing beauty ingredient, and your hair loves it! It's gentle and nourishing, while also packed with antibacterial properties. Its moisture acts as a conditioner, which leads to less breakage and more growth.
And who doesn't want that? Learn how to use honey as shampoo on BLDG25 or try this recipe for a pH-balanced shampoo, which has a few extra ingredients.
2. Coconut Milk + Castile Shampoo
Rich in fat, protein, and vitamin E, coconut milk is amazing for a dry scalp. It locks in moisture, restoring split ends and thinning hair, and it acts as a conditioner too. Try this 2-ingredient recipe, which also doubles as a body wash.
For seriously dry hair, try this coconut milk hair mask or this coconut milk leave-in conditioner.
3. Avocado + Grapeseed Melt-and-Pour Shampoo Bar
Not your typical bar of soap, shampoo bars are formulated with super nourishing ingredients that clean hair without stripping it or drying it out. And in many cases, they can act as conditioners, body wash, or even face wash to boot.
This shampoo bar for dry hair contains moisturizing avocado and grapeseed oils, and it's loaded with clary sage oil to help keep your strands long and strong. This recipe with melt-and-pour soap is great for beginning DIYers.

Homemade Shampoo for Oily Hair
Oily hair may benefit from ingredients like citrus oils and rosemary tea, while a dandruff-prone scalp might need tea tree oil or apple cider vinegar.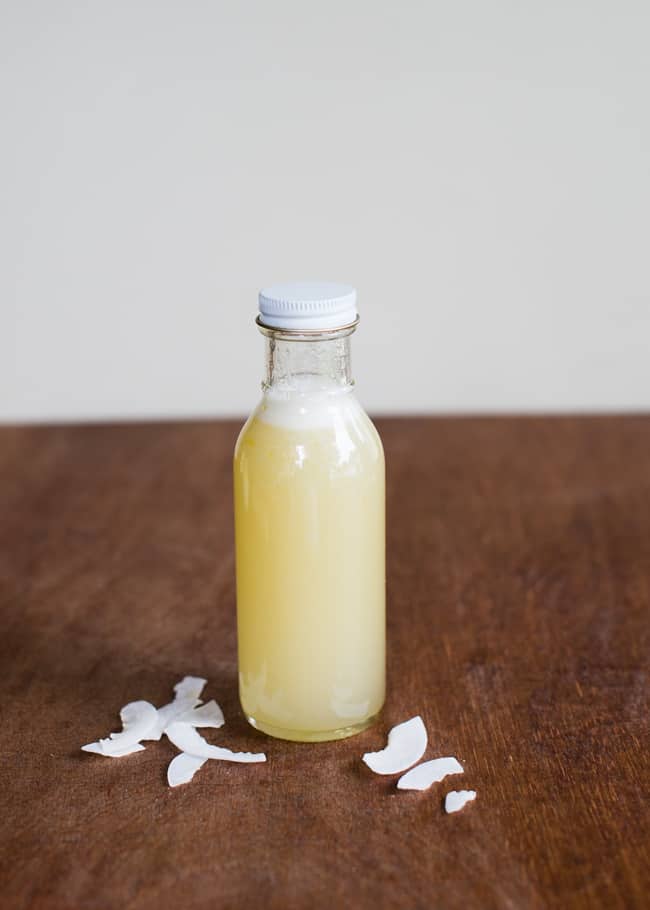 4. Tea Tree + Castile Soap Shampoo

Did you know that overwashing your hair one of the main causes of dandruff? Training greasy hair can be a rough transition, but washing with a Castile soap-based shampoo with scalp-friendly tea tree essential oil will reduce the need to do it so often, resulting in naturally healthier hair.
If you don't want to DIY, you can add essential oils to your current shampoo to help ditch dandruff. Add 2 drops of lavender and 4 drops of tea tree for each ounce of shampoo. Shake well to distribute. To use, massage into the scalp, let it sit for one minute, and then rinse.
5. Coconut + Castor Cold Process Shampoo Bar
The best shampoo bars are made from scratch with lye. And this creamy coconut + castor shampoo bar with lightweight hair hydrators—coconut, olive, and castor oils—hydrates hair without weighing it down.

6. Customizable Dry Shampoo
Do you wash your hair every day simply because you can't stand your second-day hair? That happens a lot, especially for those of us with oily hair.
But daily shampooing removes natural oils from the follicle and scalp, which leads to overdrying which then leads to more oil production! Since you still have to function socially in between washes, dry shampoo is your bestie!
Customize your own dry shampoo recipe to suit your hair color or try a dry shampoo spray to tame crazy tresses at the same time.
Shampoo Recipes for Hair Growth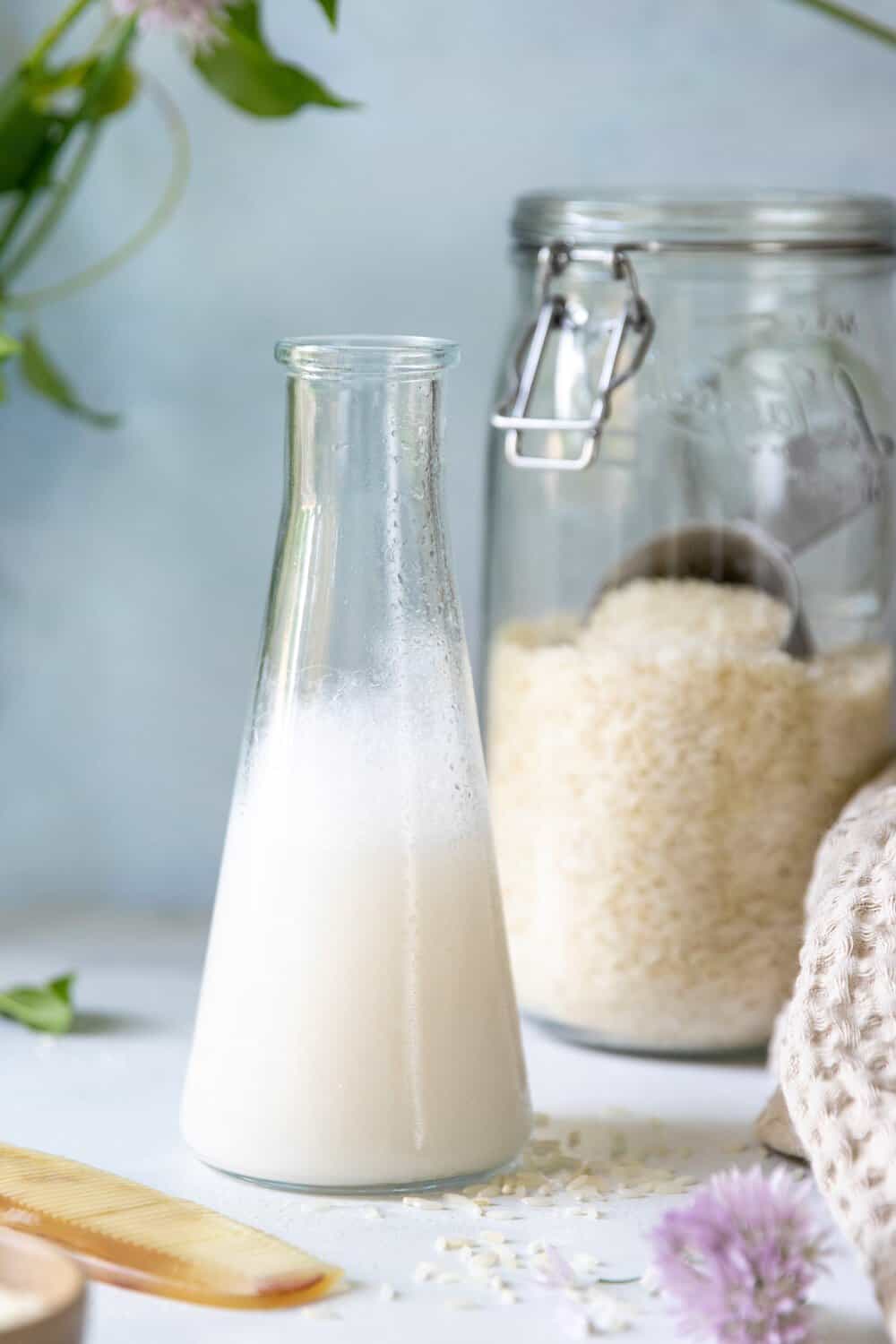 7. Rice Water Shampoo with Soap Nuts

Rice water has become a must-have ingredient for strengthening hair to boost hair growth. If you've tried and liked a rice water hair rinse, you might like one of these two ways to make your own rice water shampoo recipes.
8. Rosemary Castor Shampoo
Castor oil has long been touted as a natural solution for stopping hair loss in its tracks. Combine it with growth-boosting essential oils like rosemary and peppermint for a cooling and circulation-boosting shampoo.
Add 3 drops rosemary and 3 drops peppermint essential oil to each ounce of your favorite shampoo. Add 1-2 tablespoons of castor oil for each 8 ounces of shampoo. Shake to distribute and use as normal.
Shampoo Recipes for Product Buildup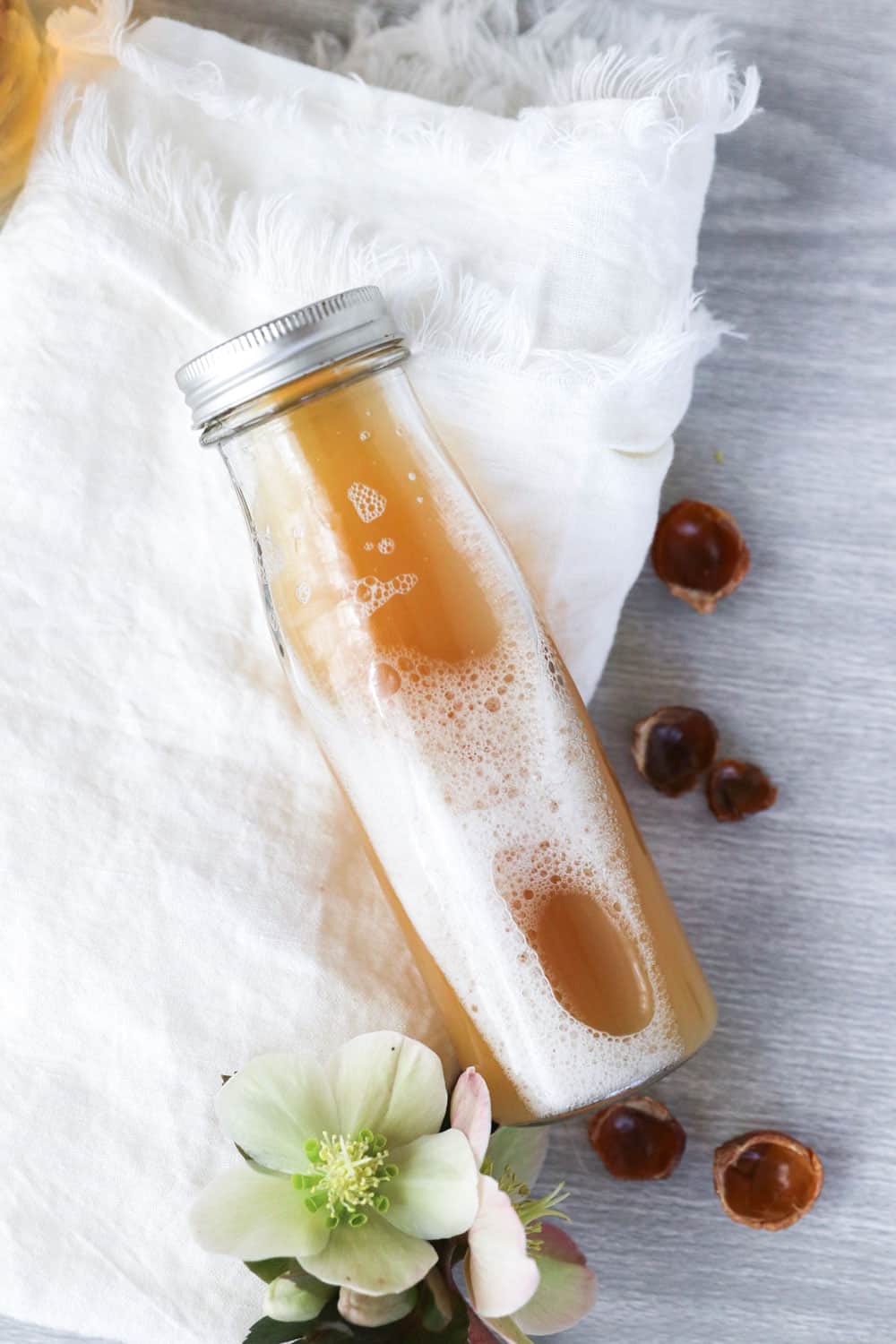 9. Clarifying Apple Cider Vinegar Shampoo
A heavy hitter in my hair care arsenal is a fancy apple cider vinegar shampoo. It clarifies and cleanses at the same time, saving me a step and some much-needed time in the morning. Not to mention, it leaves my hair feeling squeaky clean and softer than anything else out there.
10. Baking Soda Hair Wash
Combine 3 drops of each tea tree, rosemary, and lemon essential oils with ¼ cup of baking soda. Add 8 ounces of water and stir. Tilt head back and pour over scalp and strands. Massage into scalp and hair for one minute then shampoo as normal.
Or simply combine a dollop of shampoo with 1 teaspoon of baking soda in your hand and you've got a simple clarifying shampoo that strips away chemicals and residue that your styling products leave behind.
DIY Shampoo for Volume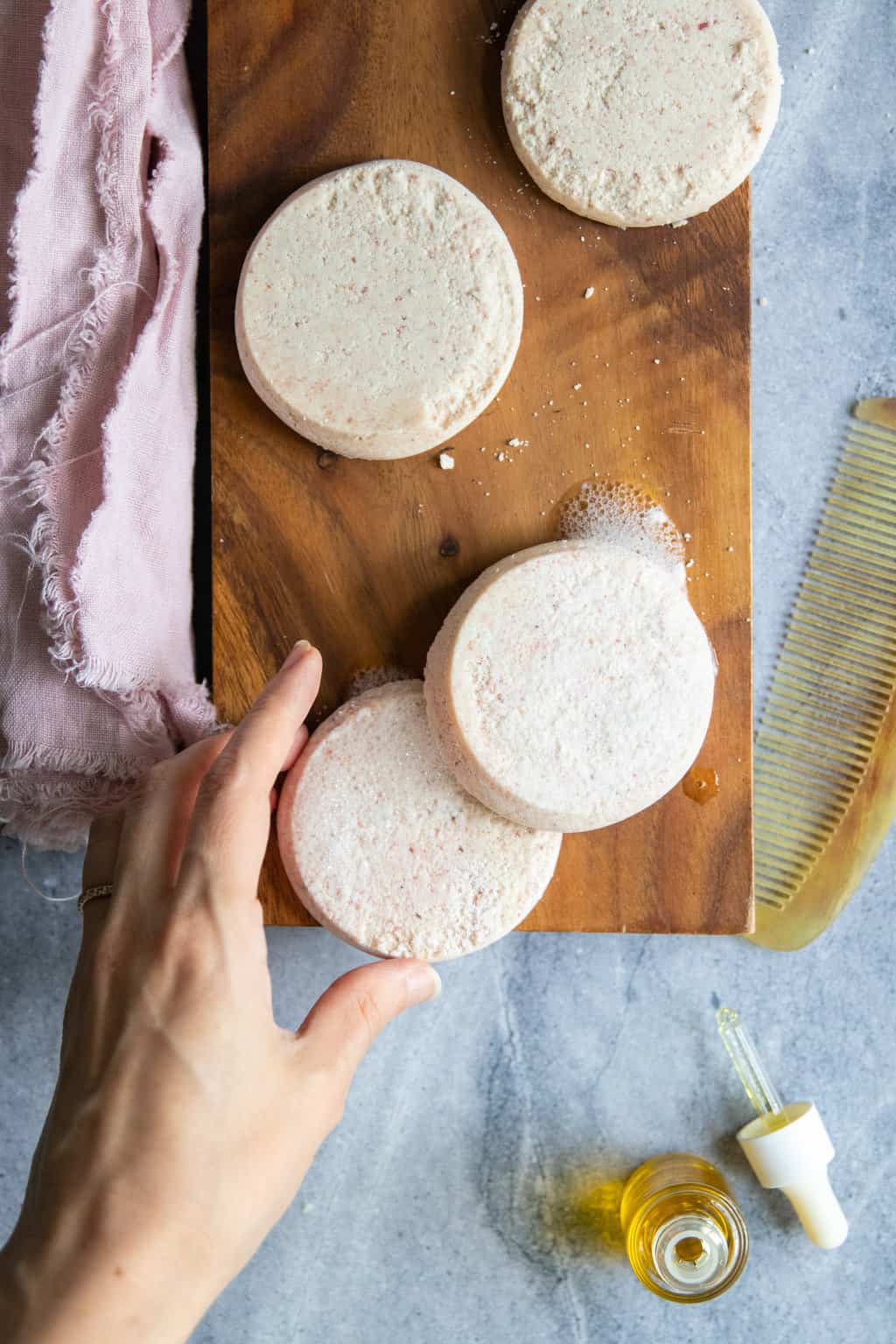 11. Sea Salt Shampoo Bar
Adding salt to your shampoo is an easy trick for volumizing hair. Try this Lush-inspired sea salt shampoo or just combine equal parts shampoo and sea salt in your palm and wash your hair normally.
12. Detox Hair with Clay Shampoo
Clay is known to remove toxins from your skin, and guess what? It does the same for your hair!
It leaves it clean and shiny, with extra volume, and less frizzy. Find out more on how to wash your hair with clay on Mommypotamus or first start with this detoxing clay hair mask.
Using Homemade Shampoo FAQ
Will homemade shampoo lather and cleanse like regular shampoo?
The lathering and cleansing effectiveness of homemade shampoo can vary depending on the ingredients used. Traditional surfactants found in commercial shampoos are responsible for the rich lather, but natural alternatives may produce less foam.
However, homemade shampoos can still effectively cleanse the hair and scalp, removing dirt, oil, and product buildup. You may need to adjust your expectations regarding the amount of lather.
Is homemade shampoo safe for color-treated hair?
Homemade shampoo can be safe for color-treated hair, but it depends on the ingredients used. Some natural ingredients, like henna or chamomile, can enhance or maintain hair color.
However, ingredients like baking soda or lemon juice may have a slight lightening effect and can potentially fade color. It's important to choose ingredients that are gentle and color-safe or opt for specific recipes formulated for colored hair.
How often should I use homemade shampoo?
The frequency of using homemade shampoo depends on your hair type, scalp condition, and personal preference. As a general guideline, most people shampoo their hair 2-3 times a week.
However, you can adjust the frequency based on how your hair feels and reacts to the homemade shampoo. Some individuals with dry or curly hair may prefer less frequent washing, while those with oily hair may need more frequent washing.
How long will homemade shampoo last?
Store homemade shampoo in a clean, airtight container in a cool, dry place. Avoid exposing it to excessive heat or sunlight, as it can degrade the ingredients. Always follow any specific storage instructions provided in the recipe.
The shelf life of homemade shampoo can vary depending on the ingredients used. Generally, it is recommended to use it within a few weeks to a couple of months. However, without preservatives, homemade products may have a shorter shelf life compared to commercial ones.
Homemade Shampoo Tips + Tricks
Here are some tips and tricks for making homemade shampoo successfully:
—Start with simple recipes and gradually experiment with more complex formulations.
—Follow reliable recipes and measurements to ensure proper ingredient ratios.
—Store homemade shampoo in a clean, airtight container to maintain its freshness.
—Label your homemade shampoo containers with ingredients and date of preparation.
—Conduct patch tests on a small area of skin before using a new homemade shampoo.
—Keep a journal to record the ingredients and recipes you try, along with their effects on your hair.
—Be patient and give your hair time to adjust to homemade shampoo, as it may take a few washes to see noticeable results.
Remember, everyone's hair is unique, so it may take some trial and error to find the perfect homemade shampoo recipe that works for you.
102