Apple cider vinegar seems to be one of those natural ingredients that, like coconut oil, works for just about anything. It has a bazillion uses, and, no surprise, it's excellent for your skin. It's easy to make your own at-home skin peel with one of our favorite foods, apples!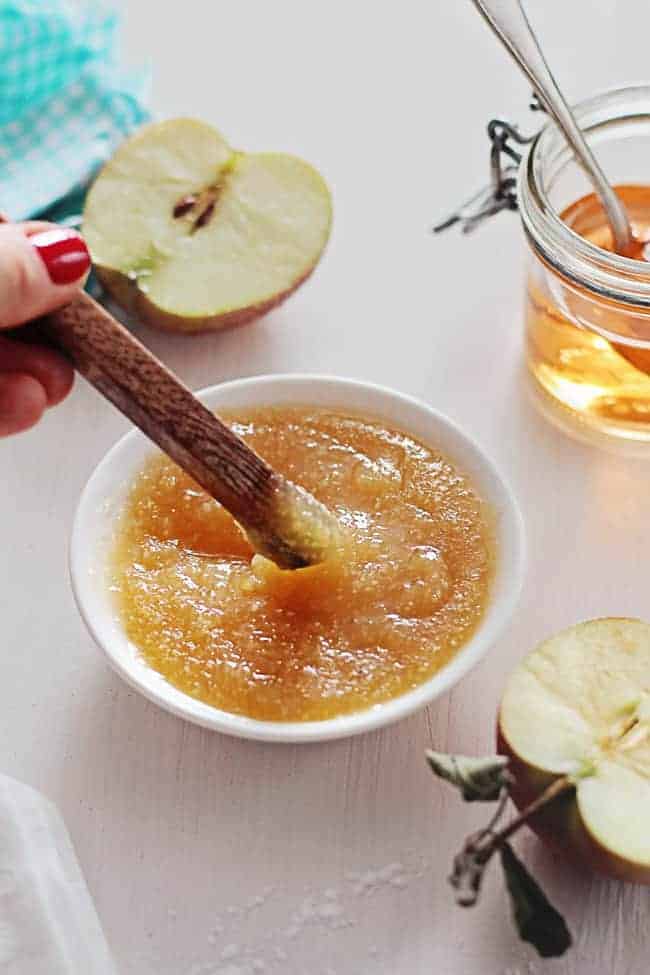 The Benefits of Apple Cider Vinegar
The main ingredient of apple cider vinegar is acetic acid, and it contains lactic, citric and malic acids as well. Those natural fruit acids have a number of skin benefits including exfoliation, which is why it is so great for acne and brightening skin.
The natural acids in apple cider vinegar also help to maintain your skin's acid mantle. With repeated use of harsh creams and cleansers, we can disrupt the delicate acid mantle, which protects skin from germs, bacteria and pollution. One of the things that makes apple cider vinegar so great is that it restores skin's pH balance and helps repair the skin's natural defenses. Plus, applying apple cider vinegar to your face also delivers beneficial vitamins, mineral salts and amino acids deeper into the skin.
Combining apple cider vinegar with organic applesauce ups the dose of gentle, natural acids that clear away dead skin cells. Apples are a naturally potent source of malic acid, which smooths skin but is gentle and unlikely to cause skin irritation.
Combining apple cider vinegar with apples helps kill bacteria, remove excess dirt, oil and makeup, and gently exfoliate by dissolving dead skin cells. Using these acids in a facial peel is particularly helpful for evening out complexions, especially if you have age spots or sun damage.
How To Make an Apple Cider Vinegar At-Home Skin Peel
For this recipe, you need just two simple ingredients:
Before you apply the mask, first remove all make-up and wash your face. Then apply the mask to your face and neck with clean fingers, but avoid the eye area (that will seriously sting!). The mask is a little runny so lie down for 10-15 minutes to avoid it dripping everywhere. Then remove the mask with a soft cloth and cool water and follow with moisturizer. And don't forget to wear sunscreen the next time you head outside.
I recommend this mask at night or before a shower as the pungent apple cider vinegar scent tends to linger! This mask doesn't keep well so it's best to make only enough for one application.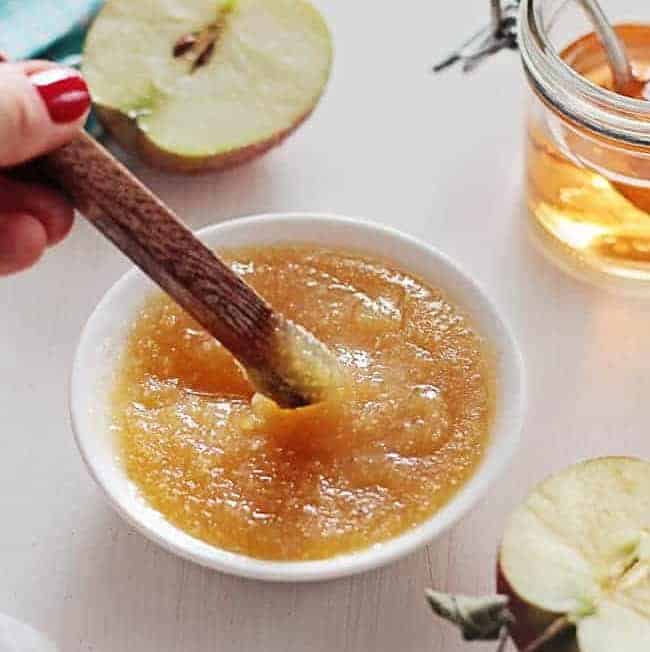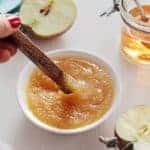 Print
DIY Apple Cider Vinegar At-Home Skin Peel
The natural acids in apples and apple cider vinegar make for an easy and effective at-home skin peel.
Materials
1

tbsp

applesauce, preferably organic or homemade
Instructions
Combine apple cider vinegar with applesauce and stir until well mixed.

Apply the mask to your face, avoiding the eye area, and let it sit for 10-15 minutes. Remove with soft cloth and cool water. Follow with moisturizer.
952