After a long day, I crave a hot shower to help me unwind. Those few minutes of alone time help me process the day's events and reset. I don't usually have time for a long, luxurious bath, so a quick shower does the trick.
Aromatherapy works wonders when you're feeling tired or stressed out. I use essential oils in aromatherapy all the time for that purpose, and these simple shower melts are perfect for de-stressing, relaxation and rejuvenation.
How to Make Aromatherapy Shower Tablets
Lavender and chamomile blossoms both offer calming, soothing benefits on their own, and adding essential oils provides even more benefits. Here's a break down of what different essentials oil can do.
Use a few drops of each in your shower tablets, or pick and choose your favorites for a unique aromatherapy blend. Some oils also have anti-inflammatory and healing benefits—perfect when you're fighting off an illness.
–Cedarwood – calming, soothing, sleep-promoting
–Bergamot – uplifting, relaxing
–Lavender – calming
–Rosemary – uplifting, increases concentration, mental acuity
–Lemon – refreshing, mental alertness, calming
–Peppermint – revitalizing, cooling, invigorating
–Eucalyptus – clarifying
Step 1
Assemble ingredients. These aromatherapy shower tablets are super easy and inexpensive to make—you only need baking soda, essential oils, dried lavender and chamomile, if you have some on hand.
Step 2
Grind chamomile and lavender blossoms. Then combine chamomile and lavender with baking soda.
Step 3
Add enough water so the baking soda holds together in clumps, but the mixture isn't the least bit runny.
Step 4
Press into small decorative pans or silicone molds. One to two tablespoons is enough.
Bake to dry out the tablets. Preheat oven to 350°F and bake the tablets for about 15-20 minutes. When they come out of the oven, they may be a little damp still, but they will continue to dry out as they cool.
Step 5
Add a few drops of each essential oil to the top of the aromatherapy shower tablets and let sit for a bit to absorb the oils. Transfer to a jar and store until ready to use.
Note: I did have a little trouble getting the tablets out of the metal molds, so I opted to leave them in for easier storage. The ones I formed in silicone molds popped right out.
Looking for some more ways to upgrade your shower or bath routine with aromatherapy? It's so simple to make a DIY aromatherapy shower spray, but if baths are more your speed, you'll love these aromatherapy bath salts and bath bombs you can make at home.
DIY De-stress Aromatherapy Shower Tablets FAQ
Should I add the essential oils after the tablets are completely cooled or while they are cooling?
Either is fine. I added the essential oils after the tablets had completely cooled, but you can do either way.
Where can I buy dried lavender and dried chamomile?
I buy both in the bulk spice section of Whole Foods. Sprouts also has them, if you have that store in your area. Or you can find them online. You can also use chamomile tea in this recipe if you already have some on hand!
I'm having trouble getting these tablets out of the mold. What should I do?
When I used metal molds, I did have a little trouble getting the tablets out. If that's the case, you can leave them in the molds for easier storage. The ones I formed in silicone molds, however, popped right out, so that might be the way to go if you're having problems with the tablets sticking.
What is the best way to use these tablets?
When you hop into the shower, you can place a tablet directly on the shower floor and let the steam and water work its magic. These tablets can also be used in the bath if you'd prefer a long aromatherapy soak!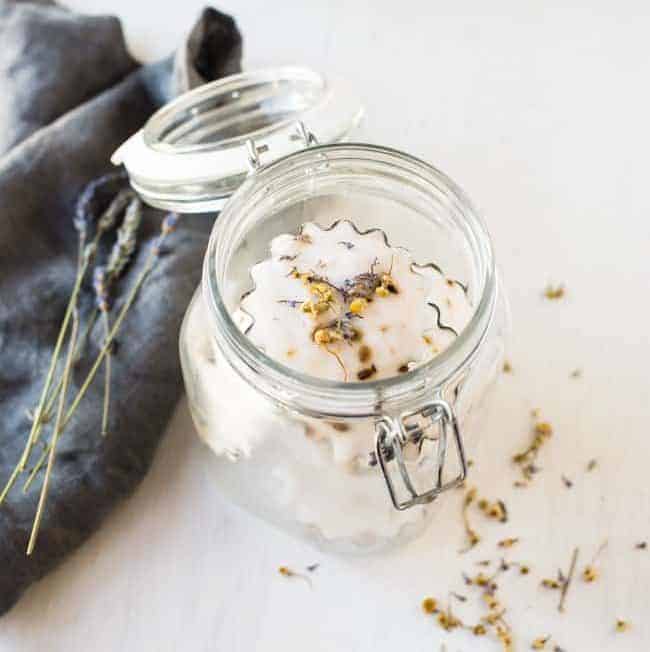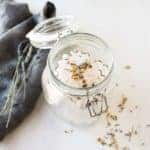 Print
DIY De-stress Shower Tablets with Essential Oils
No time for a bath? Simple aromatherapy shower tablets are perfect for de-stressing, relaxation and rejuvenation.
Equipment
Mixing bowls

Soap mold or other mold, like muffin tin
Instructions
Using a spice grinder or mortar and pestle, grind lavender and chamomile until finely ground; combine with baking soda.

Add just enough water to make a paste that holds together without being soupy or runny. Pack into small molds.

Preheat oven to 350°F and bake the molds for 15-20 minutes. Remove and let cool completely. The tablets will continue drying as they cool.

Sprinkle the tablets with the essential oils and allow to soak in. Transfer to a jar and store until ready to use. If using silicone molds, the tablets will be easier to pop out.
Notes
Alternatively, combine the lavender, chamomile and baking soda. Stir in 10-20 drops each of the essential oils. Do not add water. Transfer the dry mix to an airtight jar and sprinkle 1-2 tablespoons of the powder on the bottom of the shower and turn on the hot water. Can also be added to bath water.
This post was medically reviewed by Dr. Holly Smith, a board certified physician in nephrology and internal medicine with a background in nutrition. Learn more about Hello Glow's medical reviewers here. As always, this is not personal medical advice and we recommend that you talk with your doctor.
306