Without a doubt, one of the biggest beauty must-haves is a big pair of sunglasses. While I may not look as cool as Jackie O, I'm still addicted to big eye-covering shades. And every year I lose a pair (or several) because I don't take care of them. They toss around in my purse getting scratched or broken. And, of course, because they are lost in that black hole I can never find them. So a simple no sew DIY sunglass case is just thing thing for summer.
I used a bandana for the fabric because I loved the black and white patterns. There's enough fabric in one bandanna for several cases so make one for a friend – or mom!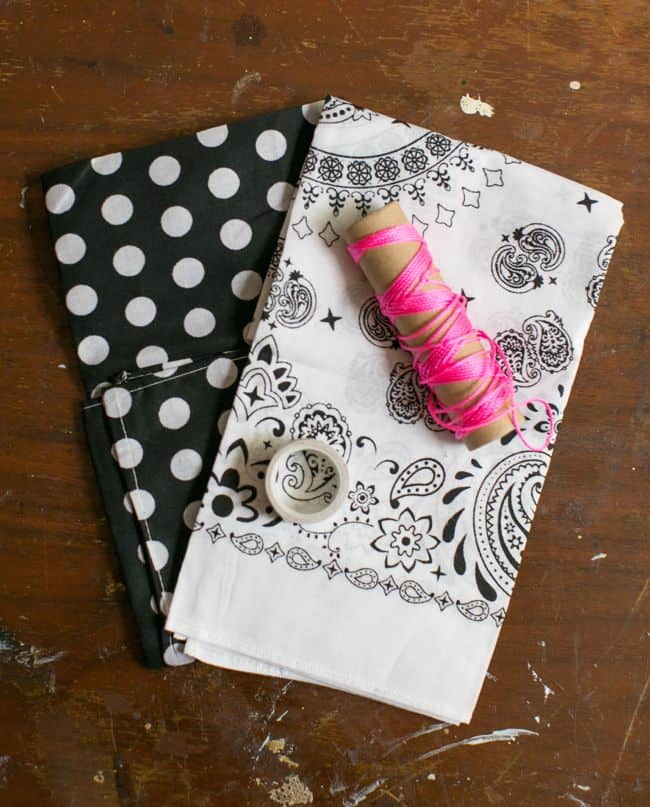 Supplies needed:
Bandana
Colorful rope or cord
No sew tape. You have some of this by now, yes?
Scissors
Instructions
Cut a piece of fabric from the corner about 10.5 inches wide by 8 inches tall. If you have supersize sunglasses test the fit before cutting. Use the corner so you already have two seemed edges – you'll need less tape. If you're making several cases and run out of corners, then cut one long piece of fabric and fold in half so you don't have to tape the bottom.
Fold the fabric in half and line up the cut edges. Try your sunglasses to make sure they fit. I ended up trimming my down to about 8 inches wide. Then apply the fabric tape along the edges (I cut it half usually for a thinner strip). Peel away the backing and press fabric together. Don't worry about it coming apart – I've been washing my zipper jeans for about a year and the tape is still holding!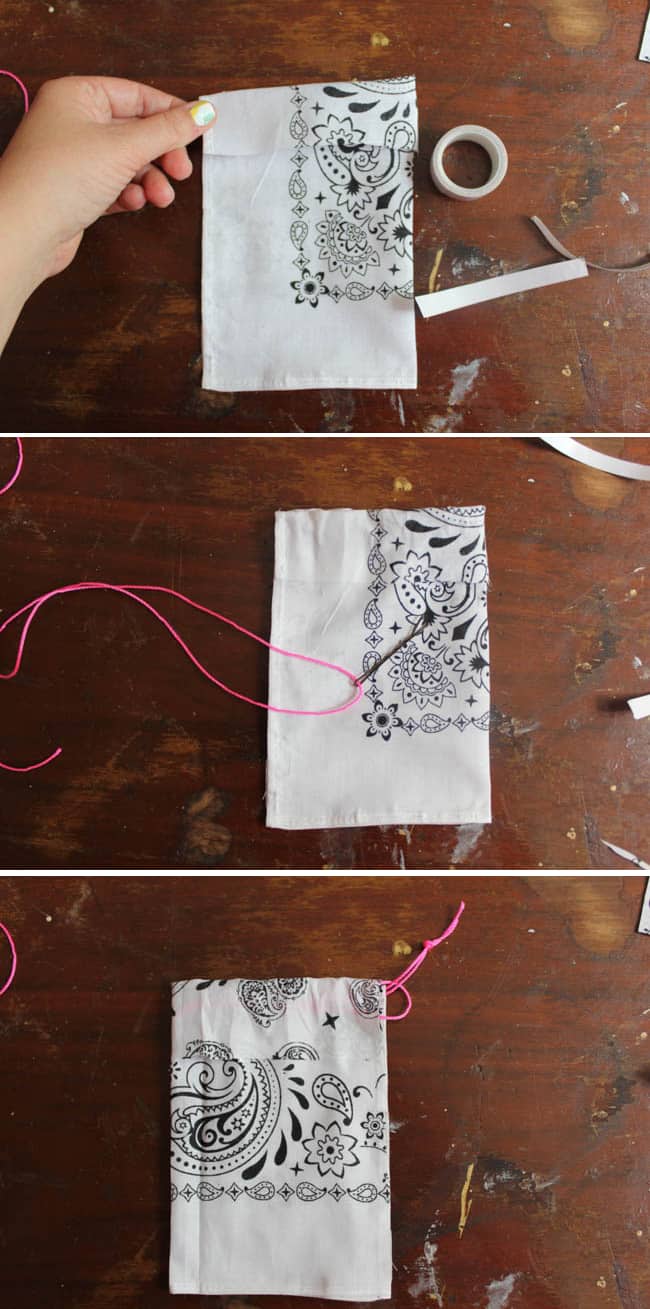 Fold the top down about 1.5 inches and tape. Note: you can also fold down and tape the top edge before folding the case in half. This may make feeding the string easier!
Cut a 25 inch piece of string and fold in half. Find the middle and pull through the top with a bobby pin. Pull the ends through the loop and knot. Cut any excess. Add tape to any remaining areas.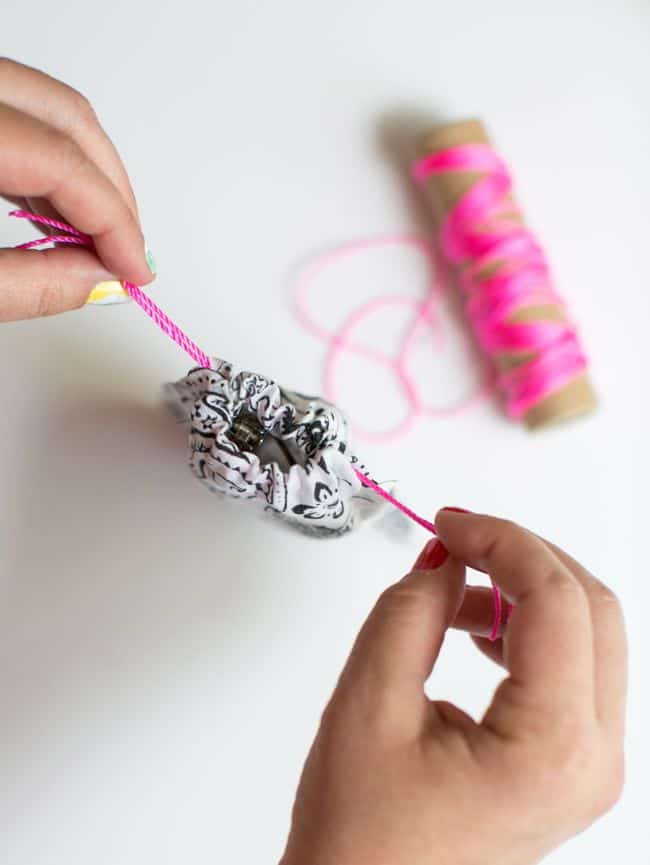 Instead of using one pull, you can bring the strings out of both sides. Either way works!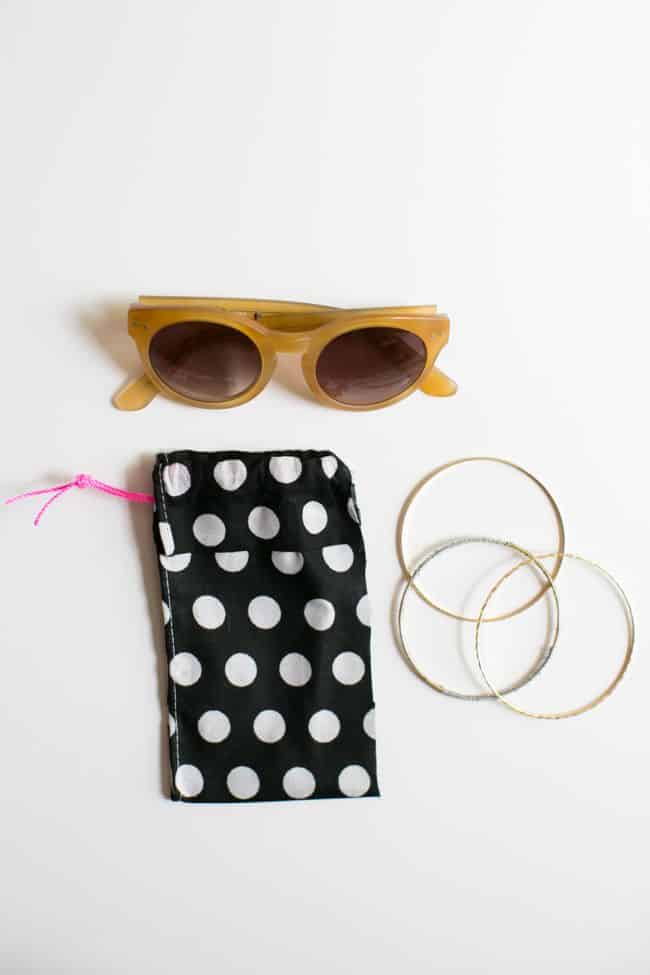 Do you have a favorite pair of sunglasses? I love my current pair, and I'm determined to make them last all summer!
38