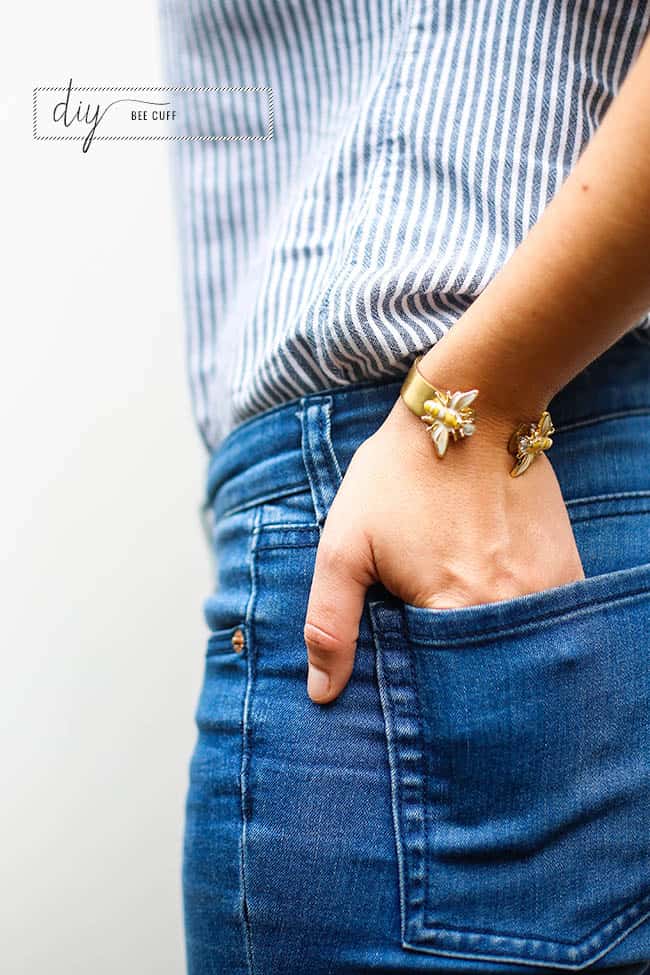 I've spotted a lot of buggy jewelry lately and have come to the conclusion that it must be a trend. Not being a huge fan of bugs, it's somewhat hard to get excited about wearing them. But bees are one of the cuter insects, right? Those and maybe ladybugs are okay in my book. I found the perfect simple cuff and decided to wear it backwards with a bit of bee embellishment. Here's how to make your own – and tips on working with enamel because that stuff is trickier than it looks!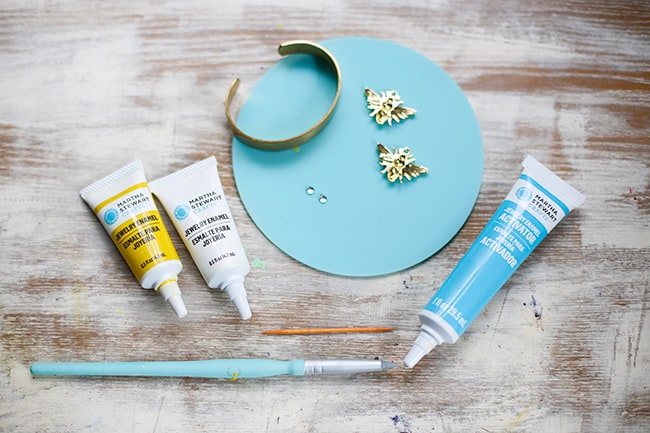 Supplies need:
2 Martha Stewart bee enamel blanks
2 tiny stick on rhinestones
Yellow & white jewelry enamel
Jewelry enamel activator
Tooth pick
Silicone work mat and tip brush (optional)

After getting samples of Martha Stewart's new jewelry enamel products a few months ago we tried painting a few charms with less than stellar results. This time, with a relatively flat surface to paint on (the bee charm), it was much easier!
The enamel kit provides thorough instructions and for best results should be followed carefully. On your enamel mat, mix 2 parts activator to 1 part color. There are 2 different techniques that you can use to apply the enamel. If you use your enamel straight away after mixing, it's looser and will look more transparent after drying.
But if you wait 3 hours after mixing the enamel, it will thicken up a bit. The extra thickness makes it easier to apply – and also helps keep the enamel in place. One of our biggest challenges was having the enamel run off the charm surface before it could dry! That's why you might start working on a flat piece before trying one with curves.
When your jewelry enamel is mixed and ready it's time to apply to the charm. Wipe the charm with rubbing alcohol on a cotton ball or cloth. Use a toothpick or silicone enamel tool and carefully paint in the desired areas with the enamel. Once the enamel is in place, wait between 24-72 hours to dry completely.
After is has dried, then glue on the tiny rhinestone bead to cover the jewelry loop and hot glue the charms onto the cuff.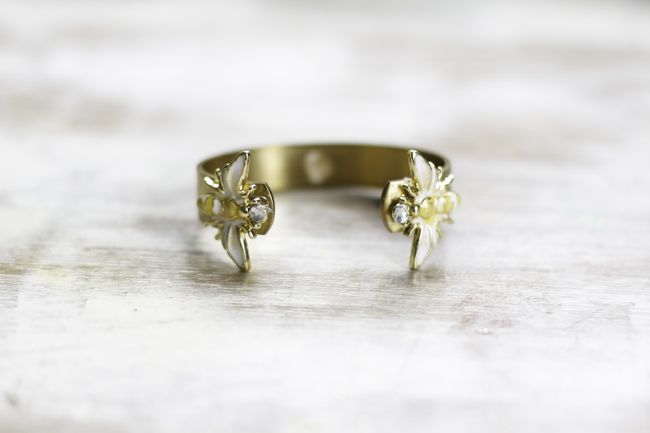 What do you think? Are you a fan of wearing insects?
7