It happened again over spring break—poor Caroline's blonde hair turned green from all the hours spent in the swimming pool. We treated the green, and I started conditioning her hair like crazy. But, I'm embarrassed to admit, my kids see me coming with the jar of coconut oil, and they start running!
So I made this coconut milk conditioner spray with hair-strengthening ingredients like argan oil, coconut milk, and yes, coconut oil—and it doesn't look like I'm using coconut oil! I call that a win-win.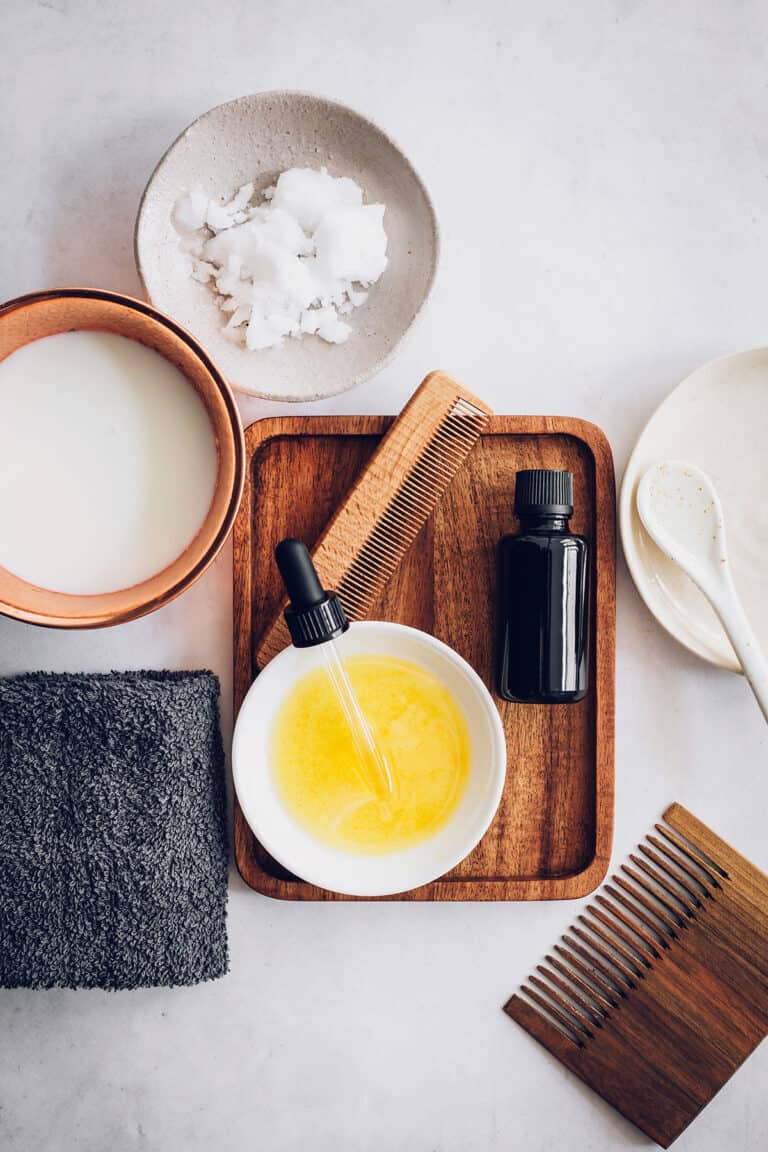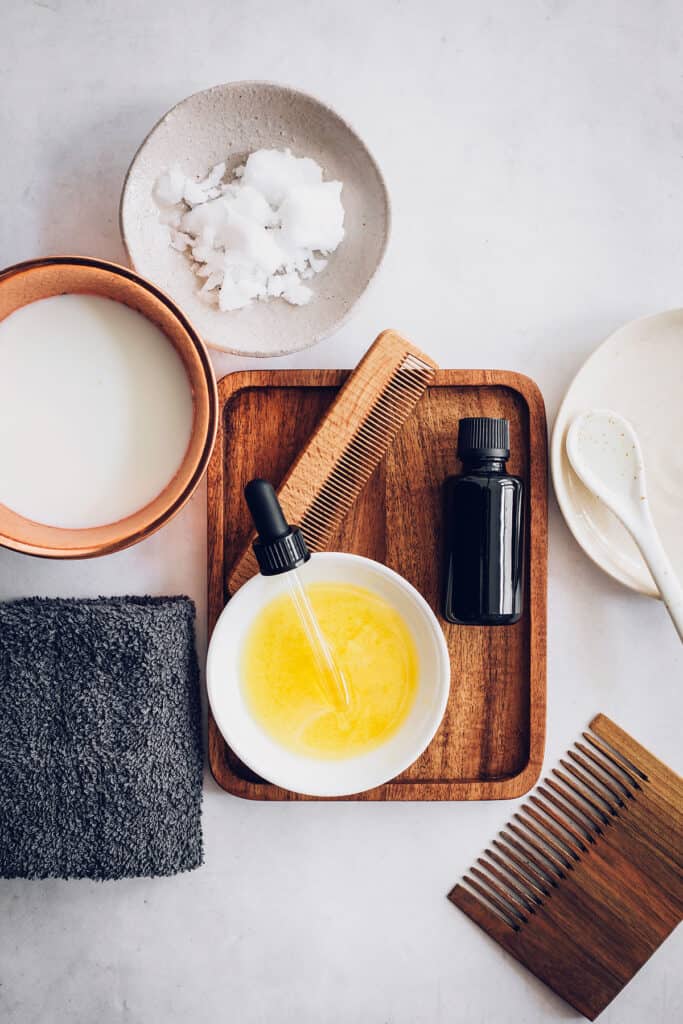 Why coconut milk
?
I was surprised to learn how good coconut milk is for skin, but also for the hair. Its high fat content, proteins, and vitamin E nourish hair from roots to ends, helping to restore thinning hair, split ends, and dry, damaged hair. It also works as a conditioner and detangler while improving hair growth.
You can use it in homemade shampoo or as a leave-in conditioner to thicken strands and provide volume without making hair greasy. But it does need to be refrigerated, so keep your coconut milk in the fridge.
The other ingredients provide a laundry list of benefits for hair:
Argan oil is a mega moisturizer for hair. It's great for controlling frizz and adding shine to dull hair. It has also been said to help thicken hair and prevent thinning [source].
Jojoba oil is ideal for healthily hydrating skin and hair because it's anti-inflammatory [source]. It has also been shown to work well as a conditioning agent that prevents breakage, even in chemically treated hair [source]. Use it to both add condition and tame frizz.
Coconut oil is great for just about everything (we even use it in hairspray). It has been shown to help prevent protein loss from hair and to help prevent scalp infection [source]. Use fractionated coconut oil so the conditioner doesn't solidify.
Essential oils like rosemary [source], lavender [source], peppermint [source] all are great for strengthening hair and preventing thermal damage.

Leave-In Coconut Milk Conditioner Spray
Add the oils to an empty 8-ounce spray bottle, and then add 10 drops of a hair-approved essential oil and swirl together. If you're growing your hair, try this hair growth essential oil blend.
Then add the coconut milk. If you open the can of coconut milk and it's solid, dump it into a bowl first and whip it to get a smooth texture. After you add the coconut milk to the spray bottle, swirl the bottle to fully combine the oils and milk.
You'll want to keep the coconut milk conditioner spray in the refrigerator, so just set it out on the counter for a few minutes before you plan to use it to let the ingredients soften. Then shake again to combine and spritz directly onto the hair, concentrating on the ends.
After mixing up the conditioning spray, use the leftover coconut milk for an immediate hair mask. Or feel free to make some chia pudding!
If you have extra oil, you can let it cool and use it as lip balm or lotion. Or you can also whip it to make a deep conditioning hair mask.
How to Use a Leave-In Conditioning Spray
How and when to use leave-in conditioner really depends on your hair type. But these tips will get you started:
1. Wash and gently towel dry your hair to remove excess moisture.
2. Spray the leave-in conditioner on your hair, concentrating on the ends. If you have thin or oily hair, it's best to avoid the roots since conditioner can weigh down your hair. If you don't, apply it to roots as long as it works for you and your hair type.
3. Comb through your hair using a wide-tooth comb.
4. Let hair air-dry or style as usual.
Feel free to experiment with the amount you use and how you apply it. And as always, do what works best for you.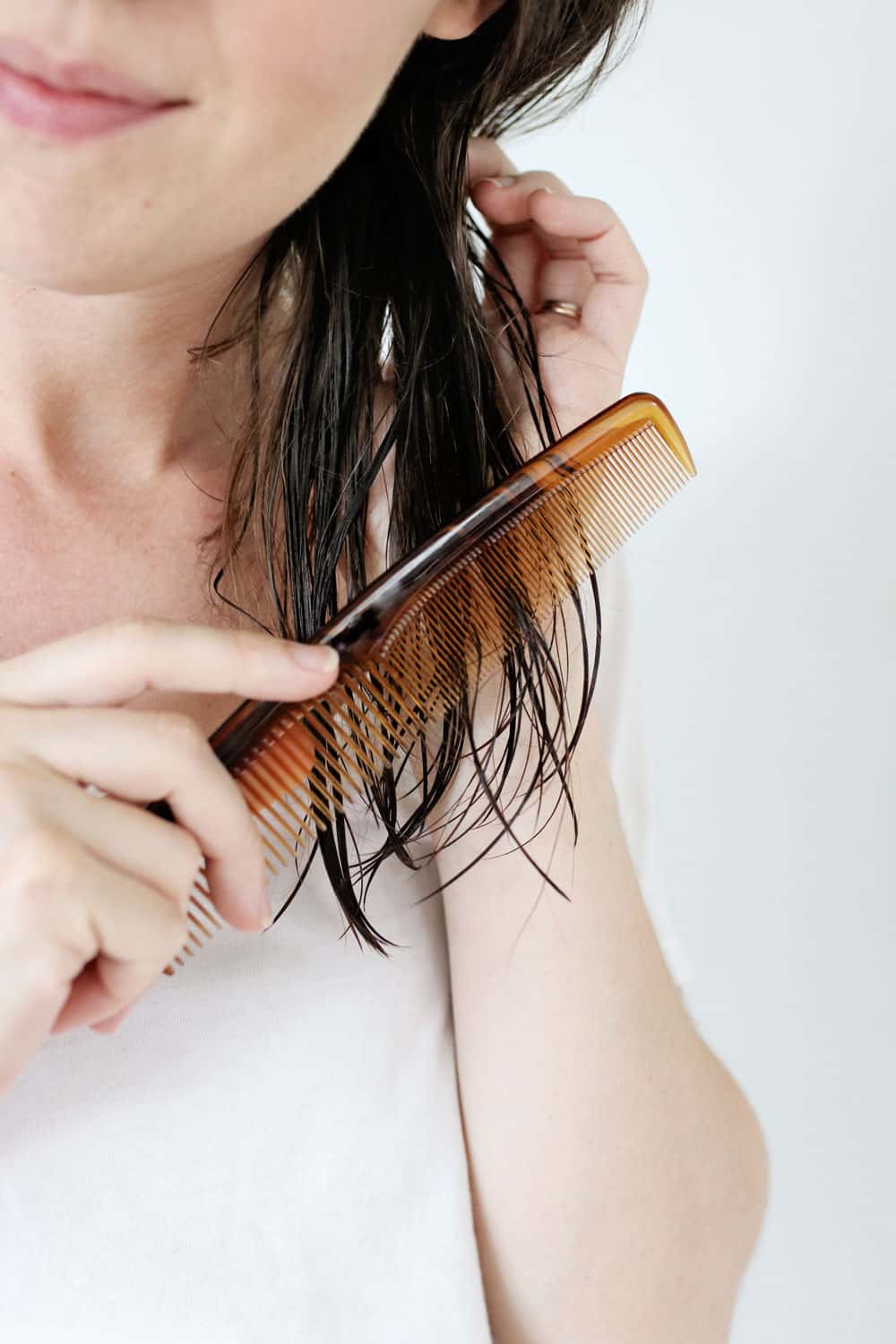 Conditioner Spray FAQs
How long will this conditioner last
?
Canned coconut milk only lasts a few days, even if refrigerated. I recommend keeping it in the fridge for up to a week and then making a fresh batch. To make it last longer, switch out the coconut milk for hair conditioner, aloe vera, or rosewater.
Can this recipe be used on colored hair
?
Yes, it should be helpful. If you're especially concerned, test it on a small patch of hair to verify the colorfastness before applying all over.
Can I use canned coconut milk
?
Yes! In fact, that's what we used.
Can I use vitamin E as a natural preservative
?
If you're going to use a preservative, I recommend using a full-spectrum one made specifically for homemade beauty products, like Leucidal Complete.
Can I leave the coconut milk out to keep it from solidifying
?
Yes, you can skip the coconut milk entirely, but that will affect the texture of your conditioning spray. You might need to adjust the other ingredients in order to find a blend you like.
More summer hair care
5 DIY Sprays To Protect Your Hair from Sun, Heat & Humidity
10 Summer Hair Care Products to Stop Buying and Start Making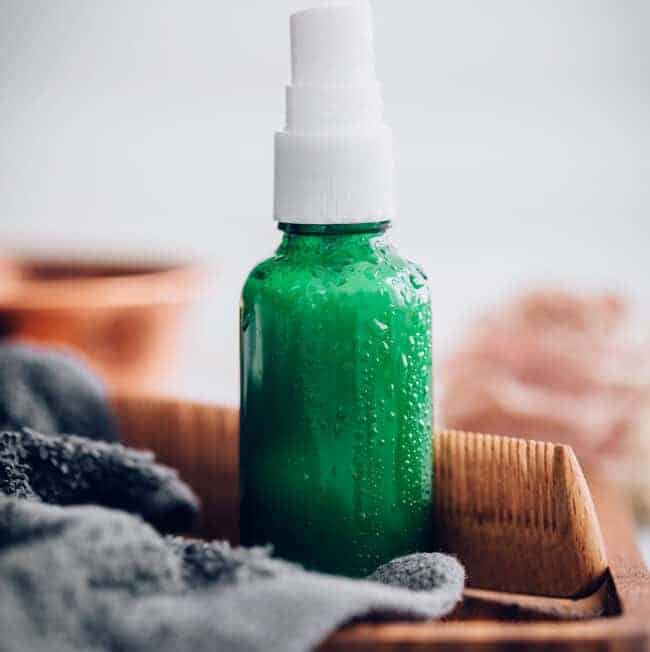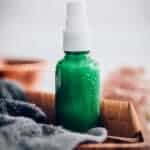 Print
Coconut Milk Leave-In Conditioner Spray
Nourish hair with this DIY Leave-In Coconut Milk Conditioner that helps restore thinning hair, split ends, and dry, damaged hair.
Instructions
Melt coconut oil and stir in the jojoba, argan, and essential oils. Fill an empty spray bottle 1/4 of the way with melted oils and the rest of the bottle with coconut milk. Replace cap and shake to combine.

To use, spritz directly onto damp hair, concentrating on the ends. Comb through and leave on.
Notes
You'll want to keep the conditioner spray in the refrigerator, so just set it out on the counter for a few minutes before you plan to use it to let the coconut milk soften. Then shake again to combine and spritz directly onto the hair, concentrating on the ends.
There's no need to rinse it off unless you have fine hair and/or notice it feeling greasy after use.
This post was medically reviewed by Dr. Rina Mary Allawh, M.D., a dermatologist who practices adult and pediatric medical dermatology, skin cancer treatment, and cosmetic dermatology. Learn more about Hello Glow's medical reviewers here. As always, this is not personal medical advice, and we recommend that you talk with your doctor.
Photos by Ana-Maria Stanciu
400