It happened again over spring break – poor Caroline's blonde hair turned green from hours spent in the swimming pool. We treated the green, and I started conditioning her hair like crazy. But, I'm embarrassed to admit, my kids see me coming with the jar of coconut oil and they start running! So I made this hair conditioning spray with hair strengthening ingredients like argan oil, coconut milk and, yes, coconut oil.
Why coconut milk?
I was surprised to learn how good coconut milk is for hair. Its high fat content, proteins and vitamin E nourish hair from roots to ends, helping restore thinning hair, split ends and dry, damaged hair. It also works a conditioner and detangler while improving hair growth. You can use it in homemade shampoo or as a leave in conditioner to thicken strands and provide volume without making hair greasy. But it does need to be refrigerated so keep your coconut milk in the fridge.
The other ingredients provide a laundry list of benefits for hair.
Argan oil is a mega moisturizer for hair. It's great for controlling frizz and adding shine to dull hair.
Jojoba oil is ideal for healthily hydrating skin and hair because it mimics the natural oils our bodies produce. Use it to add condition and tame frizz.
Coconut oil is great for just about everything (we even use it in hair spray).
Essential oils like rosemary, lavender, peppermint all are great for strengthening hair
Coconut Milk Leave-In Conditioner Spray
Supplies
1/4 cup coconut oil, melted
1 tablespoon jojoba oil
1 tablespoon argan oil
10 drops essential oil of choice
Full fat coconut milk
Instructions
Melt coconut oil and stir in jojoba and argan oils. Fill empty spray bottle 1/4 way with melted oils and fill the rest of the bottle with coconut milk. Replace cap and shake to combine. Keep refrigerated. If you have extra oil, you can let it cool and use it as lip balm or lotion. Or you can also whip it to make a deep conditioning hair mask.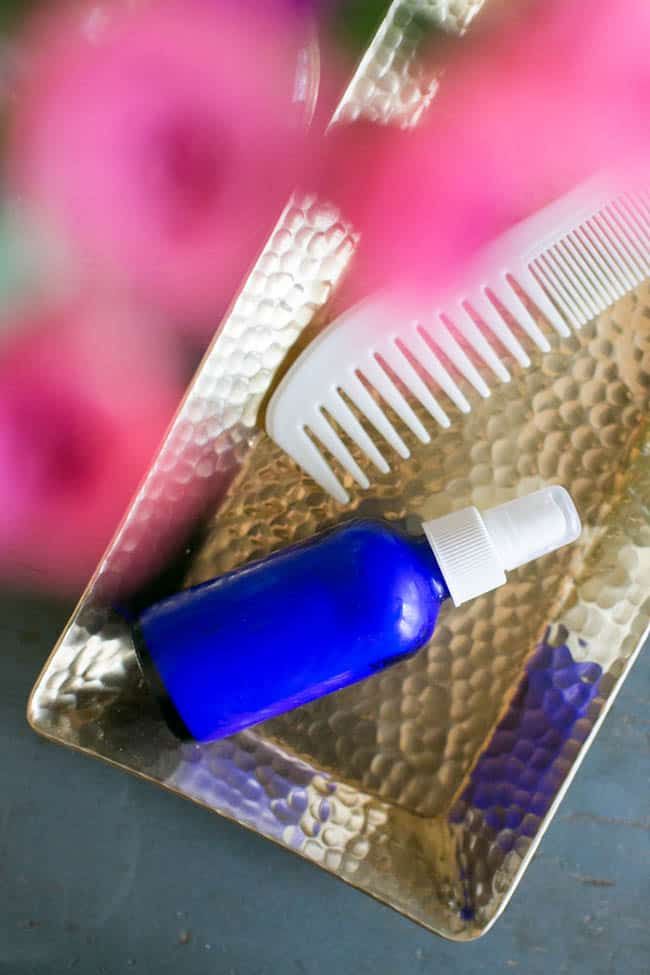 How do you keep your hair healthy in summer?
193