Winter can make shaving a bit brutal, but you shouldn't neglect your gams! Good shaving technique is especially important in winter because dry legs are more prone to irritation and razor burn. While just fixing your shaving mistakes can help you get smooth, soft skin every time, we wanted to up the ante by making our own super-nourishing coconut oil shaving cream. No surprise, we loved it!
Here's a recipe for homemade shaving cream, along with 9 tips for getting the perfect shave.
How to get the perfect shave

1. Start with the right tools
A good razor is essential. Toss that old, dull one you've been using and replace it with one that has multiple blades. Grab a gentle exfoliating scrub (skip the loofah as they carry a lot of terrible bacteria that can introduce infection) and your shaving cream and head to the shower or bath.
2. Soften skin in warm water
Open pores mean a closer shave. So save the shaving for last, and let the warm water soften skin and separate the hair from your skin while you wash your hair. You'll get a closer shave and prevent razor burn.
3. Don't forget to exfoliate
Take a few extra minutes to exfoliate before you shave. A quick scrub will get rid of dead skin and help clear away pore blockages that could lead to ingrown hairs. Use a sanitized exfoliator or one of these fall body scrubs to slough off dry skin.
4. Use a moisturizing shaving cream
After you exfoliate, apply this shaving cream to soften the hair.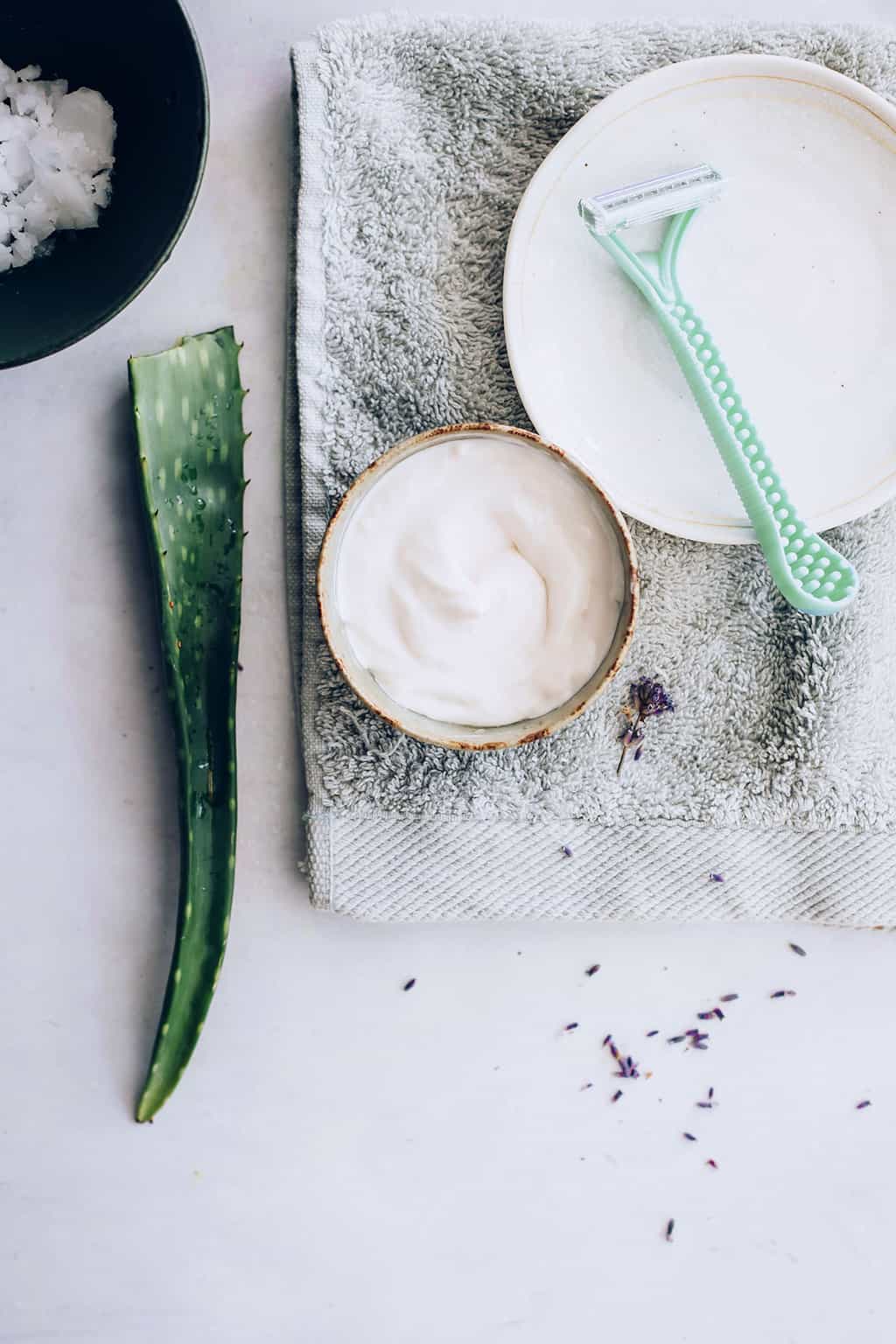 Coconut oil shaving cream
Melt the coconut oil and combine with other ingredients. Stir together and store in a plastic container. Apply a thin layer to skin and let sit a couple of minutes before shaving.
The aloe will soften hair and act as an anti-inflammatory [source], while the coconut oil moisturizes skin, helping to prevent razor burn and skin irritation. They are both known to have antibacterial effects, which help to prevent skin infections [source].
Add the essential oil of your choice to the mixture. Peppermint will give a cooling sensation, lavender is soothing, and tea tree is a good antiseptic if you cut yourself [source].
If coconut oil hardens or separates between uses, put the container under the shower stream before shaving to warm it up.
Store leftover shaving cream in the bathroom for up to 2 months.
5. Go against the grain
You have a new razor (right??), your hair is soft, and the pores are open—you're ready to shave! Glide the razor lightly over skin, going against the direction of hair growth. Don't shave the same area of skin multiple times as it can lead to cuts and razor burn. If you're having to shave multiple times, then it's time to replace your razor blade.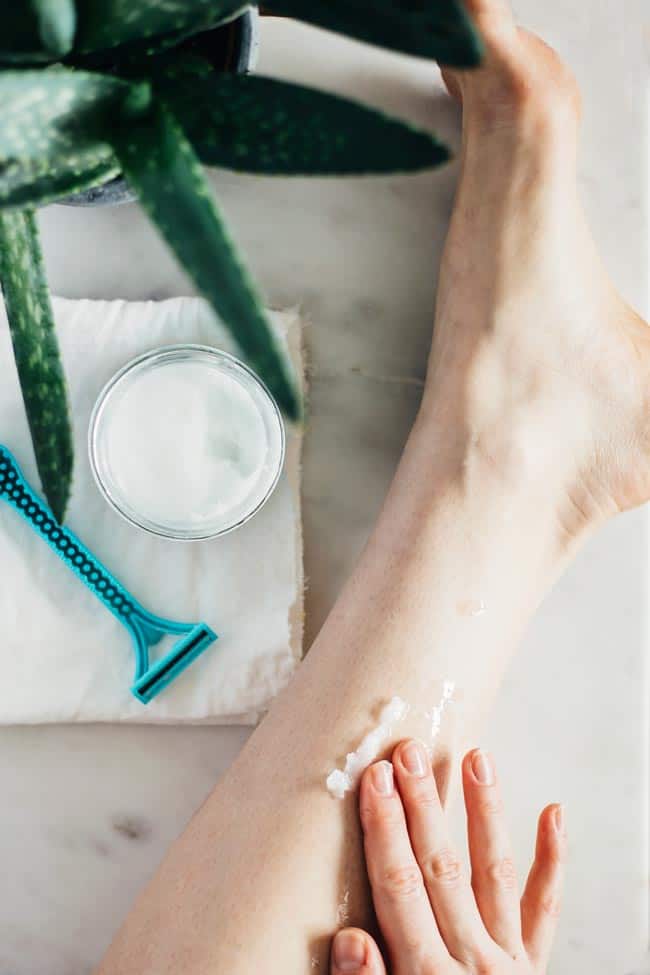 6. Rinse + pat
Rinse with cool water, and pat dry with a soft towel. Don't rub; that will irritate skin.
7. Apply moisturizer
Even though our coconut oil shaving cream is pretty moisturizing, if you have dry skin, it's best to apply a gentle moisturizer after toweling off. Switch to a heavier moisturizer in winter, or just slather yourself in coconut oil.
8. Soothe bumps
Aloe vera is the perfect antidote to the dreaded red bumps. Apply aloe vera or this cooling razor burn spray to any rashes for instant cooling, soothing relief.
9. Slow down hair growth
Continue to gently exfoliate between shaving to slow the rate of new hair growth.
Shaving FAQ
Will placing a warm towel over my legs for a couple of minutes help open my pores even further?
I swear by the ol' spa warm towel trick for softening skin and opening pores on the face, so it will probably do the same for your legs. Just remember, you don't want the towel to be hot enough to burn you. As long as it's warm enough to create steam, it should do the trick.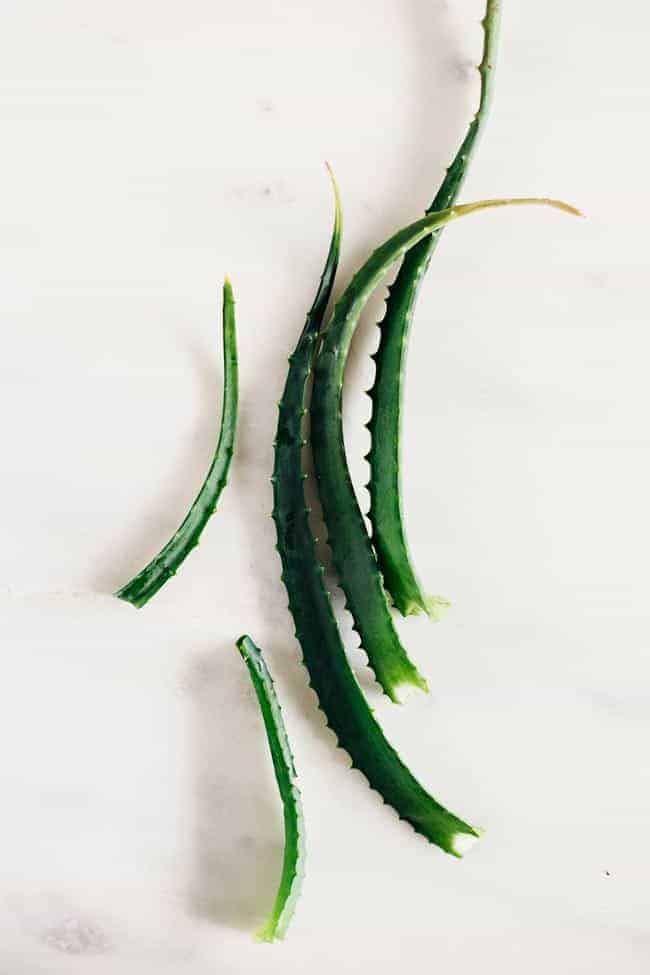 Can I use fresh aloe vera gel in my shaving cream?
Yes, you can, but fresh aloe vera has a short shelf life. You'll need to store your shaving cream in the refrigerator and use within 2–3 days to keep it from growing mold.
Even after using shaving cream, I still get ingrown hairs. Any tips?
Ingrown hairs are tricky little buggers, aren't they? If the above tips still don't get you the gams of your dreams, this post is full of tricks for tackling razor bumps of all kinds.
I've had problems with coconut oil causing breakouts. Will this make razor burn or ingrown hairs worse?
It's true that coconut oil can be comedogenic for some people [source]. If you've had trouble with coconut oil causing breakouts in the past, I recommend using a pure oil from a high-quality brand such as Dr. Bronner's. It's the only brand I use on my face since it doesn't wreck my skin, and it should be great for legs as well.
Why aren't my legs totally smooth after shaving?
When it comes to shaving, the closer you can get to the root, the smoother your legs will be. That means exfoliating, using a sharp razor, and taming post-shave irritation every single time.
But if you're still battling stubble, you might want to give sugar waxing a try. We cover the ins and outs of making your own sugar wax at home in this post.
This post was medically reviewed by Dr. Jennifer Haley, a board-certified dermatologist with extensive experience in medical, cosmetic, and surgical dermatology. Learn more about Hello Glow's medical reviewers here. As always, this is not personal medical advice, and we recommend that you talk with your doctor.
481