The number one question we get at Hello Glow is: Where did you get that bottle?! (Second most commonly asked: How long will the recipe last? We have a guide for that, too.)
After years of DIYing, we have a container for just about every cleaning, beauty or food concoction. Because nothing is more irritating that starting a project and not having the right size/type of storage container. Our favorites need to a) be pretty to look at and b) help our homemade lotions and potions last longer.
In fact, my absolute favorite jar is a recycled jar of jam. It's both pretty and practical (i.e., cheap). We've rounded up our favorite types of storage containers, but you can't beat reusing any type of glass jar. Just be sure to clean and sanitize it before using.
Homemade products don't contain preservatives and can go bad quickly if not stored properly. So keep the lids on and moisture out.
The Best Bottles and DIY Containers
If you're making your own beauty products or whipping up a DIY for the holidays, rest easy knowing these babies will look great sitting on your bathroom counter or wrapped up as gifts. In fact, we did a whole post on beauty gifts in a jar!
1. Mister bottles
Use for: room spray, pillow spray, face mist, hand sanitizer, body spray
When it comes to spray bottles, it's important to choose higher-end options, because you run less risk of having a nozzle or spritzer breaking the second time you use it (has this ever happened to anyone else?)
The ones we love are only slightly more expensive than their cheap-o counterparts, and they stand the test of time. They're also pretty to look at – bonus!
Mister Bottles – Our go-to for room sprays, pillow sprays and body mists, Rail19's mist spray bottles look gorgeous sitting on a bedside table or vanity. This post isn't sponsored but we love everything Rail19 does so we teamed up with them to give away a trio of mister bottles (the ones pictured above, to be exact).
Small Spray bottles – For smaller jobs like face mists and homemade perfume, small glass atomizers are perfect.
Spritzer Bottles – Unlike clear spritzer bottles, these will keep oil-heavy beauty recipes fresh and protected from sunlight.
Use for: cleaning recipes, hair rinses or conditioning sprays
Seriously, there's nothing more annoying than reaching for your homemade cleaner only to have the nozzle break. Quality matters, which is we love glass spray bottles. They last for years and spray perfectly every time.
3. Essential oil bottles
Use for: Essential oil blends, face oil, serum, oil cleanser
Two things to remember when bottling essential oil recipes: size and color.
You probably won't be using many big bottles as most recipes are usually only a few ounces. And if it's a 2 ounce recipe it's good to use a 2 ounce bottle as any excess air will cause oils to degrade faster. And keep the lid on tight.
Also, essential oils break down easily and are affected by light, so use a dark bottle, either amber or blue in color.
Amber Bottles – These are perfect for holding your own essential oil blends and protecting them from damaging sunlight.
Amber Dropper Bottles –The only real difference between these and the amber bottles above is that these come with a dropper in the lid. We use dropper bottles for holding individual oils, blends and beauty recipes, such as serums and oil cleansers, that are often applied in larger quantities.
Use for: perfume, cuticle serum, headache oil blends
Roller bottles are perfect for homemade essential oil perfume, cuticle serum, headache oil blends, and anything else you might like to roll on.
Use for: lotion, hand soap and body wash
To be safe, most homemade beauty products should be stored in the refrigerator so they don't go bad quickly. But glass bottles with airtight lids certainly help. If you plan to store your potions on the bathroom counter, look for dark or amber colored bottles.
6. Jars with lids
Use for: bath salts, body scrubs, balms, body butter, infusions
Jars and aluminum tins are our favorite way of storing lotions and balms. Some of the smaller ones easily tuck into a purse pocket and look great on your nightstand, while the larger ones are better for kitchens and bathrooms/.
Weck Jars – We love ourselves some Weck jars because they're so easy on the eyes. When used with the rubber seal and clamps that come with the jar, they're pretty airtight. They also come in tons of different shapes and sizes so browse around for ones that suit your needs.
Swing Top Jars – Another favorite, we use these a lot for lotions.
Amber Jar with Lid – Like with essential oils, sometimes you have ingredients that might degrade quickly, in which case you might want to opt for an amber jar.
Tall Weck Jars– While still technically a jar, we use these for things like making sun tea since they have a wide mouth that can fit herbs and a removable lid. They shouldn't leak if you use the rubber seal and metal clamps that come with it.
Use for: lip balm, body balm, lip scrub, solid perfume
They're compact, so they travel well, and they're pretty enough to give as gifts.
Use for: shampoo, conditioner, body wash, toothpaste, makeup brush cleaner
Plastic is helpful in the bathroom where there's a greater risk of bottles slipping and breaking. Squeeze bottles in various sizes are ideal for holding homemade recipes.
Use for: toner, mouthwash, hair rinse
Apothecary bottles are a gorgeous way to store different beauty products. They come in both clear and amber, depending on your needs. Just look for ones with a lid or cork to help keep the air out.
Use for: infused oils, body oil, bubble bath or food recipes like
kombucha, salad dressing, juice
Food safe bottles are a different beast entirely. They don't need to be colored to protect their contents, but they do need solid lids so they won't leak all over everything. These can hold everything from homemade apple cider vinegar to flavored oils and everything in between.
Reusable Beverage Bottles – We like these for holding juices and smoothies, but they'll work for just about anything. They're also leak-proof so feel free to toss them in your purse or take 'em to the gym.
Use for: bath salt, storing bath bombs or scrub cubes
Sometimes a tiny jar just don't cut it! A big jar comes in handy if you're making a big batch of bath salts or when you need to store homemade bath bombs, shower steamers, or scrub cubes. Your homemade creations will last longer in an airtight container.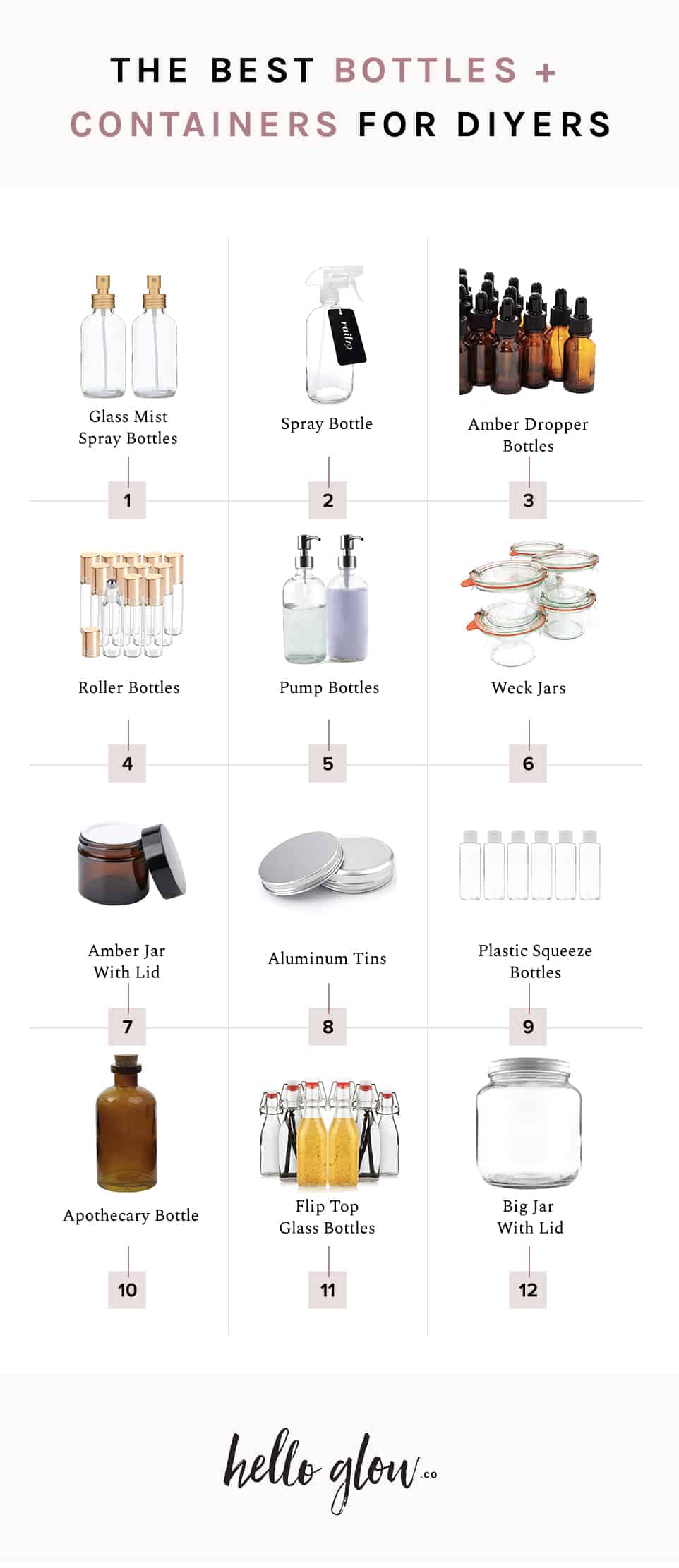 15