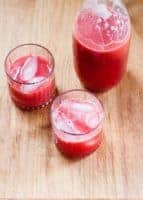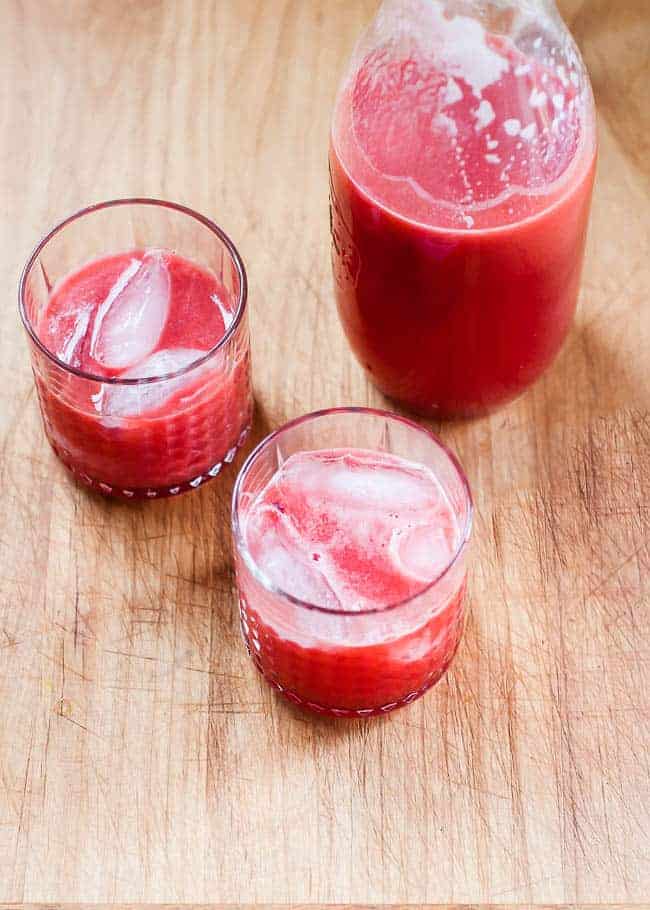 Strawberry Hibiscus Cooler
Yield 8
A refreshing summery beverage made from strawberries and hibiscus simple syrup and a splash of vodka.
Ingredients
1 cup Hibiscus Simple Syrup
1 cup water
1 cup fresh or frozen strawberries
1/2 cup fresh squeezed lemon or lime juice
For serving - ice and vodka (or sparkling water)
Instructions
Place Hibiscus Simple Syrup, water, strawberries, and fresh lemon or lime juice into a blender. Puree. Strain into a pitcher.
To serve, pour 4 ounces of the mixture over ice and add a splash of vodka or sparkling water.
Notes
To make the simple syrup: combine 1/2 cup organic evaporated cane juice and 1/2 cup water in a pan. Bring to a boil. Add 1 teaspoon dried hibiscus petals. Let steep for 30-60 minutes, or longer, and strain into clean jar. Store until ready to use.The strawberry drink is pretty sweet and concentrated. If you don't want to make a cocktail, just add more water to dilute it to your personal preference.Swap out the strawberries for another berry or fruit.
Courses beverage
Recipe by Hello Glow at https://helloglow.co/diy-flavored-syrups-spring-cocktail-recipe/