I don't know why I'm always surprised when there is a natural remedy for an ailment that works as well as (or better) than expensive commercial solutions. Even cellulite! Mother Nature must be a girl, right? We all have our lumps and bumps, and this simple cellulite scrub and body oil will help improve the appearance of your skin—no harsh chemicals required.
This antioxidant cellulite oil penetrates skin better than those fancy creams and lotions, making it easier for the essential oils to do their magic. I've combined three essential oils that are naturally effective against cellulite. Lumps, bumps, and dimples, be gone!
And this sugar scrub is a great natural exfoliator and cellulite tamer that will leave your skin bump-free and baby smooth.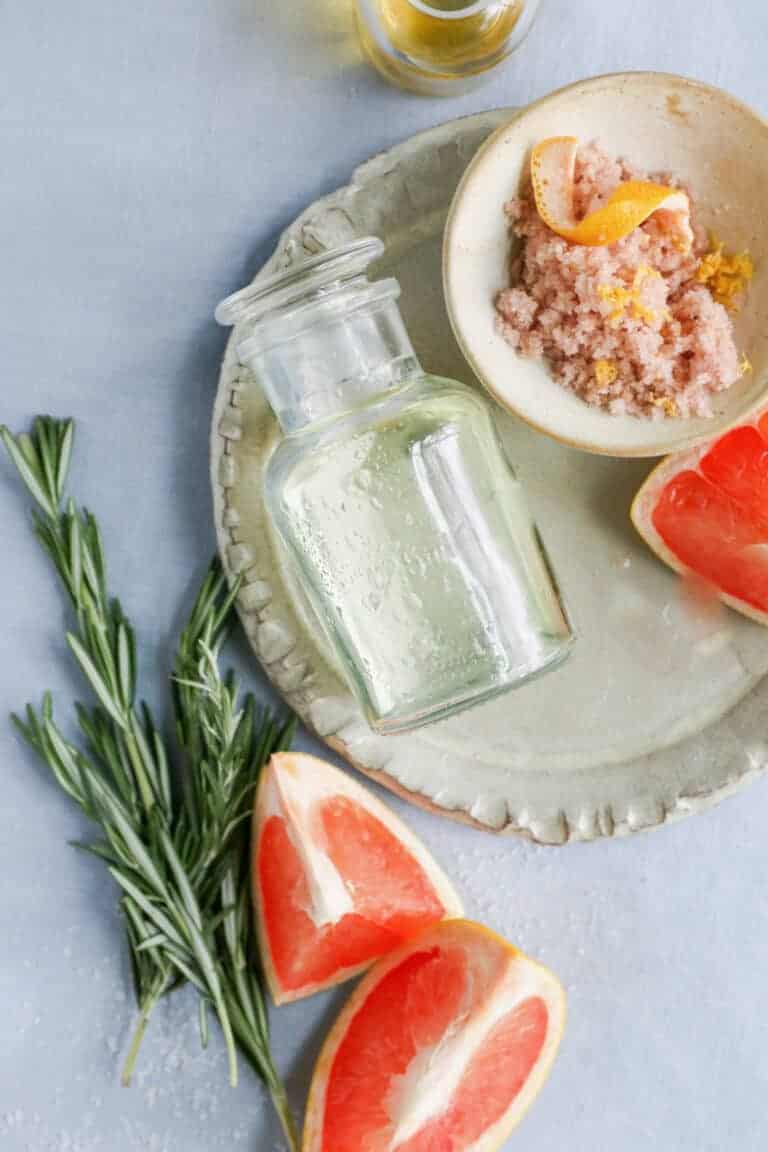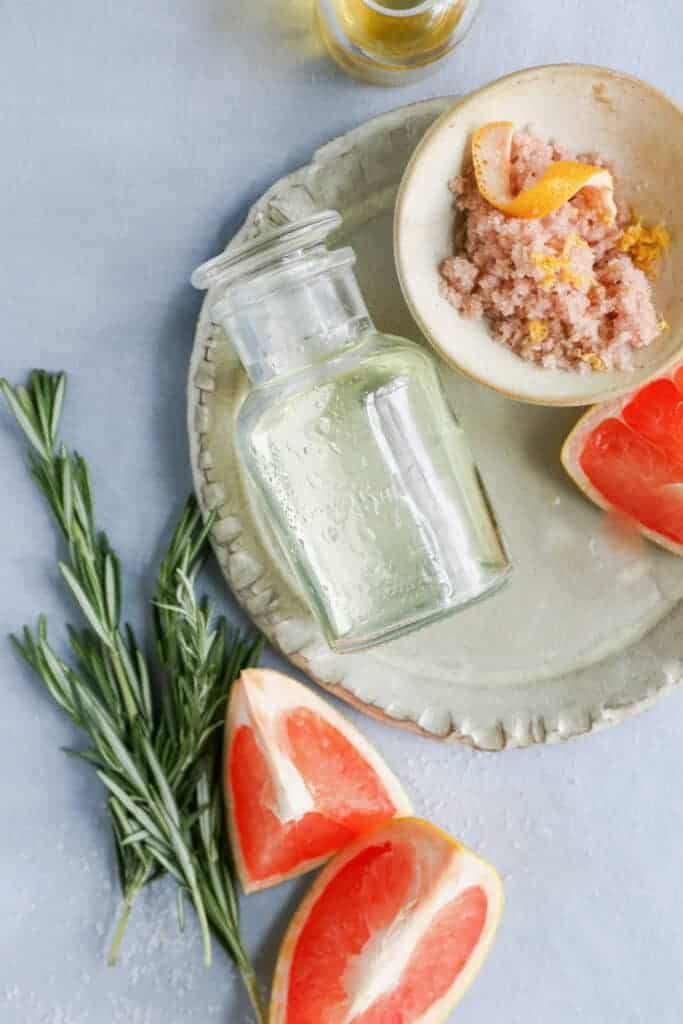 Essential Oils for Cellulite
Some essential oils are especially useful for tackling cellulite—you can even use them while dry brushing.
Grapefruit essential oil contains large amounts of naringenin, an anti-inflammatory that has been shown to help break down fat tissue by reducing inflammation [source].
Juniper berry essential oil contains flavonoids, powerful antioxidants that have detoxifying and purifying effects [source].
Rosemary essential oil is known to stimulate circulation and vital metabolic processes [source].
As with all essential oils, we're carefully diluting them in a skin-nourishing carrier oil in order to get the most out of them. My favorite is always coconut! For a scrub like this, I like an oil that solidifies a little bit at room temperature because it makes the mixture way easier to control.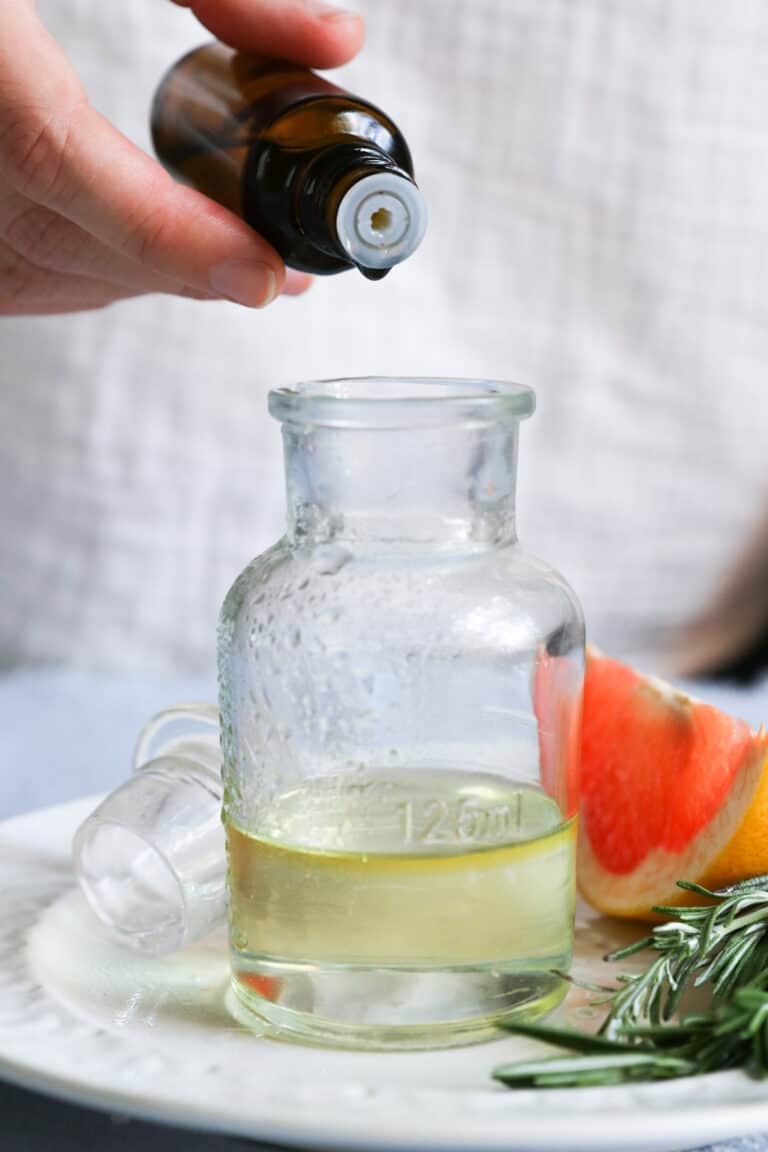 Grapefruit Cellulite Scrub
Massaging skin and boosting blood flow help decrease the appearance of cellulite, which is why a scrub is a good tool to have in your beauty cabinet. I'm a huge fan of adding things like oatmeal to homemade cellulite scrub because it soothes skin and reduces inflammation, helping to make lumps and bumps less noticeable.
But I can't talk about cellulite without discussing one of my favorite remedies: coffee.
The caffeine in coffee grounds triggers lipolysis—fat breakdown [source] as well as inhibits fat formation [source]. Caffeine also appears to tighten and improve the appearance of those troublesome areas. Plus, the grounds make an excellent exfoliator to remove dead skin. Is there anything that coffee doesn't do?!
You probably know by now that we're huge fans of using what you've got (because no one wants to postpone spa night to run to the grocery store!) and having fun with recipes. If you don't want to use coffee or oats, there are a bunch of other foods that contain caffeine and antioxidants that you may already have in your pantry.
Try swapping in cocoa powder, ground cacao nibs, green tea, or matcha powder (matcha is expensive, so only use 1 to 2 tablespoons) if you prefer. Trust me; you can't mess it up.
Last but not least, you can add grapefruit oil again here for its natural ability to quelch inflammation and break down fat. (Excuse me while I add grapefruit to everything now.)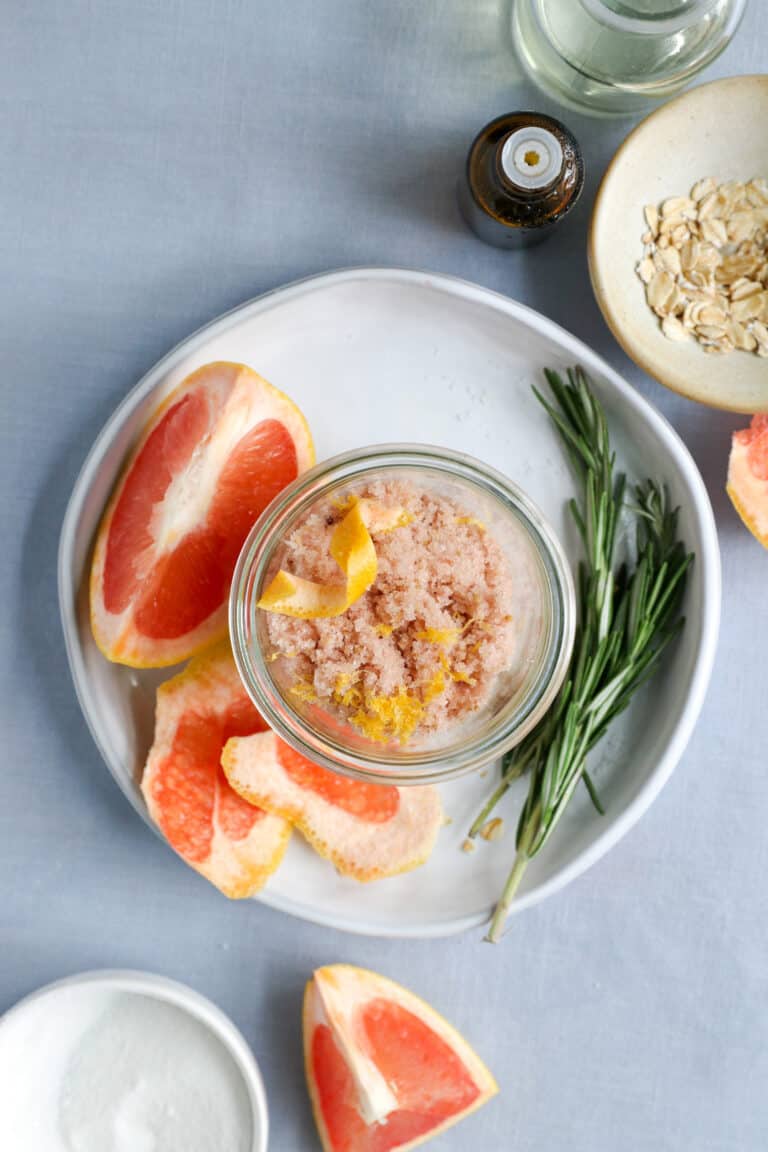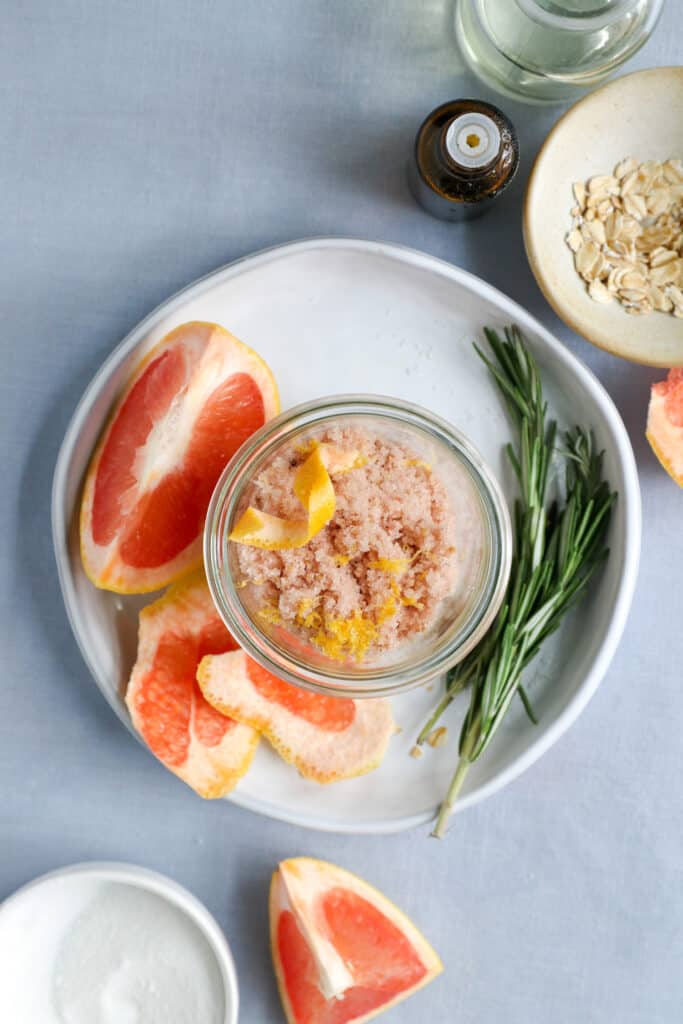 Grapefruit Scrub FAQs
Can I use sea salt in place of sugar in the scrub
?
Yes! Sea salt is coarser than sugar, which can help boost your scrub's cellulite-fighting abilities.
How often should I use cellulite scrub
?
Like with most scrubs, you don't want to overdo it. I recommend starting with 2 days a week and bumping it up to 3 days a week if your skin can handle it. Keep an eye out for redness, irritation, dry skin, or any other signs that your skin may need a break.
What can I use in place of coffee in the scrub
?
Coffee is great for cellulite because it contains caffeine and antioxidants—but it's not the only food that does! Green tea, matcha powder, cocoa powder, and cacao nibs also contain measurable amounts of caffeine and antioxidants. Go ahead and use them in place of coffee, or skip the coffee altogether and use a caffeine-free exfoliator in its place.
There are a whole host of cellulite remedies you can do at home that barely cost a thing, like honey massage and a detox body wrap. Have you tried any natural cellulite remedies?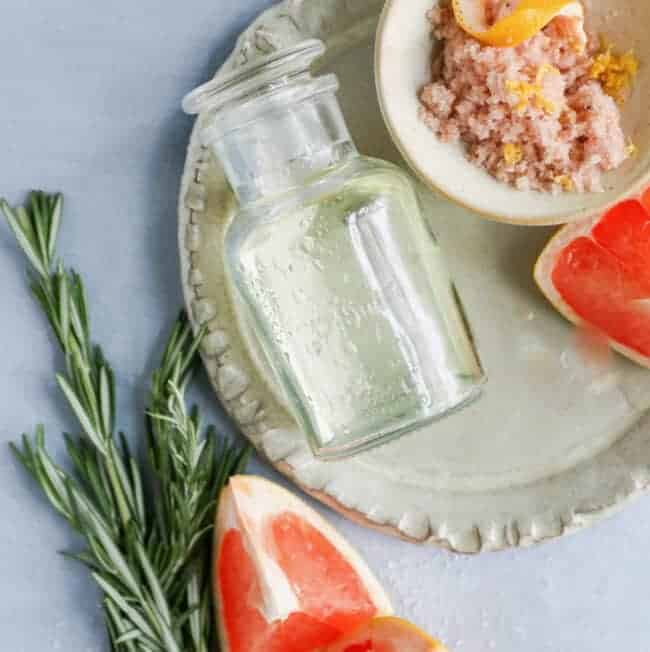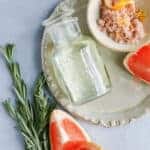 Print
DIY Grapefruit Cellulite Oil + Scrub
A simple cellulite scrub and body oil to improve the appearance of your skin—no harsh chemicals required.
Equipment
Small bowl

16-ounce container with lid

2-ounce bottle
Materials
Grapefruit Cellulite Scrub
Instructions
Grapefruit Cellulite Scrub
Combine dry ingredients in a small bowl.

Add the oils and stir well.

Add more oil or sugar to achieve the desired consistency. To get a soft pink color, I added a pinch of beetroot powder and cinnamon at the very end—but it's totally optional.

Store in a lidded container. To use, apply to the skin and scrub in circular motions over areas with cellulite. It will last several months unless water is introduced.
Grapefruit Cellulite Oil
Combine oils in a glass jar and swirl to combine.

To use, apply a small amount of oil to damp skin. During the first 4 weeks of use, massage the oil into skin with circular movements, at least twice a day. For ongoing maintenance, continue with the daily application.
Notes
For best results, use cellulite oil daily. Make a fresh batch every 1–2 months.
If the scrub lasts for more than one application, store it in a clean, dry jar with an airtight lid. Keeping the scrub dry will ensure it lasts longer.
This article was medically reviewed by Dr. Gina Jansheski, a licensed, board-certified physician who has been practicing for more than 20 years. Learn more about Hello Glow's medical reviewers here. As always, this is not personal medical advice and we recommend that you talk with your doctor.
157