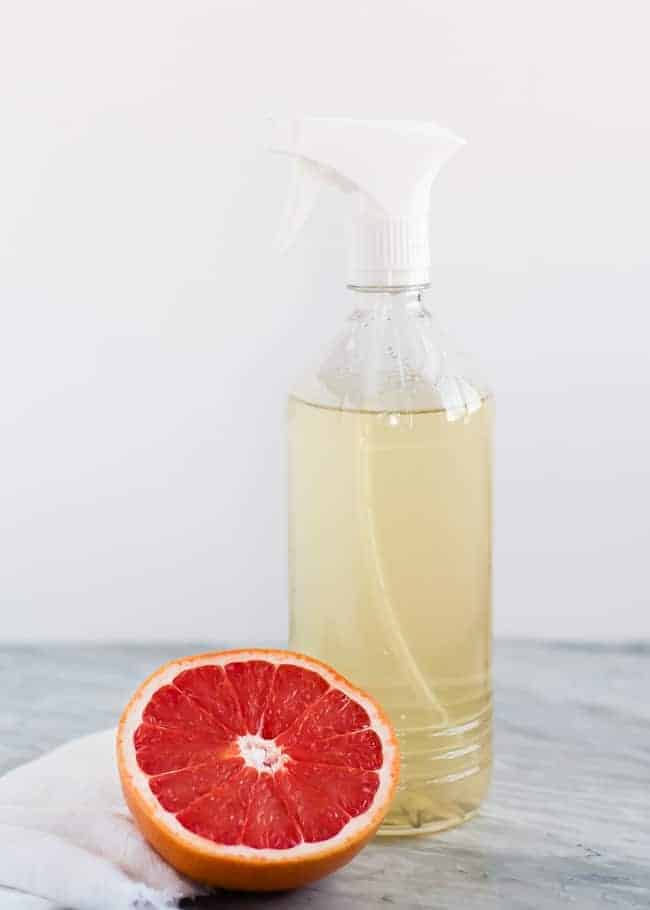 I love a good DIY all-purpose cleaner. A few years ago when my kids were small, I started swapping out my all-purpose counter cleaners for natural ones. Then I turned into the gal hauling gallons of distilled white vinegar home from the grocery store every week. Because it's super inexpensive and works on almost anything! Chances are you already have everything you need to make this homemade grapefruit-infused all purpose cleaner.
It does take about a week for the citrus to infuse, but after that you'll be set to clean. Add grapefruit seed extract or tea tree oil for naturally antibacterial germ-fighting power.

DIY Naturally Antibacterial All-Purpose Cleaner
The beauty of white vinegar is that it does it all–cleans windows, counter tops, sinks and toilets–without leaving so much as a streak! White vinegar is the result of the grain alcohol fermentation process whereby tons of little microorganisms eat and process alcohol (ethanol), and release the tart, pungent liquid we know as vinegar as a byproduct. Comprised of 10% acetic acid and 90% water, vinegar makes a great cleaner for almost any type of surface. But if you're new to cleaning with vinegar, it may be a little tough getting over the smell. That's why I love to infuse citrus rinds in mine to give it a clean, fresh scent.
Supplies needed
Peel of 1 extra large grapefruit
Glass canning jar
About 2 cups white vinegar
I have read before that soaking citrus peels in vinegar helps to extract a natural, powerful solvent found in citrus peels called limonene. However, I couldn't find any scientific evidence to back this up. In order to extract the limonene you'd need a chem lab in your kitchen. :) But that doesn't mean you don't get to enjoy the benefits of cleaning with citrus!
Instructions
Peel the fruit and cut away what you can so you have only the pith and colored part of the peel. I think this is to prevent mold from forming or the fruit from spoiling in the vinegar. I noticed when I skipped this step, the peels ended up looking kind of funky. So now I cut away and fruit.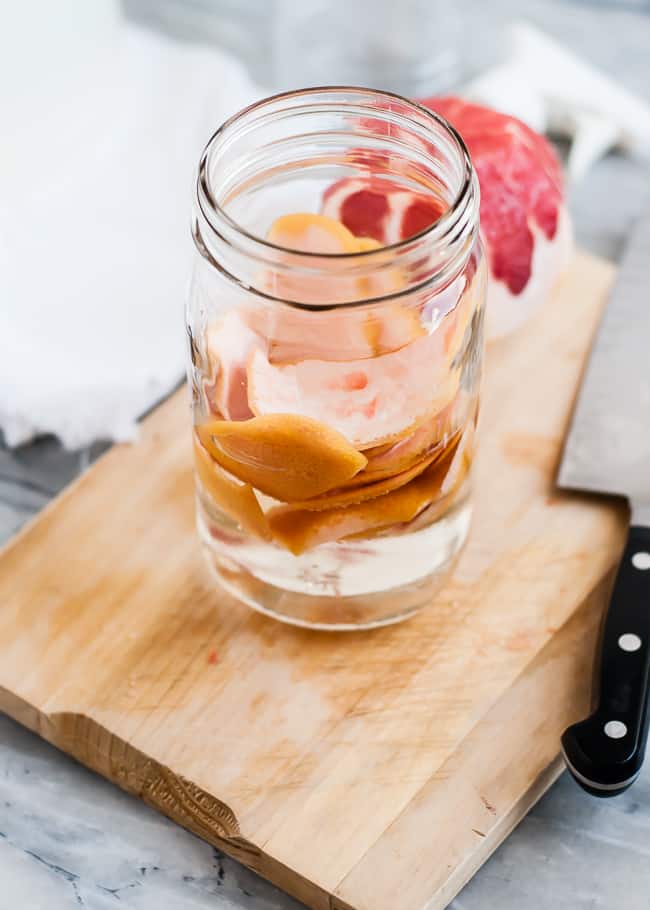 Place the peels in a glass canning jar and cover with vinegar. Put a lid on the jar and let it sit for about a week somewhere dark and cool. In a cupboard works great. You'll notice the vinegar start to change color and smell like grapefruit.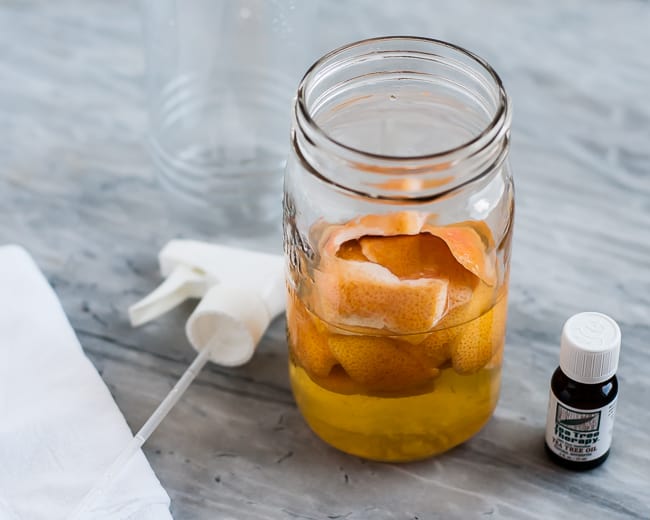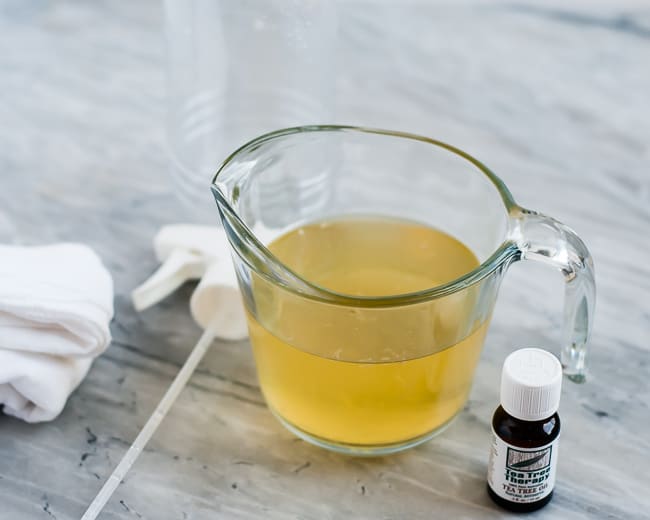 Strain the vinegar and transfer it to the spray bottle. Fill the rest of the bottle with water and add about 6 drops of tea tree oil. The oil doesn't mix up very well with the vinegar (the old oil/vinegar thing) so shake gently before using to mix things up. Grapefruit seed extract dissolves a little better.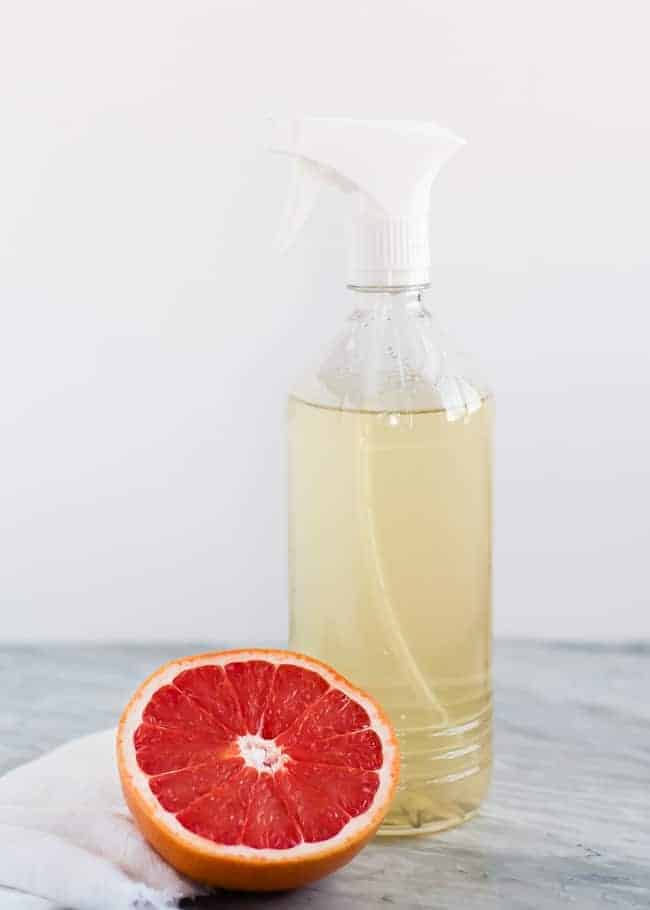 Use safely on kitchen counters, sinks, tubs and other surfaces. It's also safe for floors and some furniture. Check a small are first to be sure, but vinegar is generally safe on most surfaces. Just don't use on marble!
139