Some folks panic if they don't have their phone. Oh, who am I kidding? That's totally me. But I really get the shakes if I can't find my favorite lip balm. That is a true emergency! This is the hardest working lip balm around and will protect your pout all summer. It combines green tea, zinc oxide, natural oils, and butters to provide protection from both UVA and UVB rays.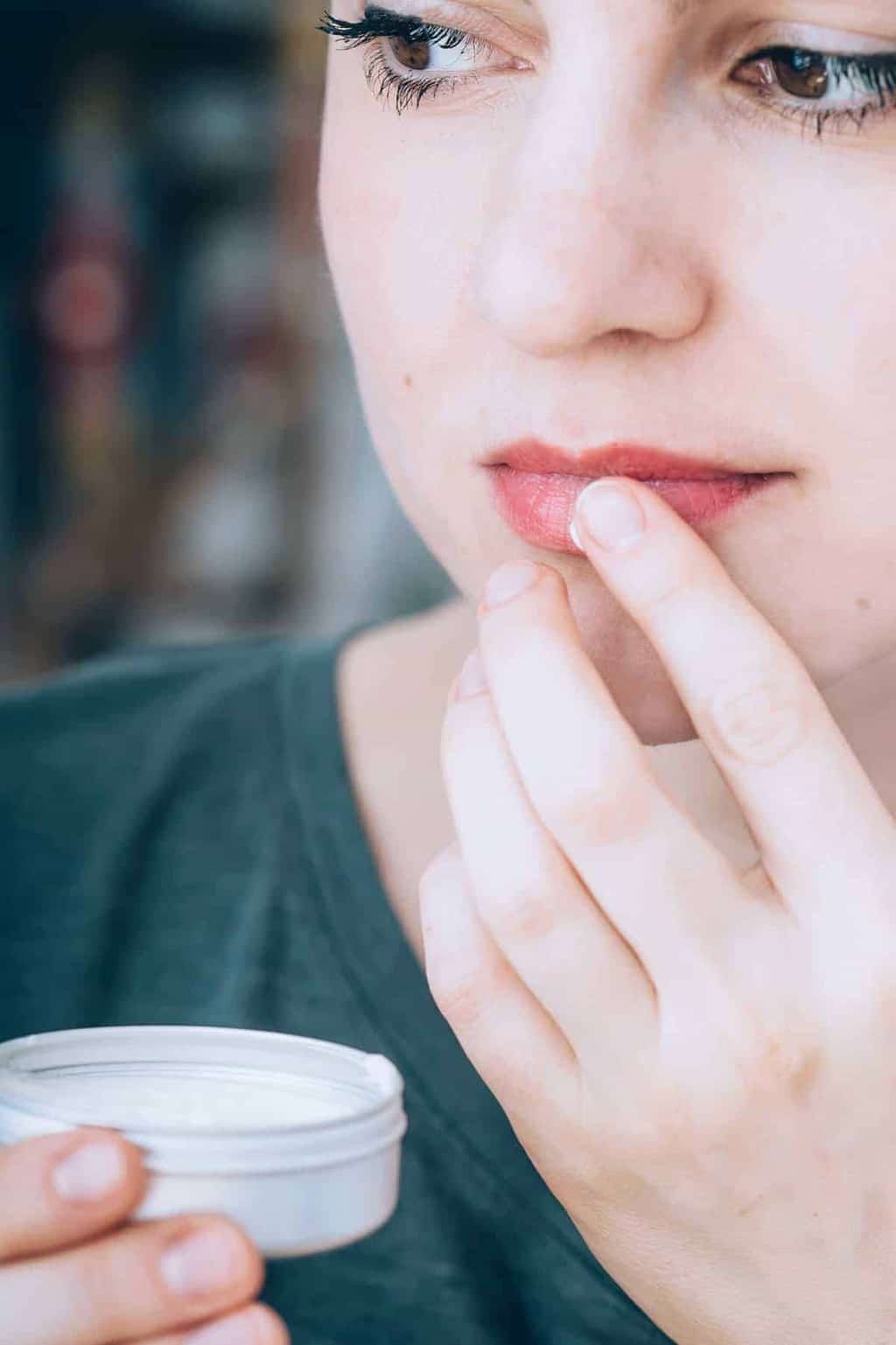 How to Get a Natural Sun Protection Boost for Your SPF Lip Balm
It's essential to use a good chemical or mineral sunscreen whenever you are exposed to the sun's rays for the prevention of sun-damaged skin. You can get additional natural sun protection with these ingredients:
1
.
Green tea
The polyphenols contained in green tea can protect the skin against some of the damaging effects of exposure to UV radiation and prevent premature skin aging [source]. Because it is high in antioxidants, particularly the free radical-neutralizing kind, green tea can prevent some of the effects of sun damage, like sun-induced redness and inflammation [source].
Because it's so cleansing and non-greasy, you can just dab an extra-strong brew on with a cotton ball like you would an astringent or make this cooling body spray. Since tea contains caffeine, it has the additional bonus of firming your skin, reducing puffiness around your eyes, and protecting the skin from the aging effects of oxidative stress [source].
Caffeine also boosts the photoprotective activity of any sunscreen you use [source]. And anything protecting your skin from the sun's ultraviolet rays goes a long way toward the prevention of skin cancer. Try adding a glass of iced green tea in the afternoon for a booster: green tea works from the inside out, too!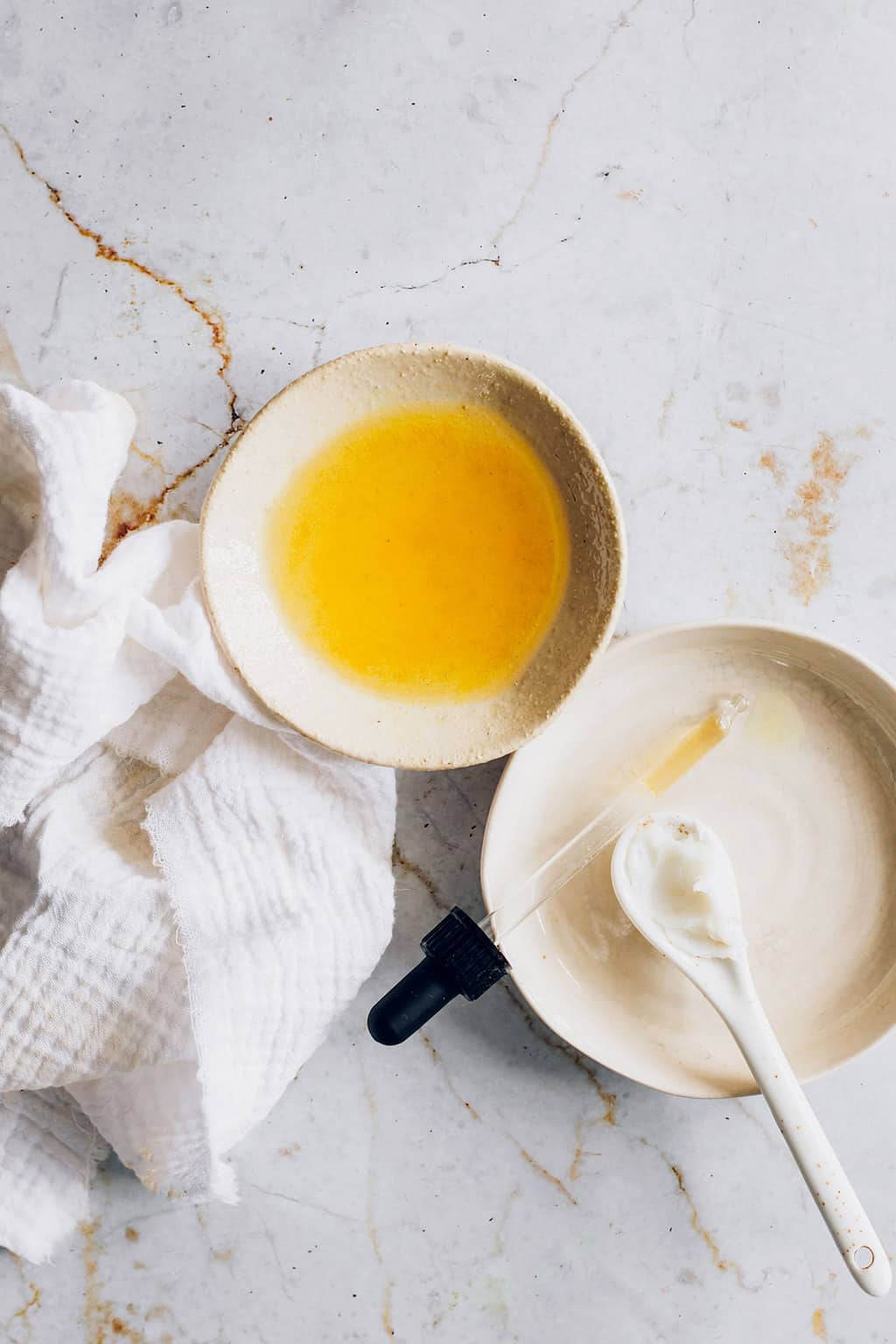 2
.
Coconut
,
almond
,
and olive oils
Using an oil to protect your skin seems counterintuitive at first, but some household plant-based oils actually contain elements that aid your skin's sun protection [source]. Of the more common household oils, coconut, almond, and olive oil all share an SPF of 2—7 and block out about 20% of UV rays [source], providing long-lasting performance and hydration.
I tend to get eczema breakouts on my arms during the summer, and avocado oil, with its natural SPF of 4–15, knocks it right off in a day or two. It also has antioxidant, anti-aging effects that combat sun damage and, like all of the plant oils, helps skin to repair itself [source].
—Avocado oil: SPF 4–15
—Olive oil: SPF 2–8
—Coconut oil: SPF 4–6
—Almond oil: SPF 5
—Jojoba oil: SPF 4
Since the SPF numbers are so low, these oils aren't really appropriate to substitute for sunscreen—try them instead as a moisturizing after-shower oil for an added protective boost, particularly under light summer clothing. Primarily, they help moisturize skin and repair skin damage.
To DIY your own natural sunscreen booster with these oils, mix equal parts of your chosen natural oil (organic if possible) with cocoa butter or shea butter and beeswax in a pan over low heat. Stir until it's thoroughly blended, pour the mixture into a container, and let it cool. Once it's hardened at room temperature, you're ready to go!
Since these oils in their different forms have not been tested to the degree that commercial sunscreens have, it is best to use them in combination with those to boost their SPF power and provide additional healing and antiaging effects.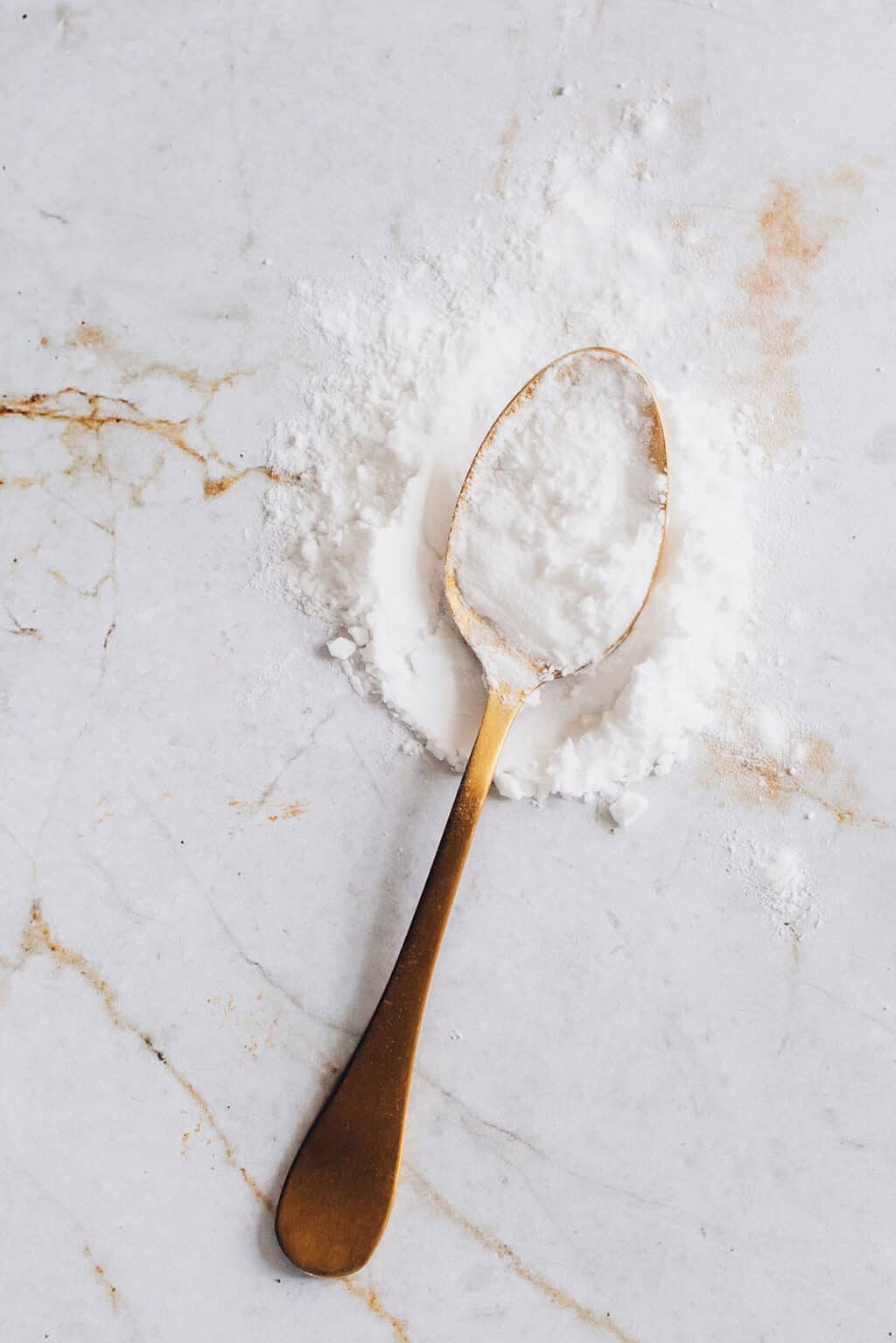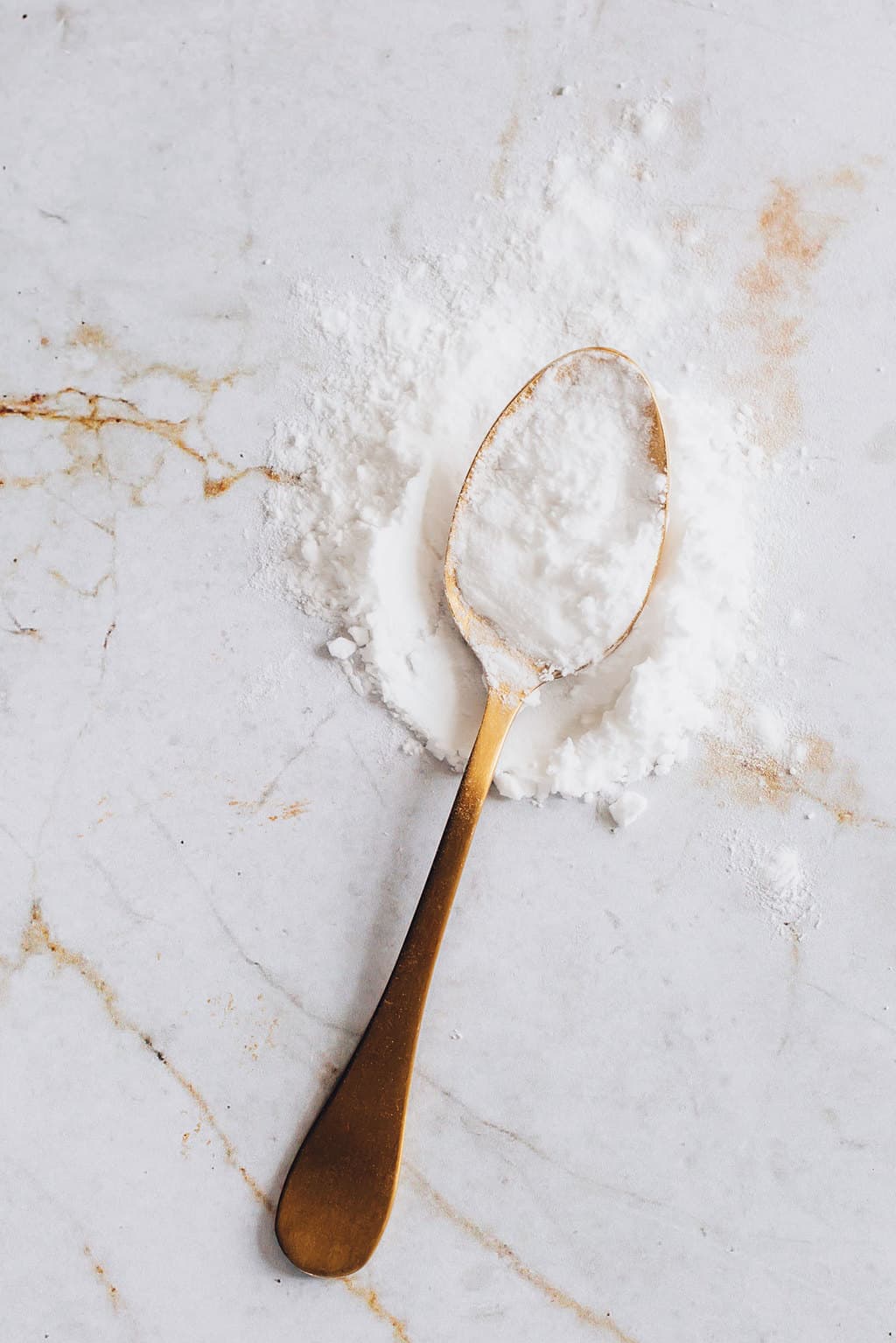 3
.
Zinc oxide
Long used for sun protection (remember those white noses?), zinc oxide is a powdered mineral that sits on top of the skin, scattering, reflecting, and absorbing UVA and UVB rays. To provide the physical barrier on the outer layer of skin, you need to use non-nano, uncoated zinc oxide to avoid it absorbing into the skin.
This is my go-to when I'm going to be out in the water for a long time. I am just a little too vain to rock the mime look, though—I mix in loose foundation powder to make it less noticeable.
Try mixing in a tablespoon with a face lotion or homemade lip balm, and you're ready for the rays. It's a great hardcore sunblock and perfect for babies or fair skin.
Whipped Homemade Sunscreen
—¼ cup coconut oil (this giant jar will last forever)
—¼ cup shea butter
—1 teaspoon red raspberry seed oil
—2 tablespoons zinc oxide (make sure it's non-nano)
Instructions
1. Melt coconut oil and shea butter in a bowl over warm water.
2. Add red raspberry seed oil and zinc oxide and stir together.
3. Cool in the refrigerator for 30 minutes–1 hour until you get a solid consistency. Whip for 3–5 minutes until you get a frosting-like consistency.
4. Transfer to a container with a lid and store in a cool place. Apply liberally. And always wear a hat and glasses!
4
.
Red raspberry seed oil
There seems to be an exception to the oil rule, however. According to a paper published in 2,000, it appears that raspberry seed oil naturally has an SPF of about 28–50 for blocking UV-B waves (which are the wavelengths of ultraviolet light that cause more damage to skin cells), and a factor of between 6.75 and 7.5 sun protection for UV-A [source].
The article goes on to state that this oil could possibly "act as a broad-spectrum UV protectant." This is because the vitamins A, C, and vitamin E it contains work as potent antioxidants [source] to protect against harmful UV rays.
The main advantage of these plant-based compounds, however, is the protection by carotenoids, flavonoids, polyphenols, and many other natural compounds that work as antioxidants and anti-inflammatories to mitigate damage caused by the sun's harmful rays [source].
In particular, red raspberry extract has been shown to prevent cell death caused by UV-B rays and protects against skin injury "manifested by wrinkling, scaling, tanning, and water loss as well as epidermal thickening [source]."
Like the other oils already mentioned, it's best to use red raspberry seed oil in combination with conventional sunscreen to provide additional protection and healing power.
5
.
Shea butter
It naturally protects and conditions damaged skin and offers a low level of UV protection (approximately SPF 6).
How to Make Green Tea SPF Lip Balm
Green Tea SPF Lip Balm Recipe
—2 ounces green tea-infused oil
—¼ ounce beeswax
—1 teaspoon raw honey
—1 teaspoon avocado oil
—2 teaspoons zinc oxide powder
Step 1
|
Infuse coconut oil with green tea
Infusing oils is one of my favorite things, and for an SPF balm, green tea is the perfect choice. When applied to the skin, green tea has the ability to absorb UV rays.
Now green tea alone won't give you enough sun protection, but it's a great complimentary ingredient because it has antioxidants that also help your skin resist UV damage and the aging effects that come with it. Green tea oil also makes my favorite face moisturizer.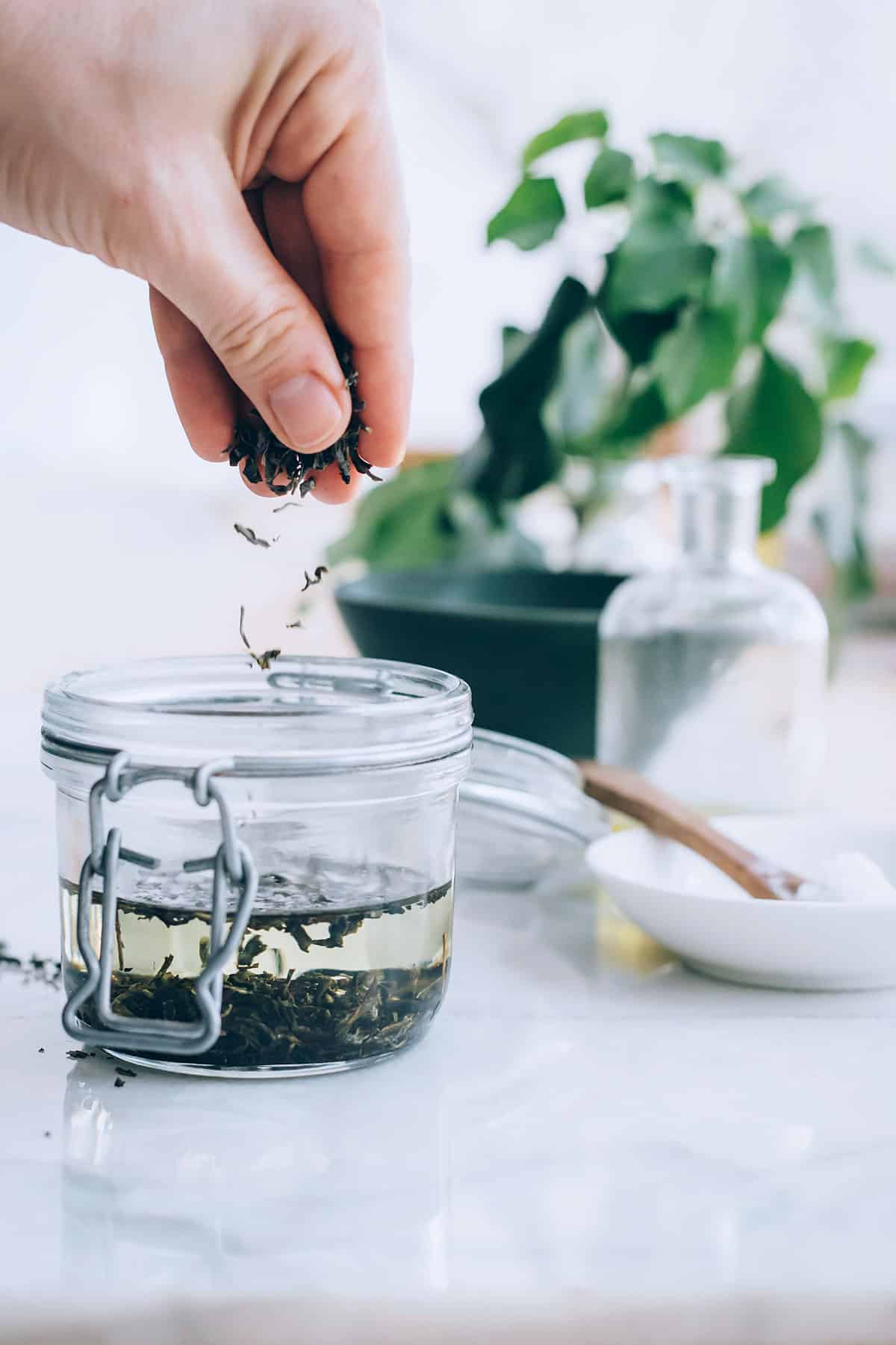 Step 2
|
Melt beeswax
Combine the oil and beeswax in a double boiler over medium heat and heat until the beeswax has melted.
Step 3
|
Add zinc oxide
+
other ingredients
Remove from the heat and stir in honey, avocado oil, and 2 teaspoons of zinc oxide powder. Zinc oxide will thicken up your mixture quickly!
Step 4
|
Whip together
Blend with an electric handheld mixer until creamy. More info on whipping oils here.
How to Use SPF Lip Balm
The zinc oxide leaves a slight white tint on your lips, which acts as a physical barrier SPF that goes away as it melts into the skin. Not into the white tint? Mix in a bit of bronzing powder.
Apply this balm, layer a pretty gloss on top, and you're good to go. Reapply as needed throughout the day.
SPF Lip Balm FAQ
Why make your own lip balms?
Making your own lip balm allows you to control the ingredients and tailor it to your preferences. It's also a really fun activity for the whole family!
What are the benefits of using green tea in lip balms?
Green tea is rich in antioxidants, which can help protect the delicate skin on your lips from environmental stressors. It also has anti-inflammatory properties that can help soothe and calm irritated lips.
Is there a shortcut for making green tea lip balms?
To make a green tea lip balm, you'll need ingredients like beeswax, coconut oil, shea butter, green tea leaves, and vitamin E oil. Melt the beeswax, coconut oil, and shea butter together, then add the green tea leaves and vitamin E oil. Pour the mixture into lip balm tubes or containers and let it cool and solidify.
Can I add flavor to my green tea lip balms?
You can add a drop or two of flavoring oil to your green tea lip balms for a delicious and personalized scent.
How many times a day should I use lip balms?
You can use lip balm as often as you feel the need to moisturize your lips. Some people use it once a day, while others may need to apply it multiple times. Even the hardest working lip balm will need to be reapplied after eating and drinking.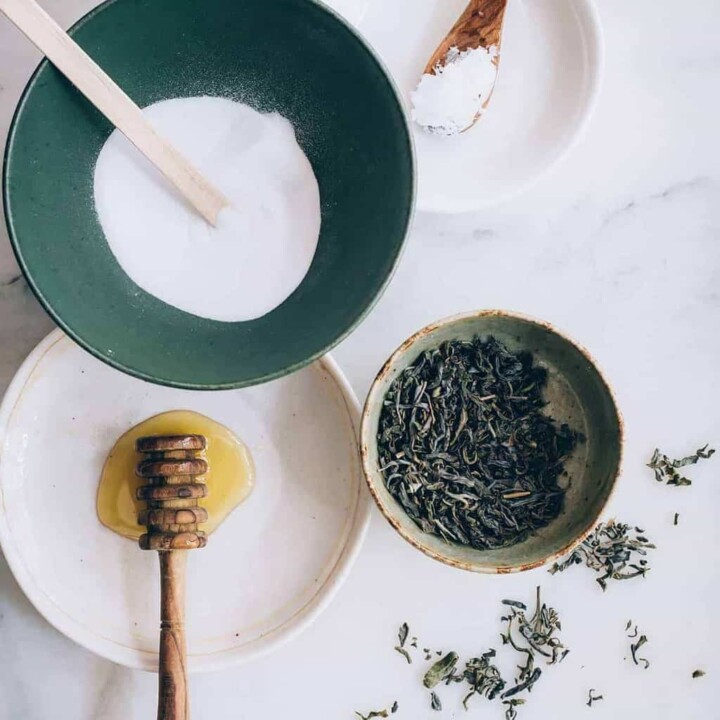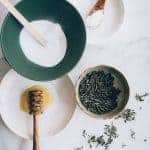 Print
DIY Green Tea SPF Lip Balm
Make your own SPF lip balm to carry with you at all times, using natural ingredients such as green tea.
Equipment
Double boiler

Small tins or empty lip balm tubes
Instructions
For green tea-infused oil:
Use a double boiler on medium heat to melt the coconut oil. Stir in the green tea.

Cover and simmer on lowest heat setting for 1 hour. Strain tea leaves from the oil with cheesecloth.
For lip balm:
Combine the oil and beeswax in a double boiler over medium heat and heat until the beeswax has melted.

Remove from the heat and stir in honey, avocado oil, and 2 teaspoons of zinc oxide powder.

Blend with an electric handheld mixer until creamy.

Transfer to a container with a lid.
For sunscreen balm:
Combine the coconut oil, beeswax, and shea butter in a double boiler.

Heat over low heat until melted. Remove from the heat and let the mixture cool for 1–2 minutes.

Add the remaining ingredients and stir. The zinc oxide thickens the mixture quite a bit, so add that ingredient last.

Transfer to a jar and let it cool completely. Replace the lid and keep your balm in a cool, dry place.
Notes
This green tea-infused lip balm has a dose of SPF to protect your pout this summer. The zinc oxide leaves a slight white tint on your lips, which acts as a physical barrier SPF, that goes away as it melts into the skin. 
Apply this balm prior to applying lip gloss or lipstick.
References (in order of appearance):
1. Yusuf N, et al. Photoprotective effect of green tea polyphenols. Photodermatol Photoimmunol Photomed. 2007.
2. OyetakinWhite P, et al. Protective mechanisms of green tea polyphenols in skin. Oxid Med Cell Longev. 2012.
3. Li YF, et al. Caffeine protects skin from oxidative stress-induced senescence through the activation of autophagy. Theranostics. 2018.
4. Rosado C, et al. Another reason for using caffeine in dermocosmetics: sunscreen adjuvant. Front Physiol. 2019.
5. Kaur CD, et al. In vitro sun protection factor determination of herbal oils used in cosmetics. Pharmacognosy Res. 2010.
6. Korać RR, et al. Potential of herbs in skin protection from ultraviolet radiation. Pharmacogn Rev. 2011.
7. Dreher ML, et al. Hass avocado composition and potential health effects. Crit Rev Food Sci Nutr. 2013.
8. Oomah BD, et al. Characteristics of raspberry (Rubus idaeus L.) seed oil. Food Chem. 2000.
9. Darr D, et al. Effectiveness of antioxidants (vitamin C and E) with and without sunscreens as topical photoprotectants. Acta Derm Venereol. 1996.
10. Saewan N, et al. Natural products as photoprotection. J Cosmet Dermatol. 2015.
11. Want PW, et al. Red raspberry extract protects the skin against UVB-induced damage with antioxidative and anti-inflammatory properties. Oxid Med Cell Longev. 2019.
This post was medically reviewed by Dr. Jennifer Haley, a board-certified dermatologist with extensive experience in medical, cosmetic, and surgical dermatology. Learn more about Hello Glow's medical reviewers here. As always, this is not personal medical advice, and we recommend that you talk with your doctor.
Photos by Ana Stanciu
91