Scraped knees and elbows are an inevitable part of childhood. Even as adults we get the occasional bump, bruise or scrape. It's nice to have a handy, natural antiseptic spray ready to go whether you're at home or out and about. This DIY hand sanitizer—which doubles as an antiseptic spray— uses essential oils to help fight germs, and has soothing elements like witch hazel, aloe vera and vitamin E oil. And, it's as easy as can be to make.
How to make DIY hand sanitizer + antiseptic spray
When it comes to natural hand sanitizer, ingredients are important.
Lavender, tea tree and frankincense essential oils have great natural antiseptic properties. Frankincense in particular may help protect against tetanus and sepsis when applied to wounds.It also acts as an anticoagulant to help control bleeding. Lavender oil is antibacterial and may even prevent scarring. Tea tree is one of nature's greatest natural antiseptics, and is also good for insect bites and stings, burns, cuts, and abrasions. When combined, they give your hand sanitizer a fresh, clean smell without the slightest hint of toxic chemicals or fake scents. Bonus!
Vitamin E helps promote healing from the get-go. It nourishes skin and locks in moisture so hands stay soft and supple despite frequent washing.
Witch hazel works as an anti-inflammatory and fights germs with its amazing antimicrobial properties. The tannins in witch hazel help promote healing and control bleeding and help with bruising.
Aloe vera gel gives this recipe a traditional hand sanitizer feel that we're all used to. It also nourishes dry skin, helps soothe nicks and scrapes and encourages healing.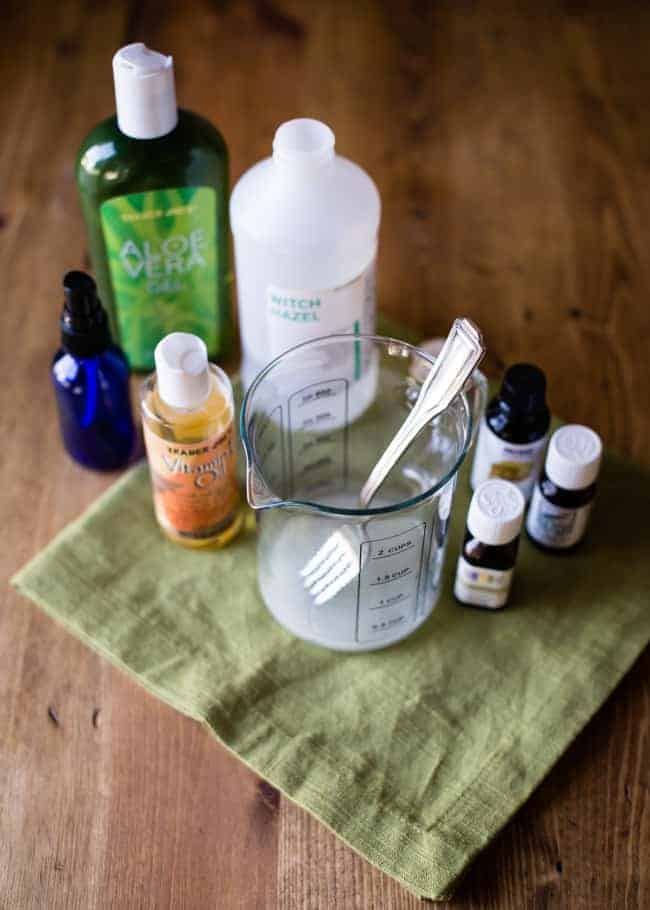 To make your sanitizer, simply place all the ingredients in a small bowl and mix well. Then transfer to a small lidded bottle, preferably with a pump. It's important to always have some on hand (see what I did there?) to protect against germs while you're out and about during winter months. That's why I like to store mine in a small cosmetic bottle with a pump that I can carry in my purse or tuck into the kids' backpacks. A pump or two is all it takes to naturally eliminate most germs and get squeaky clean hands without the chemicals.
Oh, and in case you want your hand sanitizer to have a more traditional consistency, just add more aloe vera and cut back on the witch hazel, while keeping the essential oils the same. This will give you that gel-like consistency that other hand sanitizers have.
Supplies
Instructions
Combine witch hazel, aloe, vitamin e oil, and essential oils in a measuring cup with a spout. Transfer to a small spray bottle. Add enough filtered water to fill almost fill it, leaving a little space at the top. Shake well before each application.
Note: I used aloe vera gel that includes other ingredients; 100% aloe gel liquid can also be used, though the spray will be a little thinner.
238