Scraped knees and elbows are an inevitable part of childhood. Even as adults we get the occasional bump, bruise or scrape. It's nice to have a handy, natural antiseptic spray ready to go whether you're at home or out and about. This DIY hand sanitizer—which doubles as an antiseptic spray— uses essential oils to help fight germs, and has soothing elements like witch hazel, aloe vera and vitamin E oil. And, it's as easy as can be to make.
How to make DIY hand sanitizer + antiseptic spray
Traditional hand sanitizers rely on alcohol to kill germs, but it can be way too drying for young skin. Plus, it stings a lot when you've got a little knick or scrape and doesn't exactly support any skin healing—unlike this stuff. When it comes to natural hand sanitizer, ingredients are important.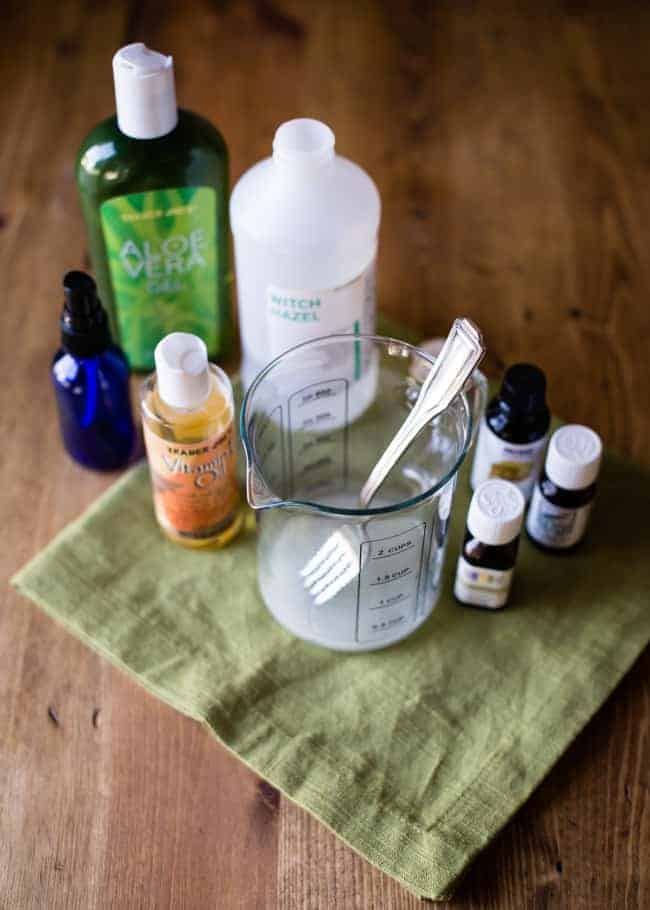 To make your sanitizer, simply place all the ingredients in a small bowl and mix well. Use a whisk to ensure that everything is well blended to ensure potency in every single drop. Then transfer to a small lidded bottle, preferably with a pump. Pumps are the most convenient dispenser for this kind of thing—jars, not so much.
It's important to always have some on hand (see what I did there?) to protect against germs while you're out and about during winter months. That's why I like to store mine in a small cosmetic bottle with a pump that I can carry in my purse or tuck into the kids' backpacks. A pump or two is all it takes to naturally eliminate most germs and get squeaky clean hands without the chemicals.
Oh, and in case you want your hand sanitizer to have a more traditional consistency, just add more aloe vera and cut back on the witch hazel, while keeping the essential oils the same. This will give you that gel-like consistency that other hand sanitizers have.
If you're using this recipe for an anti-septic spray, be sure to choose one that creates a fine mist for best application. It can be sprayed directly on a scrap, or spritzed on a band-aid that's to be applied to the skin. It has ingredients to support healthy skin healing as well as to sanitize, making it ideal for everyone's skin in the family.
Supplies
Instructions
Combine witch hazel, aloe, vitamin e oil, and essential oils in a measuring cup with a spout. Transfer to a small spray bottle. Add enough filtered water to fill almost fill it, leaving a little space at the top. Shake well before each application.
Note: I used aloe vera gel that includes other ingredients; 100% aloe gel liquid can also be used, though the spray will be a little thinner.
256