Scraped knees and elbows are an inevitable part of childhood. Even as adults, we get the occasional cut or scrape. It's nice to have a handy, natural DIY antiseptic spray ready to go whether you're at home or out and about.
The first recipe is for a DIY antiseptic spray that uses essential oils to give skin protection and help fight germs, along with readily available ingredients like witch hazel, aloe vera, and vitamin E oil. You will find it is good to use for cuts, scrapes, and even irritated skin. And, it's as easy as can be to make.
Due to recent events, if you're looking for a CDC-approved hand sanitizing spray that includes rubbing alcohol, we've added a second recipe with a couple of different alcohol options for you to choose from. While the witch hazel is a great antiseptic for everyday germs, we recommend using alcohol-based antiseptics when creating a hand sanitizer for those hard-to-kill viruses [source].
Scroll down to learn how to make your own antiseptic and hand sanitizing sprays.

DIY Antiseptic Spray + Hand Sanitizer
Traditional antiseptics rely on alcohol to kill germs, but it can be way too drying for newly forming skin. Plus, it stings a lot when you've got a little knick or scrape and doesn't exactly support skin healing—unlike this stuff.
Hand sanitizer, on the other hand, needs to be potent—hence the swap of witch hazel for alcohol, but we leave the other ingredients in for their gentle, healing properties. When it comes to natural antiseptic and hand sanitizer, the ingredients are important.
Lavender, tea tree, and frankincense essential oils have great natural antiseptic properties. Frankincense, in particular, works as an antimicrobial and anti-inflammatory when applied to wounds [source]. It seems to also help control bleeding [source].
Lavender oil is antibacterial and has been shown to work together with conventional antiseptics to fight common bacterial strains [source]. It is also helpful in promoting wound healing due to improved collagen production and remodeling of tissue [source].
Tea tree is one of nature's greatest natural antiseptics [source] and is also good for insect bites and stings, acne, and minor burns, cuts, and abrasions. When combined, these essential oils give your spray a fresh, clean smell without the slightest hint of toxic chemicals or fake scents. Bonus!
Vitamin E helps promote healing from the get-go. As a free-radical scavenger, it protects the skin from oxidative damage [source]. It nourishes skin cells and locks in moisture, so hands stay soft and supple despite frequent washing.
Witch hazel works as an anti-inflammatory and fights germs with its impressive antimicrobial properties [source]. The tannins in witch hazel have astringent properties and function as antioxidants that promote healing [source].
Aloe vera gel gives this recipe the traditional hand sanitizer feel that we're all used to. It also nourishes dry skin, helps soothe nicks and scrapes, and encourages healing.
Rubbing alcohol is the best thing to make this into a potent hand sanitizer during cold and flu season. So to really knock out those germs, go ahead and use isopropyl or ethyl alcohol instead of witch hazel. Sanitizers that contain 60–90% alcohol are more effective at killing germs and viruses than non-alcohol based sanitizers [source]. And while they are drying, you can always use lotion or extra aloe vera to moisturize skin when you're done.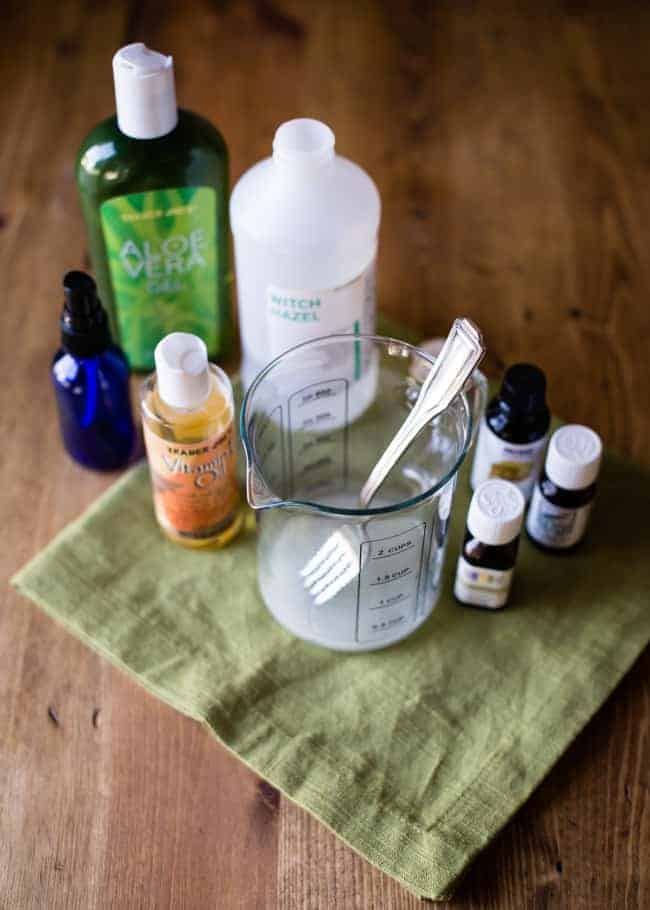 How to Make Your Own DIY Antiseptic and Hand Sanitizer
To make your antiseptic (or hand sanitizer), simply place the witch hazel (or alcohol), vitamin E, aloe vera, and essential oils in a small bowl and mix well. Use a whisk to ensure that everything is well blended to ensure potency in every single drop. Then transfer to a small spray bottle and label it, so it will be ready for the appropriate uses.
If you're using the recipe for an antiseptic spray, be sure to choose a spray bottle that creates a fine mist for the best application. It can be sprayed directly on a scrape or spritzed on a band-aid that's to be applied to the skin. It has ingredients to support healthy skin healing as well as sanitize, making it ideal to use with minor skin injuries for everyone in the family.
Witch Hazel-based Antiseptic Spray
Instructions
Combine all ingredients in a measuring cup with a spout, then transfer to a small spray bottle that provides a fine mist. Label the bottle as an antiseptic, so you don't forget that this one is for minor scrapes. Shake well before each application.
Alcohol-based Hand Sanitizer
It's important to always have some DIY hand sanitizer at the ready to protect against germs while you're out and about during the winter months. That's why I like to store mine in a small cosmetic bottle with a pump that I can carry in my purse or tuck into the kids' backpacks. A pump or two is all it takes to naturally eliminate most germs and get squeaky clean hands without the chemicals.
Oh, and in case you want your hand sanitizer to have a more traditional consistency, we cover how to make hand sanitizer gel in this post.
Instructions
Combine all ingredients in a measuring cup with a spout, then transfer to a small spray bottle. Label the bottle as hand sanitizer, so you don't forget which one you are using. Shake well before each application.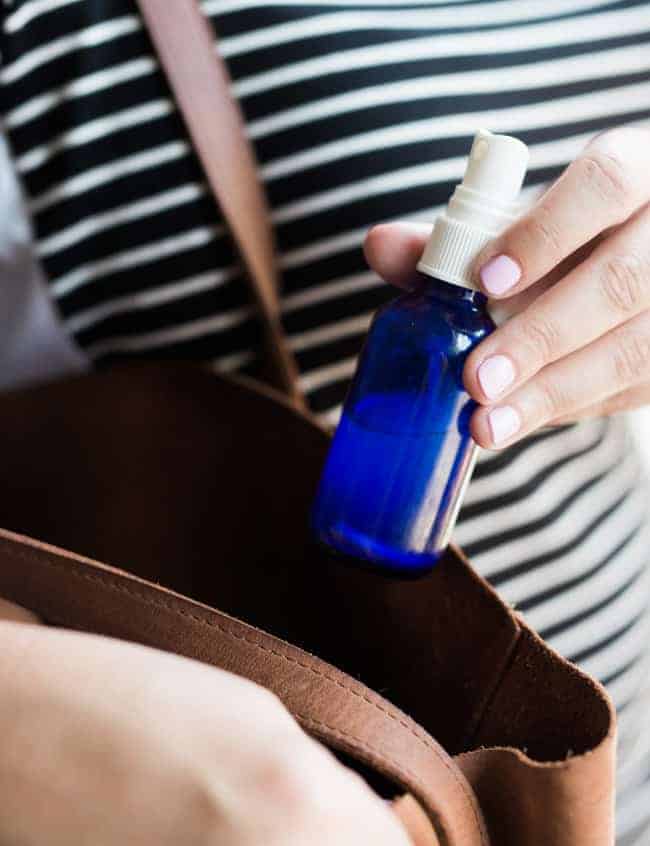 How to Use
For wounds, be sure to rinse the wound well with water first to flush any lingering dirt and debris from the area and pat dry. Give your DIY antiseptic spray a good shake, then hold it about 2 to 4 inches away and spray onto the wound. Reapply up to 2 or 3 times a day.
For sanitizing your hands, spray the alcohol-based mixture liberally until your hands are fully covered. Then rub them together and wave your hands a bit to let 'em air dry thoroughly.
This post was medically reviewed by Dr. Jennifer Haley, a board-certified dermatologist with extensive experience in medical, cosmetic, and surgical dermatology. Learn more about Hello Glow's medical review board here. As always, this is not personal medical advice, and we recommend that you talk with your doctor.
521