How was your long weekend? It's always the 3rd day that does our family in - Monday just seems to drag on forever! But we made it to Tuesday and back to school (whew). We got a little craft happy with an old pair headed to the denim graveyard. Here's a fun and simple way to give old jeans a new life. These bowls make perfect catch-alls around the house - and wouldn't they be a perfect gift for a guy?
How to make a recycled jean bowl
Supplies needed:
Mod Podge and foam brush
A bowl to use as a shape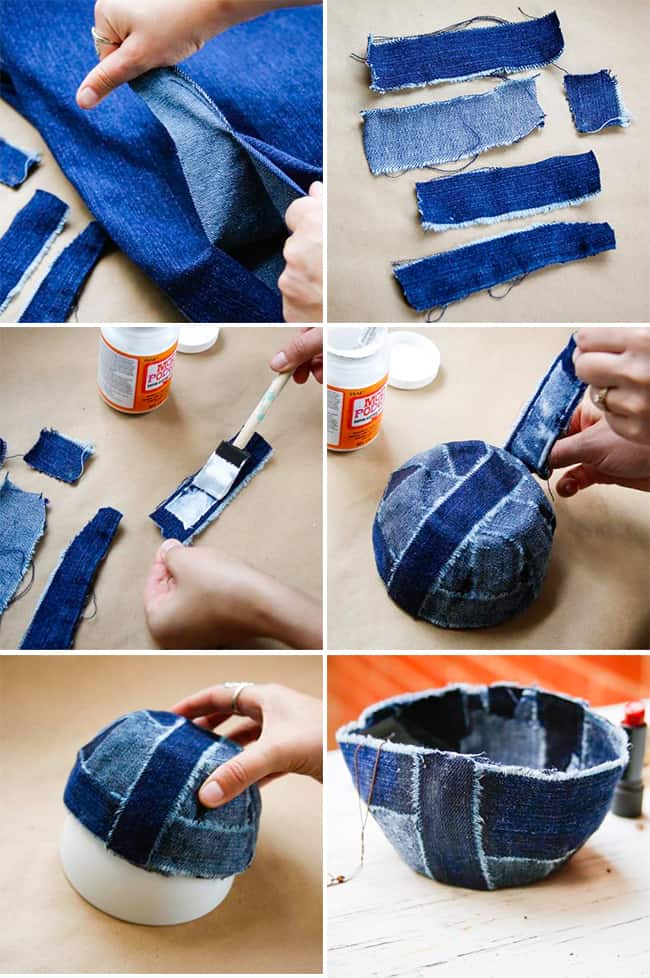 Start by ripping strips of denim about 4 to 5 inches long and a couple of inches wide. Being precise isn't necessary so there's no need to measure. But you do want to rip instead of cutting to get the frayed edge. Once you have a few strips cut, generously brush on Mod Podge and start layering them around the bowl shape.
Turn some pieces inside out to get a color variance and add some strips vertically and some horizontally for the patchwork effect. Keep adding strips until the bowl is well covered. Once the Mod Podge is dry, remove the bowl from the base and it's ready to use.
If the Mod Podge is taking forever to dry or just doesn't seem to be getting hard, stick the bowl in the oven at a low temperature and let it bake for 10-15 minutes.
Another helpful tip: You don't need to worry about the jeans sticking to the bowl base. Once dry, it comes off easily. We tried putting a layer of parchment paper between the bowl used for shaping and the jean strips on our first attempt, and it will be impossible to get the paper off the jeans!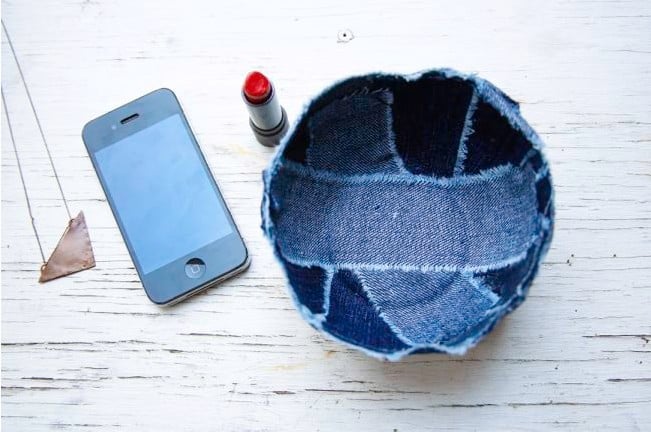 Do you have any outdated jeans you can't bear to get rid of? Come on, I know there's some acid wash hiding out there somewhere!
215