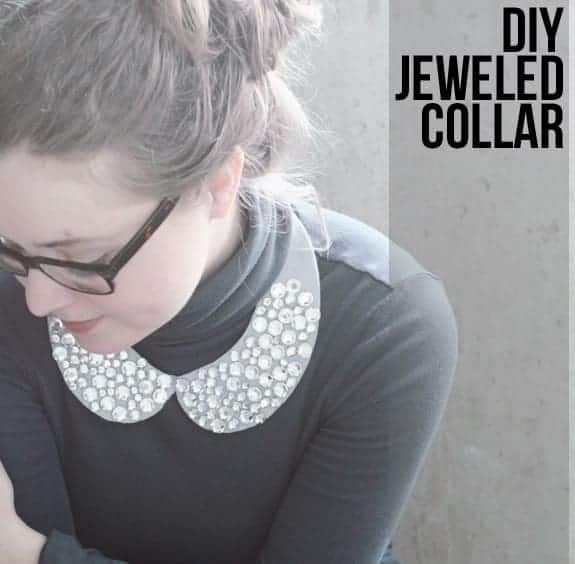 Hey there, Hello Glow readers! Today I (Katie) am going to show you how to make an easy fashion accessory with a lot of pizzazz! I'm not a really blingy-jewelry kind of girl, so this project pushed me out of my comfort zone. And guess what? I love it!
Supplies: flat backed rhinestones, a piece of craft felt, jewel glue and a collar template.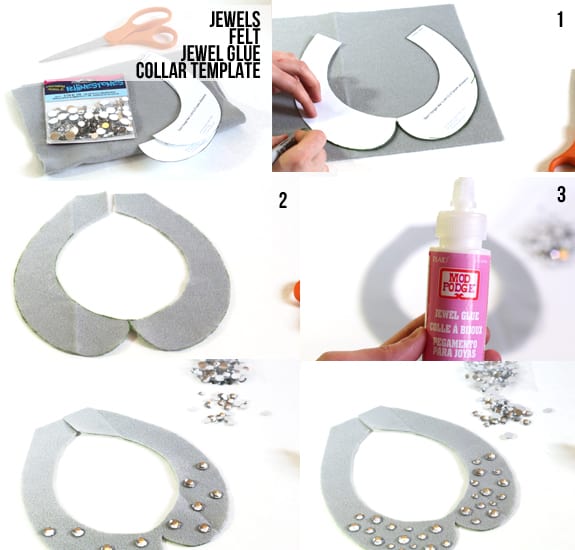 Step 1: Print the free peter pan collar template from Fashion Rolla & trace it out on the felt. (If you don't like the peter pan style, try a scallop or make your own style). I overlapped the two sides of the collar so they would meet in the middle and then extended the sides to reach around the back.
Step 2: Cut your collar out and flip the felt cut-out over.
Step 3: Begin gluing your jewels down. I used Mod Podge's Jewel Glue, which worked really well! Tip: Lay out the big rhinestones before you start to glue down. This will help you get a good mix of sizes. Another tip, which is counter-intuitive: you want to place the big rhinestones sort of close to each other so you can leave gaps to fill in spaces with the smallest rhinestones. I used an entire bag of 150 multi-sized rhinestones. Although I like the result, I could probably use another 75 rhinestones if I wanted to go all the way around the collar.
You can heat-set your rhinestones at this point (follow the directions on your Jewel Glue). So far, my jewels seem surprisingly secure even without heat-setting.

Step 4: Begin shaping the back of your collar. I trimmed the edges until I had a shape I liked.
Step 5: Punch holes (not too close to the edge!) in the back of your collar to run a ribbon through. You could also use snaps or a button.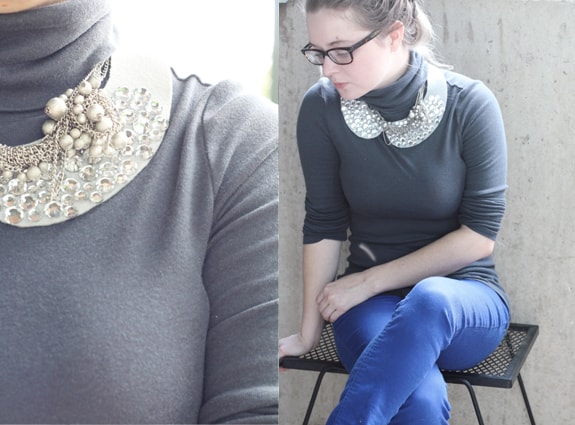 Generally, if I'm wearing blingy-jewelry, I go easy on the other accessories. But lately I've been trying to break out of my minimalistic shell so I styled this collar with an edgy chain and bead necklace. I didn't get a good head-to-toe shot, but I wore bright blue skinny pants with black heels and a high, messy  bun.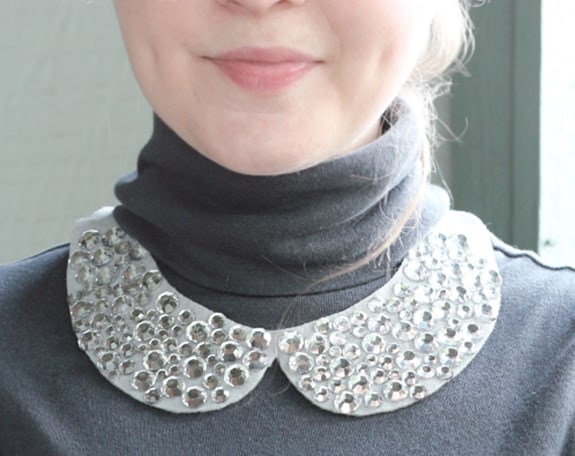 So, how would you style this collar? I was thinking a pin right in the middle, where the two sides meet, would be really cute.
1