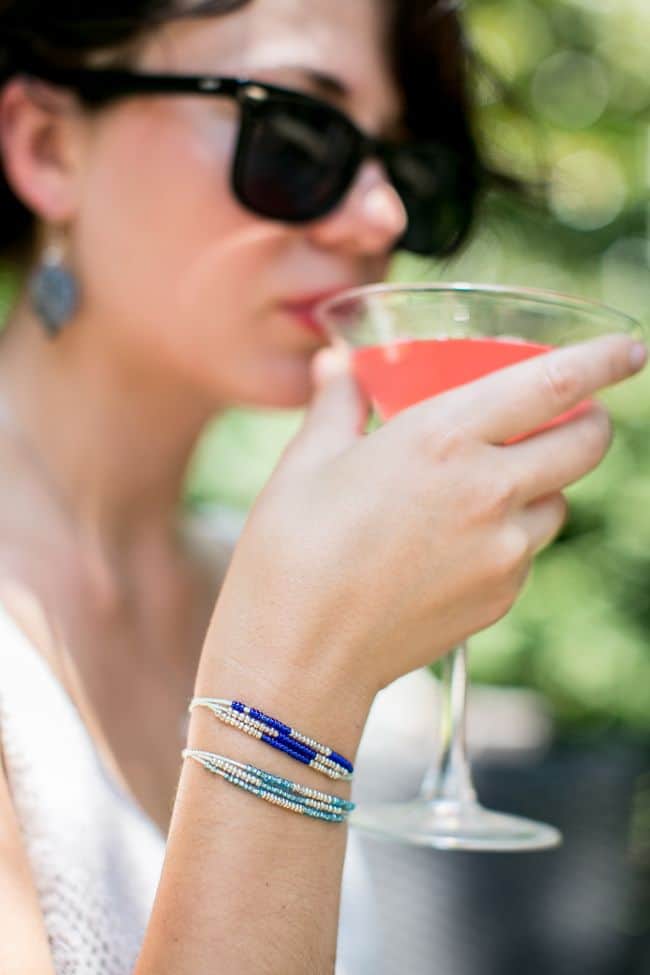 Awhile back I made these seed bead earrings for The Sweetest Occasion, and they rank as one of my all-time favorite DIYs. They are so colorful and dangly!
But I gave them away because as much as I love earrings, it's just too darn hard to wear them with grabby little hands around (I'm talking about the kids here :)). The pretty blues and silver kept calling to me though – we are headed to the beach in Delaware soon and I.AM.SO.READY. I finally decided to make a piece of jewelry I could wear without fear of losing an earlobe.
Supplies needed:
Thin thread. I got this pretty green thread at a thrift store and I think it's for crochet.
90 seed beads per bracelet (50 in one color and 40 in another)
2 small ribbon crimps
Lobster clasp closure

Cut a piece of thread about 21 inches long. Then dip one end into glue and let it dry. This creates a needle like effect that makes stringing the beads much easier.
String 10 beads in one color (I did cobalt blue) then 10 in another (silver) and then 10 in the first color (blue). Push the beads down almost to the end of the string and cut off the last 7 inches of the string. This is the first layer.
String again (using the same glue-hardened end) and reverse the pattern: 10 silver, 10 blue, 10 silver. Slide the beads down again and cut another 7 inches. String the last layer like the first: 10 blue, 10 silver, 10 blue.
Line up the 3 layers and trim the length to fit your wrist. Attach the 3 strands on one side with a small ribbon clamp. Repeat on the other side. Attach a lobster clasp for the closure with a jump ring if necessary.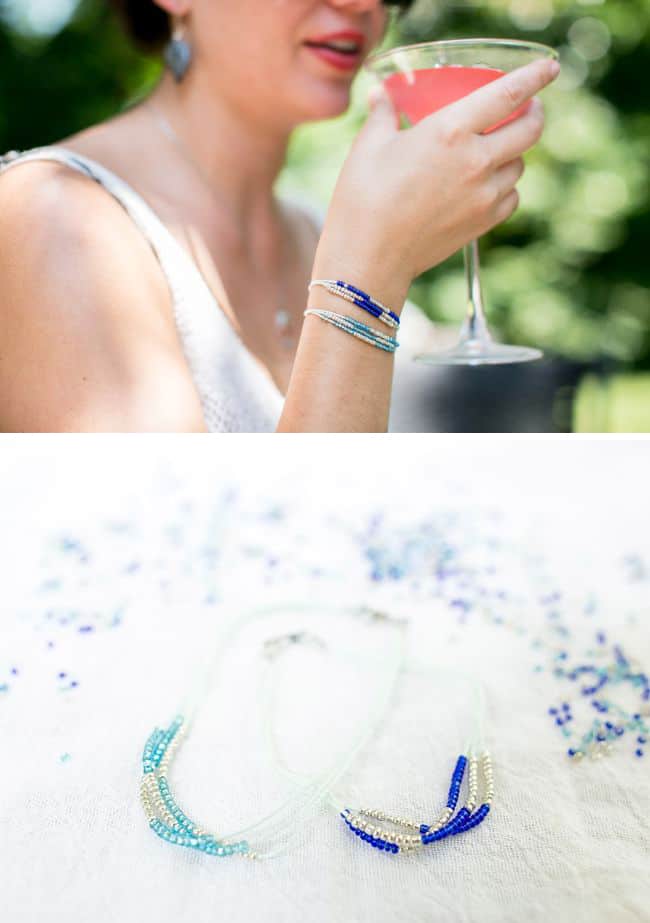 Delicate bracelets are my fave. Especially in beachy shades of blue. I kind of went on a bracelet making binge – get ready for more tutorials coming soon!
143