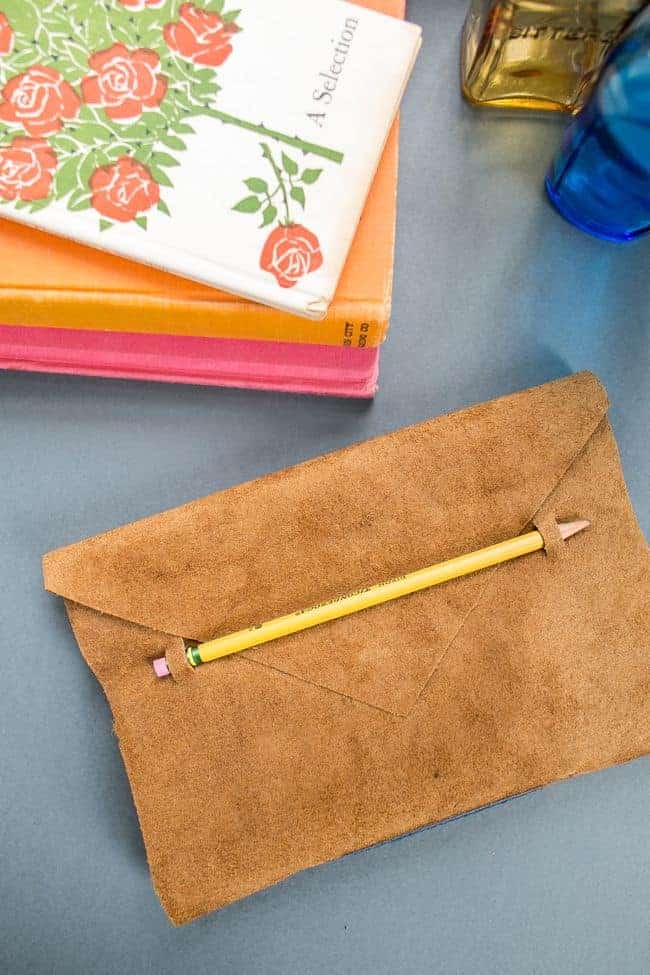 As soon as Halloween is over I'm ready to get into the holiday spirit. If September 1 means the start of pumpkin spice season, then November 1 gives the okay to listen to Christmas music, right? (Though to be perfectly honest, my kids are carol obsessed and forced me to jingle all the way through summer.) And, hurrah, it's time to start getting your gift giving list in order!
On a recent dash through Anthropologie with a screaming baby in tow, I managed to stop and admire their pretty suede journals for about 2 seconds. Immediately 10 people came to mind to buy them for. Because journals are the perfect gift! Who doesn't love crisp, blank paper and a new, sharp pencil? If Anthro gifts aren't in the budget (much less multiples!), there's good news: you can DIY your own leather journal in no time with a piece of leather remnant.
Anthropologie DIY Journal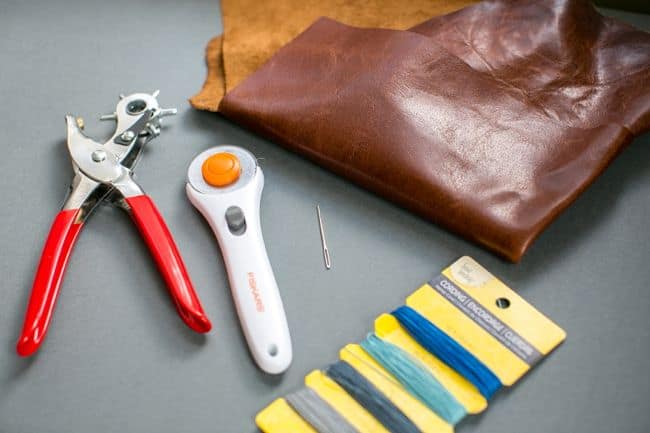 Supplies needed –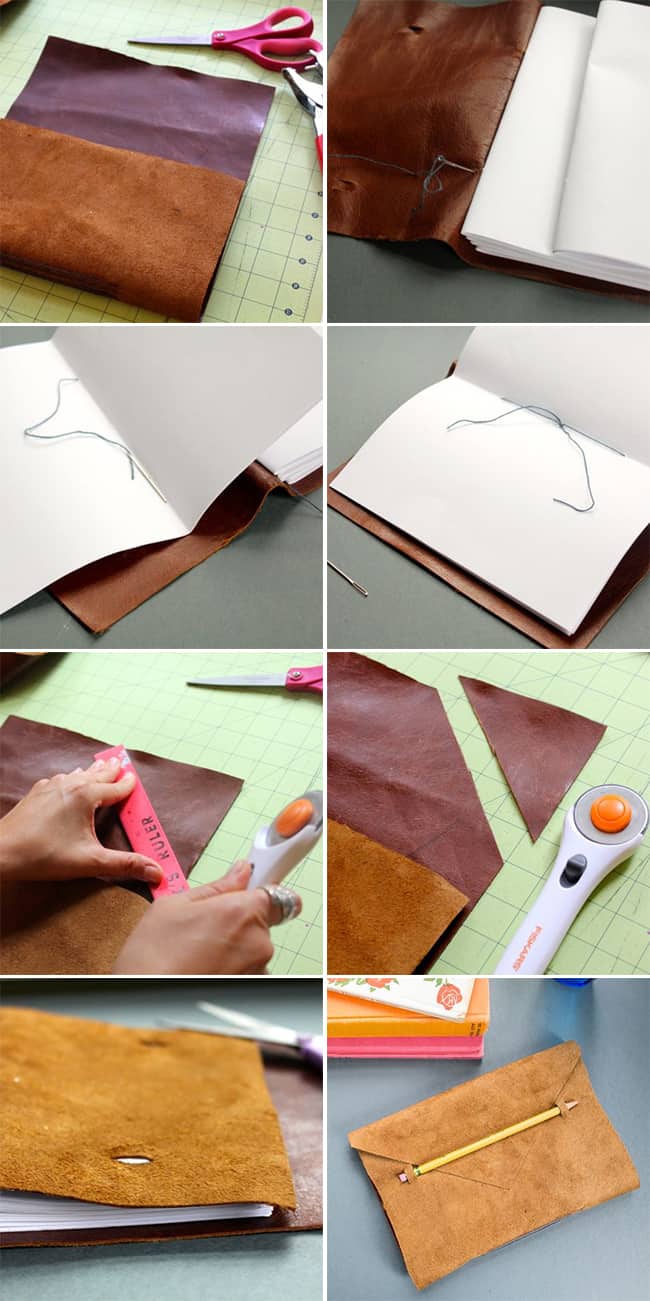 Instructions –
1. Cut a piece of leather 19 inches long and 9 inches wide.
2. Flip the leather so the rough outside is showing. Fold one end of the leather up, keeping enough length at the top for the flap.
3. Take 10 sheets of 8.5 x 11 paper, stack them together and fold in half. Stick them into the pocket of the leather.
4. With a pen, make a small dot on the paper and the leather where they meet about 2 inches from each edge. Make a hole through the paper with the needle. Make a row of 5 dots on the leather and poke through them with the leather punch or a needle.
5. Thread the needle with a piece of cord and stitch the paper to leather so that the cord shows on the outside. Knot in the middle and cut any excess.
6. Repeat with 4 additional sections of paper.
7. Find the middle of the flap and cut a diagonal piece on each side so the end comes to a point.
8. Fold the flap down and cut two small holes on either side of the flap to hold the pencil.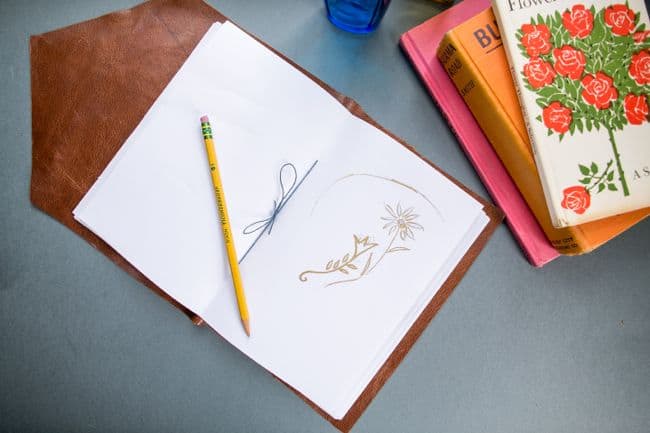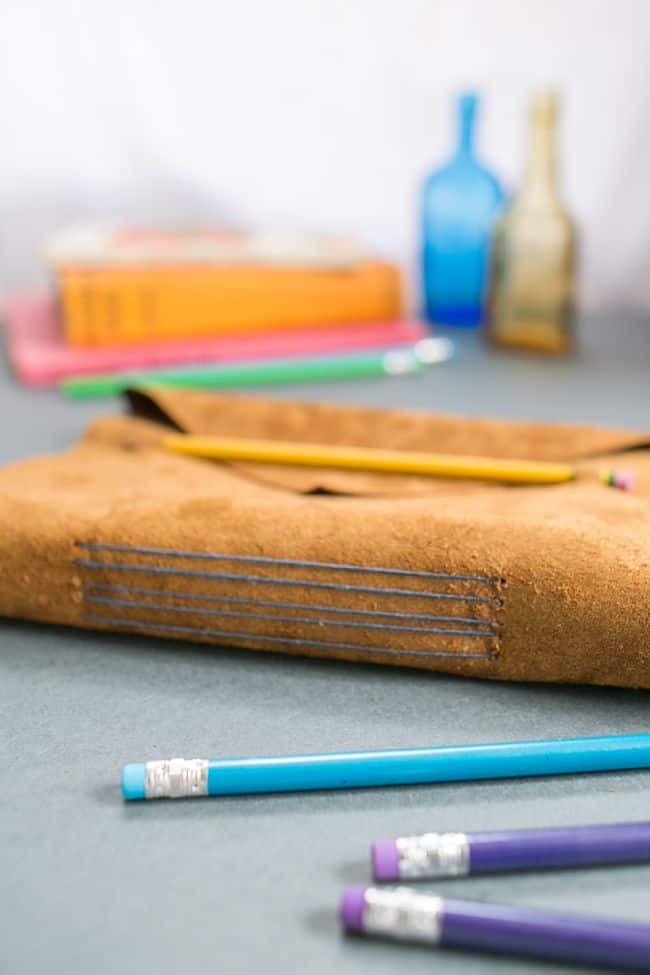 Do you love to journal? I always start with grand ambitions of writing each morning and then wind up using it for to do lists.
13