If the hot summer sun has you feeling like you're about to melt, you need this DIY makeup setting spray to beat the heat and help your makeup last longer. Plus, it's nourishing for dry skin—thanks to soothing rose water and creamy humectants like glycerin and aloe vera. Pair it with natural makeup, and you'll walk away with soft, dewy skin.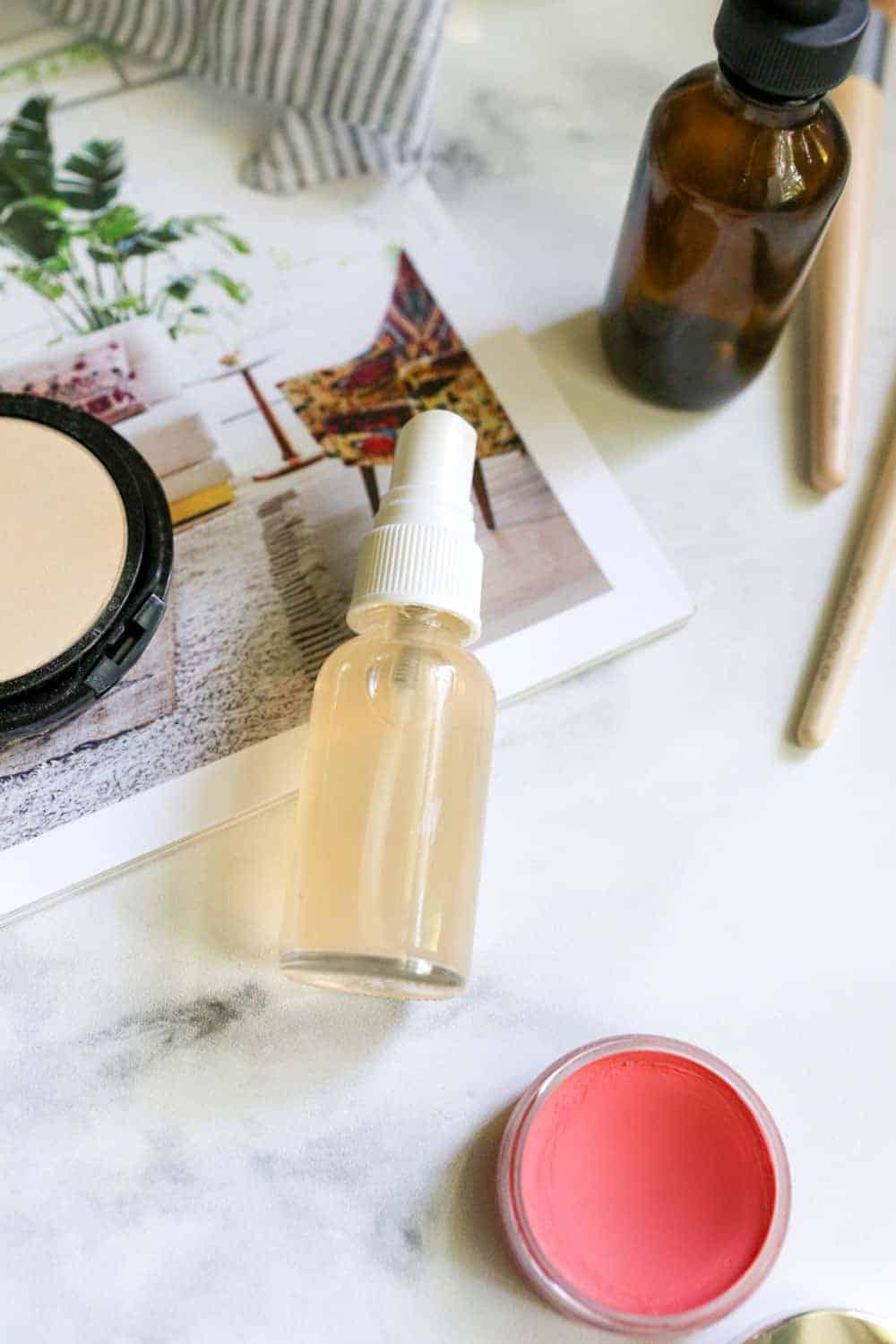 Lots of makeup setting sprays contain harsh ingredients like alcohol and fake fragrances that can irritate or dry out your skin. Plus, you're spending a pretty penny for something that's often mostly made of water!
I wanted a simple recipe that could handle even the heat and humidity—and save me some of my hard-earned money. You don't need a lot of ingredients to make this makeup setting spray. Just a couple of things you probably have on hand (like aloe vera and water) and some you might not (like glycerin).
Jump to:
Ingredients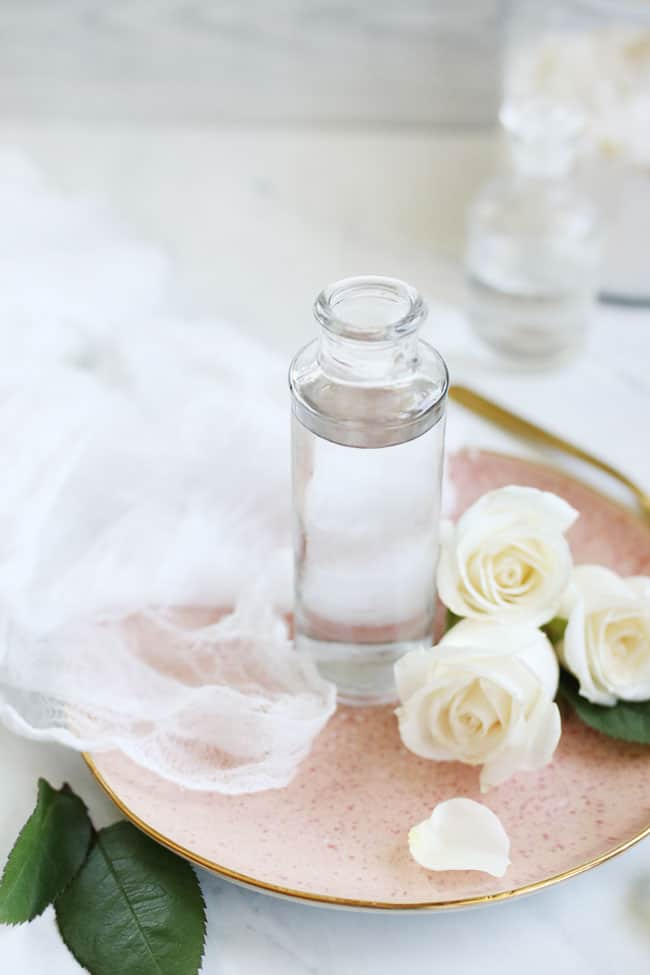 Rose water — Rose water has been used in beauty recipes for thousands of years, and for good reason! Rose petals have been shown to have antioxidant, anti-microbial, and anti-inflammatory effects [source].
Not to mention, rose water smells amazing and gives your face a dewy glow. Learn how to make your own rosewater here.
Aloe vera — Aloe vera is one of the most well-known skin treatments in the world. It's said to have incredible healing properties, be anti-inflammatory, and make skin appear younger—thanks to its anti-aging effects [source]. When used in DIY makeup setting spray, it coats the skin with a layer of non-greasy moisture, which will make your makeup last longer.
Glycerin — Glycerin is a common ingredient in commercial makeup setting sprays because it sticks to makeup and helps seal it in. Just be careful not to use too much, or it might have the opposite effect and make your skin look oily.
Frankincense — I'm a huge fan of frankincense oil because it's so, so good for the skin [source].
See the recipe card below for quantities.
Instructions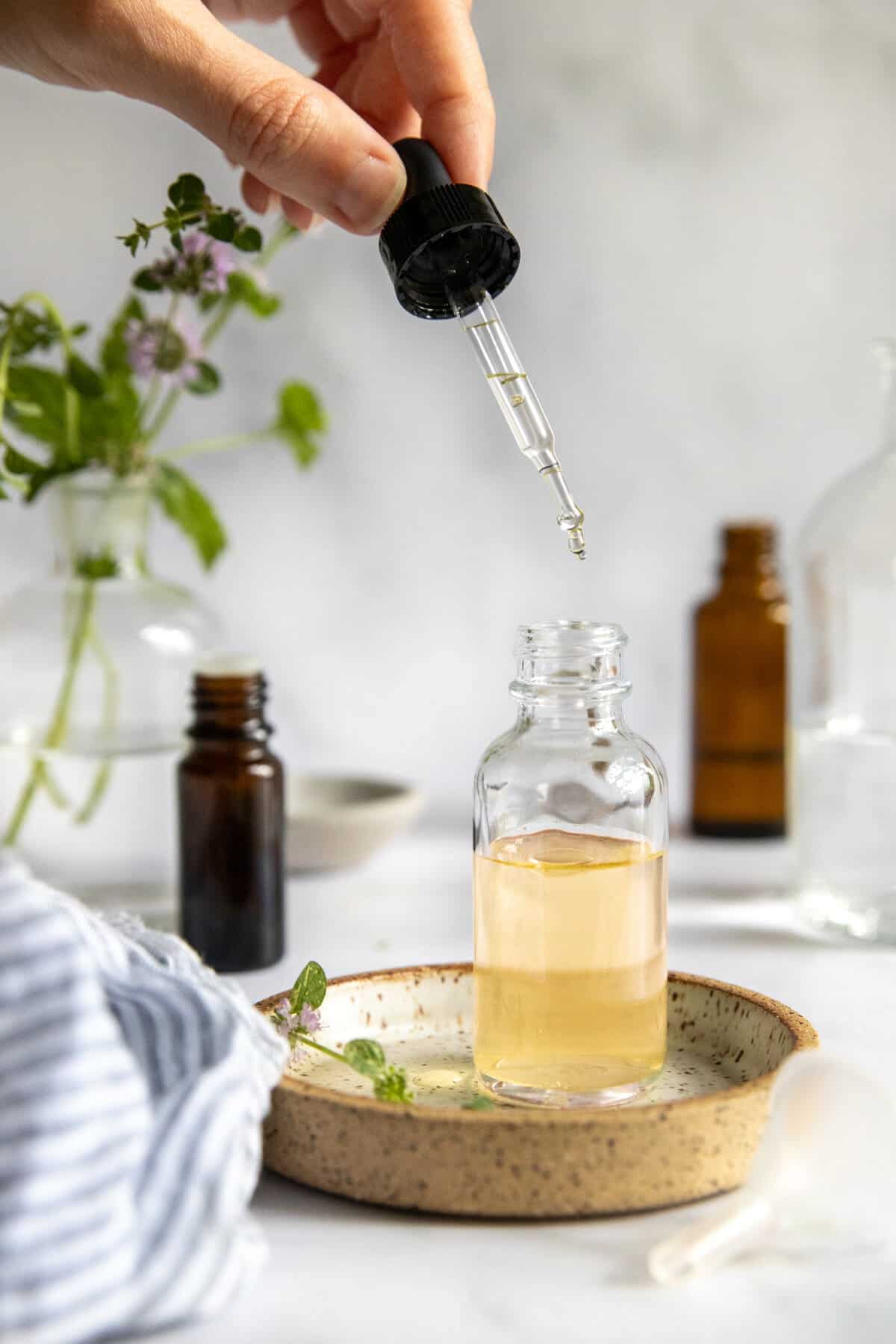 Start by using a funnel to combine the ingredients in a clean, sterilized glass spray bottle. Screw on the lid, then gently shake the bottle to mix everything together.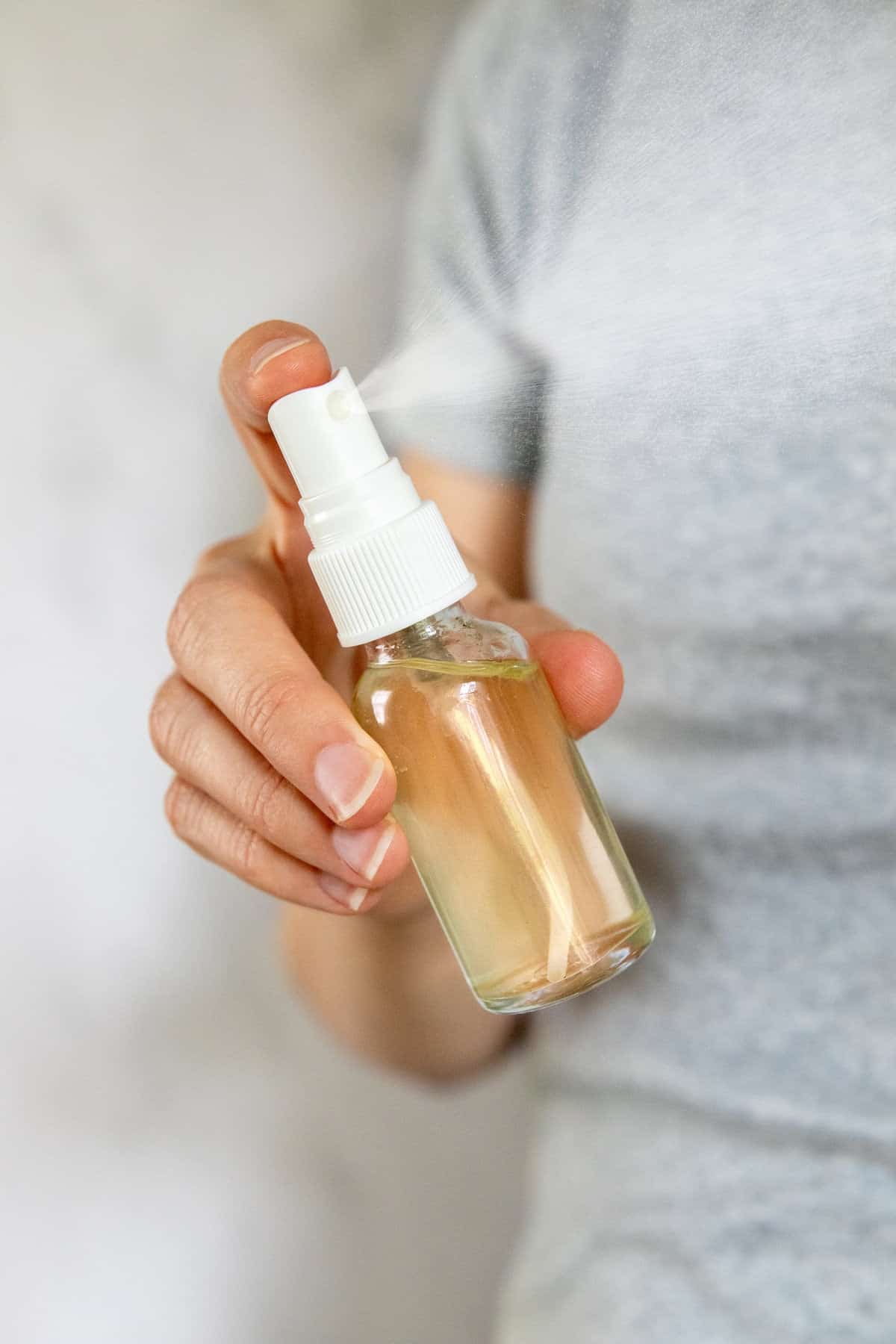 Give it a test spritz to see how you like the consistency, and if needed, add more rose water to thin it out or more glycerin or aloe to make it a little thicker.
Hint: This recipe really only has two steps: mix + test. After combining everything in a bottle, you want to test your setting spray to ensure it's the right consistency. Otherwise, it might be too thick to spray correctly or too thin to seal in your makeup.
Customize Your Makeup Spray
The beauty of making your own makeup setting spray recipe is that it allows you to customize the formula to suit your skin's needs. Here are some all-natural optional ingredients you can consider:
Usage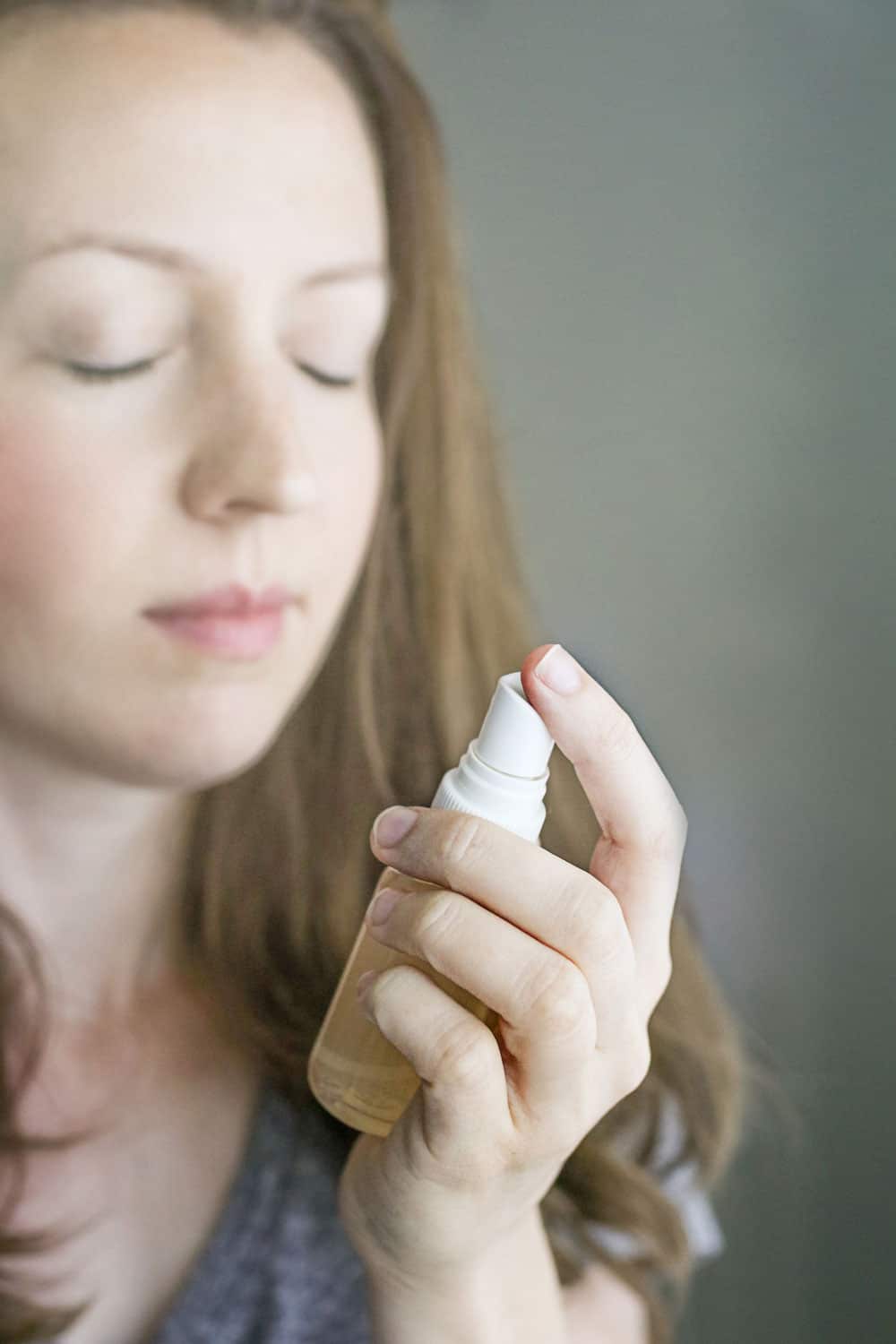 Applying makeup setting spray correctly can make a significant difference in the finish and longevity of your makeup. Here are a few tips to help your makeup last longer:
Apply your makeup to clean, dry skin: Complete your makeup application, including foundation, concealer, powder, eyeshadow, eyeliner, mascara, and any other products you regularly use.
Shake the setting spray: Give the bottle a good shake before using your spray to ensure that all the ingredients are evenly distributed.
Hold the bottle 8 to 10 inches from your face: You want to mist your skin, not soak it. So make sure to hold the setting spray at arm's length from your face.
Close your eyes and mouth: To avoid getting the spray in your eyes or mouth, close them tightly before applying the setting spray.
Mist each zone of your face: Start at the T-zone (forehead, nose, and chin) and then move on to each side of your face. If you apply makeup to your neck, mist that as well. Be sure to cover your entire face with a light, even layer of setting spray.
Concentrate on areas that wear off quickly: If you have specific areas where makeup tends to fade quickly, you can focus on those spots when spraying. For example, you might concentrate a little more product on your T-zone or areas with enlarged pores.
Allow it to dry: Give the setting spray a few minutes to dry naturally. Avoid touching your face while it dries, as this can smudge your makeup.
Check for any touch-ups: After the setting spray has dried, check your makeup in natural light to see if it needs any touch-ups.
Storage
Because these ingredients are sensitive to sunlight, you can extend the shelf life of your setting spray by using an amber spray bottle.
Store your spray in the refrigerator for a quick cool down when things start to get steamy outside. Use within 6 months.
Top tip
This light spray is gentle enough to use with inflammatory or sensitive skin conditions. Light sunburns often need moisture to heal, and rashes, eczema, and bug bites love skin-soothing ingredients like aloe vera and rose water.
While I don't recommend coating inflamed skin too heavily (it needs to breathe in order to heal), a light spritz here and there can be just what it needs to calm irritation and promote cell turnover.
FAQ
Can I use a preservative to make my makeup setting spray last longer?
Since some preservatives can irritate sensitive skin, if you suffer from any form of irritation or sensitivity, you might want to skip the preservative and just make a fresh batch every few days. If you don't have sensitive skin, go ahead and use a full-spectrum preservative like Leucidal Complete.
Since this has essential oils in it, can I store this in a plastic bottle?
The two drops of frankincense oil in this recipe aren't enough to breakdown a plastic bottle, so go ahead and use plastic if you'd like. Personally, I use glass bottles like these (you'll have to use two of them for this recipe).
What other essential oils would be good in this recipe?
I recommend avoiding citrus oils, like sweet orange, lemon or grapefruit, because they can make skin more sensitive to sunlight (not good!) Instead, look for oils like carrot seed, lavender, chamomile or rosehip, which have soothing and regenerative properties.
I have sensitive skin, can I leave out the rose water?
Sure, skip the rosewater and just use filtered water, if you like. Just make sure to use it within 5-7 days or add a preservative to extend the shelf life.
Can I replace the rose water with chamomile or lavender water?
Of course! We haven't tried out other floral waters, but it shouldn't affect the recipe. Leave a comment and let us know how it goes!
Will this setting spray make me break out?
It doesn't include any comedogenic ingredients, that I know of. But since everyone's skin is different, try it out on an inconspicuous patch of skin (like the wrist or chest) and keep an eye out for irritation. If you don't see any redness, then go ahead and use it on your face.
What can I use instead of makeup setting spray?
While we're huge fans of moisturizing spray, a loose, dry powder should be enough to soak up makeup-melting oil and lock your makeup in place for hours.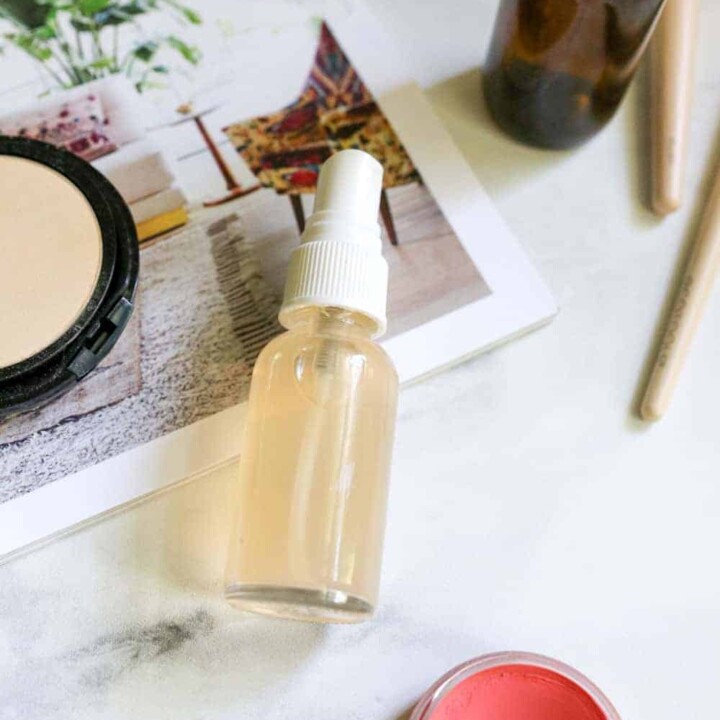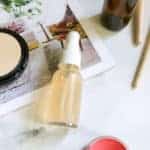 Print
DIY Makeup Setting Spray
This DIY Makeup Setting Spray will help your makeup blend in and stay fresh-looking all day long. Plus, it's soothing and nourishing for dry skin.
Equipment
4 ounce spray bottle

small funnel
Instructions
Using a funnel, combine all ingredients in a glass spray bottle. Screw on the lid and give it a good shake to combine.

Once you've applied your makeup, hold the bottle about 8–10 inches from your face and gently spritz 2–3 times. Allow the setting spray to dry thoroughly without rubbing or patting.
Notes
Store in the refrigerator and use within 2–3 weeks.
If you find that this spray makes your skin feel sticky, cut back on the aloe vera and glycerin.
216