Kate Kordsmeier is the founder of Root + Revel, a food and wellness site helping people live naturally, without sacrifice. After being diagnosed with PCOS, leaky gut, hypothyroidism and insulin resistance and subsequently healing her body and reversing her symptoms with food and natural, holistic remedies, Kate founded Root + Revel, a site centered around on real, whole foods, safe, non-toxic beauty, effective DIY recipes and healthy living inspiration.
I'm sharing my DIY Natural Granite Cleaner recipe, since an all-purpose cleaner cannot be used on natural stones (the vinegar will etch the surfaces of granite and marble). It's simple!
WHY MAKE YOUR OWN GRANITE CLEANER?
Remember that speech I gave you about how I'm the Grim Reaper, but with a dream? I may be all buzzkill central with my "this gives you cancer", "this makes you infertile", "this harms the environment"…but there's actually a point to it. I don't just love being Debbie Downer.
We talked about that domino effect, the one that goes like this: you read about the doom and gloom –> you toss toxic store-bought cleaners in favor of safe, non-toxic alternatives (here's a guide to my favorite natural store-bought cleaners for those who aren't into the whole DIY thing) or you start making your own cleaning products –> big brands get the message as you vote with your dollars and start demanding transparency, regulation and safety from their products –> they change their ways and one day, we can walk into any store and trust that we're buying products that won't harm us.
Phew, there's a lot of dominoes that have to fall for us to reach that point, but I've always been of the mindset that even little actions can make a huge difference, especially when lots of people band together. So join me! DIY your own homemade granite cleaner–the benefits are endless.
For starters, and perhaps most importantly, it's safer, as there are no harmful chemicals and additives to wreak havoc on our homes, our bodies and our planet. Making your own cleaning products is also cheaper–this entire recipe cost me a whopping $1.27 to make. Take a look:
rubbing alcohol (I paid $5.84 for 16 ounces, but I only used 2 ounces = $0.73)
castile soap (I paid $19.99 for 32 ounces, but I only used .5 ounces = $0.31)
water (FREE!!!)
essential oils (I paid $5.85 for .5 ounces, but I only used .02 ounces = $0.23)
Total cost = $1.27
As if that weren't enough, DIYing your own cleaning products is BEYOND easy! I swear, and this is coming from a girl who is the antithesis of Etsy, the anti-crafter, the "can't I just pay someone to do that for me?" gal, who learned from my mother early on that there's a price you pay for convenience and that price is often worth it. BUT, not in this case. It's just way too easy to make your own cleaning products! Pour it and forget it. That's the DIY Cleaning mantra.
Still not convinced?
WHAT'S REALLY LURKING IN STORE-BOUGHT COUNTERTOP CLEANERS?
The EWG recently updated their cleaning guide and after analyzing over 2,500 household cleaning products, they found that almost half were rated "poor" and nearly 75 percent contain ingredients with worrisome respiratory health effects. Many are also known to cause developmental and endocrine harm, not to mention the negative impact they have on our environment. These chemicals are only partly removed by wastewater treatment plants, don't readily break down, are persistent in the environment and toxic to aquatic life.
It makes sense if you think about it–we're spraying these cleaners all over our homes, inhaling whatever's in the mixture as we spray it and long after it's been applied to every surface. And then we're touching those surfaces and doing things like eating, touching our skin (and if you've got kids, you can bet their putting those contaminated hands in their mouths!).
But what about granite or countertop cleaning sprays, specifically? On top of including fragrance (which often contains phthalates that block testosterone action and have antiandrogenic effects (think reduced sperm production, undescended testes, hypospadias, decreased testosterone production, and reduced anogenital distance) not to mention links to birth defects, asthma, neurodevelopmental problems in newborns, fertility issues and obesity), many store-bought granite cleaners contain other toxic chemicals. Take a look:
So spending the 2 minutes to pour some natural ingredients into a bottle is starting to sound like a small price to pay, huh? If you do nothing else, just please, pretty please, start reading your labels and researching the effects these chemicals can have. The EWG has a great cleaning guide–here's a list of 24 countertop cleaners with ratings. They will likely surprise you! Like, did you know that it's not even required by law that companies disclose their ingredients? How is that legal? If a brand won't tell you what's in their products, please run…far away and fast!
A NOTE ABOUT DIY NATURAL GRANITE CLEANERS:
And back to the good news. Great news, really. Because this DIY Natural Granite Cleaner takes just 4 safe, non-toxic ingredients to make (if it takes you much longer than 1 minute to make this, something is wrong) and it will clean and disinfect your countertops like you won't believe thanks to the alcohol. It's made without vinegar to protect natural stone, and the homemade recipe smells amazing thanks to essential oils!
Like with all cleaning products, I recommend using crisp citrus oils like sweet orange, lemon or grapefruit or refreshing green oils, like bergamot, tea tree, eucalyptus and basil, which all smell super clean and even naturally have antibacterial, antifungal, antiseptic, and germicidal properties.
I also love these glass spray bottles, which are the perfect size, pretty to look at and you don't have to worry about BPA in the plastic. Happy Cleaning!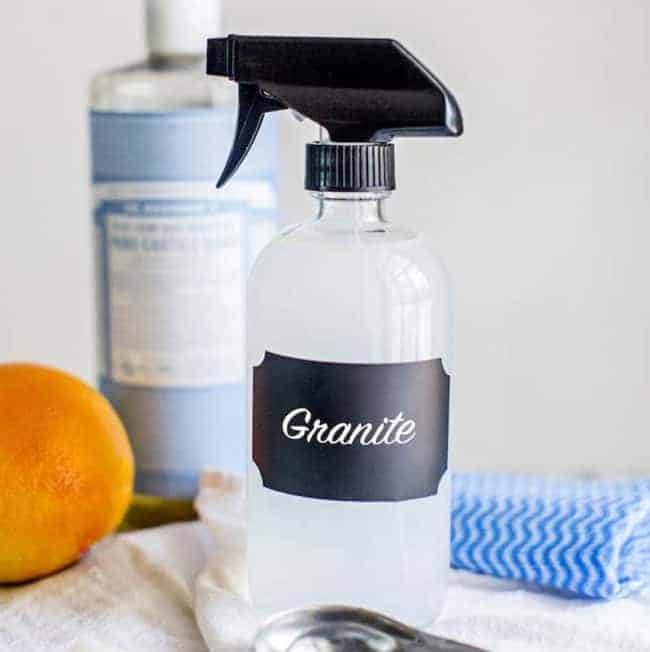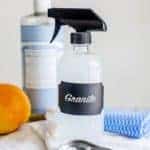 Print Recipe
DIY Natural Granite Cleaner with Essential Oils
With just 4 ingredients, this DIY Natural Granite Cleaner Spray, made without vinegar, will clean and disinfect your countertops. The homemade recipe is best for organic housekeeping and those looking for safe, non-toxic cleaning options. And it smells amazing thanks to essential oils!
Ingredients
¼

cup

rubbing alcohol

1

tablespoon

unscented castile soap

2

cups

water

10

drops essential oils

I recommend citrus or green oils, like lemon, orange, basil or bergamot
Instructions
Pour all ingredients into a bottle. Fit with a spray top. Gently swirl the bottle to mix the ingredients together. Use immediately or as needed.
Get more safe and effective cleaning recipes when you sign up for Root + Revel's newsletter. Subscribers will receive a FREE DIY Natural Cleaning eBook.
14